Today eCommerce is one of the most excelling industries. Many business owners launch their eCommerce sites to gain more clients over the internet. That is why one can now notice how large online retailers have become.
Ecommerce websites have undoubtedly played an essential role in everyone's lives. Many people are attracted to these stores because of the simple access and ease of purchase.
They can enjoy an exhilarating, straightforward shopping experience without leaving the house. People are increasingly turning to eCommerce platforms to meet their wants.
As an internet store owner, though, competition is becoming increasingly challenging. You'll be up against hundreds (if not thousands!) of other businesses selling identical goods. You might start to wonder how eCommerce works.
Customers are more prone to be drawn to particular items in specific categories, which is one of the most critical aspects of an eCommerce firm.
You could have the most refined product in the industry, but if you don't have the correct entire customer experience in place, you won't get any clients.
The value of e-commerce in today's market is that it provides a fantastic client experience in their online store.
Here, we go over tips to improve customer experience for Shopify store and how you may help your Shopify store be more effective. But first, let us understand the meaning of eCommerce customer experience.
What Is eCommerce Customer Experience?
When you visit your preferred retail store, a cheerful salesman eager to assist you in selecting the most refined product for your needs welcomes you.
They examine your budget and address any concerns you may have throughout the procedure. Finally, you buy the item and leave the business satisfied, completing an enjoyable offline customer experience.
Customer experience refers to how a company engages with its customers at each stage of the purchasing process. As the eCommerce store becomes increasingly cluttered, retailers must find new ways to entice customers to buy with them regularly.
It's the sum of your customer's interactions with your business. It begins when potential customers come into contact with your company for the first time, whether through a discussion with a friend, viewing an advertisement, conducting a web search, or any other means.
The first impression counts a lot. The next major milestone is a visit to your eCommerce website, where everything from graphics to verbiage to the buying procedure, product search, and web page performance can influence perception.
Payment and transaction completion stages follow if the visit was satisfactory and the item met the customer's expectations.
Improved customer experience can significantly increase conversion rates. Below are tips to increase customer experience for your Shopify store.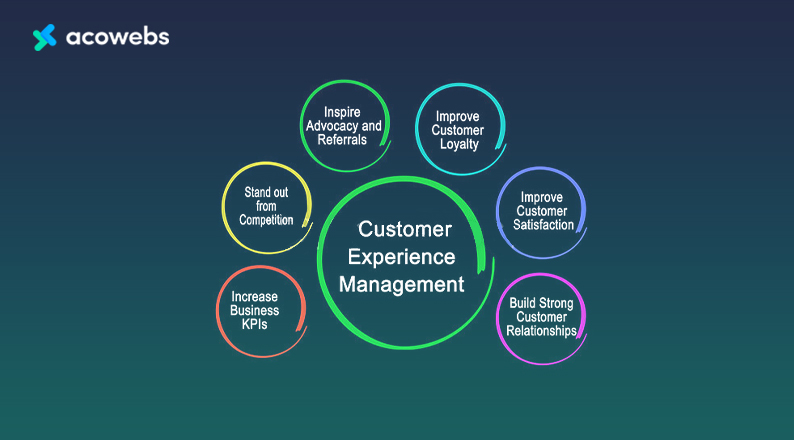 Customer Experience Management Concept – Image Credit: Dreamstime.com
Conduct Extensive Customer Research
When you understand what attracts visitors to your online store, you can create a change. Because trends shift over time, preferences will shift as well. People will lose excitement in something that was once popular.
To enhance your site's content, you should perform extensive customer research. If you want to impress your customers, present them with interesting pieces that meet their requirements.
This step is possible if you gather information ahead of time.
You should be aware of behavior patterns and online trends to get your audience's attention. In this manner, your visitors will be enthusiastic about your brand throughout their interaction.
Make Use of Video Marketing Strategies
According to 78% of marketers, video marketing efforts have helped organizations increase their sales performance considerably.
Many clients would rather check out the youtube content than browse through a long blog post to learn about a company.
Keeping this in mind, you are aware that video marketing, such as product demos and tutorial videos, might entice your intended audience to explore your eCommerce site.
When consumers encounter a video in a post or on a page, they are more inclined to click on it rather than dismiss it.
People may rapidly check this content type to view the message because it is easy to access. It's ideal for folks who don't have time to read a lengthy description of your goods.
Warby Parker is an example of a brand that has embraced this concept successfully. The company uses a youtube channel for marketing its sunglasses and eye frames.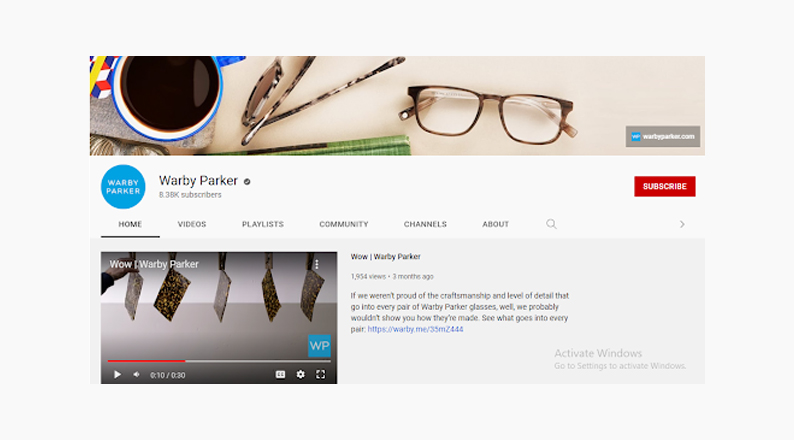 Warby Parker Youtube Channel- Image Credit: Youtube.com
More Payment Systems
Another approach to improving your customers' shopping experience is to provide them with various payment alternatives when they check out. Consider how aggravating it is to be unable to locate a payment system with which you are familiar.
Because it will be inconvenient for customers to set up new payment choices, they would sooner cancel their order than place one.
To avoid this issue, you should give a different payment system to assist your clients in checking out their shopping carts.
Luckily, Shopify has already embraced this concept by providing a variety of payment alternatives that you can include in your online store.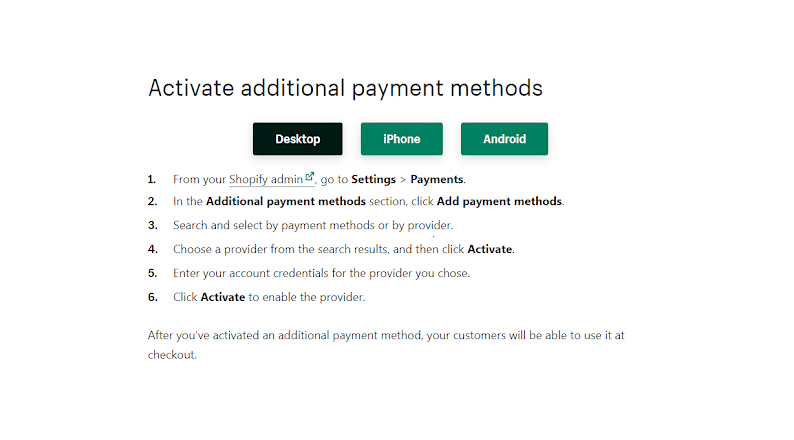 Shopify's Additional Payment Methods Page – Image Credit: Shopify.com
Showcase Customer Feedback
Testimonials are crucial for every business line. Regardless of the type of business you run, customers will base their decision to use your brand on previous reviews.
Customer feedback has evolved into a helpful resource. 88% of customers check online reviews to gauge the quality of a company's customer service.
When a new audience encounters your brand for the first time, they are unlikely to trust it immediately. Thus testimonials are vital in persuading people to do business with you.
You can highlight customer testimonials in a separate section. Please provide a few sentences about what they say about your shop, items, and even customer experience. It will provide insight into how you run things professionally.
From the start, show your visitors' client's testimonials once they have formed an impression of your store (and given you great feedback).
They won't decide whether or not it's worthwhile taking a stroll of your site once they have had a sense of it (and received great comments).
Use an extra widget to display testimonies about you, as this will rapidly attract the attention of your visitors.
One of the most excellent and effective tools a corporation may have nowadays is word of mouth. In reality, 84% of consumers no longer trust advertisements.
When completing an online purchase, people are now looking for third-party confirmation. Here is the reason consumer advocacy is critical.
You can turn every customer into an advocate by concentrating on generating outstanding customer experiences and expressing the drive for your company to go above and beyond.
Introduce Augmented Reality Technology
Augmented Reality (AR) technology allows you to see virtual graphics generated immediately in front of your eyes.
Using this digital overlay image, you can examine and estimate how the product will seem in reality.
AR technology benefits eCommerce since it allows customers to see the "real" product without visiting the store. Let's say you're looking for new clothing. The size will be difficult to determine because each company has its sizing measurements.
You can not be certain if the shirt will suit your body because the old internet store provides computer photos. Nevertheless, you can try on the garment using AR technology as if you were at a physical store.
Because only a few eCommerce sites, such as Sephora, have integrated AR, you may use it to entice customers and stay one step ahead of your rival.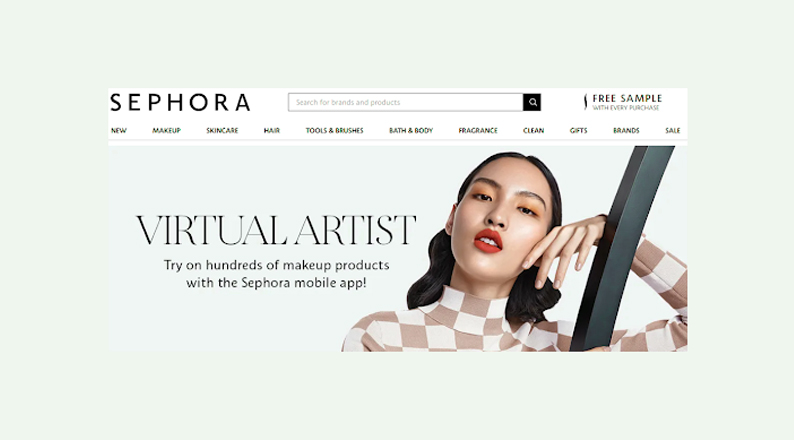 Sephora AR Try On – Image Credit: Sephora
Create a Mobile-Friendly Store
People shop online from anywhere; they can monitor their orders at any moment, even if they are in their apartment or on the metro. 
All of this can be made more attainable with portable devices, and they have contributed to e-commerce growth in recent years.
It's critical to have a mobile-friendly webpage if you own a Shopify business and want to expand your consumer base and profit margins.
The numbers speak for themselves; mobile devices account for more than half of all web browsing.
As a result, having a Shopify site designed for tiny screens helps you stay competitive and attract new clients from this demographic.
Always test your website on mobile devices. Testing is necessary to verify whether your site is open to public use.
You may also use mobile testing to determine when something is amiss with your store. As a result, you can easily solve and debug. Don't let your customers down by having a sluggish website experience.
Shopify has mobile-friendly features that will help you impress your customers and improve sales.
Shopify Mobile Features – Image Credit: Shopify
Keep Your Theme Pleasant and Uncomplicated
Each Shopify store owner needs their store to be appealing to the eye while also standing out from the crowd.
You might also believe that overly flashy or complicated themes would turn consumers away since they will have difficulty locating what they want and traversing the site.
Making things simple is the ideal way to do this. Fonts are one of the things you can change anytime.
There are so many options accessible online these days, but if you are not sure which one is right for your business, check out one of these free resources:-
You can also employ images to improve the appeal of your website. For instance, having a gaze banner that will pique people's interest in what you have to offer is critical.
To let folks understand who your company affiliates with, include a logo at the top of your page. On the left-hand side of the website, you may also utilize a header image that shows some of your most popular products or services.
If you're still undecided, you can employ apps like Labeler from the Shopify store for custom product labels which work with your custom themes. You can also change the look and feel using themes, or come up with other inventive ways to improve the appearance of your site.
Yet, with so many options, it's crucial to note that most stores benefit from simplicity. It keeps everything under check and makes it simple for visitors to find what they're looking for.
Although it should go without saying, excellent website performance is essential.
See how Shopify uses a simple yet appealing theme.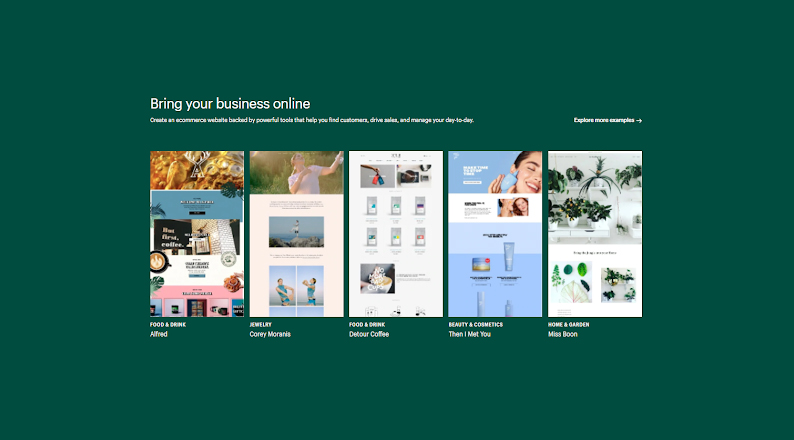 Shopify Theme Layout – Image Credit: Shopify.com
Increase The Number of Online Purchases
The online purchase path describes a customer's interaction with your shop when they tap "add to cart." This process involves adding products to their cart, checking out, and finally purchasing something.
You can integrate a few tweaks to help individuals clear out an order in your Shopify store to enhance their buying experience.
Incorporate extensive search and filtering capabilities into your store. This step will assist them in quickly locating suitable products. For this, you may use Algolia and Searchspring's services.
Improve the details of your purchase. It is crucial since it gives clients the specifics of their orders. As you disclose each price associated with their order, each transaction becomes visible.
You can obtain greater client trust by providing a clear purchase information page.
Include Loyalty Programs in Your Strategy
If you own an eCommerce site, you understand how difficult it is to keep existing consumers in the face of fierce online shop competition. Fortunately, there is a technique to get people's attention and enhance customer experience.
It's a reward system. It requires more than solid products and services to succeed in business; it also takes client loyalty and motivation.
An incentive-based approach that pays clients for their continuing support is one of the most effective methods to engage them. You can create a reward program to entice clients to buy from your company.
When customers buy something from your Shopify store, use the loyalty point system to show your appreciation. After accumulating the points, they'll receive additional incentives to stick with your business.
Join the Social Commerce Revolution
Your marketing plan should include social media sites. They're ideal for advertising your brand and showcasing product content.
Numerous social media channels are now suited for ordering directly. Entrepreneurs can use these platforms for marketing their products.
Purchasing goods through social commerce, on the other hand, is not the same as browsing a website.
People can't understand product features by glancing at your company's social media profiles. They want to see the entire picture, all of the data in one place. As a result, visiting your internet business will satisfy their interest.
Individuals who discover your site through Google or Facebook ads should find it worthwhile to visit. To optimize their browsing experience on your page, ensure adequate product information on every page without being overly wordy.
Customers will know what they receive from your store if you include price transparency and stock availability.
Importance of Customer Experience
You undoubtedly already understand why providing excellent eCommerce customer service is critical. But, for clarity, let's look at the three main things you will be able to achieve by maximizing the above tips to improve the customer experience for your Shopify store.
Enables You to Build Customer Trust and Loyalty
Creating meaningful client satisfaction is essential for establishing trust with your intended audience and keeping them coming back over time.
Modern customers have a myriad of trust concerns. According to Edelman's 2019 Trust Barometer Special Report, 56% of individuals trust a brand considering their customer experience.
Trust Reasons Statistics – Image Credit: Edelman Report
According to the report, 81% of individuals claim they must be able to trust the brand for them to buy from them.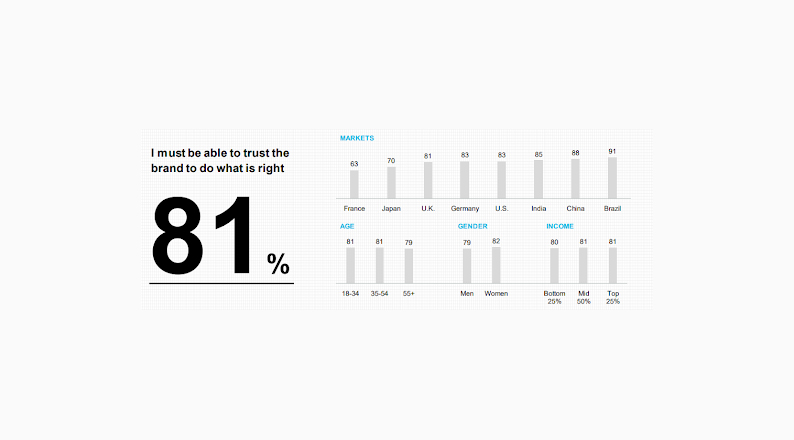 Brand trust statistics – Image Credit: Edelman Report
Develop a Unique Selling Offer
Create perceived value by developing a distinctive selling offer. Another significant advantage of creating a superior eCommerce customer experience is that you'll be honing your brand's exclusive selling proposition.
Customers' experiences with brands are never the same.
The modern customer experience you provide should be distinct enough to provide value that your clients can't get anywhere else yet be familiar enough to encourage engagement and development.
Customers will have no reason to abandon your organization if you deliver something of value that they can't obtain somewhere else.
Furthermore, once your brand has developed a unique customer experience in your industry, the overall value of everything your firm has to offer will rise.
Contribute to the Growth and Success of the Company
Delivering an exceptional customer experience is critical to meeting your business's objectives. This practice applies to your financial and your team's "bigger picture" goals.
On a financial level, continually providing an exceptional experience to your clients has a lot of advantages, including:
Increase in sale frequency
Increased higher-order average values
Better recommendations and lower acquisition costs
And, once again, your loyal clients will gladly pay a little extra for your goods or services, resulting in additional profit for your Shopify store.
Statistics show that 86% of consumers are willing to pay more for an extraordinary customer experience.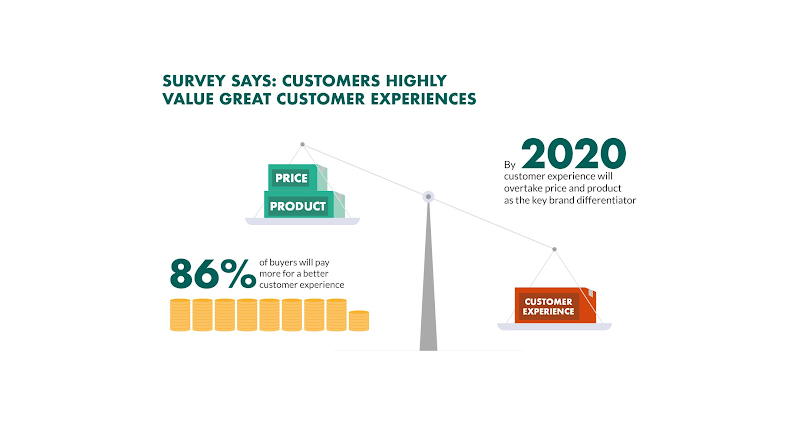 Customer Experience Concept – Image Source: Facebook
When you look at the larger picture, you may reinvest these extra profits back into your firm, enabling your company to increase its efforts around the board. As a result, you'll be able to make more money.
You will be able to make considerably more progress toward your company's ultimate mission. And, once you've accomplished those objectives, you can aim even higher.
Your economic success benefits your suppliers, influencers, and any other company entity you collaborate with.
When you assist your clients to succeed, you start a chain reaction that benefits everyone involved in your company.
In the grand scheme of things, this also allows folks in your company's area of influence to deliver more value to participants of their ecosystems.
Conclusion
Each organization's product features and pricing are saturating due to fierce rivalry. Clients are no longer content with a superior product offering.
To maintain a competitive advantage, you must have an offer that distinguishes you. Delivering a fantastic customer experience through your eCommerce business and other channels is a foolproof method.
These ten pointers can assist you in customizing your eCommerce experience with a user-friendly desktop layout and implementing comprehensive approaches and social media strategies.
There are a lot of warnings and cautions for eCommerce developers. Still, if you follow the above tips to improve customer experience for Shopify store, your eCommerce website will provide a gratifying experience for your clients.
Acowebs is an award-winning WooCommerce plugin development company having more than 60,000 customers across the globe. WooCommerce plugins from Acowebs like WooCommerce Quick View help users to make a quick look at the products rather than opening the entire product page. There are also free plugins from Acowebs for WooCommerce Deposits, WooCommerce PDF invoices, WooCommerce Product Labels, etc. which are being used by thousands of customers.