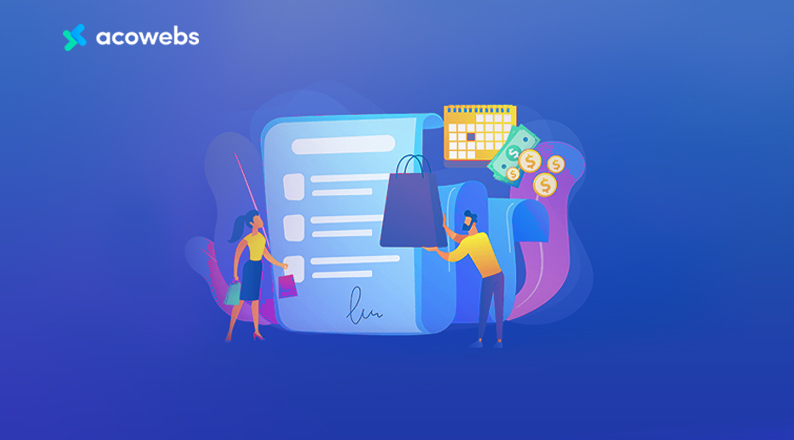 Featured Image – Freepik.com
All payment methods are not made equal. Placing a large purchase on a credit card may seem simple, but your clients are more concerned than ever on how to pay for their purchases without suffering unforeseen penalties.
It's only natural to explore new strategies to attract more clients and increase your earnings as your online store expands. Giving your clients more payment alternatives at the checkout is one such method.
The addition of buy now, pay later services to the market is a solution that has proven its worth in the eCommerce sector. It has become an important, expected aspect of the buying experience. This is especially true for your expanding Millennial customer base.
In this article, we will cover everything you need to know about the buy now, pay later option and the reasons your online store needs it.
What is buy now, pay later?
Buy now, pay later (BNPL) is a method for customers to purchase items and pay them off later. It is a relatively brief financing option in which customers pay for their items in installments after making a deposit (typically 25 percent ).
Whichever phrase you prefer to use for this strategy, it all boils down to the following.
Users can order a product, have it delivered, and complete payments later. Payments are usually made in installments until the entire amount of the purchase is completed.
BNPL ideally charges no interest and no late penalties based on the service provider, with little to no credit checks. Payment arrangements that are longer than the standard four monthly payments may incur interest, and some BNPL providers may levy charges for late payments.
The BNPL option has been available for a long time. It is utilized mainly for online purchasing, and it is now available for a variety of products sold on eCommerce. Online buyers have come to expect to buy now and pay later wherever they shop.
Whereas the buy now, pay later is famous with buyers of all ages, it is prevalent with millennials and Generation Z. In 2019, BNPL was used by only 6% of American Gen Z buyers. In 2021, the trend improved as 36.8% of Gen Z buyers used BNPL to pay for online purchases. American Millennials are even more enthusiastic; 41% used the buy now, pay later in 2021.
Although BNPL dominates among younger buyers, Gen X and older have also embraced this option. What this implies for you as a seller is that you will still be paid in full when you collaborate with a financing provider to sell your products on credit.
This approach results in a win-win situation for both you and the consumer because you get paid immediately while the customer can settle the payments over time.
Reasons your online store needs buy now pay later option
With buy now, pay later becoming more popular, you may be contemplating if it is something you should provide in your online store. Here are five reasons your online store needs buy now, pay later now;
BNPL can help you stay competitive.
Your competitors have already begun accepting installment payments. Indeed, by 2025, the global transaction volume for BNPL payments is expected to reach $680 billion.
At this juncture, it is not an issue of 'if,' but rather 'when' BNPL will detonate. Staying left off in this increasingly digital environment can harm your business.
Because BNPL is becoming increasingly common in eCommerce companies, incorporating it into your payment plan will put you at pace with your competitors. If a competitor provides this choice to their clients and your company does not, you may lose a sale to other players in the market.
Customers can use Abunda to copy and paste an Amazon link and finish their transaction using the BNPL approach. This BNPL option connects to the user's account, but rather than using Amazon's checkout page; it utilizes Abunda's. Customers can now select pay later billing choices other than Amazon's less-flexible payment options. This strategy has given Amazon an advantage over its rivals in the industry who do not offer BNPL.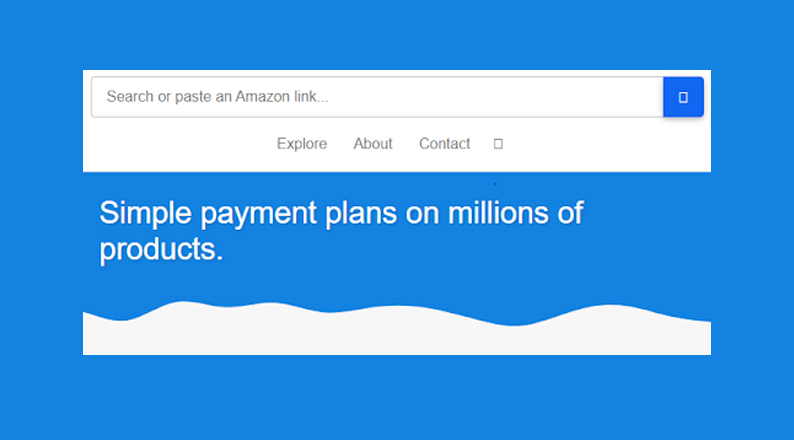 Amazon's checkout page on Abunda – Image credit: Shopabunda.com
BNPL can help you increase sales
RBC Capital Markets, a financial services firm, predicts that BNPL options enhance retail conversion rates by 20% to 30%. Why is that? Consider this: have you ever been discouraged from placing an order because the company did not accept the payment option you prefer? Providing various payment options, including a BNPL option, minimizes the likelihood of this occurring.
Furthermore, buyers are more willing to make a purchase faster when they are more confident in their ability to pay for it—a wish that can be addressed by spacing out the payments. And the earlier you can persuade a client to buy, the less time they have to reconsider their choice, forget, or locate a competitor to buy from.
Customers are often psychologically and emotionally prepared to make a purchase, but at times they cannot do so due to financial constraints. Implementing buy now, pay later payment options will turn more browsers into paying consumers on your website.
Thirty percent of customers who have used buy now, pay later alternatives have indicated that they would not have bought the product if it hadn't been for the six-month financing. Alternatives for buy now pay later can also yield a higher boost in sales volume.
To attract new consumers
Allowing customers to buy now and pay later will enable you to attract those not willing or able to settle the entire cost yet. This is particularly true if they are not required to pay a fee for paying in the future. This approach is becoming a more popular alternative to credit cards.
Evvo Home offers BNPL, which ensures its shoppers do not have to start saving up for their home appliances or pay interest for paying later. As a result, the company has gained many customers because shoppers have the pleasure of buying now and settling the payments later.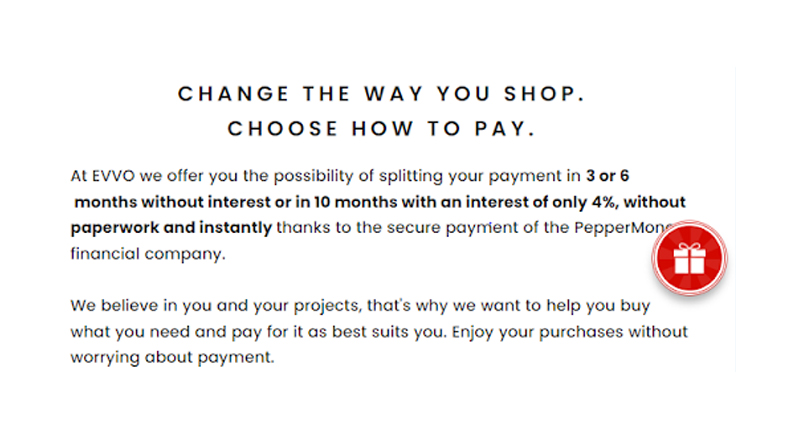 Evvo Home's BNPL plan – Image credit: Evvhome.com/
To create trust
You have created an excellent content marketing strategy for your e-commerce business, and you are now attracting a lot of new visitors to your site, but no one is purchasing. But then, there is the BNPL option. This means that purchases can now be made with less upfront commitment, resulting in better customer experience and increased trust in your company.
Employ BNPL to build a stronger relationship with your customers. Customers start to believe you once they know and like you. They will stay true and return to buy more once they have gained your trust.
To increase your customer lifetime value
Customer lifetime value (CLV) is the overall amount of money a customer spends in your business store throughout their relationship with you.
Since the cost of acquiring new consumers has increased by more than 50% in the last five years, retaining your present clients becomes more valuable by the day.
BNPL will allow your consumers to spread their payments over a more extended period, and they will also be more involved with your firm. This, in turn, leads to higher client retention rates.
BNPL solutions will help you build trust and customer loyalty and generate more sales, increasing your business CLV.
Clients who show loyalty by buying from one retailer continually do so not only because the retailer effectively meets those clients' needs but also to demonstrate that they are valued. By meeting customers in the middle of the payment spectrum, you can establish trust and show that you love their support for your business.
BNPL offers your clients a low-cost financing option
Providing better financial planning will eventually enable the long-term development and trust required to attract regular and referral businesses.
It is also a popular choice due to the significantly reduced costs compared to a credit card. These forms of payments are not only more manageable for the typical customer, but they are also less expensive in the long term.
As an alternative to standard credit cards, BNPL offers a more reasonable option—as long as the customer meets all credit requirements set by the payment or financial provider. For consumers, BNPL provides a less stringent approval process typically requiring only a light credit check and few financial documents.
For instance, many customers can afford Huawei products, and this is because of the company's flexible payment plan which allows customers to settle their payments within 36 months from the day of purchase.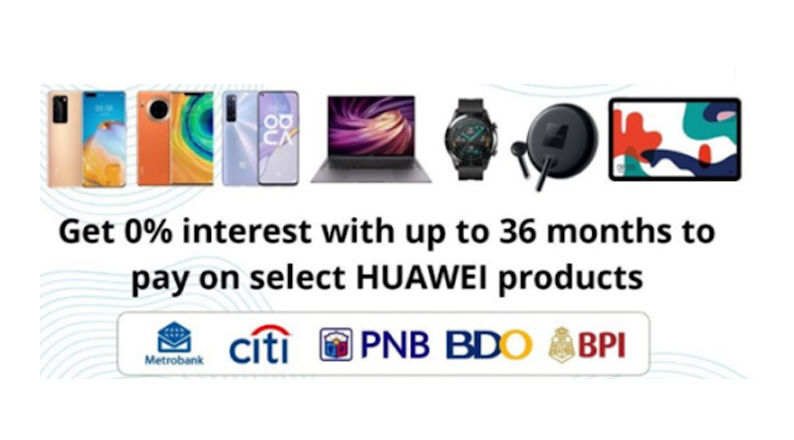 Huawei installment plan – Image credit: Consumer.huwei.com
Can help reduce cart abandonment
According to Statista, twenty percent of individuals shopping online abandoned their carts due to limited payment options. The most common cause is that they incur additional charges in addition to their purchase, such as shipping fees.
Excessive account sign-ups and multi-step payment procedures are another major cause of cart abandonment. These are aggravating and time-consuming, and the trouble can eventually be too much for the customer to bear.
BNPL can help organizations achieve more sales while minimizing the barriers to checkout that lead to abandoned carts.
It is critical to provide all of the information your consumers require upfront for them to feel secure in placing an order. Client satisfaction will rise if they have faith that they will get their money's worth and there is transparency about what they can anticipate when they check out.
According to a Mastercard study, using BNPL can minimize cart abandonment by 35%. While customers' most common reason for leaving carts is that they were merely window shopping, BNPL can help overcome several other typical obstacles.
As previously stated, BNPL contributes to overcoming abandonment caused by the lack of the desired payment option. The option also helps reduce the fear that the cart items are too "costly" by enabling customers to pay more flexibly over time.
To increase your Average Order Value (AOV)
Average Order Value (AOV) is an important metric in ecommerce that calculates the total of every order placed by a customer on an application or website.
A higher AOV is usually desirable when it comes to the order value of any individual purchase. A quick Google search reveals that the use of BNPL options comes with a rise in AOV ranging from 15 to 85 percent — a vast range, to be sure, but still good.
This trend can be attributed to the fact that customers feel more comfortable placing orders when there is an option to spread out their payments because doing so will not constrain their budget in the short term.
BNPL is an innovative method that divides the total value of your customers' purchases, making it flexible to buy now and pay later. When people fill their carts, the total cost can quickly build up. Knowing they can split the bill motivates customers to keep shopping and complete their purchase.
BNPL has a positive effect on AOV. The average Zip partner merchant sees a 20% increase in conversion and topline sales, as well as a 60% rise in AOV. Additionally, according to CNBC shoppers claim BNPL allows them to spend more than they could with a credit card alone.
BNPL users prefer the option for various reasons, including the ease of use and payment flexibility. Some customers may lack a credit card, and this payment option would be the most convenient for them.
Furthermore, because the payments are fragmented into different installments, the total cost appears to be more reasonable. This may make customers more open to add-ons and upsells at the checkout, enhancing AOV for eCommerce stores.
To minimize risks for you as a retailer
Perhaps, the most troubling aspect of delivering online orders before receiving payment is what happens if the consumer fails to pay.
This risk is reduced with BNPL because you will always receive the complete amount upfront, from the financial institution you have partnered with. BNPL providers compensate you directly and take care of non-paying consumers.
Some service providers even handle the risk of chargebacks and fraud, making it a win-win scenario.
BNPL service providers
The number of BNPL suppliers is rapidly increasing. Because of their popularity and profitability, big credit card issuers such as American Express and Visa also provide similar payment options. Different suppliers also provide BNPL support to various business types, so ensure to select the best fit for your needs.
Below are some of the best providers to give you an idea of what's out there.
Affirm
Affirm is one of the most established BNPL services in the United States, and it is suitable for many purchases, up to $17,500.
Customers are provided the most appropriate payment options, such as paying in four interest-free installments spread over six to eight weeks or completing monthly payments for up to two years.
The verification process is simple and has no impact on the customer's credit score. Affirm accepts all risks, including chargebacks and fraud.
Afterpay
Afterpay is a renowned BNPL supplier that has grown in popularity due to its user-friendly reputation, brand exposure, and shopper analytics.
Your clients can quickly join Afterpay via the company's website or app. They do not have to fill out lengthy documents, and account registrations are approved in a matter of minutes. The payments are made in four biweekly installments.
Customers pay no interest, and there are no additional costs as long as payments are made on time. Afterpay is accessible in the United States, Canada, Australia, and New Zealand, expanding your business' market reach.
Sezzle
Sezzle's BNPL strategy is simple. Payments are made in four interest-free payments over six weeks, but the first 25% is payable at the time of purchase. There are no interest or hidden charges for customers.
Sezzle is well-liked, and its popularity is expanding. They presently service companies in the United States and Canada.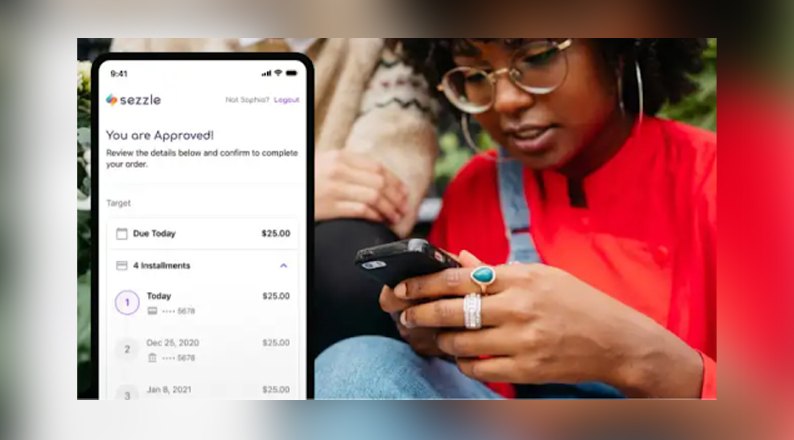 Sezzle's BNPL service – Image credit: Sezzle.com
Laybuy
Laybuy is a popular BNPL service that has been running in New Zealand, Australia, and the United Kingdom since 2017.
Customers can divide payments into six weekly installments, with the first payment required at the time of purchase. Laybuy charges no interest and handles all fraud and refund issues.
Klarna
Klarna is an international shopping service and BNPL industry leader, servicing more than 90 million customers and 250K retailers globally. The company recognizes that there is no one-size-fits-all BNPL approach; thus, the organization provides several payment options both online and in-store.
In the United States, Klarna allows customers to split purchases into four interest-free installments over six weeks or pay overtime in monthly installments ranging from six to thirty-six months, with no credit checks, interest, or hidden costs. Klarna is currently available in 17 countries, including the United States, the United Kingdom, Sweden, and Germany.
Summary
The advantages of buy now, pay later go well beyond typical fashion retail. Including a BNPL option in your e-commerce checkout can produce excellent outcomes for merchants in practically any industry.
Consider your clients when deciding which payment methods to provide on your eCommerce site. If you can provide consumers with more options, convenience, and lower prices, they will associate such benefits with your business. This is also true for an unpleasant, rough, or high-friction event. Align your payment alternatives with your ideals, especially if you're targeting a younger demographic.
If thinking of a way to provide a cutting-edge experience that exceeds customers' expectations, purchase now, pay later options are your best bet.
BNPL practice is not going away anytime soon. Consumers have given online businesses more frequent conversions with larger average order volumes in return for greater payment flexibility.
Indeed, Including a Buy Now, Pay Later option on your eCommerce store will demonstrate your willingness to fulfill your clients' needs. It can increase your pool of repeat consumers.
Acowebs are developers of Woocommerce Product Addons, a performance-optimized, light-weight, and fruitful plugin that simply is the best to add extra product options using its custom form builder easily. You can easily update your store with a free version of WooCommerce Custom Fields from WordPress. All the plugins and apps from Acowebs offer a seamless experience on your eCommerce stores on WooCommerce.