Introduction
The online business is continuing its triumph journey in the industry. Many of the entrepreneurs already understood the effect of online business in the market and they made their way of business with a website and it's supporting tools. Many of those people who are having a shopping website are started their website with the help of WooCommerce, the No.1 shopping plugin nowadays. I would like to focus on those people on this blog. I hope it will be helpful to those people. WooCommerce helps us to sell our products and services online with the support of WordPress. Just like any other shopping site, it provides a product archives page, product page, cart, order details, etc. And the placed orders can be managed separately for the admins. We can add coupon discounts, subscriptions, etc too for improving the business and customer satisfaction. There are a lot of other essential features included inside it.

The supporting tools for a website are mainly plugins. We all know about plugins and its applications. Plugins are made for doing a specific task easily. The core aim is to reduce the effort of the developers and users. There are a lot of plugins a user/developer must have. There are so many plugins showing up in the market to support the main tool. But we have a habit to avoid everything below the average of expectation. So only the excellently made, awesome applications would survive this. And I would like to share a few things about one of those which is excellently made, performance optimized and user-friendly.

The significance of Product options
Suppose you are running a used car website and you must have a lot of options for the users to choose. It is mandatory that the options you must have to give to the users. Because the users or customers would like to get their own customized option. Not only for the customers but also you may have a lot of variety of the same product as the difference in color, capacity, facilities, etc. It takes too much effort to make it as different products. The best option is to add these variations as options for one product. WooCommerce provides an option called Attributes to add options for the products. But most of the cases it is not enough for fulfilling the needs of the owner and as well as the customers.

I would like to introduce you an excellent plugin to achieve such tasks- 'WooCommerce Custom Product Addons'. It has been trending on the market now. For example, suppose I have a variety of BMW 5 series collection then I can give this as options easily like in the screenshot below. The plugin provides almost 20 option fields like text field, text area, dropdown list, radio button group, image group, etc. Someone would say that this thing can be done by attributes/variations already provided with the Woocommerce plugin. But it is not true, you can add fields by using attributes/variations. But there is a limit for adding different kinds of fields. So I am talking about a limitless plugin that provides most of the options probably a vendor who is looking for.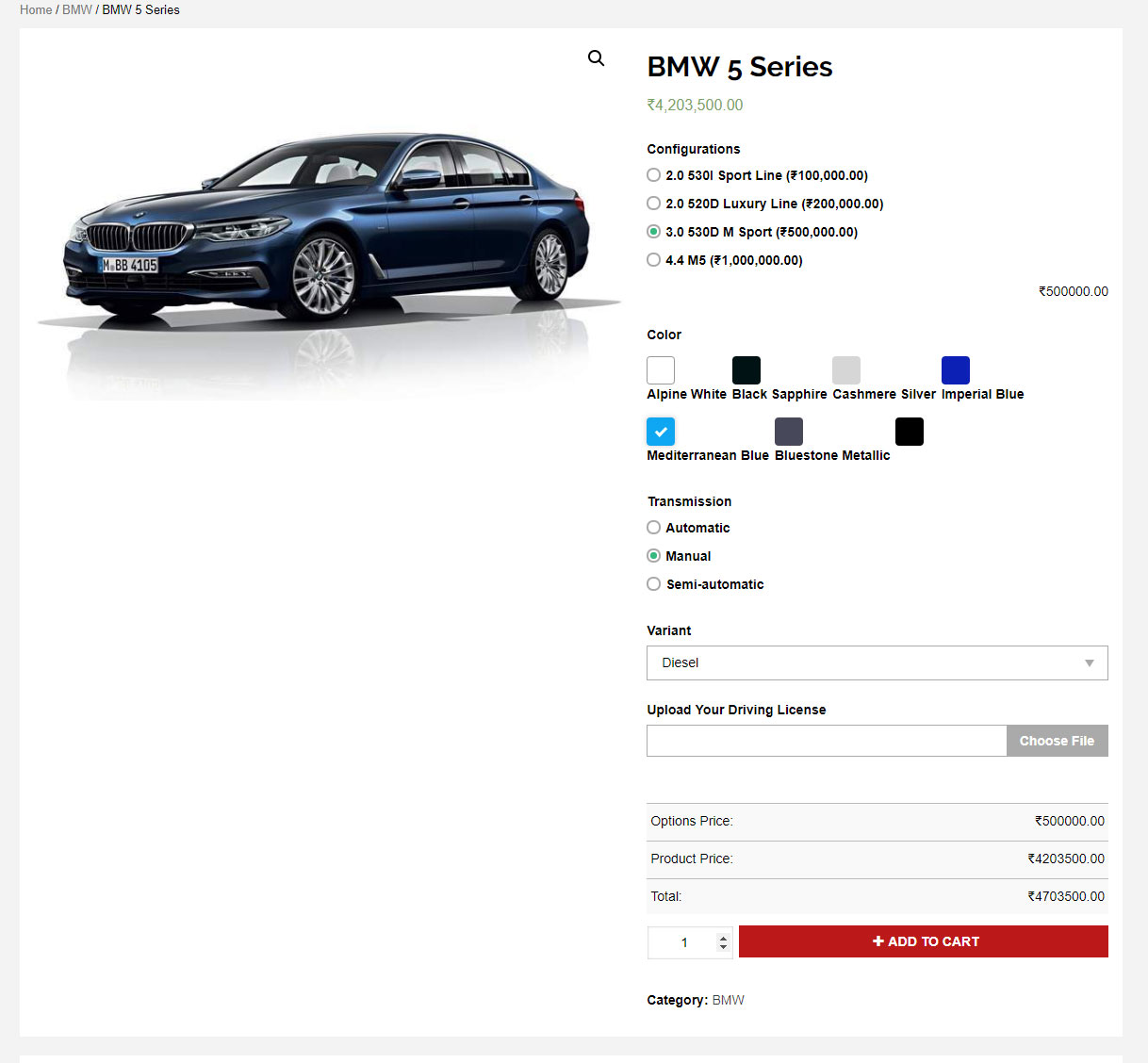 This is the specialty of the WCPA plugin. You can add pricing for each field, and it will be shown as options price in the product page, cart subtotal, and checkout page. It is very cost effective and useful.

Let's go through some specimens
Let's take another example. Suppose you have a Furniture selling website and it is not much popular due to its user-unfriendly behavior to choose the options for the products. If it is the case, you must have to go for a product options addon plugin. Before going anywhere else to search for the exact item you want just go for a try; WooCommerce Custom product add-on. I am damn sure that you will like this. For example, I have a product option form for you.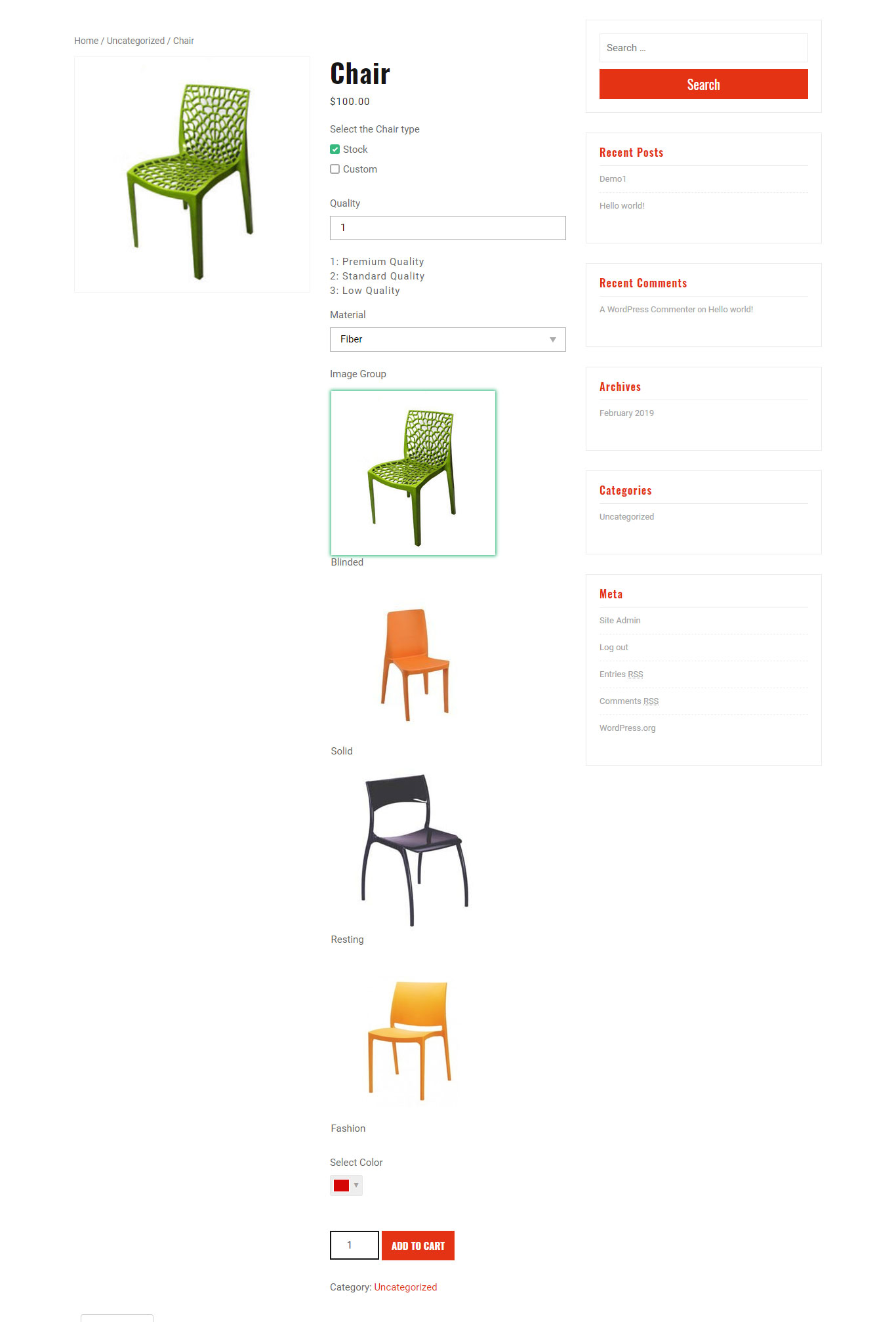 You can have a look at the form on https://wcpa.demo.acowebs.com/product/chair/ .

Just go through one more example. Suppose you have a Maintenance service website for electronic products. Customers can easily book there maintenance or service request using this plugin. Have a look: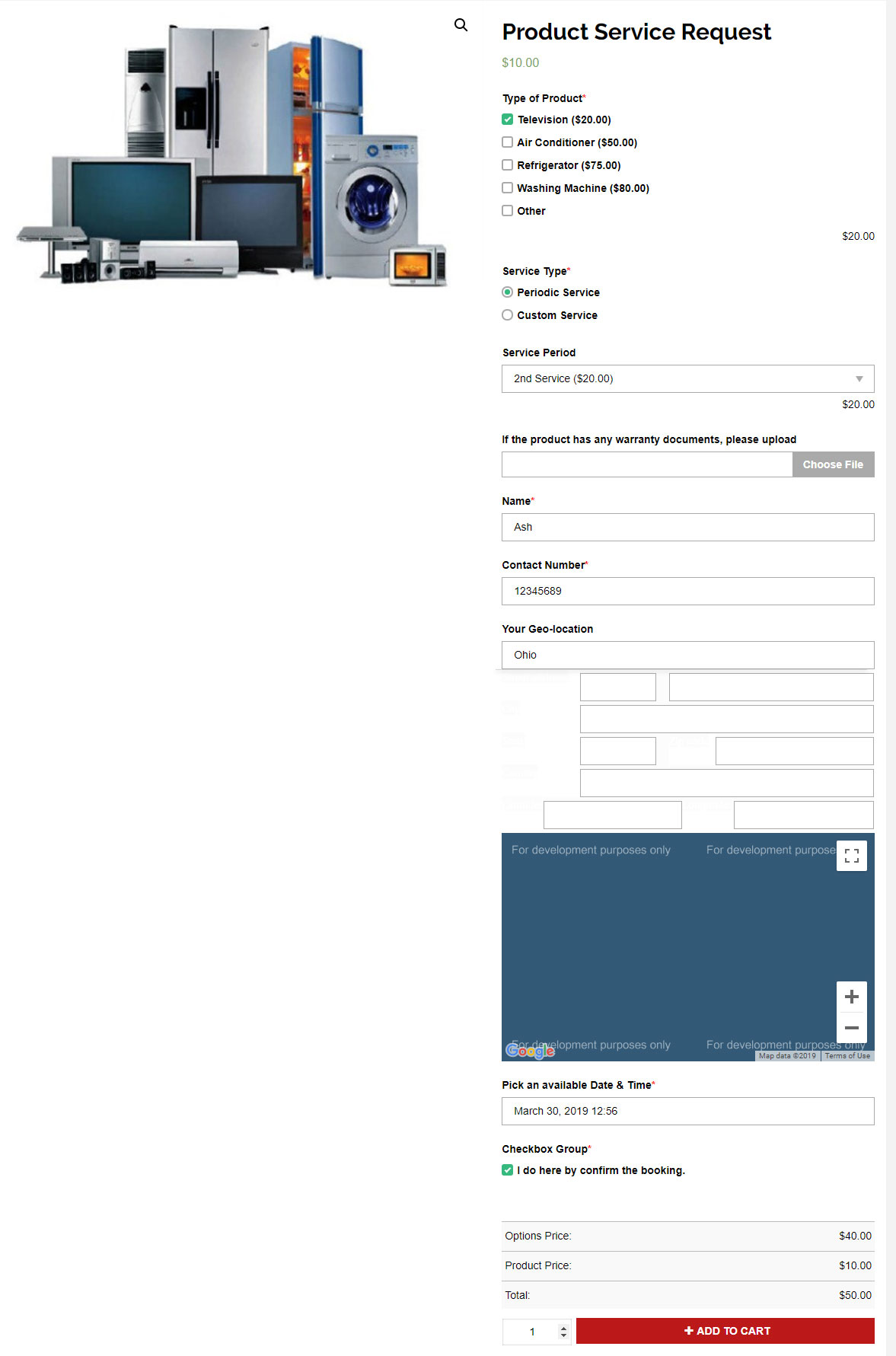 Everything about adding the option fields is doing effortlessly here. You can add price, show or hide price depending on some condition and insert custom formula for calculating options price. Every option is quite useful and necessary. And none of the content of the plugin will confuse you much. If you are having any queries or feeling any issues with the plugin, there is an excellent customer support team behind the scenes. They are time bound and efficient in my personal experience and also reviews by the other customers.

If you want to try the free version of it just go and download it from the WordPress plugins section. But it includes fewer features. The pro version of the plugin has all the features that I have mentioned above. The price for the pro version is so exciting, it is just $19.00 for one site. There are no such plugins giving their product for such a low cost. Guys, if you are planning to develop a shopping site with WooCommerce, I recommend you to use this plugin. Or at least have a test in their demo version to know what it is capable of and why am I say like this. It is very helpful to understand what is the plugin and how it works. The demo provides a fully fledged and all option-enabled trial for the customers before buying it.

Demo link:
https://wcpa.demo.acowebs.com/product/product-service-request/

You can create and test your options forms here. Suppose you have any trouble using the plugin there is well-maintained documentation about the plugin in the same website.

I really love this plugin. That's why I wrote my experience with it. It will be useful for the other vendors too. If anyone asks me which is the best plugin for adding the option fields, I will suggest this. Definitely, it is going to be a superstar among the plugins for WooCommerce. Be a user and get interacted with it before many of the others do.