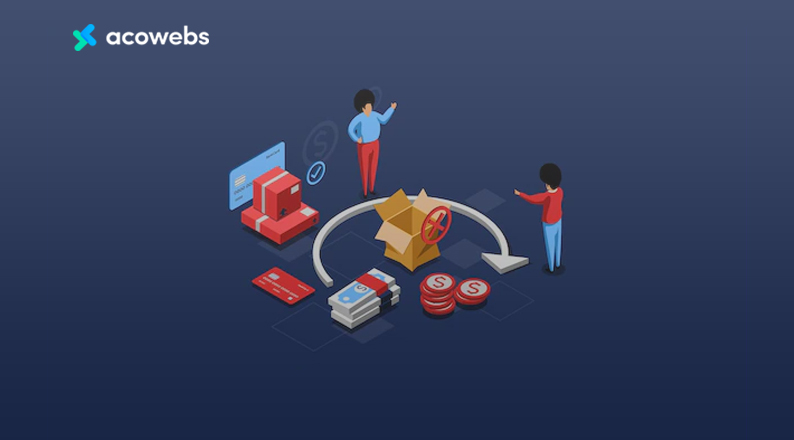 Managing an eCommerce business is fulfilled only when you offer your customers products that meet their needs. Unfortunately, not every sale will be precisely what the shopper expected; therefore, you must create a set of rules to govern how products can be returned.
Having an eCommerce business has its limitations, such as a shopper may not have the opportunity to inspect what they are ordering before making a purchase. For this reason, online business owners are advised to create an eCommerce return policy that specifies what can and cannot be returned, after what period the return is acceptable, and the conditions for returning an item.
An eCommerce return policy should ensure all customers are treated fairly. The policy is crucial for making returns possible and straightforward for you and the buyer. An effective return policy and process will help you increase your customer retention and gain their trust.
It is an excellent opportunity to differentiate your company from other eCommerce businesses in the same industry. This article will cover essential factors to consider when creating an effective eCommerce return policy and process for your business.
Tips and practices for creating an effective eCommerce return policy and process
A well-written return policy will help reduce your product's return rate and ease the return procedure for both you and your customers. Below are some of the tips and practices you can use to develop an effective eCommerce return policy;
1. Prevent returns from occurring.
The first crucial step to take is to do everything you can to showcase your product features and benefits appropriately. This way, clients will have more realistic expectations of what they are getting before the product arrives at their doorstep.
Enhance your web pages by incorporating superior product photographs from numerous perspectives and angles, and clear descriptions with as much information as necessary.
Shoppers are less likely to buy something that doesn't match their needs—and then try to return it—if they have a more accurate idea of the goods before they purchase.
This approach is effective in preventing product returns from taking place in the first place.
2. Make the return policy easy to access
Since 67% percent of online customers look at a company's return policy before ordering an item, it is crucial to make your return policy straightforward, easy to understand, and easily accessible via your website.
An effective return policy is only as useful as it is visible. If nobody can discover it, it is assumed not to exist, which causes problems and uncertainty for online shoppers.
Consider including links that will direct shoppers to your return policy page. The links create confidence with your shoppers and reduce the hassle of returning the items.
A simple, effective eCommerce return policy will also result in more sales because when customers get a good return experience from your shop, they will purchase more items.
Furthermore, defining clear expectations about returns before buying reduces the number of calls to customer care, saving your eCommerce time and resources.
3. Include a timeframe for returns
Even though your eCommerce return policy is a crucial factor in the buying decision, most of your customers do not anticipate having to return the items they buy. Provide a deadline so your customers can return the products as soon as possible.
Make your deadline clear in bold language and multiple places on your website, such as the checkout page. An eCommerce return policy that establishes expectations for the timeframe consumers can return an item helps your shoppers understand their expectations during the return process.
Having a defined return time frame helps you forecast revenue because you can book profits on purchases past the return deadline without worrying about issuing a refund.
And, the sooner an undesirable item is returned to you, the more likely it is that you will be able to resell it.
For example, Amazon and a majority of sellers on the Amazon.com platform offer a return policy that grants customers 30 days to return products.
4. State the expected return condition
Make it clear in your return policy the condition an item must be in before being returned. This conditional clause will ensure customers handle the products with care if they intend to return them and get a replacement or refund.
A customer may not return a product if it has been used, a seal has been broken, or has depreciated in any way.
If you do not offer this information, customers will seek to return products in an unsellable state. You will be obliged to suffer a loss in this instance.
5. Be prepared to cover the costs
To ensure your return policy is working for you and not against you, make it free for your customers, as this is an important factor that most shoppers consider crucial to their purchase decisions.
According to NRF, 75%of consumers expect free return shipping for their product returns. Given the stiff competition facing eCommerce businesses today, it is crucial to pay for return shipping to gain customers' loyalty and trust.
If covering the returning costs is somehow expensive for your business, consider splitting the cost between you and your customers. Doing so is still better than passing on the full cost of the return to customers, giving your shoppers more reasons to buy from you.
6. Make it an easy process
To save time for both you and your customers, analyze the steps they will take to return an item and make the eCommerce return process seamless and straightforward.
Make your policy simple to comprehend by using pictures, icons, and illustrations to help your customers understand how returns for your products work. Make a return list that includes all items that can be returned.
A website describing your return policy also provides an opportunity to interact with your shoppers on a more personal level. Graphics contribute significantly to establishing that relationship.
You can also utilize pictures to bring some fun into a dull theme. This approach will enable your customers to make their returns fast and assure you that a product will be in good condition for resale.
Also consider providing links that allow users to identify the nearest drop-off point in relation to where they are located.
7. Outline the requirements for each return
Before a return can be handled, you must notify customers ahead of time of specific requirements that must be met. For instance, you may specify that all returns must be received unopened and in their original packaging.
You should also inform customers if they require an approval code, mailing address, payment receipt, or anything else. Whatever terms you choose, make sure they are clearly outlined for your shoppers to see.
A Return Merchandise Authorization (RMA) system is a straightforward approach to do this. You can use this model to obtain information and photographs about the product to be returned by the customer. Once you review the submitted pictures, you can choose to accept the return or reject.
8. Facilitate returns via in-store
Allowing buyers to make eCommerce returns at your physical location will increase customer satisfaction significantly. Most customers love to return in-store, so make this option available as it is also a great opportunity to upsell.
When clients bring in the returned products, they will very likely purchase something else from your outlet. This approach also allows you to convince customers why another product might be better than what they have returned, and you could even persuade them to buy it.
An example of a brand that gives its customers an option to return items through its physical stores is Best buy.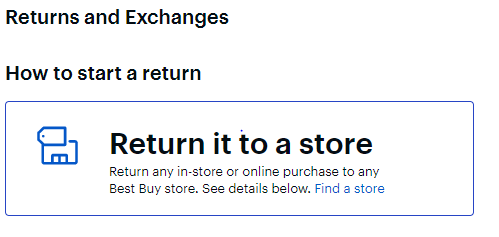 9. Take a cue from the pros and model your return policy after them
You may figure out what return policies work best for your company by experimentation. Even better, learn from the professionals – other successful eCommerce businesses.
Once you have implemented your eCommerce return policy, you will need to make adjustments. However, whenever you rely on the expertise of others, you will understand how to make the policy work better for you and your customers.
Examine the return policies of any eCommerce platforms you are interested in. From there you can borrow the best practice to make your eCommerce return policy easy, useful, and even more powerful for your business performance.
10. Make it simple to print return labels
Allow users to view their purchases and return products from their initial order. This should only take one click to generate a return label from there.
By simplifying the return process, you enable your consumers to return items faster with much less effort. Furthermore, an online returns page may shield you against return fraudsters. Some shoppers will attempt to take advantage of returns by falsely claiming that everything is in the return box when it is not.
To avoid these concerns, make a return list that includes all the things that are being returned. Request that your customer prints the list and place it in the package with the returns.
This choice list will keep your customers honest while also making it simple for the warehouse personnel to assess if a return is necessary.
11. Find out what necessitated the return
It is crucial to get feedback on what caused the return as customers' reasons differ. As an entrepreneur, you need to find out what prompted a return in the first place.
You can include a feedback collection tool in your eCommerce return process. This might help you determine any flaws with your delivery services or production process.
If what caused the return was a bad experience with the items or delivery procedure, thank the customer for their assistance in improving your business processes and assure them better services in the future.
12. Review and update your eCommerce return policy regularly
The online retail industry is constantly evolving, and so should your eCommerce return policy. Tracking returns isn't enough; use the information you collect to adjust your return policy.
Once you've established and implemented your eCommerce return policy, make changes as needed depending on consumer feedback and how the system works for you effectively.
Keep an eye on your profit margins, determine why your returns have increased, and change your strategy accordingly. Ensure your process makes sense for your firm rather than conform to all your customers' demands.
Therefore, if your adopted process costs you more than benefit you, don't hesitate to update your terms.
Where to place your return policy
Below are some of the recommendations of where to place your eCommerce return policy to enhance its visibility and accessibility;
On your product page: This position can help boost the sale of a product by retaining the product in the buyer's mind as they read through your policy.
On your home page: Include a hyperlink to your return policy on the main page of your website. You can have the link open as a separate tab or insert the link on the footer of your homepage.
In the order confirmation: Adding your eCommerce return policy in the confirmation email sent after buying a product is a powerful reminder to the consumer that their fulfillment is your top priority. This approach also demonstrates that you are eager to provide customers with an easy return policy if they are dissatisfied.
During the checkout process: It may appear counterintuitive, having a link to your e-commerce return policy in your checkout cart. It will encourage the customer to complete the transaction. Include your return policy throughout the final stage of the purchase to not only prevent cart abandonment but also to reaffirm the integrity of your brand.
Business can employ Ecommerce automation tool to make the process easier.
Key factors to note
For the best outcomes, every small business should have a well-written return policy.
Here are a few factors to take into account when creating a return policy for your eCommerce business ;
1. The average eCommerce return rate
The merchandise you offer and the target customers will determine your return rate. If you have a large number of repeat customers who are familiar with your products, your eCommerce returns rates are expected to be lower than the national average.
However, your eCommerce total return may increase by up to 50 percent on average following the holidays.
A report by the National Retail Federation (NRF) shows that return rates are most likely to go higher during holidays. That's close to $218 billion out of $1.050 trillion of online purchases were returned in 2021. Average return rates have increased by 16.6% of the total retail sales.
Returning holiday presents can be a major hassle for eCommerce merchants due to the supply chain issues. It includes as having to pay for shipping and not knowing when they will get the refund back from wholesalers.
Clothing and footwear are returned at the greatest rate all year. Since buyers frequently buy numerous outfits to replace those that don't fit.
2. A return policy may work for or against you
When considering the cost of free return shipping and a generous refund policy, remember to factor in the loss of valuable sales if returns are challenging.
Many clients will not revisit your online store if they have had a negative experience with your eCommerce return policy. This behavior is most common among the younger generation if they have trouble returning an item; some of them are less likely to return to your shop.
On the other hand, making eCommerce returns straightforward can help you retain your customers and their loyalty. Chances are that customers who have had a positive experience with your eCommerce return policy will buy from your site again.
The service recovery paradox refers to the idea that customers may enjoy your company more if they recover well after a mistake, such as a broken or mispacked product. You may take advantage of this by offering an effective eCommerce return policy.
3. The cost of a typical eCommerce return rate
According to CNBC, eCommerce refunds are expected to cost online businesses a total of $550 billion.
If you want to know what it implies for your bottomline, consider an estimated eCommerce return rate of 15% to 20% and double it by your projected total sales for the following year. Remember to include charges or costs for restocking, return shipping, and lost or destroyed products.
Compute your firm's average eCommerce return rate if you have data on previous eCommerce returns. If it's less than 15%. This shows you're on the right track and doing better than many eCommerce businesses. If it is greater, it may be time to put tactics in place to lower your return rate
If you aren't monitoring your eCommerce return rate, it's better to implement it into your list of key performance indicators (KPIs). A thorough understanding of how eCommerce returns affect your net profit will assist you in keeping your company successful.
Conclusion
When creating or revising your eCommerce returns policy, a key point to remember is to discover a reverse logistics method that favors both you and your consumers.
If you give the best service and be convenient enough to reach your client's expectations, you will keep their business and expand yours as well.
Your return policy should act as an extension of your business as well as reflect your company's fundamental principles, style, and voice. It may be the most visited page on your website. It's not only a way to clarify your return conditions and procedure. It's also a technique to make a positive first impression on customers and market your business.
Invest your time and come up with a strategy while developing your company's return policy. In other terms, plan everything at the onset.
Generate ideas, conduct enough research and seek feedback. Examine the return policies of successful eCommerce businesses and look at return policy templates.
Acowebs is an award-winning WooCommerce plugin development company having more than 60,000 customers across the globe. WooCommerce plugins from Acowebs like WooCommerce Quick View help users to make a quick look at the products rather than opening the entire product page. There are also free plugins from Acowebs for WooCommerce Deposits, WooCommerce PDF invoices, WooCommerce Product Labels, etc. which are being used by thousands of customers.