Increasing sales is almost certainly one of your objectives if you have a Shopify store.
Slow development of your Shopify store is a problem that all Shopify store owners experience at some point. It could be caused by a lack of traffic or a very low conversion rate.
Starting a Shopify store is merely the first step toward establishing a profitable eCommerce business. The problem is getting it off the ground – creating a spectacular product line, locating the necessary software to assist your job, and generating visitors to your brand new venture.
The most common cause for many small firms' inability to meet their targets is that they deviate from their strategy. Or they never created a plan in the first place.
You could believe that increasing sales is simply getting more individuals to click the 'purchase' button. That is, without a doubt, a component of the story. But that's not the end of the narrative.
The minute a buyer completes a purchase is only the first step in a much longer process. If you genuinely want to increase your Shopify sales, you should optimize your operations at every stage.
In this piece, we will go through the most crucial tips for increasing sales and conversions in your Shopify store.
The Reasons Why Your Shopify Store Has Traffic but No Sales
Your Shopify stores may be receiving traffic, but the sales aren't pouring in. In that situation, put yourself in the perspective of your customers.
You have gotten folks to hang around your shop, but they are not having a good time. Why is this the case?
Having a Difficult Store Navigation
When a customer clicks on your homepage, they search for a menu.
Studies show that 38% of the customers will abandon your online business if the layout is unattractive and challenging to use.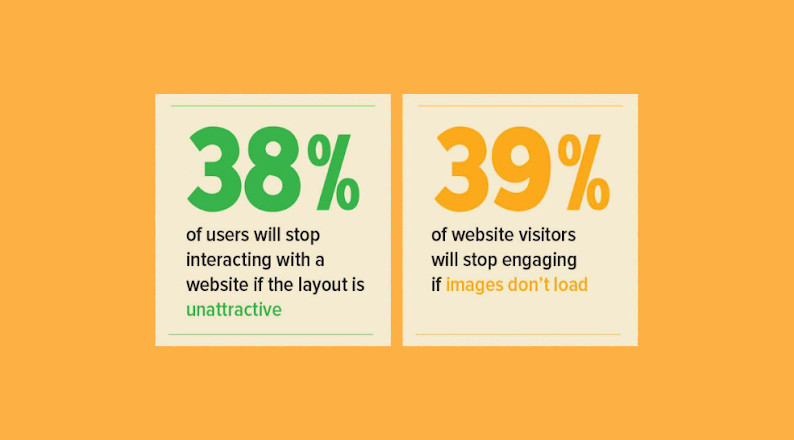 Marketing Statistics by Forbes- Image Credit: Forbes
This could cost you your company. Your Shopify store menu ought to be noticeable, contain all of the necessary parts, and be the first element a user sees.
Your shop's menu should be designed in such a way that it informs visitors about the primary product categories you offer. Take a look at how modest yet profound Bailey Nelson's shop menu is in the example below.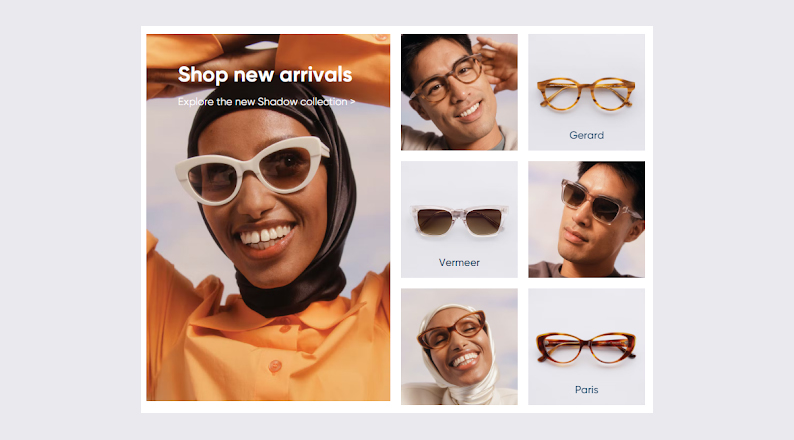 Bailey Nelson's Shop Menu – Image Credit: Bailey Nelson
The top menu details items you can buy in the shop. The menu beneath the logo is an excellent way to list vital elements.
A Helpful Tip: It's a good idea to include a menu at the bottom; this improves your Shopify site's usability.
Poor Quality Images
Your photographs, like your descriptions, are the final element of product promotion for the incredible items you wish to sell.
Make sure your homepage features high-quality photographs that adhere to quality standards so that your customers can truly get a sense of what you sell.
Your Store is Not Mobile-Friendly
Thus according to studies by Statistica, when it comes to shopping in the United States, mobile is the most popular device.
The graph below depicts consumers in the United States visiting online retail businesses and placing orders in the fourth quarter of 2021.
Smartphones were used to make 58% of orders in the fourth quarter of 2021.
U.S. Online Retail Website Visits & Orders, by Device – Image Credit: Statista
Therefore, if your Shopify store isn't mobile-optimized, you could lose a significant portion of your sales, and your business would fail.
Use a fixed navigation bar for your mobile store version (sticky header).
Make sure that your product photographs are centrally placed and attractive, and reduce the amount of text you utilize – no fluff.
On every product page, include a permanent add to cart button.
To achieve the most satisfactory results, use actual product photographs.
Incorrect Audience
You might be targeting the wrong people.
It would be best to correct it so that the suitable buyers can discover and purchase your product, whether it's because your SEO is misleading searchers or your paid marketing campaign is targeting the wrong audiences.
There Could Be an Error in Your Checkout Process
Checkout is the final barrier that converts your visitors into buyers. It's like hammering the last nail into the coffin.
According to Baymard Institute, conversions can be increased by 35.26% by optimizing your checkout experience.
If you're experiencing a high cart abandonment rate, check whether the payment gateway is experiencing any technical difficulties.
Similarly, examine to see if the layout of your checkout process is as lovely as the layout of any other page on your Shopify site.
Tips for Increasing Sales and Conversions in Your Shopify Store
Now that you understand why your store generates traffic and yet no sales, it's time to delve into some sales-boosting tactics.
Whether you are an established business looking to scale your Shopify store or a newcomer to the eCommerce game, developing a solid strategy for generating sales on Shopify is essential.
When creating a Shopify store, you'll need to do more than sit back and wait for consumers to arrive.
Below are ten tried-and-true tips for increasing sales and conversions in your Shopify store.
Use Search Engine Optimization to Increase Traffic
You'll need sales once you've created your internet business, right? Attracting visitors is one of the essential ways for increasing sales.
Relying on a free traffic provider like SEO is a great starting place, notably if you do not have much money.
Primary Arms Shopify store is an example of a store that has benefitted from SEO. With the help of SEO services, the store improved its organic sales by 47%.
Furthermore, According to Semrush, SEO accounts for 37.5% of eCommerce traffic. So it's an excellent idea to give it a shot.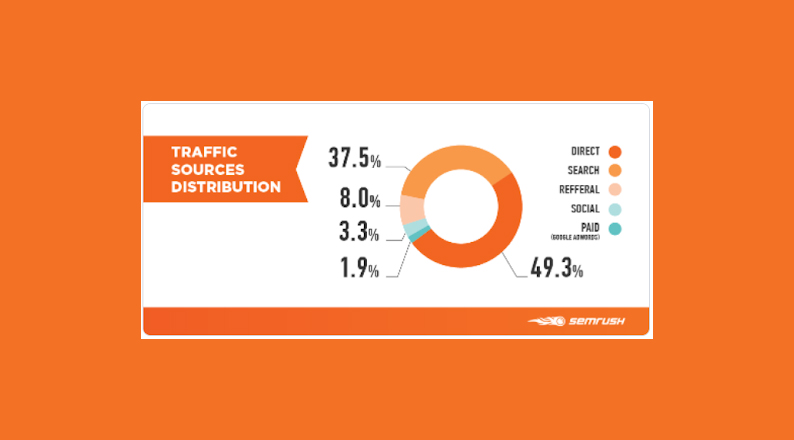 Semrush Traffic Analytics – Image Credit: Semrush
If you are looking to do your Shopify SEO correctly, below are some tips.
Create a website hierarchy to make your Shopify store more accessible and logical.
Make each webpage and product name distinct, and provide a meta summary for each one.
Make sure the product photographs are high quality and compressed to load quickly.
Perform a complete technical SEO audit on the Shopify store.
Insert a sitemap into Google Search Console.
To increase traffic, create high-quality content, and generate high backlinks.
Set up 301 redirects as needed.
Make sure you have Google Analytics set up.
Obtain Consumer Opt-Ins to Foster Future Sales
You want to extract as much value in return from the traffic you already have. You cannot expect all of that traffic to result in sales. And that's fine.
However, you may give those customers the chance to switch to other methods for the fee of their contact information. When you have their email address and contact details, you may begin marketing to them to increase future sales.
Pop-up ads, flyouts, conversation windows, and on-page fields are all examples of opt-in forms. These products, which provide downloadables and offers, effectively boost conversions.
Pop-ups have a conversion rate of roughly 3.1% on average, with the greatest performing ones having a conversion rate of 9.3%. Not bad at all!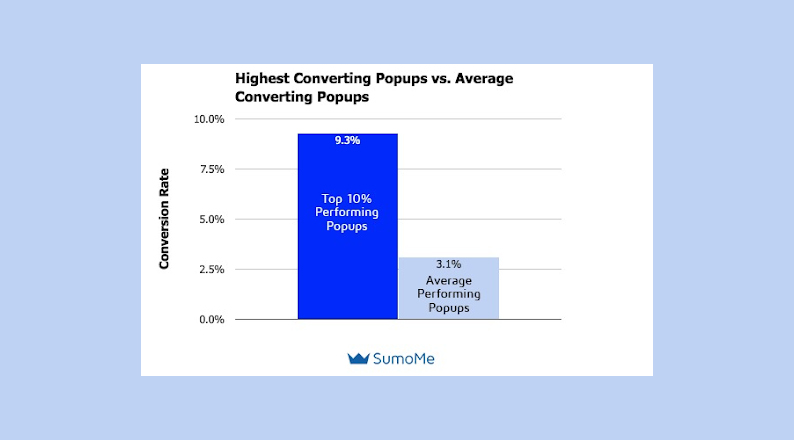 Statistics of Average Conversion Rate for All Pop-ups-Image Credit: Sumo
However, you must exercise caution while adding pop-ups to pages.
When there is evident buy intent, such as on the checkout page, you are diminishing your sales ability. Do not even sabotage the purchasing process.
Use SMS and Push Alerts to Increase Engagement
SMS marketing is growing just as vital as email marketing today. You may deliver marketing texts directly to your clients' pockets and handbags.
With correct opt-in, buyers are more than delighted to get special offers by messages and may even choose SMS over other modes of marketing.
Since the average open rate for email marketing throughout all industries is 18%, SMS open rates can reach 98%. And in general, those messages are read within the first 90 seconds of receipt.
Alternatively, you can go the incognito route with online push notifications, which require browser opt-in and provide customers with vital nudges right where they purchase without requiring customer details.
Invest in Your Social Media Marketing Plan
A successful eCommerce marketing plan would be incomplete without solid social media exposure.
The importance of social media in the success of some of the top Shopify stores is a big takeaway.
With its emphasis on photographs and the potential to tag things for quick shop ability, Instagram has shown to be a tremendous advertising tool for eCommerce retailers.
Its worldwide user base surpassed one billion in 2020, which is still rising.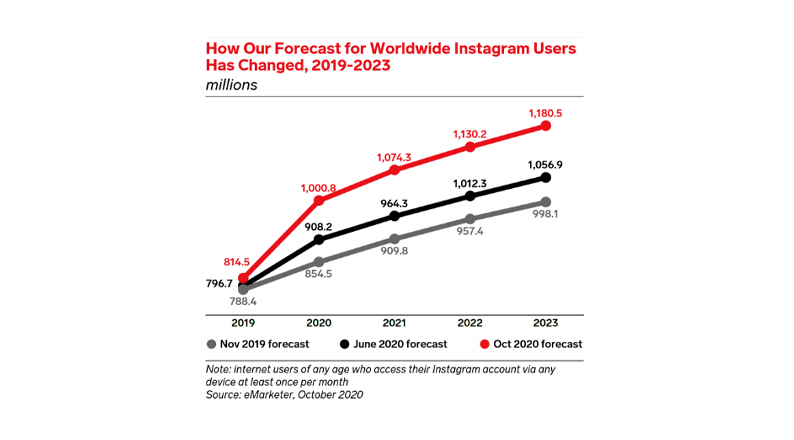 Forecast For Worldwide Instagram Users – Image Credit: eMarketer
Although Facebook isn't as visually appealing as Instagram, several firms have found significant success by interacting with active Facebook Groups to generate interest in their products.
Pinterest is yet another platform where customers gather to discover incredible new merchandise (such as yours) and connect with merchants.
With frequent posting, you can begin to gain followers and, as a result, new visitors and business recognition. You have already heated these leads with amazing content, so they're more likely to buy when they visit your business.
Use Compelling Writing, Photos, and Video to Highlight Your Products
The most crucial aspect of your Shopify store is its items. So it's understandable that you'd want to do everything you can to showcase what makes them unique.
Aside from that, just because buyers are rushing online to do transactions does not imply they do not even value the in-store experience.
Instead of being able to flip items over in their palms and scrutinize the specifics of your offerings in person, you must build a product page experience as near to that as possible.
This strategy includes taking great images from numerous angles that display even the tiniest details and creating a setting for your products to shine, whether it's on a mannequin in the bush or positioned against a firm grounding.
Using Videos is also an effective visual method for explaining product specifics.
Your item description should be informative and dynamic to complement these graphic explainers.
Incorporate necessary product specifications as well as a compelling product story. Excellent storytelling is the foundation of commerce.
Provide Free Shipping
When the NRF conducted a poll in 2019, it was evident that free delivery significantly impacted conversions.
According to the report, 75% of shoppers want stores to ship things for free, even though the order is less than $50.
Would this be, however, feasible for all store owners? It may not be viable to provide free shipping on a small, low-margin Shopify company like yours. In such instances, there are two options.
The first strategy is to provide free shipping with a minimum order value.
The second option is to raise the cost of your merchandise to compensate for the delivery costs and then offer entirely free shipping.
The last option is only encouraged if your products are one-of-a-kind and have no main competitors in the industry.
Since if you raise your rates and have rivals in the industry, your customers will go to them because they offer the same item at a lower price.
#Plus: When calculating minimum order value, analyze parameters such as gross profit margin, the average order value of your Shopify business, typical shipping cost, and so on.
Make Use of Personalization
One of the most powerful effective strategies to enhance your conversion rate is to obtain personal information about Shopify site visitors.
Gathering details such as their address, gadget, and internet browser can assist you in serving up marketing messages that are relevant to them.
The more personalized the communications, the more probable that people will convert.
You may use this information to tailor your interaction with them via platforms like email, ads, and SMS, giving them the impression that you are a dominant business that can manage to invest a lot of cash in their consumers.
However, take care not to have your clients feel invaded, and ensure that you confirm with the General Data Protection Regulation (GDPR) if you run in the EU (The European Union).
Utilize Email Marketing to Track Down Abandoned Carts
You can leverage abandoned carts to increase sales by sending targeted, accurate, and relevant communications to customers. To maximize the effectiveness of this form of marketing, including a solid invitation in their inbox is necessary.
Additionally, customize keywords and copy depending on what customers have glanced at or discarded on your site.
Create an automated message follow-up tool that can be programmed to reach out to individuals who leave their shopping carts on your Shopify site.
Klaviyo is one tool that many Shopify store owners use to accomplish this.
They'll write to the consumer several emails over two weeks, prompting them to finalize their purchase and providing connections back to your website.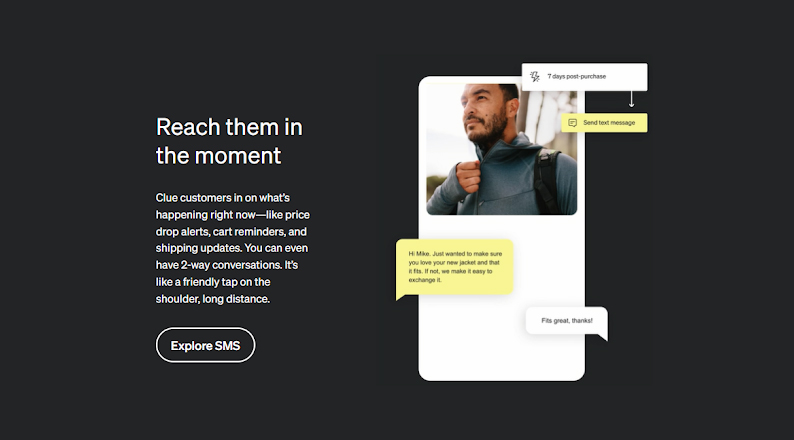 Klaviyo Marketing Automation Platform – Image Credit: Klaviyo
According to the Baymard Institute, the industry average for abandoned carts is a stunning 68.8%.
This rate is a significant amount of lost clients and income that you can recoup with a few easy adjustments.
Obtain Feedback From Customers
Customer reviews, classified according to the type of goods you sell, can be an efficient technique to enhance conversions.
People want to purchase from a business they identify with high-quality items and excellent customer service, and satisfied customers are more likely to leave a positive review.
Although some shoppers may never leave a review, most Shopify store owners invite previous customers to submit their feedback by giving discounts or freebies in exchange for their honest feedback.
According to one study, before visiting a store, 90% of customers examine online reviews. Furthermore, 88% of buyers trust internet reviews as much as they do personal advice.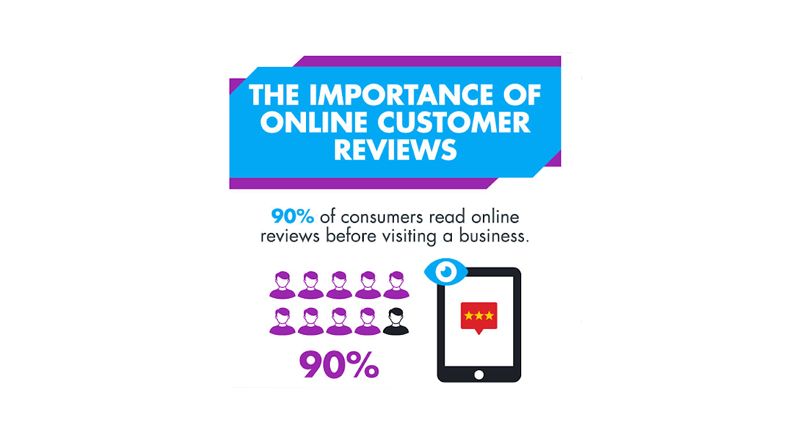 Benefits of Online Customer Reviews – Image Credit: Invesp
Shoppers today have many choices, and reviews might help to filter them down and enhance your company's conversion rate.
Create Specialized and High-Converting Landing Pages
Okay, you have developed a good plan for driving visitors to your Shopify store.
Your Shopify store already has inquisitive customers hanging around thanks to SEO, email and SMS marketing, push alerts, and paid ads. Awesome!
You could do nothing and let everyone figure this out from your homepage. That's great, and you'll probably get a lot of sales that way.
However, if you already have different traffic sources (at least some of which are well-segmented), you can create conversion-optimized landing pages.
Paid traffic is an excellent example. You understand precisely your intended audience and who will click on your link. Therefore, would you like to send something?
Do you direct them to your homepage or to a domain specifically geared to sell to customers?
Here is where a landing page comes in. An excellent landing page includes a few characteristics that contribute to its success:
A captivating headline.
A strong call to action (CTA).
Powerful graphics and design.
Clearly defined characteristics and benefits.
Social evidence.
Create a remarkable landing page, then reproduce it for each target group.
Fashionnova is one example of a Shopify store with an excellent landing page. There are numerous prominent, encouraging, and plain CTA buttons on the page.
FashionNova's Landing Page – Image Credit: FashionNova
When users first visit the page, a pop-up prompts them to subscribe to receive a discount on their first purchases.
Conclusion
Shopify sales and conversion rate optimization is vital for every Shopify business owner's marketing plan.
Use the influence of human psychology to drive consumer cognition at different phases of the shopping experience, such as searching or contemplating buying a product, enhancing your Shopify sales and conversion rates.
You do not have to do everything in this article to see significant improvements in your sales figures. Begin with the lesser fruit and work your way up.
Each business is unique, and the results of every individual implementation will differ. The most important thing you can do to scale your brand is to pay heed to your consumers and understand what works for them.
Acowebs are developers of Woocommerce bulk discounts that will help you add bulk discounts to products on your stores. It also has developed various other plugins like the popular plugin for managing the checkout form fields in WooCommerce, called Woocommerce Checkout Manager, which is highly feature-oriented yet lightweight and fast. There is also a free version of this plugin available in the WordPress directory named WooCommerce Checkout Field Editor.