As an eCommerce store owner, you will find many customers who do not want to initially pay for the product in full but want to take the product through partial payment, especially if you sell products that are expensive. A lack of partial payment options can also result in customer loss. And as you can guess, losing customers in this way can create a daunting challenge for your eCommerce store.
Most owners are afraid of the cost of implementing and offering this excellent feature, so they do not take the initiative to implement this feature. But if you are looking for a very simple and cost-effective solution to retain the customers of your eCommerce store that sells high-priced products, then you are at the right place.
In this guide, we will show you how you can enable Deposits & Partial Payments on your WooCommerce powered WordPress sites using our plugin.
So, let's dive right in!
Why is Partial Payments & Deposit Important for an eCommerce Site
Deposits & Partial Payments is basically helping customers to pay for products using multiple installments instead of paying all at once using Cash on Delivery or Upfront Payment.
Customers can often make a partial payment for their product because they do not have enough cash to pay for products that are not that cheap. In this case, by allowing partial payments, you can influence them to buy from your site.
So, it is very important to allow your deposit in the WooCommerce store that sells high-end products or services. The notable reasons are:
It plays an important role in increasing your sales and business growth
Deposits can increase the average order value of your store
It helps you gain the trust of your customers
Allowing deposits is a great strategy to attract new customers
This potentially increases the purchasing power of existing customers
All in all, there are simply no reasons that you should not allow Deposits & Partial Payments for your WooCommerce store.
WooCommerce Deposits & Partial Payments – Features at Glance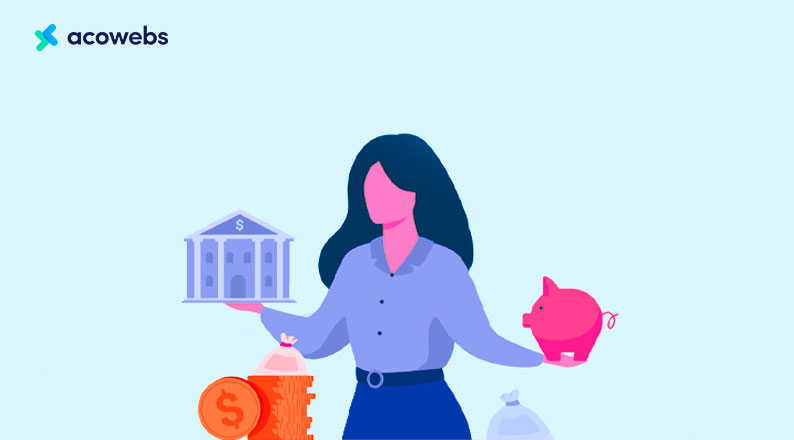 "WooCommerce Deposits & Partial Payments" is open source freemium software and a very useful tool from Acowebs. It enables you to have deposits & partial payments options in your online store and help you get repeat visitors while also helping to create a loyal group of customers that buys from you more often than not.
You will get both Free and Premium versions of the plugin. So, you can choose any plan that suits you. Moreover, the premium does have some exciting benefits over the free version which should be a great pick for you, if you are a serious eCommerce owner. 
To know more about the plugin and what it can do for you and your site, you need to know about the features that it has to offer. So without any more delay let's take a look at the Free and Premium features of the "Deposits & Partial Payments for WooCommerce" plugin.
Free Features
One click enable/disable the partial payment option, whole sitewide.
You can also enable or disable deposits for specific products.
You can allow your customers to place orders with both deposits or the full amount, no more tools are needed.
You can control the use of deposits for unauthenticated users for security purposes.
The multiple deposits can be done by both percentage or fixed amounts from the customers end to offer flexibility.
There are also custom deposit settings at the products level as well on the global sitewide.
Ability to offer the customers to pay the balance amount anytime by logging in to their accounts.
You can disable specific payment gateways at checkout for deposit product orders as per your preference.
You can customize the plugin labels & texts.
The plugin is fully translation ready.
Premium Features
The premium version has all the features from the free version.
You can opt for enabling or disabling the deposits storewide from the settings.
Ability to offer deposits on checkout as well of the product page.
You can set automatic email reminders notification for pending payment to the user.
You can also set automatic email notifications to clients & admin upon their deposit creation or during payments.
Option for deposit based on category.
You can opt for a forced deposit only on the product page.
You can restrict the option based on the custom user role restriction feature. This will help you to enable this feature for only the users of a specific tier.
You can opt for adding fees, taxes, shipping, coupon handling with deposits.
Ability to assign multiple payment plans to a single product.
You can set payment schedules to days, weeks, months, or years based on your need.
Now you may be wondering how you can utilize the excellent features of deposits in your WooCommerce site using this plugin to increase the sales of your site and take it to the next level. Well, we have described just that in the following sections!
How to Use WooCommerce Deposits & Partial Payments on Your Site
Using Deposits & Partial Payments for WooCommerce on your site is actually very simple and straightforward. You can use it for any product in your WooCommerce store. Let's know what you need to do to start using deposits and partial payments for your product.
In order to use WooCommerce Deposits & Partial Payments, first, you need to have the following –
A WordPress site.
WooCommerce Plugin Installed on your WordPress website.
Now we think you already have a WordPress site that is powered by WooCommerce if you have followed us this far. So what are you waiting for? Now we will follow the three-step process mentioned below to install and configure the WooCommerce Deposits & Partial Payments plugin.
Step 1 – Install and Activate the Plugin
Step 2 – Configuring the Basic Settings
Step 3 – Activate Deposits in Product
Step 1 – Install and Activate the Plugin
Our "WooCommerce Deposits & Partial Payments" plugin helps your customers purchase products within the specified amount of partial payments. Thus, it can help improve the conversion rate of your store.
To install the plugin, first, log in to your WordPress admin dashboard and navigate to Plugins > Add New.
Now click on the search bar and search for "Deposits & Partial Payments by Acowebs".
Click on the Install Now button.
It will take a few seconds or a minute to install depending on your server and internet speed. Once installed, you will be asked to activate it. Just click on the Activate button.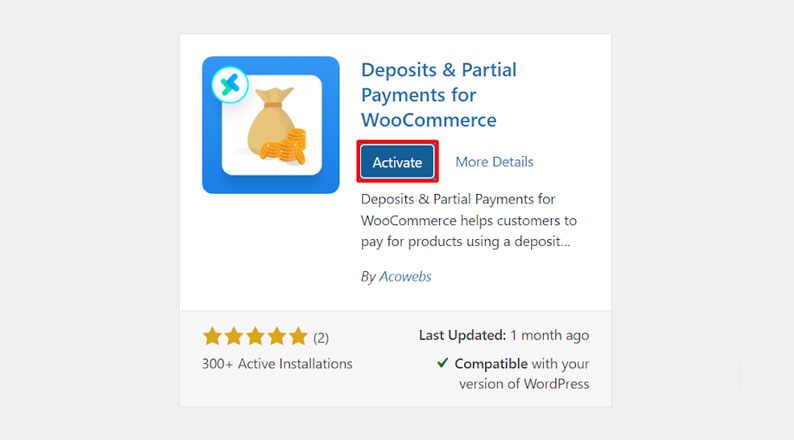 Great, now you've successfully completed the installation process.
You can also opt for purchasing the premium version of the plugin from here. We have discussed the pricing plans of this plugin in the later section of this article which you should definitely check out.
Step 2 – Configuring the Basic Settings
Once the plugin is installed and activated, you will see an additional menu called "Deposits" in your dashboard.
Go to this option to set a deposit in your product. A page called "Deposits admin settings" will appear in front of you. Where you will see 2 options.
General Settings
Labels & Text
1. General Settings
The first and main task of setting up a deposit on your site's product is on the General Settings. To customize these settings, you must first turn on the "Enable Deposits" option.
Once you do it, you will see all the options in General Settings.
So let's start with the options.
Require login: If you want to allow deposits for your customers after signing in, then you can turn on this option.
Deposit type: You can set the Deposit type in two ways "Percentage and Fixed Amount". We have chosen the Percentage option.
Deposit amount & Default Selection: In the first option, you have to write the amount of deposit. On the other option, you can choose the default. For example, we have given Deposit amount "10" and Default Selection "Pay Deposit"
Order fully paid status: This option works to indicate whether an order is being processed or completed. For instance, we have selected the Processing option.
Disable Payment Gateways: This is the last task of the general setting. Here you have to select how your customer will pay for your product, when they make a deposit transaction. We have selected "Direct bank transfer", you can give any option as per your comfort.
Finally, we have successfully enabled the General Settings.
Be sure to click Save Changes when you're done.
2. Labels & Text
This setting is very simple. From here you can customize plugin texts from the admin interface with provided options. However, we haven't made any changes here, but you can make as many changes as you want. Remember, if you make any changes, you must click on the Save Changes button again.
Step 3 – Activate Deposits in Product
Your work is almost finished, now you need to edit the products on which you want to set the deposit. To do this, you have to go to your product page and enter the edit option of the product you want to set the deposit for.
For example, here we have selected one of our products.
After entering the edit option, you have to crawl a little and go down to the Product data and select the Deposits option.
Here you will see 3 options, fill them as before. After filling the options, your last task is to save. So, just go to the top right side and click on the Update button.
Now if you go to buy the product then you'll see a new option named Pay Deposit like the picture below.
Eventually, we have learned to set up a deposit in the product. We hope that, using this plugin you will be able to successfully set up deposits for your site products.
WooCommerce Deposits & Partial Payments Pricing Plan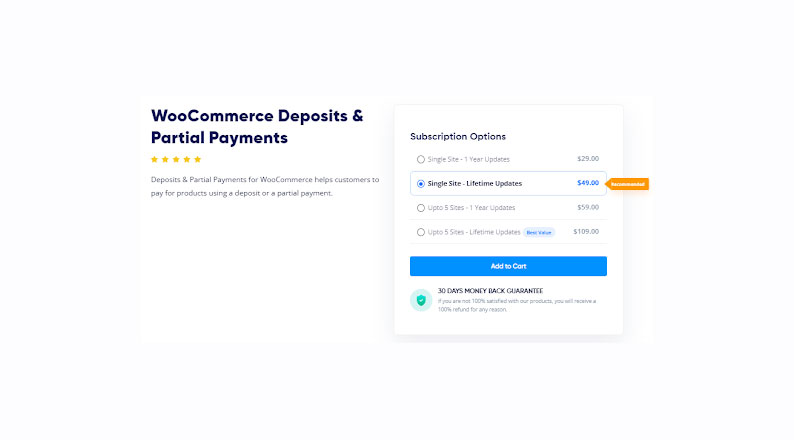 "Deposits & Partial Payments for WooCommerce" plugin lets you easily add partial deposit based payment features to eCommerce stores. As a result, customers can place a deposit for a specific product and use a payment plan for partial payment of a product. This plugin is very affordable despite coming with many advanced features to extend the power of WooCommerce as far as partial payments are concerned.
At present, there are 4 pricing packages available in the plugin. The first plan is only $29 and the last is for a lifetime which is only $109.00. You can feel how affordable the plugin is.
| | | | |
| --- | --- | --- | --- |
| Sl. No. | No. of Sites | Updates | Price |
| Plan 1 | Single Site | 1 Year Updates | $39.00 |
| Plan 2 | Single Site | Lifetime Updates | $79.00 |
| Plan 3 | Up to 5 Sites | 1 Year Updates | $89.00 |
| Plan 4 | Up to 5 Sites | Lifetime Updates | $179.00 |
Each package of the plan is highly efficient and affordable. Plan 2 for your single site and Plan 4 are giving lifetime updates for Up to 5 of your sites which is really incredible. Most importantly, we guarantee you, if you are not 100% satisfied with our products, you will receive a 100% refund for any reason.
Add a Deposit & Partial Payment Features to Your eCommerce Shop Today
Adding a deposit to your product is very important for your eCommerce site. It can help increase your sales. Deposits allow your customers to book your products or services by making partial payments which makes their purchase easier. In this case, customers can confidently buy any high-priced product which increases their trust in you. Deposits & Partial Payments for WooCommerce is compatible with WPML.
As you can see from the tutorial, it is very easy to set a deposit on your site product using our "Deposits & Partial Payments for Woocommerce" plugin. We tried to highlight the power and importance of the plugin in this detailed article. Moreover, we have also shown you how you can install this plugin on a website and the way to utilize it.
We hope now you can easily set a deposit in your product for the users after reading this guide. However, if you need any help in doing this, we are here. Just leave us a comment in the below box and we'll get back to you with the solution.
Acowebs are the developers of the WooCommerce Product Labels plugin that helps the customers to include custom product labels or product badges for the Woocommerce products. It also has developed various other plugins like WooCommerce Currency Switcher, the multi-currency converter plugin that shows prices in the user's local currency and helps customers connect to desired products faster. It helps customers quickly compare products and make a judgment easily.