Sustainability is the new buzzword in various businesses, from manufacturing and textiles to farming. However, sustainability is equally critical for eCommerce firms like yours.
If you conduct your business online, you can help the environment by reducing the amount of waste you produce.
Having your digital operations more sustainable helps you lower the risk of product liability by promoting the security of your products to minimize financial or reputational damage.
For eCommerce stores, sustainability is not a minor consideration. The developing concept of environmental sustainability is humankind's reaction to the devastating nature of western capitalism's "blossom or perish" mentality.
The idea of sustainability in eCommerce can vary from business approaches to merchandise packaging, and its function will become progressively crucial in the following years.
Concerns about the environment and sustainability have long been a theme in eCommerce.
Online merchants have been thinking about patterns like corporate social responsibility and eco-friendly practices in the distribution chain for a long time now to handle rising demands for sustainability from their customers.
In this article, we will cover reasons why businesses should adopt sustainable eCommerce but first, let's take a deeper look at the meaning of having a sustainable eCommerce.
What Is Sustainable Ecommerce?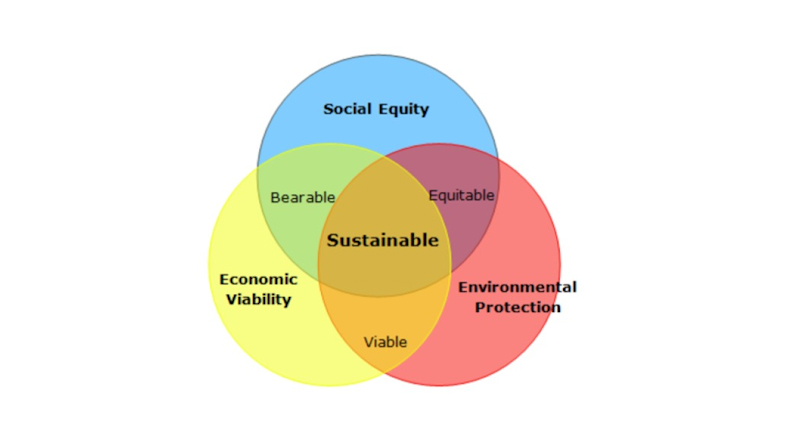 Sustainable eCommerce Concept – Image Source: BigCommerce
Sustainable eCommerce is concerned with operating business in a manner that does not degrade the natural environment.
It seeks to address the requirements of current generations without jeopardizing the demands of future generations.
In other words, sustainability is typically viewed as balancing meeting current needs without jeopardizing future generations' ability to meet their own.
While sustainability can be perceived as "inconvenient," it makes good economic sense until enough people continue to give their backing (and their money) to organizations that demonstrate a concern for the environment.
Choosing the path of most minor convenience is typically the most sustainable option. Another significant twenty-first-century problem may be transforming global habits into sustainable ones.
Its ultimate purpose is to achieve equilibrium between the ecosystem, culture, and the economy. However, it entails striking a balanced ecosystem, society, and economics for eCommerce enterprises.
According to the survey done by McKinsey, 67% of users believe the adoption of sustainable materials to be an essential purchasing criterion, and 63% consider a brand's advocacy of sustainability to be the same.
Nowadays, numerous Online firms are launching as sustainable online businesses, so if you aren't already implementing some green measures, this may be time to begin!
Establishing and implementing more environmentally friendly corporate practices can be difficult and costly. It does, however, have a number of advantages.
Below are 8 reasons why businesses should adopt sustainable eCommerce.
Why Businesses Should Adopt Sustainable eCommerce
Scientists (via their predictions) and consumers worldwide are becoming increasingly concerned about the planet's future, the influence of manufacturing processes, and its consumption patterns.
Companies are substantially accountable for the short-term trajectory of climate change; therefore, focusing on sustainability is both moral and practical.
Being sustainable has become such a trendy. We appear to have forgotten that it is, in fact, a fundamental goal for all enterprises.
Below are some of the reasons why businesses should adopt sustainable eCommerce.
Sustainability Aids Business Success
Many firms are concerned that implementing "sustainable" practices will deplete their profits and necessitate significant investment.
Changes you make to progress toward a more sustainable future can be large or modest. Don't overlook the long-term benefits of sustainable behaviors.
Navigating renewable energy systems, electric motors, and other creative ways will result in a more efficient operation that saves time and money. These cost savings will mount up with time and positively influence your bottom line.
Engaging with sustainable suppliers and forming connections with like-minded companies will be crucial to incorporating sustainability into your company.
Customers will conduct studies in this area, so keep this in mind. In general, sustainability is a significant undertaking.
Do you require additional proof? Below is an image showing a graph of the most sustainable corporations.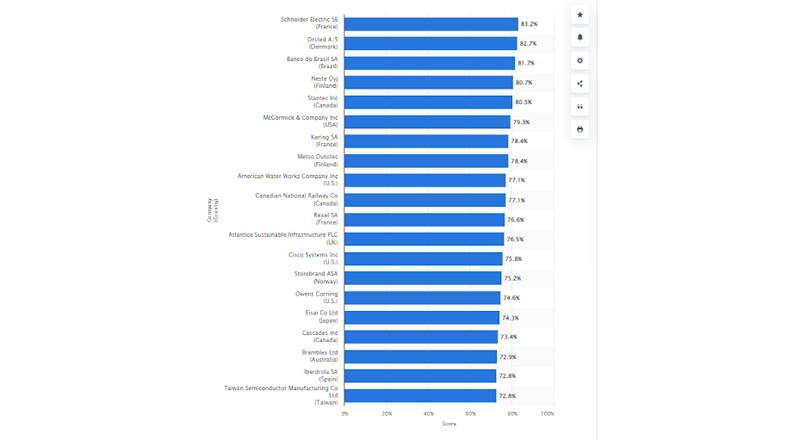 Leading Sustainable Corporations Statistics – Image Credit: Statista
Improves Employee Retention
Keep this in mind; people are more likely to not just buy from sustainable businesses. Still, they're more likely to desire to work (and remain) at enterprises connected with their values.
Employers must be aware of the importance of sustainability in employee satisfaction.
Employees will opt to stay at a workplace for a more extended time if they believe they have a stake in how things run and what impact their work has on the world around them.
No one would want to work for a firm that prioritizes profit over people and the environment.
Embracing sustainability will have a good influence on your clients and the recruitment tracking and retention of your employees.
Your Reputation Benefits from Sustainability
The sustainability seal can assist brands in succeeding in a highly competitive world.
Which do you think consumers will choose if they have an option between two items with identical features? One of which employs more socially responsible practices than the other?
If you're seeking methods to differentiate your company, showcasing your dedication to sustainability could be the answer.
According to a Canadian study on Sustainability research, 74% of Canadians consider sustainability an essential aspect when making purchases.
This trend was most visible in food packaging, where most Canadian adults (62%) were willing to pay more for products packed in sustainable materials, with 40% ready to spend up to 10% more.
Consumers choose a sender with a reputation for durability by default, even if they have to pay more. This way, buyers have an undeniable expectation. The trend will not be disappearing soon.
When it comes to altering consumer behavior, using an environmentally responsible strategy allows you to establish a good image in customers' eyes and provide an incentive to spend.
Following a sustainable path through your business at every stage underlines your environmentally conscientious strategy and enables you to stay ahead of the competition.
You give people a cause to pick your brand by implementing a service approach mindful of social and environmental challenges.
Our Planet Benefits from Sustainability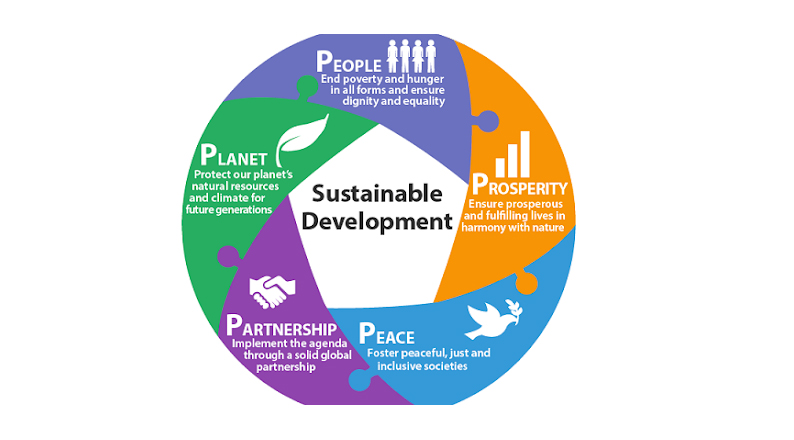 Benefits of Sustainability Concept – Image Source: IYNF
It can be quite confronting to consider all of the human actions that have resulted in extensive and abrupt alterations in the ecosystem.
A lot of adjustments to the atmosphere, ocean, biosphere, and cryosphere (i.e., frozen places) are permanent.
Many climate-related components are now changing at unprecedented rates, rendering it more necessary than ever to begin making deliberate efforts to prioritize change in your company.
Many environmental and community-based organizations, such as the Sustainable Business Network and the Climate Leaders Coalition, are working to make the future more sustainable.
The Sustainable Business Network, for example, discusses sustainable strategies with businesses to encourage the wider population to adopt sustainable waste, nature, and climate solutions.
The Sustainable Business Network provides tools and information to help people new to the notion of sustainability recognize the concerns, dangers, and options for mitigating climate change's harmful effects.
The Climate Action Tool Box, a free resource for smaller firms to study their pollution and how to minimize them, was recently launched by the organization in collaboration with the Bank of New Zealand.
Furthermore, the Climate Leaders Coalition, which includes members responsible for 60% of New Zealand's emissions, aims to "create unstoppable momentum toward a no future."
Businesses need organizations like the Coalition to hold them responsible for their ecological consequences and uphold their pledges.
Proposed Regulations
Increasing energy bills and tighter environmental laws were named as two of the top ten dangers to businesses in 2022 by EY(Ernst & Young).
Furthermore, the US and EU governments have set a lofty objective of decreasing carbon emissions by at least 55% by 2030.
Pursuing such objectives will be a continuous process, and change does not happen immediately, especially on a large scale.
However, for those not bound by tight government decisions, why not play a proactive role in sustainability and get ahead of the competition?
Demand is high, but supply is limited.
Customers, without a doubt, are looking for environmentally friendly options.
The prevalence of internet searches for sustainable items has increased by 71% in only five years. Many consumers, nevertheless, are put off by the high cost and restricted availability of these options.
When a study of consumer sentiment on sustainability was conducted, it was discovered that many people are altering their lifestyles to more ecologically friendly habits.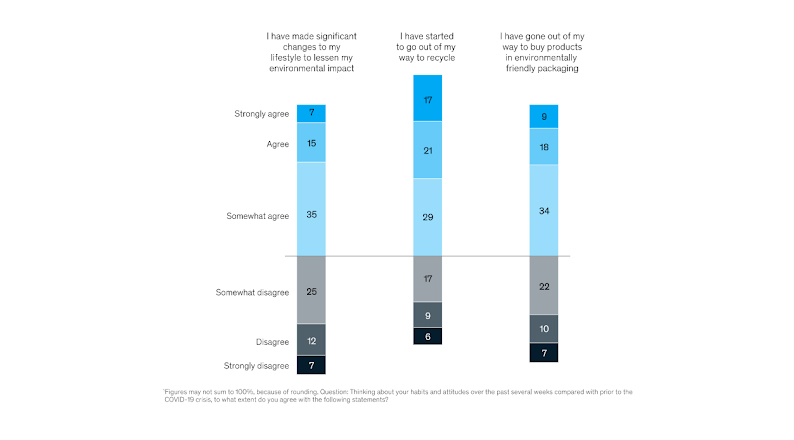 Survey on Consumer Sentiment on Stability – Image Credit: Mckinsey
Natural demand and scarcity push up the cost of sustainable alternatives, making them less appealing and unaffordable to budget-conscious customers.
Customer discontent with a lack of supply has been documented in studies all over the world. Your company's dedication to a better future is shown in its embrace of sustainability.
This practice will improve your commercial reputation and increase your consumer base. Still, it will also provide you with an advantage over your competitors who continue to use outmoded business procedures.
Incentivizing Taxes
Besides any state benefits, you may be eligible for environmentally friendly initiatives such as rooftop solar panels, biofuel, or wind turbines that may qualify for a 26% corporation tax credit from the IRS( Internal Revenue Service).
Rebates, personal tax credits, and other tax incentives are also available to home-based firms.
Minnesota, for example, provides incentives for solar energy, e-mobility, and the installation of electric vehicle charging stations that both companies and residents may use.
Various online resources can provide important details on federal and state government programs. The DSIRE (Database of State Incentives for Renewables and Efficiency), maintained by North Carolina State University, is among the most extensive.
Lowering Costs and Extending Financial Advantages
It can be argued that being sustainable is more expensive.
Efficiency measures that lessen the workload conserve resources, boost employee productivity, and cut expenses are at the heart of sustainability.
Investing in a method that provides a virtual assistant to aid your customers during the shopping experience may appear expensive at first. Still, given the reduction in rates of return, it will prove to be cost-effective in the long term.
Making a company more eco-friendly saves money and can also boost sales.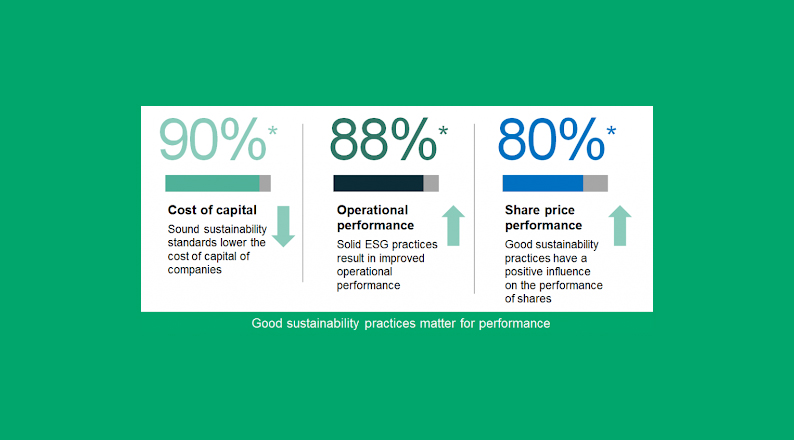 Sustainability Practices Concept – Image Source: Investors' Corner
These changes should not have a detrimental influence on sales if your branding emphasizes the environmentally responsible steps you've taken.
How to Achieve a Sustainable eCommerce
Now that you understand why implementing sustainable eCommerce is critical for every organization, how do you go about achieving it?
Sustainability is unquestionably essential for our world and a business's long prosperity. These eco-friendly practices must, nonetheless, be done carefully.
Many organizations have successfully begun adopting sustainability and incorporating it into their business plans.
Whereas sustainability may appear to be an additional expense in the short term, it can enhance business objectives when implemented appropriately in business management.
Adopting a sustainable eCommerce does not necessitate a complete transformation of your company, but it does demand the evolution of your operations in ways that can impact.
Let's take a look at measures on how to transform your business into a sustainable eCommerce
Produce & Sell Eco-Friendly Products
Although your company may not be able to manufacture 100% sustainable materials, you may be able to collaborate with manufacturers and distributors who already have sustainable processes in place.
You can gradually integrate sustainable goods and services while demonstrating your dedication to your clients.
Working to combat climate change is one of the most important things that environmentally conscious businesses can do.
On the other hand, the meat sector is a major contributor to climate change. Whether you like it, meat production has a significant environmental impact.
Beyond Meat, for example, is an eco-friendly brand that is blowing up the food sector by providing people with tasty plant-based goods that feel and taste like meat.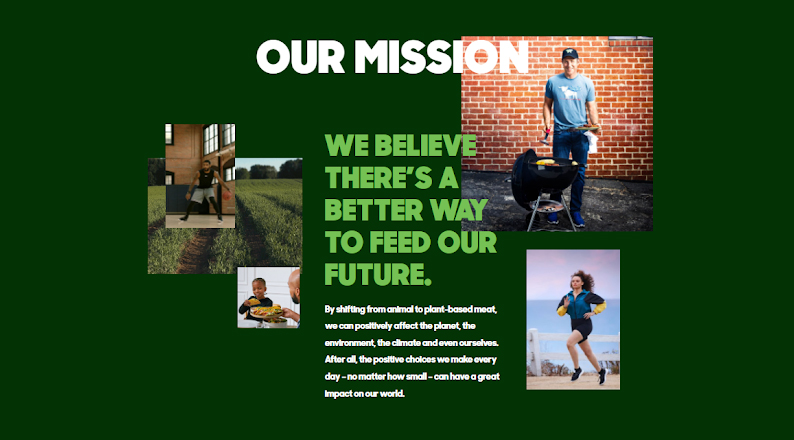 Beyond Meat's Mission on Sustainability – Image Credit: Beyond Meat
Reduce and Recycle Your Waste
Pure Waste excellently encapsulates this notion, as the company's whole business model is around minimizing textile waste by creating recovered products.
Through their example, the brand hopes to encourage customers, businesses, and organizations, and their ultimate objective is to work towards a world free of textile waste.
Pure Waste aspires to reduce the industrial sector's environmental footprint by guiding it in a more sustainable direction.
Sustainable eCommerce is primarily about how you manage your business, not just a few green products and an additional page on your website highlighting your efforts.
Evaluate your carbon and toxic footprints and formulate goals for sectors where you can make improvements.
Change Your Product Packaging
It's likely that your packaging might need some simplification and updating; wherever feasible, aim to use reusable and environmentally friendly packaging materials.
According to a survey, 72% of Americans are willing to buy products in easily recyclable or reused packaging.
More than three-quarters of Americans aged 18-34 are inclined to buy products with easily recyclable or reusable packaging.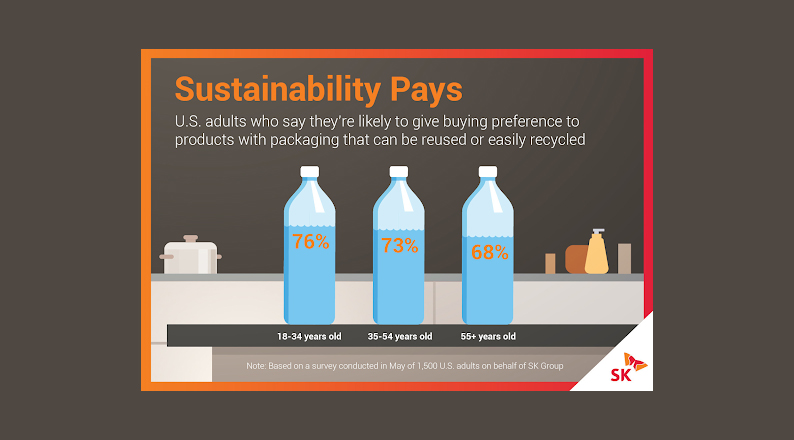 Survey by SK Group on Sustainability – Image Credit: PRNewswire
You may therefore turn to wax paper or standard paper packaging for your items instead of plastic, which the environment cannot decompose.
Inform the Public of Your Sustainability Efforts
When it comes to sustainable eCommerce, it's crucial to convey your sustainability goals and the activities you're taking to attain them so that your clients realize your beliefs.
According to Ecocart, 87% of consumers are more inclined to purchase a product that adheres to ethical and sustainable principles. In comparison, 92% of consumers are more willing to trust businesses that adhere to ethical and sustainable standards.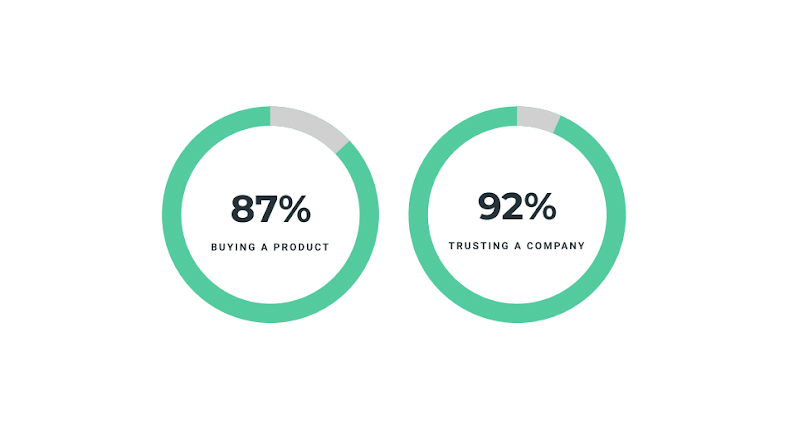 Statistics on Impact of Sustainability on Consumers – Image Credit: Ecocart
As a result, only share the features of your brand that you can validate in public.
When you start implementing more green technology, make sure to deliver this message to your customers at every stage of the way.
If, for instance, you provide eco-friendly shipping or alternative packaging options, make sure to tell your clients about it.
Decrease the Need for Product Returns
According to a study by the NRF(National Retail Federation), retail returns increased to 16.6% in 2021, up from 10.6% the year before.
Returns and exchanges significantly impact transportation emissions, packaging waste, and overall shipping costs, not to mention the bottom line for merchants.
The most straightforward strategy to reduce the number of returns is to include a plethora of product-specific information.
Conclusion
Indeed, the world is in danger of depleting its natural resources. Refusal to adopt sustainability now will result in more significant damages in the future for the environment, individuals, and businesses.
It is now possible to begin substituting the major steps of business operations with environmentally friendly alternatives.
The world is evolving, and we, as customers and retailers, must adapt. The brave and conscientious enough to lead the way towards the future of sustainable business, will undoubtedly reap the rewards.
In today's eCommerce market, economic, social, and environmental sustainability are critical to success. It also offers a lot of benefits.
Organizations with a long-term business strategy are one stride ahead of the industry. Regarding revenue growth, meeting customer requests, increasing productivity, increasing employee retention, and opening up new opportunities.
As the green movement grows, shoppers become more conscious of environmental issues and eCommerce's responsibility to environmentalism. They value ecologically efficient shipping and delivery and the long-term development of ethical and durable products.
Becoming a sustainable eCommerce business does not have to be a substantial financial investment, particularly in the long future.
It's excellent for your marketing efforts and aids in developing a strong brand image in the marketplace.
Acowebs are developers of many leading WooCommerce plugins in the market. One of the leading WooCommerce plugins from Acowebs is the WooCommerce Discount Rules. There is also a free version of this plugin that can be downloaded from WordPress named WooCommerce Dynamic Pricing which is currently being used by nearly 10,000 users. Contact us today!