Every time you allow your online shoppers to use mobile wallets or direct credit cards on your eCommerce store, you risk receiving chargebacks, as recurring billings and fraudulent transactions are an inescapable feature of owning an eCommerce store.
The chargeback system was initiated to safeguard susceptible buyers from credit or debit card fraud risks.
However, these chargebacks drastically penalize enterprises because the commodity is rarely refunded upon having to lose the initial payment.
Given the fact that chargebacks are on the upswing, eCommerce stores should be wise to incorporate chargeback prevention techniques as part of a comprehensive transaction fraud preventive measure.
In fact, there are estimates that by 2023, the average industry cost per chargeback is expected to be $191. This is indeed a concerning statistic for midsized businesses which may not possess the resources to deal with the chargeback.
The Invesp infographic also indicates that credit card chargebacks are increasing at a rate of 20% every year. Not to mention chargebacks cost the eCommerce business an estimated $6.7 billion in revenue in 2016.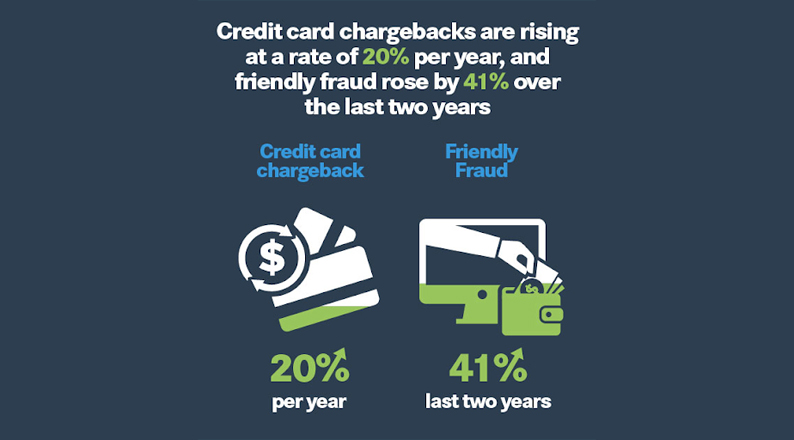 eCommerce Fraud And Chargebacks Statistics – Image Source: Invesp
This data already shows how inconvenient a chargeback may be.
Chargebacks can occur for a variety of reasons, as we will cover in this article. However, the most common is that the consumer did not get the product they wanted, that alleged fraud occurred, or that they had been billed more than they assumed.
Thus if you manage an online store, it's important to understand some of the ways to prevent chargebacks on your eCommerce store.
Chargebacks can be avoided by providing explicit guidance on your social media platforms and eCommerce site and also by implementing a secure online payment system.
In this piece, we will look at:
What are chargebacks?
Why do chargebacks occur?
Ways to prevent chargebacks on your eCommerce store
Let's dive in!
What Are Chargebacks?
So, what exactly is a chargeback?
The fact is that chargebacks are often referred to as friendly fraud; they are not always pleasant to business owners.
Chargebacks are given when clients notify their banks that their credit card was used in unauthorized or suspicious purchases.
The chargeback notion was, however, primarily established to safeguard buyers from the unintentional payment of damaged goods or deceptively promoted products, but it has recently been broadened to aid in the recovery of fraudulent money.
Chargebacks are issued at the consumer's request by a bank or credit card provider.
So rather than addressing or going directly to the business owner, consumers turn to their credit card providers, who can therefore reverse the purchases if they believe it is acceptable.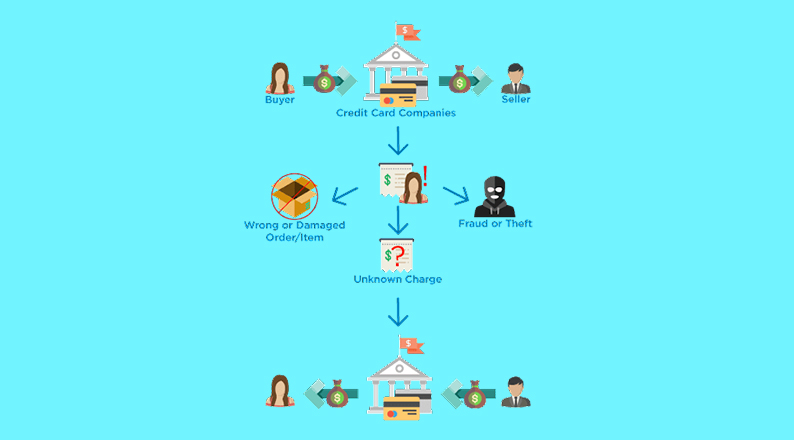 Chargeback Process – Image Source: FastSpring
Merchants today are more vulnerable to consumer chargebacks because they do not have the chance to inspect the actual credit card or the cardholder before processing the payment.
Thus there is much less credit card merchant protection because normal protection or security measures are not in effect.
Along with the loss of physical products, chargebacks have a detrimental impact on enterprises in the form of payment processing expenses and the effort and money required to contest chargebacks.
Fortunately, online firms may make efforts to prevent chargeback fraud.
But, before we get into the ways to prevent chargebacks on your eCommerce store, let's take a look at why chargebacks occur.
Why Do Chargebacks Occur?
Customer Chargeback Concept – Image Source: Adobe Stock
So, how precisely do customer chargebacks occur?
The chargebacks can occur for a range of factors, which is why understanding the main causative factors will assist you in learning how to prevent chargeback incidents.
Here are various instances that may necessitate a chargeback.
A Fraudulent or Unauthorized Payment
The transaction was not authorized by the consumer. One of most policies that have been implemented for a chargeback is that the credit was hijacked or lost.
It comes as no surprise that a consumer who discovers a transaction on their credit report that they didn't actually make ought to have reasons to be concerned.
And besides, the majority of respondents agree that the very first thing they do when they don't recognize a payment on their credit card is call their bank.
Whenever someone or a malicious party obtains and uses another individual's credit card details illegally, it is often referred to as criminal activity or fraud.
Probable factors include a data leakage or security breach, stolen credit card, or card payment credentials that have been hacked. This is why every eCommerce store should emphasize safe or reliable online purchase processes.
Furthermore, as previously noted, credit cards now include built-in fraud prevention that enables the card provider to reverse any suspicious or fraudulent charges.
The Product Was Never Received
Chargebacks are frequently caused by unsettled commodities. If a consumer does not receive what they purchased, it is reasonable for them to demand a refund.
Sometimes a product might be misplaced or lost. Occasionally it's because of delivery issues, and in other instances, it's because sellers are attempting to conduct frauds.
According to Clutch research from 2019, over one-third of online consumers (32%) did not receive a package since it was lost in the mail, while 23% did not receive one since it was never sent by the seller.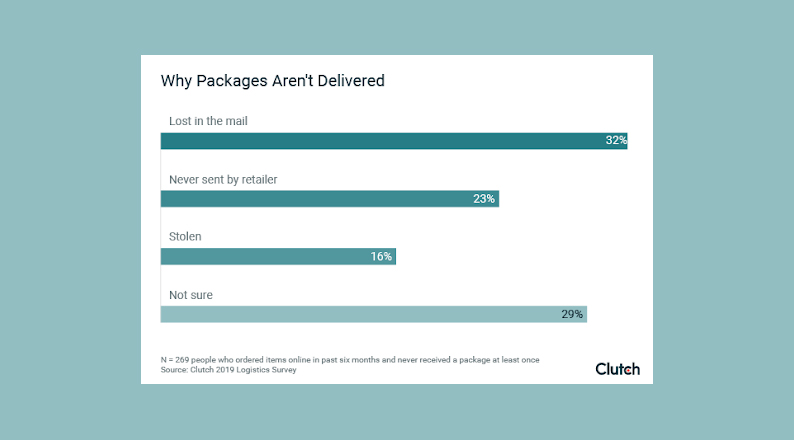 Why Packages Aren't Delivered – Image Source: Clutch
Whenever this happens, the most sensible thing to do as a customer is to file a complaint and demand a reversal. To address this issue, as an eCommerce store owner, you should reference the record of the person who approved delivery documents.
If the shipment is on its way but delayed, notify the buyer and let them understand what's happened and when their package will arrive.
Incorrect Billing
Consumers may pay more than they intended for a commodity and end up issuing a chargeback in some instances.
This is known as duplicate processing. Whenever the card provider gets the same purchase twice or even more, it bills the buyer's card.
This could be accidental or unintentional. Unintentionally, a client may repeat the purchase of the same product.
However, this error is occasionally made by a cashier. There are other instances where technological faults occur on the seller's end.
According to Chargebacks911, card companies such as Visa have established a breakdown of the allowed reasons for a consumer to dispute a credit card transaction by claiming a chargeback for the benefit of ease and standardization.
Each one of these causes has its own "reason code," which banks assign to each instance to reflect the justification for the chargeback.
Products That Are Damaged or Faulty
Consumers may get what they purchased for in some situations; nevertheless, some items may be missing or fail to perform as expected.
This is common when packages are transported from other countries.
During shipping, the package may be damaged. It also implies that the products do not match the description or the buyer's requirements.
In fact, merchants' errors account for almost 65% of all returns. The Invesp infographic shows that 20% of customers returned things since they received damaged goods.
22% received distinct products than what they bought, and 23% received a wrong or defective product entirely.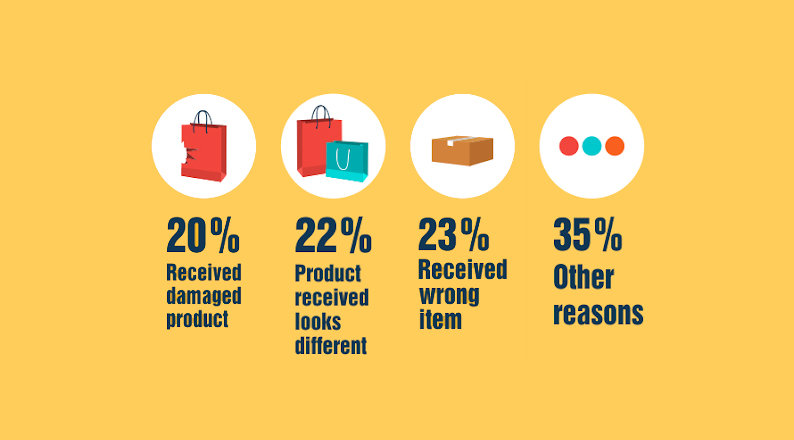 eCommerce Product Return Statistics – Image Source: B2C
Consumers, in some circumstances, could simply resolve the matter by calling the eCommerce store owner directly.
But, if a consumer is unable to get a refund, they are likely to file a chargeback. As a customer, it is very simple to obtain a chargeback whenever the package is delivered damaged or defective.
Friendly Fraud
According to Expert Market statistics, friendly fraud increases by 20% every two years, and 86% of chargebacks are likely occurrences of friendly fraud.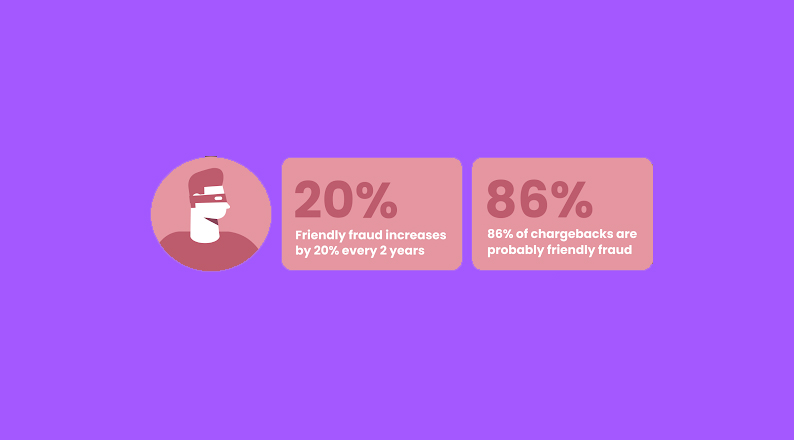 Friendly Fraud Statistics – Image Source: SEON
The Nilson report also indicates that friendly fraud surpassed $32 billion globally last year, an increase of more than a third over 2017.
These scenarios often occur when consumers mistakenly demand a refund even though the seller has delivered the specified commodity.
Some of these cases are when buyers change their minds about making a purchase. They may not even have comprehended what they were purchasing, or they might just have discovered they couldn't afford the product.
As a result, the merchant is taken advantage of and loses earnings from delivering the specified commodity. The eCommerce store is then responsible for any extra charges.
Because the customer is typically unaware of the complexities of the chargeback procedure and the added charges for the seller, this form of fraud is known as friendly fraud.
Ways to Prevent Chargebacks on Your eCommerce Store
Shoppers can request a chargeback in any of the situations mentioned above and are not required to return the goods in dispute. However, sellers typically lose both the payments and the product itself in this instance.
On the plus side, most chargebacks are avoidable. Merchants should take various important steps to prevent chargebacks and safeguard their clientele from fraudsters.
Here are some simple steps you can do to limit the number of chargebacks you receive. Once you follow these guidelines, you will be less likely to encounter any refund requests.
1. Provide Excellent Customer Support
Outstanding customer service is presumably the key to preventing a client complaint from becoming a chargeback.
Making it simple for consumers to contact you reduces the likelihood of them simply going to the financial institution to cancel any transactions.
Designing your support center easily accessible to your consumers offers them an acceptable alternative to risking a chargeback.
Offering assistance during premium service or membership cancellation is one of the most significant wins for eCommerce stores.
Memberships are frequently among the major sources of revenue for a retail outlet, but consumers do not always remember to suspend their memberships properly in the first place.
Therefore, retailers must make it simple for consumers to suspend their memberships, and they must also be generous with cashback for consumers who have never used their memberships in a long period of time.
2. Improve the Checkout Experience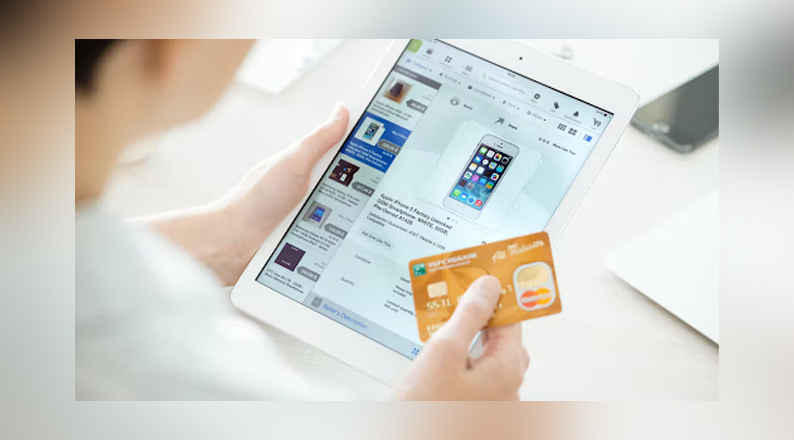 Checkout Experience Concept – Image Source: Fraugster
According to ThinkShop, the average checkout abandonment rate has been between 60 and 80% for the last ten years. When you're in this range, you must aim to reduce the number of abandoned checkouts.
A high checkout abandonment rate is defined as anything greater than 90%. Even if you are in the mid-range, you must focus on optimizing for reduced abandoned payouts.
A positive consumer experience during the checkout process can help to reduce chargebacks.
Because chargebacks happen when a buyer bypasses the eCommerce store and goes directly to their credit card company, retailers must always be active in resolving issues swiftly and pleasantly.
You must therefore make it simple for clients to reach your customer service team. Every website page should include at least one direct link to the contact us page.
3. Enhance the Site Usability and User Interface
When consumers can't seek solutions on your eCommerce site, they frequently call their credit card issuers in despair.
Chargebacks can be avoided if sellers improve their customer interface and experience.
According to user experience stats, 88% of online customers say they would not return to a company after experiencing a negative user experience.
You can therefore make the following changes:
Be as specific as possible about the product's characteristics, availability, and pricing.
Include authentic images and maybe a video presentation of your goods.
Check that the delivery details are correct.
Email or notify your clients after each shipment stage to keep them informed.
Better consumer managing expectations decreases the possibility of both retailer mistakes and the friendly fraud chargebacks discussed in this piece.
4. Have Anti-fraud Procedures in Place
The most typical cases filed for chargebacks are the incidence of alleged incidence of fraud, which can arise when a credit card is reported stolen or misplaced.
As a retailer, it is critical that your systems are considered free and safe from fraud.
According to the Fit Small Business infographic below, up to 15% of chargebacks are a result of true fraud, which is caused by identity theft or hacking and implies that an order was placed using stolen card information without any of the card holder's consent.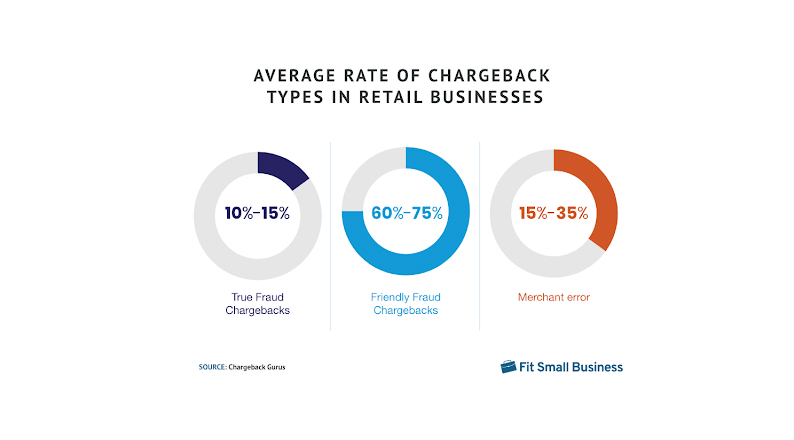 Average Rate of Chargebacks – Image Source: Fit Small Business
Friendly fraud chargebacks range from 60% to 75% and occur when a customer rejects a purchase that they made intentionally.
Therefore, you should guarantee that all of the accurate info about your eCommerce store is presented correctly during the payment process; include the business name or website address so that the buyer can quickly recognize the transaction.
Suppose you use Shopify Payments to accept payments online.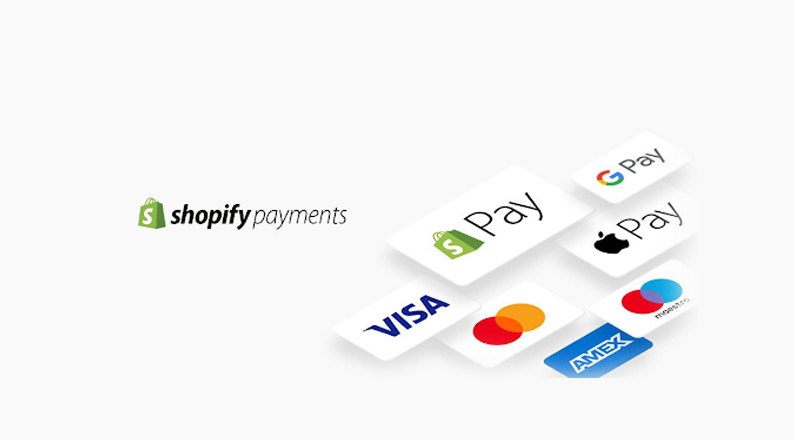 Shopify Payment Options – Image Source: Beehexa
In that case, you may alter the invoicing statement to contain the relevant details and your store's contact information, allowing you to be the first line of interaction in case of any chargebacks.
Always provide your clients with a receipt just after the initial transaction so they'll have an appropriate payment receipt and a recall of just what they bought.
Merchants can also use an Address Verification System (AVS) service as an eCommerce store to avoid fraudulent activity.
The built-in fraud analysis capabilities in Shopify can assist you in determining if it is secure to ship merchandise to the consumer.
You can also request information on the customer payment and order.
While chargebacks occur when a client challenges a bill with their credit card company, merchants can also attempt to avoid fraud via standard returns. Consumers should be required to answer validation queries before submitting a partial refund.
Consumers must submit their payment credentials (first and last name and payment code) and order verification details, including an order number.
With this approach, you ensure that the consumer you are conversing with made a purchase, screening out any fake claims.
5. Avoid Merchant Error
Merchant errors are another primary cause of chargebacks. In fact, as shown in the infographic above, merchant error accounts for 15% to 35% of all chargebacks, indicating that a payment was made inadvertently or incorrectly by the company.
Merchant errors might include duplicated billing, inaccurate receivable or payable amounts, or simply failing to give a refund within the agreed time period.
Since merchants are accountable for chargebacks caused by their own mistakes, challenging them is not even a possibility in these situations.
However, reconfiguring back-office activities and improving credit card processing quality assurance can effectively remove those errors.
The retailer's mistake is not fraudulent. Incidents occur, and if the error is the seller's fault, the chargeback is justified. However, if it's the consumer's negligence, it will count against their merchant chargeback ratio.
You can consider reconciling your POS (Point of Sale) system on a regular basis so that your eCommerce store can remain at the forefront of your transactions and find and correct any errors as soon as possible.
Furthermore, you will not be physically present in your business under all circumstances, and most of your sales and consumer complaints will most probably be addressed by your personnel.
As a result, train your personnel adequately and ensure that they grasp all card processing methods.
Conclusion
Chargebacks can be burdensome for retailers, both financially and in relation to resources necessary to combat them.
As mentioned in this piece, retailers can take several steps to prevent chargebacks and lower the likelihood of a refund dispute.
All you have to do is provide exceptional customer service, improve the checkout experience, implement anti-fraud procedures, and avoid merchant error.
We hope that these effective ways to prevent chargebacks on your eCommerce store direct you on the correct path for maintaining your eCommerce store operating successfully for you and your consumers.
Keep in mind that determining the causative factors of your chargebacks is the first move toward resolving internal problems and avoiding future chargeback disputes. You will boost your company in every way by identifying causative factors.
Acowebs are developers of WooCommerce plugins that will help you personalize your stores. It supports the additional option with feature-rich add-ons which are WooCommerce Product Addons, that are lightweight and fast. Update your store with these add-ons and enjoy a hassle-free experience