Let's face it: regardless of how fantastic our eCommerce website or conversion strategies are, we can't force 95% of our visitors to make a purchase.
There is always scope for further improvement – unless each and every individual who visits your eCommerce website purchases a product, any disinterested visitor will never automatically be turned into a buyer.
And why is this? It is related to a concept known as the customer buying cycle and the necessity to exploit a deeper understanding of our consumers further.
As an entrepreneur, you can learn why your visitors won't purchase, what would entice them to take action, and why they should consider purchasing again in the long term.
However, improving or optimizing the incorrect elements could be a waste of time and effort and may even negatively impact and undermine your leads and sales. It's therefore difficult to know where to begin optimizing when there are so many variables to consider, unless you're using the service of any well establish web design company
That is why we have created this guide to understanding & optimizing the buying cycle.
We will guide you through some of the most crucial eCommerce website optimizations so you can gain more clients, generate more purchases, and recoup lost money from abandoned traffic.
But before we dive into the details, let's first set a common ground and clarify the eCommerce buying cycle.
What Is the eCommerce Buying Cycle?
The buying cycle, also known as the purchase cycle, refers to the process that a buyer goes through when acquiring a service or product. It's regarded as a cycle since it continues to repeat itself.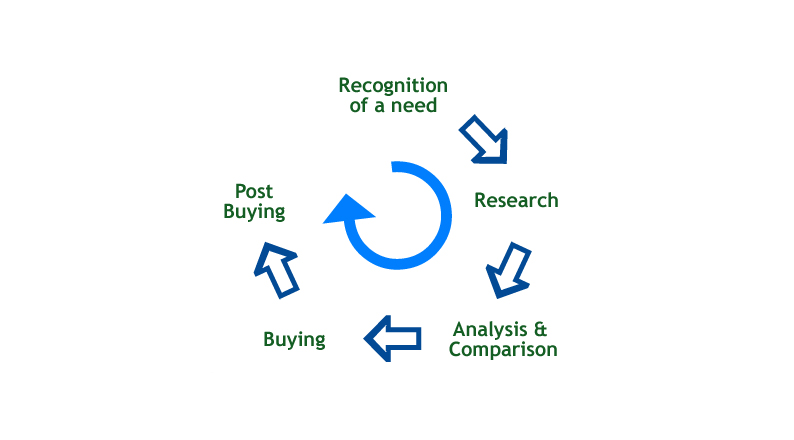 Customer Purchasing Cycle – Image Source: Odyssey
Buyers progress through the buying cycle through specific stages as they research and get closer to reaching a final buying decision.
Although the specific buying cycle differs for each customer experience, every buyer goes through a certain sort of process:
Recognizing that they have an issue.
Considering their options.
Making a decision.
Acquiring the solution.
Clients expect various interactions with your business based on the stage they're in, so each level demands a distinct set of methods or approaches to persuade them to go to the next cycle.
During each stage, the aim is not to complete a purchase. Rather, your primary goal should be to move each buyer to the next cycle or stage effectively.
Now that you understand the purchase cycle, let's go through each stage in further detail.
The 5 Stages of the Buying Cycle
Awareness
As the term implies, Awareness is the stage at which your prospects are aware of your company's existence and the services it provides.
Potential clients recognize that they have a problem that needs to be solved and start looking for answers.
However, not all buyers at this point know what's creating the problems, and if they do, they haven't figured out the best approach to remedy it. As a result, they turn to the internet for help, as evidenced by the fact that 81% of shoppers perform online research before purchasing.
This is also the stage at which businesses spend the most time on marketing because the possibility of attracting new clients is only bound by the state of the market.
When prospective buyers become familiar with the products and how they can help them, they progress to the next step of the journey.
Consideration
During the consideration phase, your efforts as a seller can start to make an impact. The buyer is looking for remedies, and your service is ideally among them.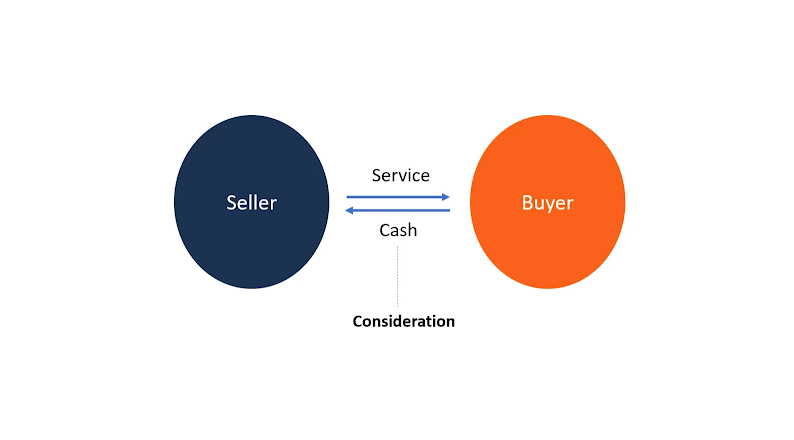 Consideration Concept – Image Source: CFI
The issue is to get your item or the service at the front of their purchasing list.
In this phase, your duty should be to provide thorough information outlining exactly how your item can meet their needs better than the competitors and also what advantages they would experience as a result of fixing the problems.
Many customers choose flexibility, whereas others prefer a low-cost option. Nevertheless, segmenting customers and determining their most important needs is key at this stage.
Intent or Preference
At this point, prospects weigh the many options against one another, and whatever makes the most rational, sentimental, or monetary sense is the one they choose.
Your marketing mission now is to persuade them that your product is the best choice among the possible alternatives they have into consideration.
Because your engagement all through the review step is critical, attempt to keep the client's personal information readily accessible so that you can easily provide any additional information the shopper may require.
Every buyer will ultimately be willing to take a further step and go on to stage 4, which is the purchasing stage.
Purchase
As a salesperson, you've successfully persuaded potential customers up to this moment. Do not, however, pull back now that prospects have decided they want to make a purchase.
Consumers should be able to purchase from your eCommerce site as easily as possible. Optimize this step while ensuring your consumer feels completely safe.
Consumers frequently come across websites that tend to add extra fees, complicate the checkout process, or give out massive amounts of material.
Hidden expenses are, however, the most common reasons your customers do not make a purchase, ranking #1 in both impact and probability (according to Barilliance).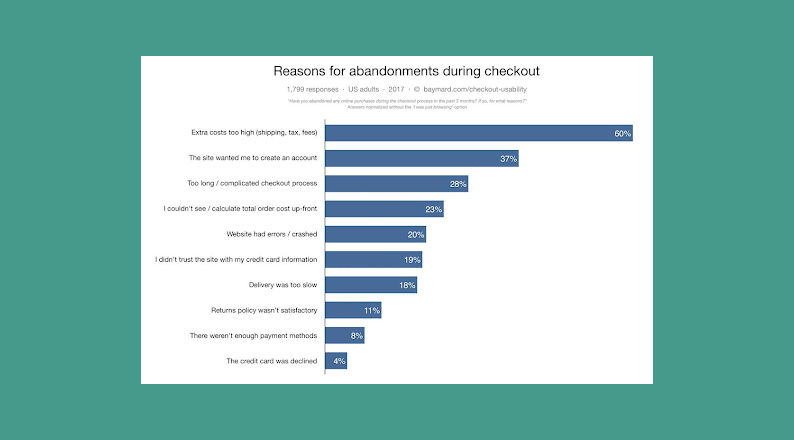 Baymand Institute Buyer Statistics – Image Source: Barilliance
As a result, strive to ensure a seamless process from decision all the way to delivery.
It is critical to maintain a relationship with buyers and to assist them in their buying journey or process.
Based on how deliberate the purchase is, your product landing webpages, as well as touchpoints from your sales team, will most likely be crucial here.
Keeping in touch can also open up avenues to convince clients to make another purchase or extend their membership triggering the final stage.
Repurchase
As an eCommerce company, customer retention should be a major part of your overall business strategy.
Customers who have previously shopped from your store are acquainted with and trusting of your store. As a result, they need less persuading to do so.
However, based on the product or service you're offering, this stage may appear slightly different.
If your offer is consumable or disposable, your consumer will most likely return shortly for a repurchase. Similarly, if you offer memberships, your continual purchase point is when a client's monthly cycle expires, and they are billed again.
This cycle may and should be repeated endlessly (unless terminated by the client); therefore, it is where businesses find the most chances for revenue growth.
Also, in addition to delivering outstanding customer service, 38% of your loyal customers will most likely suggest your company to a friend, which really is, in my opinion, the most powerful type of marketing.
You can create an excellent increasing customer retention strategy for your company by implementing loyalty incentives, referral coupon codes, and discounts.
Why Is the eCommerce Buying Cycle Important?
As previously stated in this piece, most firms only convert a very small fraction of their prospects. The majority are probably at a different point in the purchase journey, awaiting to purchase.
If you don't understand the consumer's point of view while making a purchasing decision, you'll end up at the end of the buyer's journey with your business.
On the other hand, understanding what drives clients throughout each cycle of the buyer journey and viewing your offerings from your buyers' perspective is the way to a booming business.
Having an understanding of the purchase cycle can also help you design more effective marketing techniques.
Here's why understanding & optimizing the buying cycle is important for your business.
Improve Your Marketing Initiatives
Examine your brand awareness through the eyes of your customers to determine which areas are functioning well and also where your initiatives would have a major influence.
These areas might include updating the content, introducing voice search and chatbots, or opting for a mobile-first approach, which ensures that your website is responsive and accessible to clients on any platform.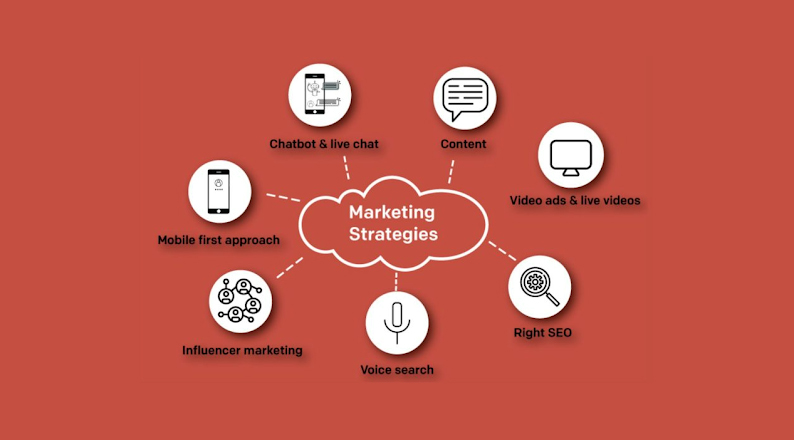 eCommerce Marketing Strategies – Image Source: Botsify
Perhaps you're receiving a lot of quality visitors; however, those visitors aren't buying, showing an issue at the preference phase.
Additionally, if you realize that you are turning each prospect into a buyer and you intend to attract more prospects, you should devote more time to raising awareness. In any case, it's useful to know where your promotional strategies will have the most influence.
Increase Your Customer Base
One of the most important aspects of building a marketing strategy is identifying and communicating your company's competitive advantage to consumers.
Establishing your competitive advantage basically addresses the question: why should potential buyers choose your brand over a competitor?
It can assist you in setting business ambitions and developing a marketing strategy that will encourage clients to choose your brand over and over again.
The key to gaining new customers is to engage with them emotionally, which may be accomplished by optimizing your customer buying cycle.
You can also retain the existing client base preferring your item or brand over your competitors, allowing you to gradually gain a larger percentage of those clients – which afterward increases profits.
In fact, increasing your retention rate by as little as 5% can immediately increase profits by 25% to around 95%. Customers are compelled to purchase from companies they recognize. Existing consumers will start spending nearly half as much as new customers in the long term.
Although concentrating on the final phases of the purchasing cycle may lead to prolonged outcomes, the rise in new billings and client repeat purchases is well worth the investment.
Engage Your Qualified Leads
Buyers despise demanding marketers when they are still attempting to understand the difficulty they are facing. Some buyers also don't require basic knowledge of a product once they've decided to buy.
According to a Statista survey on the "Primary causes of customer service frustration," lack of efficacy was reported as the main cause of customer service frustrations by 27% of American respondents.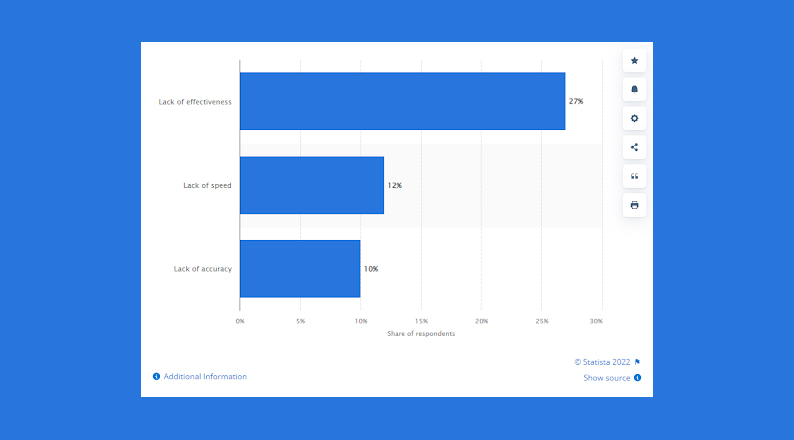 Customer Service Frustration Statistics – Image Source: Statista
Thus, understanding & optimizing the buying cycle at each stage significantly enhance your conversion rate while avoiding frustrating clients who aren't ready to make a purchase.
As a major client experience/engagement influencer, you hold the power to optimize your clients' satisfaction by investing in your personnel, optimizing operations, and placing customers at the forefront of your goals.
How to Optimize for Each Stage of the Buying Cycle
The buying process cannot be accelerated. Instead, adjust or optimize your sales and marketing strategies for each phase of the purchasing cycle.
That being said, let's delve more into how you can optimize for each stage of the customer buying cycle.
Stage 1: Awareness
To optimize the Awareness stage, make sure your clients are familiar with your products and that those products can address practically any problems.
Raising awareness for your product necessitates a thorough grasp of the exact challenges that your prospects face, as well as how your product alleviates those challenges.
Begin by developing focused material that will assist them in the beginning to fix those difficulties. Some of the best methods for increasing effective awareness include:
Social networking is much more than just posting statuses and marketing different products.
Its effectiveness is measured by how much involvement and participation you have achieved through the social networking sites you use and how many of these interactions have resulted in sales.
When it comes to raising awareness and attracting prospects, ads are another powerful tool for increasing effective awareness.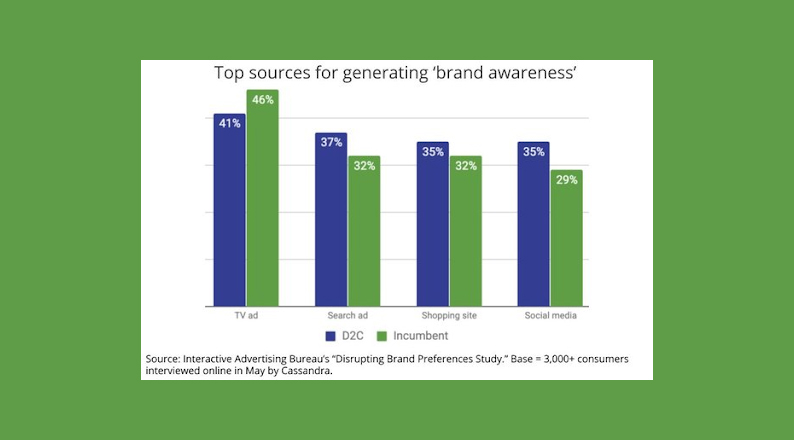 Brand Awareness Ad Concept – Image Source: MediaPost
It usually begins to move the scale before the other tactics, making it a vital strategy to restart or maintain a firm.
Collaboration with influencers
Collaboration with influencers, and social networking platforms such as Facebook, is a new way to attract and increase brand awareness.
All you need to do is join a group of marketers or influencers who already have a reputable circle of followers online.
Stage 2: Consideration
Customers at this point are looking for the finest solutions to meet their interests, and there's a high possibility you're not alone on this.
Tailored content can help educate customers about your product and underline why they should choose your service or that product over competitors.
You can, alternatively, set up various price levels or tiers with different products customized to specific buyer personalities or price ranges. As a result, each client can pick a tier that is as near to their demands. It also differentiates your products from rivals who only have one solution.
Your prospective consumer knows what they require, recognizes how your service or product will meet their needs, and is prepared to purchase a solution. Let's have a look at various closing strategies in the Intent stage.
Stage 3: Intent
Visitors that have reached the Intent stage are ready to purchase a product.
This is the stage when the customer's thinking is still unpredictable, so your objective is to resolve any doubts that the customer may have as well as provide adequate information to your customers so that their purpose in acquiring the product is reinforced.
You can increase client confidence and engagement at every phase of their encounter with your eCommerce website:
Make use of lead magnets and clear CTAs
According to Selling Energy, "You have about 15 seconds to capture your prospects' attention" and direct it to your business or potentially lose them completely. Therefore make the most of it.
Improve the look and feel of your category and product pages
Lead generation on a product page includes everything from a series of pictures size to the appropriate quantity of content.
It's critical to strike the perfect balance between providing your customers with just enough content and without exhausting them.
Improve forms and your site navigation
Unnecessary forms and poor website navigation might be a major hindrance at the Intent stage.
When it comes to forms, strive to use a simple query strategy and ensure you're only requesting your clients to fill out a form when it's absolutely required.
Nurture your prospects toward a sale
During this point, your prospects are not prepared to make a purchase, but they are interested.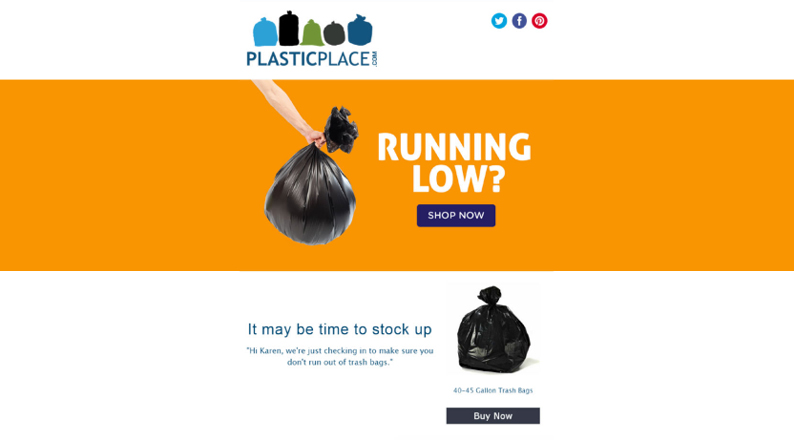 Plasticplace Email Campaign – Image Source: Shift4Shop
As Plasticplace does – shown from the image above, delivering appropriate product recommendations and offers may help you move customers along, and it may even increase their purchases.
Stage 4: Purchase
Ultimately, your prospect decides to make a deal. Your customer is interested in spending on your services. Make sure that your pricing is correct.
Learning that your selling prices are higher or, in some instances, significantly far less than what they're hoping to spend is typically the final barrier to the sale.
This is also the stage at which you should strive to make the buying process as perfect and frictionless as possible.
Here's how you can do it (making the buying process flawless):
Make checkout a smooth experience: Evaluate your website checkout process from your customer's perspective to achieve a good result.
Leverage push notifications and email reminders to your advantage: If clients leave their shopping carts on your eCommerce website, you can remind them that they could still return and complete the sale, as shown in the example below.
Push Notification Example – Image Source: CloudRock
Various checkout flows should be split tested: If you discover a reasonable level of failure during the billing process, it's crucial to split test (A/B testing) and analyze your checkout process.
Stage 5: Repurchase
In this final phase, your goal is to ensure your customer is satisfied with your services and products to guarantee loyalty to your brand.
Obtain customer feedback from happy customers as they gain a more profound experience with your company. Additionally, encourage them to recommend your brand to their friends.
Secondly, you can use loyalty and referral programs to help you increase your customer retention rate.
According to Zeta Global, "Upon implementation of the Starbucks Rewards customer loyalty program, Starbucks reported an increased revenue of shocking $2.65 billion, with brand executives pointing towards their reward program as one of the major enabler for such an increase".
This is an excellent example of why you should implement a customer loyalty program that rewards customers for every transaction.
Finally, you can leverage email marketing since it has a significant lead, and for apparent reasons: it exclusively targets customers who have already engaged with your brand and decided to opt-in.
This way, you'll be able to promote new products in the market to an existing passionate clientele as soon as those products become available.
Conclusion
Understanding each stage of the customer buying cycle will help you structure your advertising and promotion efforts to meet your clients' requirements.
All you have to do is assess what your customer goes through when making any buying decisions and then adjust your brand accordingly.
By optimizing the five stages covered in this article (awareness, consideration, intent, purchase, & repurchase), you will discover which things you can leverage (such as social media and email marketing as well as collaboration with influencers) for more effective marketing techniques.
Optimization also allows you to modify your eCommerce website (by improving the look and feel of your product pages as well as using clear CTAs) to address every aspect of the purchasing cycle.
We hope that this in-depth look at the approaches and methodologies you can use to interact with your eCommerce customers buying stages will help you attract more prospects with less hassle.
Acowebs are developers of Woocommerce bulk discounts that will help you add bulk discounts to products on your stores. It also has developed various other plugins like the popular plugin for managing the checkout form fields in WooCommerce, called Woocommerce Checkout Manager, which is highly feature-oriented yet lightweight and fast. There is also a free version of this plugin available in the WordPress directory named WooCommerce Checkout Field Editor.