Amazingly, online retail sales in the United States alone have surpassed $4.9 trillion. It is also anticipated to increase by more than 50% over the following four years. This indicates that eCommerce enterprises are flourishing and are developing as one of the more straightforward entry points into the business sector for new entrepreneurs.
A home-based eCommerce business may be started and maintained for considerably less money than a traditional business. You must create a marketing calendar immediately if you want to stand out from the crowd and promote eCommerce growth.
By using a marketing calendar, you can concentrate on the bigger-picture issues rather than attempting to address them at the last minute.
Marketing for tiny or newly established web enterprises may be intermittent. You know your business has to be promoted, but you are currently too busy to do more than the occasional brief self-promotion on social media and email.
This article will explain a sales calendar's importance in an eCommerce business and prepare one.
What Is a Sales Calendar?
The most significant and well-liked sales events of the year are planned for by sales professionals using a marketing calendar, which serves as a central planning calendar. To prioritize which events are most likely to result in sales, you should list the most significant events in your marketing calendar before listing the smaller, less important events following them.
The following event elements are frequently included in marketing calendars:
Who is principally in charge of event sales?
How long the sales event will last
Date and time of the event
Who assists in organizing and carrying out the event
How much will the event cost financially?
Many enterprises use sales calendars to plan and arrange their future sales events. Marketing calendars can be significantly customized based on your company's industry and annual event cycle.
Why Do You Need a Marketing Calendar for Your eCommerce Store?
No matter how intense the plans are, you won't be able to focus on, much less reach your objectives, without a fully functional and used sales calendar. Every chance they get, the problems that your sales organization, team, and salespeople face daily will try to sabotage your plan.
The benefits of a marketing calendar are as follows:
Helps in Planning Your Content
eCommerce businesses rely on digital marketing to attract new customers because they conduct most of their business online. Social networking is one of the simplest and most efficient ways to market.
Consumers spend hours every day reading through news feeds and learning about new products on platforms that are not only free to use.
It would be best if you had a solid content plan to remain relevant on social media. While it won't generate many original ideas for you, your calendar will assist you in creating a content schedule that encourages consistency.
Instead of investing all of your money in one viral video, you have a better chance of reaching new customers by frequently posting on your eCommerce store.
You might feel that maintaining a regular posting schedule on your website and social media platforms requires a lot of time and money. Ultimately, it will help your company establish a solid reputation in the community and encourage customers to buy from you because they have grown to know, like, and believe in you.
Posting regularly online helps in the following ways.
It helps in understanding what your customer wants.
It promotes engagement with your customers.
You have a great chance to join social media groups relevant to your expertise by consistently producing and posting content.
You have the chance to give your brand a consistent personality by posting material frequently. You can maintain a consistent appearance and feel across all channels, including your website, social media profiles, and emails, as well as the same style and tone of voice in all of your communications, by strengthening your ability to publish consistently.
It helps promote user-generated content.
Helps in Scheduling Product Releases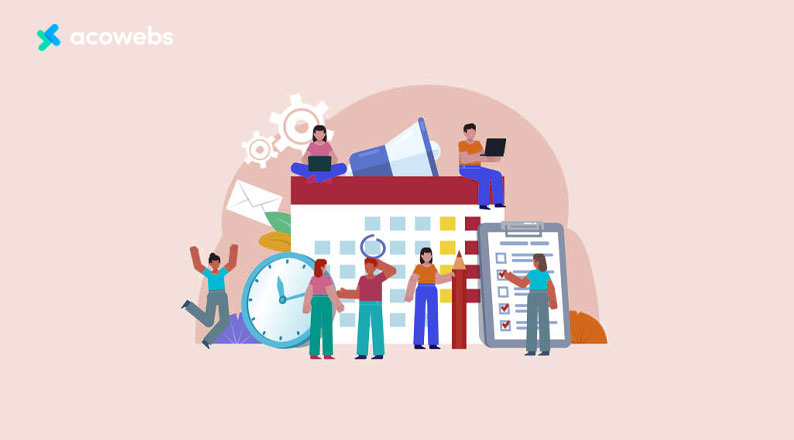 Most of us are used to going into a retail shop and finding the things we are looking for. The situation is the same as in an online store. Customers will feel uneasy if there is a lack of something they expect from your platform, especially if it is out of your control.
Your eCommerce store will continue to grow if you innovate. Many customers eagerly await new releases to lure them back in, even if some products will endure the test of time. An online sales calendar is ideal for nailing your next product launch because a new product release involves thorough preparation and scheduling.
Product scheduling should involve the manufacturing processes, the location, and the timing of each product's manufacture. From raw materials to logistics, every aspect is covered.
Additionally, it involves several procedures to ensure that production runs smoothly while assisting managers in identifying possible problems, such as bottlenecks, and resolving them before they become more serious. As a result, you'll need to update and review it frequently. It's a fluid, changing document.
Product schedule help with the following:
Planning: Predicting demand and balancing it with available resources (labor, materials, and equipment).
Scheduling: Assigning personnel and describing backup plans in case of unforeseen delays
Preventing stockouts by preparing to keep up production even if materials are delayed or demand spikes due to a surge in orders
Finding bottlenecks and potential areas for improvement will increase efficiency. This leads to shorter lead times and more fluid demand flows.
Improvement of communication because there is now a single document that contains information on every step of the production workflow.
Ensure You Are Stocked Up
Few things will affect your firm faster than a production halt. You're in quite a pickle if you run out of supplies of products or resources when demand is high. You can better plan with suppliers using an online calendar to ensure you're always stocked.
You may also use your sales calendar for an alternative dropshipping eCommerce store strategy that has been successful for many prominent business owners and small enterprises. Some of these entities have been using dropshipping with limited inventory instead of posting on a website and filling orders as they come.
Dropshipping is an order fulfillment strategy where a company doesn't hold inventory of the goods it sells. Instead, to fulfill orders, the seller buys merchandise as required from a third party—typically a wholesaler or manufacturer.
The primary benefit of dropshipping is that it allows you to open an online store without having to spend a lot of money on inventory. Dropshipping is the order of the day in the Amazon fashion industry.
Helps in running successful promotions
Consumers are easy prey to effective advertising. You've probably bought anything lately because of an irresistible offer. Occasionally scheduling promotions with your online calendar is an excellent method to improve sales, interest, and brand recognition.
Consider when you want a promotion to occur and how long you want it to last. The best times to hold promotions are Black Fridays, Cyber Monday, Halloween, Thanksgiving, Christmas, Easter, etc.
Inventory problems may result from challenging customer behavior. A flash sale can encourage new demand for your goods and help you eliminate excess stock. The sale might persuade customers to make their first purchase based on a factor like an item's pricing.
Another way to lower operational and inventory costs is to sell the old products and add new ones. You might use flash sales to move out-of-season or under-performing merchandise. This enables you to keep your present inventory profitable while making room for in-season and more in-demand goods. To ensure all this, stick to your eCommerce store sales calendar.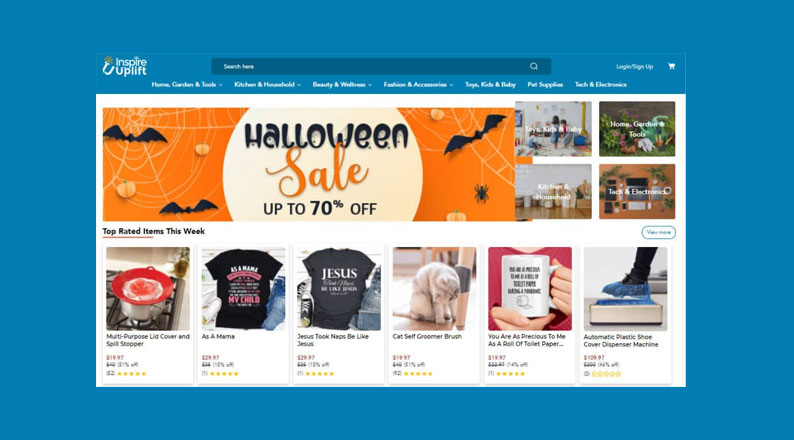 Halloween Flash Sale: Image Source: Dropship Academy
Help in Outsourcing Work
As a business owner, you are not familiar with everything that is required to run the business. It would be best if you had hired a web development company for your online store. If you are not a tech expert, you will need to outsource such skills.
Making sure the individual, you hire to assist you completes their tasks is one challenge with outsourcing work, but your eCommerce store calendar might be useful in this regard.
You can clearly define deadlines by sharing your calendar with your independent contractors. Even when circumstances beyond your control arise, these deadlines guarantee that work is completed on time.
How Do You Prepare a Sales Calendar?
You can't just wake up and make a marketing calendar for your eCommerce store. Some store owners write vague goals and tactics with no idea of when they want to achieve them, which can be confusing. Various factors influence the calendar. Below are steps to forming a reliable marketing calendar.
Step 1: Determining Your Goals Period
Depending on the size of your organizations, plans, and functions, you can go for the following options:
1. One full calendar
If you need a year to work on a big event that requires coordination with many partners, it makes sense for you as a business owner to plan out your marketing calendar a year in advance.
This allows you to better understand the campaigns and promotions you might run over an entire year. A one-year calendar should also be flexible in case of unavoidable events that can bring positivity to your entity.
2. One Quarter
The medium way of preparing by quarters offers you plenty of time to prepare while also leaving room for unforeseen events that may arise throughout the year. This is an excellent option if you want enough time to run campaigns while reviewing your calendar's performance and making improvements four times per year.
This helps you identify gaps and achievements. Knowing that you have not achieved something early enough will help you restrategize.
3. One Month
One month offers a lot of flexibility. Additionally, it increases your ability to capitalize on hot issues and build marketing campaigns around them. This means you can jump to upcoming short trends and make some money.
On the negative side, it will take up more of your time each month to plan for the future, which might be cumbersome. Here, you run the most significant risk of adopting a tactical rather than an objective strategy.
Step 2: Select the Channels You Want To Use
As campaigns, your company's primary channels should be represented in your marketing calendar. As an eCommerce store owner, you know which platforms you and your customers utilize most. Take into account the primary marketing channels you use.
Step 3: Include Flexibility in Case Circumstances Change
A marketing plan isn't meant to be a phase, flawless guide. Having a transition plan will enable you to achieve the best scenario. This applies to a marketing calendar. The calendar should accommodate "in-the-moment" occurrences you wish to seize and be flexible enough to adjust when campaigns don't go as expected.
Step 4: Determine the types of campaigns you'll conduct.
It is up to you to decide when to run the social media campaign. Ensure to study what your competitors are doing to be ahead of them. A marketing campaign consists of several communications focused on a single issue.
A campaign might be as straightforward as a few social media posts announcing a sale or as sophisticated as several emails, social media posts, SMS texts, and a new landing page promoting a new product introduction. Some types of campaigns you can include are,
Sales and promotions
Holiday campaigns
Content-driven campaigns
Giveaway and Contest
Product Launches
Step 5: Assign various campaigns to different sets
Assigning a scope to each campaign after you've decided which ones you'll run can help you understand how much lead time and what kind of resources you'll need. The tiers are grouped into:
Tier 1. These are the biggest advertising campaigns your company will ever execute, like Black Fridays.
Tier 2. Less intense than tier 1 but still requires intense planning and work.
Tier 3. These campaigns are more manageable and take one to two weeks to design and execute.
Tier 4. These launches can be put together fast and with little to no advance planning. They might be a simple email sent to mark a special occasion.
Step 6: Narrow down the types of campaigns
There are other smaller-scale holidays throughout the year and larger ones. It's not necessary to organize a campaign around each holiday. Customers might overwhelm your audience if you keep on dropping campaigns. Choose celebration days and holidays that are best for your brand instead.
With the world cup closing, this would be an excellent time to carry out a sports campaign. You can sell jerseys, and boots, customize different products, etc.
Step 7: Identify significant business milestones
Big milestones for your brand include the introduction of new products, collections, or collaborations. These are chances to interact with your neighborhood and make a great impression.
Add these as soon as possible to your marketing calendar if you're preparing for any or all of them. That will give you plenty of time to plan and implement a more innovative campaign that offers your customers value. It would be best if you always were flexible with such opportunities.
Examples of Ecommerce Sales Calendars Construction Tools?
To construct a marketing calendar that is reliable and easy to understand, you can use the following tools.
1. Google Calendar
Google Calendar is a time management and scheduling application developed by Google. You may set up online meetings with video links, plan them across many calendars to locate the most convenient time, and embed them on your website so potential customers can reserve time with you.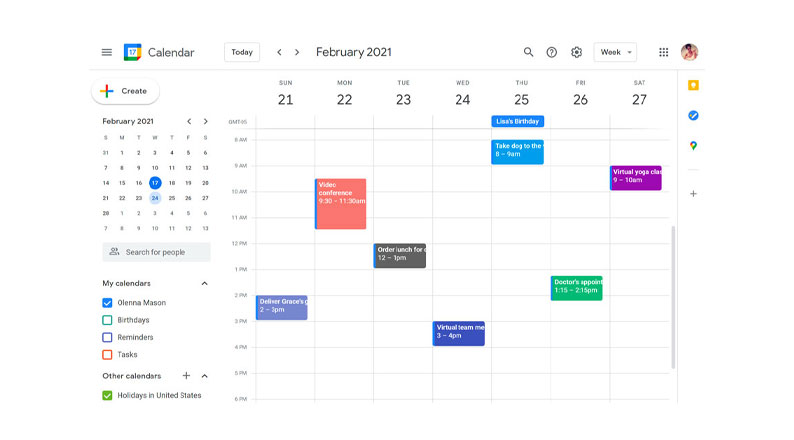 Google Calendar Schedule – Image Source: GCFGlobal
2. Google Sheets
With its user-friendly interface and fully editable templates, Google Sheets is a popular online spreadsheet tool that enables you to create, format, and collaborate on spreadsheets.
The Google product has capabilities common to spreadsheets, like adding, deleting, and sorting rows and columns.
But unlike other spreadsheet applications, Google Sheets also enables several geographically distant people to work together on a spreadsheet simultaneously and interact using an integrated instant messaging application.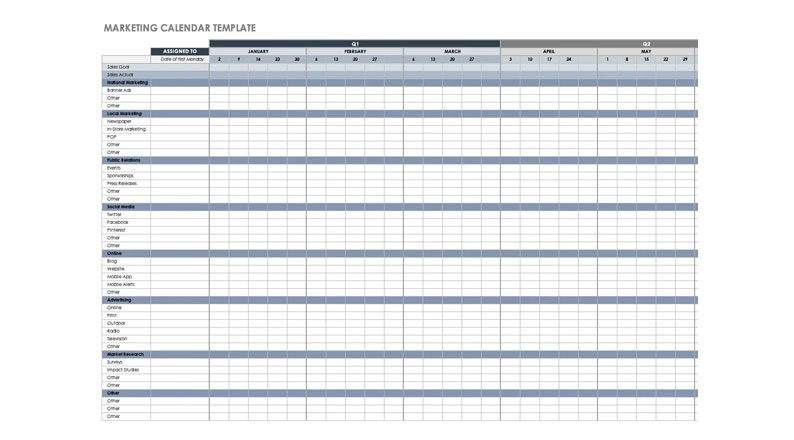 Google Sheet Template – Image Source: Smart Sheet
3. Trello
Trello is a project management and task-tracking application that allows your team to manage any type of project. Make everything specific to how your team functions best. It is simple, adaptable, and strong. Just use boards, lists, and cards to see clearly who is doing what and what has to get done.
Trello features – Image Source: Trello
Conclusion
Every year, we make resolutions to prepare, promote, and better manage all of the significant sales prospects for our company. This is why you must begin using a sales calendar for planning.
It is evident that the calendar provides health benefits such as helping in running successful promotions, ensuring that you are stocked up, helping in scheduling product releases, and planning your content.
Customers are the key to success in most businesses. Doing what will be favorably on their side retains them and increases honesty and sales. Before formulating your calendar, ensure you analyze your goals, weaknesses, strengths, and opportunities.
Your calendar should be as flexible as possible to enjoy new opportunities. Depending on your needs, you can create a one-year, quarter, or one-month calendar. Each calendar has its shortcomings and advantages.
Acowebs are the developers of the WooCommerce Variation Swatches Plugin that can transform your product attributes and select dropdowns with the efficient and easy-to-use User Interface. It also has developed various other plugins like WooCommerce Currency Switcher, the multi-currency converter plugin that shows prices in the user's local currency and helps customers connect to desired products faster. It helps customers quickly compare products and make a judgment easily.