According to a study by RetailMeNot, 80% of customers indicated that finding an offer or discount would motivate them to make their first purchase from a new brand. Additionally, a significant majority of consumers (93%) said they would consider making a repeat purchase from a retailer offering good discounts. Conversely, nearly half (48%) of the survey participants stated that they would avoid brands without offers or discounts.
In today's competitive eCommerce landscape, providing your customers with enticing offers is essential to keep them engaged and coming back for more. One of the most effective ways to do this is by implementing dynamic pricing strategies on your WooCommerce store.
In this comprehensive review, we'll explore how you can achieve this with our plugin – WooCommerce Dynamic Pricing With Discount Rules and boost your store sales, increase revenue, and improve customer satisfaction.
Let's start with the basics.
WooCommerce Dynamic Pricing Explained
Dynamic pricing is a data-driven pricing strategy that allows you, as a WooCommerce store owner, to change the prices of your products or services based on customer behaviour, market conditions, and competitor activities. Essentially, it's about adapting prices in real-time to keep up with the market's ever-changing demands, which can help you boost your profits in the long run.
How does this differ from the traditional pricing methods you've been using? The primary distinction lies in the fact that fixed prices might not always be suitable for the fast-paced environment of e-commerce. Dynamic pricing, on the other hand, provides store owners with the flexibility to react to market fluctuations and customer preferences, which can result in increased sales and revenue. Additionally, it can help you attract new customers, keep your existing ones happy, and create a more personalized shopping experience.
Here are some examples:
Bulk Pricing: Have you ever been tempted to buy more because you'd get a discount if you did? That's the idea behind bulk pricing. Offering discounts when customers buy larger quantities of a product motivates them to purchase more. For example, let's say you're selling t-shirts. Customers who purchase three shirts get a 5% discount, but if they buy six or more, they get a 10% discount. This pricing strategy entices customers to buy more, increasing your Average Order Value (AOV) and overall revenue.
Buy One Get One Offer: You've probably seen these before, and they're very versatile. They're a fantastic way to get your customers excited about purchasing. You can mix and match products, like offering a free item when a customer buys a full-priced product. This offer can encourage customers to try new products or stock up on their favourites, boosting sales.
Discounts Based on Product Price: Sometimes, offering discounts depending on the product's price can be a great way to move specific items or cater to different price ranges. This can help you target customers looking for a deal within a particular budget and boost sales for that price range.
Discounts Based on Cart Total: You can entice customers to purchase more by offering discounts when their order subtotal exceeds a certain amount. This approach incentivises customers to add more products to their cart and buy more.
5 Reasons You Need Dynamic Pricing on Your WooCommerce Store
Increased sales and revenue: By implementing dynamic pricing strategies, you can target different customer segments with tailored offers and promotions. For example, you might offer a discount for first-time buyers or give returning customers a loyalty discount. This can increase sales, as customers feel incentivised to purchase, ultimately boosting your revenue.
Customer retention and loyalty: Dynamic pricing enables you to reward loyal customers with special offers and promotions, making them feel valued and appreciated. For instance, you could provide a loyalty discount to customers who frequently shop at your store or a birthday discount as a special gesture. This encourages repeat business and fosters a strong sense of brand loyalty.
Flexibility to create customized pricing strategies: With dynamic pricing, you have the freedom to develop a variety of pricing strategies based on factors such as customer behaviour, order size, or product demand. For example, you could offer a bulk discount for customers purchasing many items, encouraging them to buy more products at once.
Encouraging bulk purchases and higher order values: Dynamic pricing can help incentivise customers to buy in bulk or spend more on each transaction. For example, you might offer a tiered discount structure where the more items customers buy, the greater the discount they receive. This can lead to higher order values and increased overall sales.
Better adaptability to market trends and competition: Dynamic pricing lets you quickly adjust your prices and promotions based on changing market conditions or competitor actions. For instance, if a competitor launches a sale or discounts a popular product, you can quickly respond by offering a similar or better promotion. This adaptability helps you stay competitive and maintain your market share.
A Peek into the WooCommerce Dynamic Pricing With Discount Rules" Plugin
By default, WooCommerce only offers limited options for setting up pricing rules and discounts for your online store. Without much flexibility or advanced features, you can only apply basic coupon codes based on cart total, product categories, or simple user-based discounts.
However, the WooCommerce Dynamic Pricing With Discount Rules Plugin by Acowebs greatly expands on these capabilities, providing you with advanced features and flexibility to craft a personalized shopping experience for your customers.
The plugin is available in free and premium versions, allowing you to select the plan that best suits your needs. For ambitious eCommerce store owners seeking more advanced features, the Premium version offers a range of additional benefits that can significantly enhance your store's discount management capabilities.
To fully appreciate the value that this plugin can bring to your site, it's essential to understand the various features offered in both the Free and Premium versions. Let's take a closer look at some of the key functionalities that this plugin brings to the table:
Free Features:
You can apply discounts as a percentage or a fixed amount of the product price.
The option to set up discounts according to the price of a product.
You can offer discounts based on the total value of items in a customer's cart.
Ability to give discounts when a certain number of items are added to the cart.
Apply discounts to all products within a specific category.
You can set up quantity-based discounts for bulk purchases.
It has a dynamic pricing table that updates based on applied discounts.
You can apply discounts to selected products.
You can choose specific products to be excluded from discount rules.
The option to create discount rules based on the quantity or range of products purchased.
Apply multiple discounts within one pricing rule.
You can set conditions for discounts to be applied, such as minimum cart total or specific product combinations.
Plan and schedule discount events for specific dates in the future.
You can set discounts during multiple periods with different start and end dates.
You can display the dynamic pricing table on individual product pages.
The option to show a separate pricing table for each product variation.
You can customize the appearance of the pricing table to match your store's branding.
The option to apply discount rules only to specific lists of products.
You can make discounts available exclusively for registered users.
Add customized offer text to product detail pages to catch customers' attention.
There is a quick setup feature with predefined pricing rules that allows you to get started quickly.
You can limit discounts to specific user roles, such as subscribers or customers.
Show updated pricing information in real time as customers adjust quantities in their carts.
Premium Features (includes all free version features):
You can set up tiered discounts that increase value as customers purchase more products.
Offer a selected product as a gift or allow users to choose from a set of gift items.
BOGO options. Set up buy one, get one free or discounted offers on products or product lists.
You can offer discounts on the lowest-priced item in a customer's cart.
Give discounts on specific quantities, such as "Buy 3, get 50% off on the 4th item" or "Buy 5, get a discount on 4 items."
Apply discounts based on user roles, the number of orders, the amount spent, and the last order amount, and set individual user discounts.
Offer discounts for specific shipping or payment methods.
Set usage limits for specific user roles, selected users, or discount rules.
Create special discounts for weekends or other specific days.
Use a shortcode to display a list of discounted products on your site.
Add customizable sale badges to discounted products
How to Enable Dynamic Pricing on Your Site
Integrating dynamic pricing on your site with the WooCommerce Dynamic Pricing Plugin is incredibly straightforward. In a few minutes, you can turn your online store into a customer-friendly space, providing tailored discounts and special offers that appeal to your shoppers' preferences. The plugin works smoothly with WooCommerce; you don't need to be a tech guru to set it up. Just follow the steps below to install and integrate the plugin into your WooCommerce store in no time:
Step 1: Installing and Activating the Plugin
We'll guide you through the installation process for the free and paid versions of the WooCommerce Dynamic Pricing Plugin by Acowebs (also known as WooCommerce Discount Rules plugin). Let's start with the free plugin.
1. On your WordPress Admin Dashboard, go to Plugins > Add New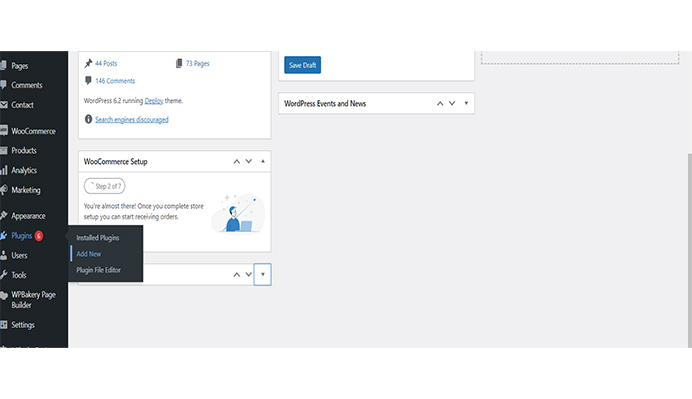 2. In the search bar, type "WooCommerce Dynamic Pricing With Discount Rules", locate the one by Acowebs and hit enter. Once you find the plugin, click on "Install Now" and wait for the installation process to complete.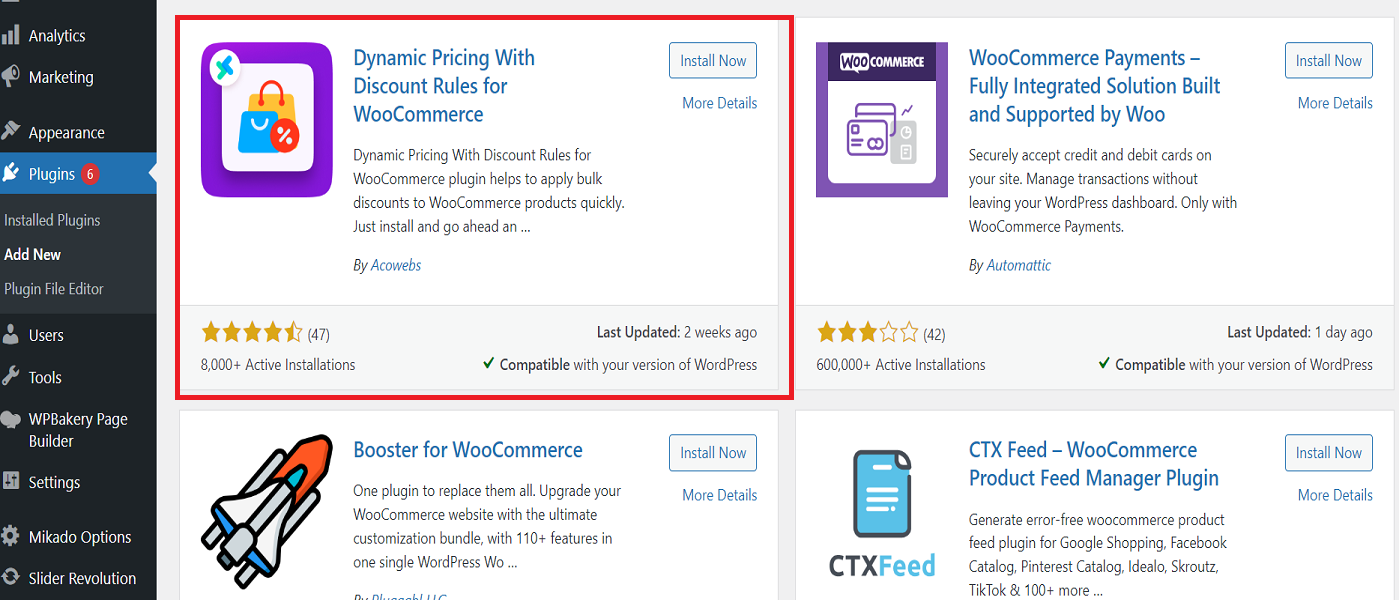 3. After the installation, click "Activate" to enable the plugin on your WooCommerce site.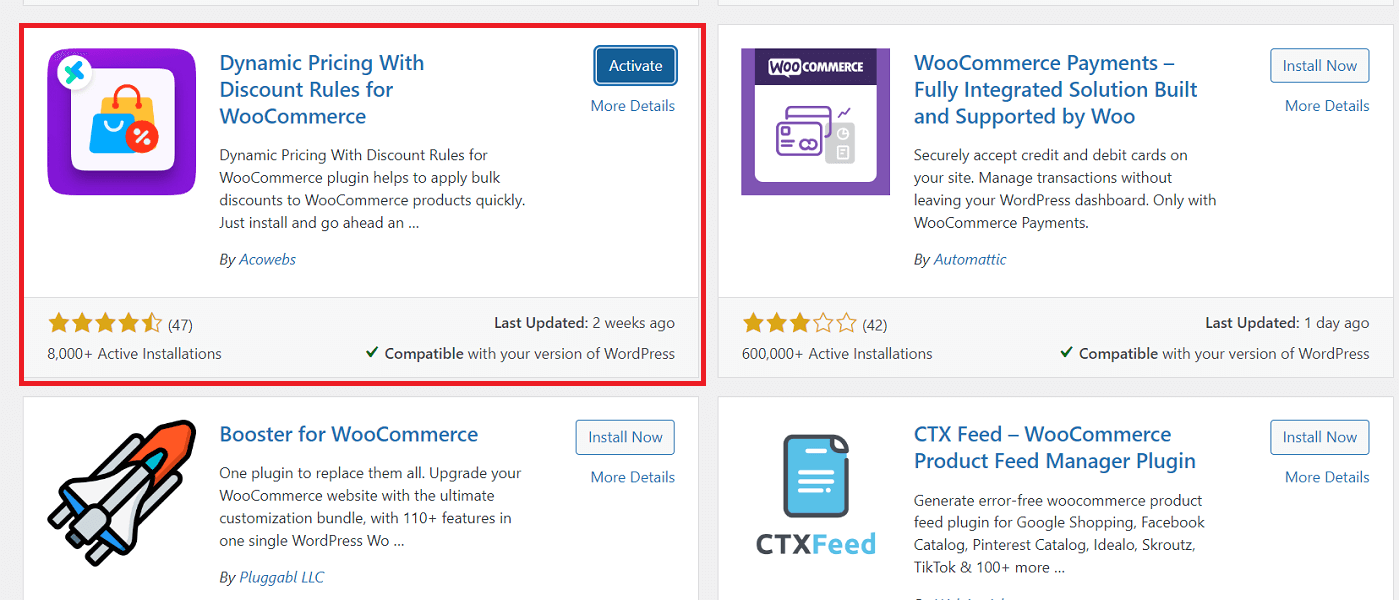 You're all set to create and manage dynamic pricing rules to attract more customers and boost your store's sales.
But that's not all. If you're interested in investing in the premium version of this plugin to access more advanced features and customizations for your store, simply follow these steps:
1. Head over to the WooCommerce Dynamic Pricing plugin page on Acowebs' website.
2. You'll see four pricing plans to choose; pick the one that best fits your budget and click "Add to Cart."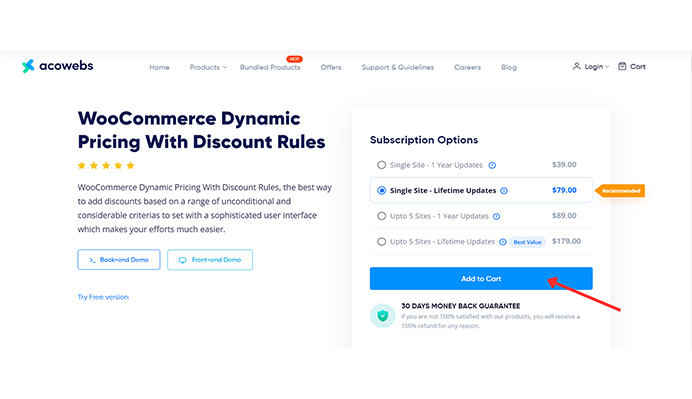 3. Next, you'll be directed to the purchase order summary; review your order information and click "Place Your Order" to continue.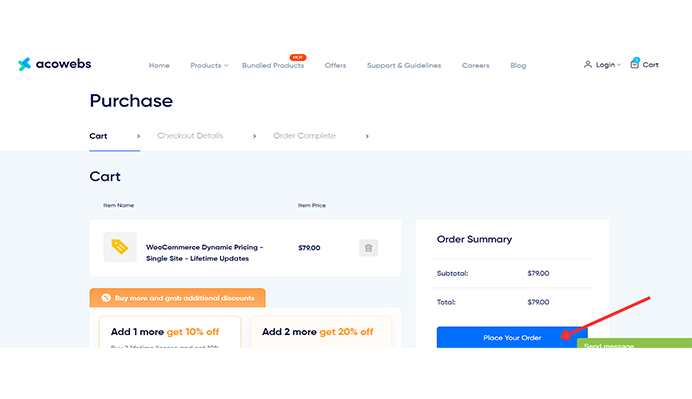 4. Enter your personal information and card details to complete the purchase on the checkout page.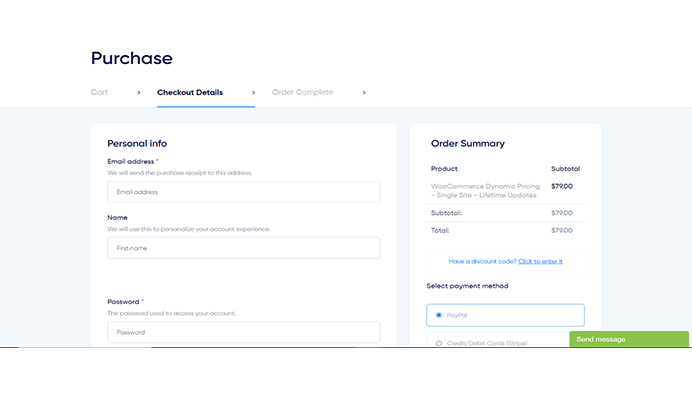 5. After purchasing, download the plugin's ZIP file to your computer.
6. Return to your WordPress Admin Dashboard to Plugins > Add New.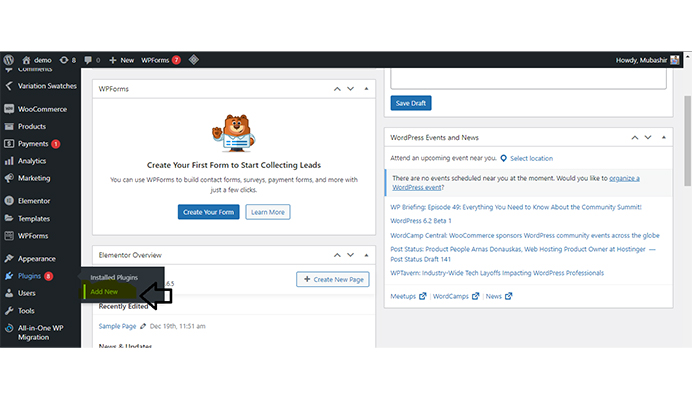 7. Click on the "Upload Plugin" button near the top of the page.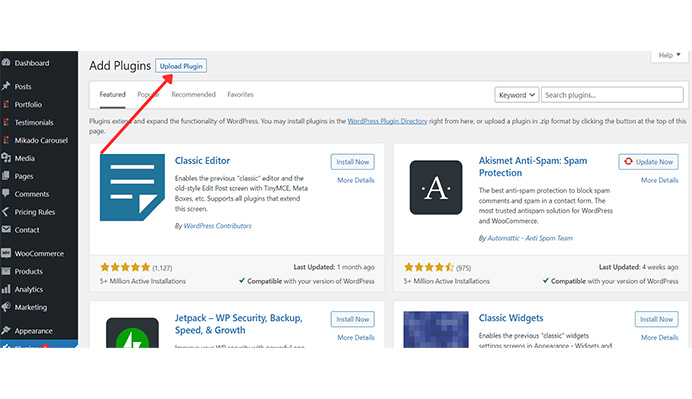 8. Select the downloaded ZIP file from your computer and click "Install Now."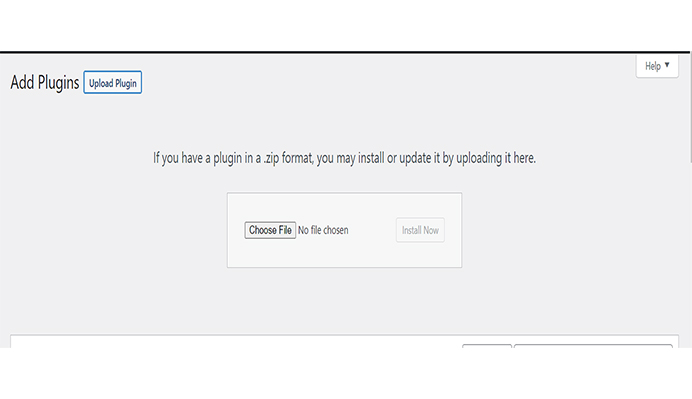 9. Once the installation is complete, click "Activate" to enable the plugin's premium version on your WooCommerce site.
Now that the plugin is running on your site let's dive into creating dynamic pricing and discount rules for your WooCommerce store.
Step 2: Applying Bulk Discounts & Setting Up Dynamic Pricing Rules
1. Once the WooCommerce Dynamic Pricing and Discount Rules plugin is activated, navigate to the "Pricing Rules" menu item in the left sidebar of your WordPress dashboard.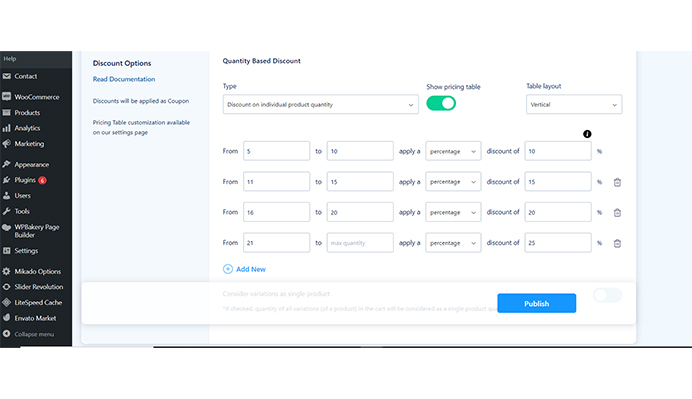 2. To create a new pricing or discount rule, click on the "Add New Rule" button on this page.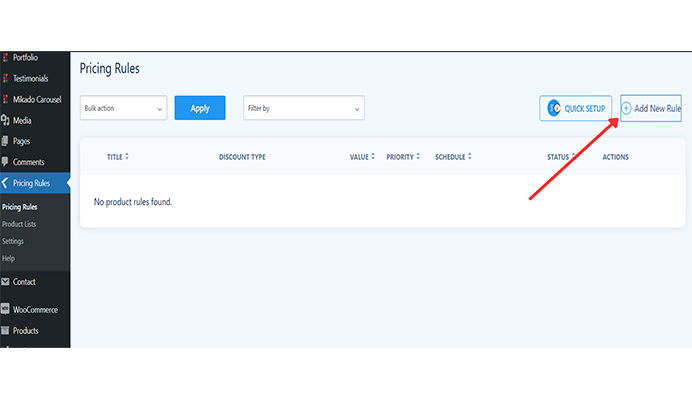 You will be directed to a new page where you can input the details for your new rule. These are the required fields you'll have to fill in:
Rule Name – Choose a name for the discount rule that reflects its purpose.
Discount Type – Select the type of discount you want to apply, such as discounts based on the Cart Total Amount or Product Price or using a Fixed price or Percentage value.
Priority – If you have multiple discount rules, set the priority to determine which rule should be applied first.
Discount Status -This button allows you to enable or disable the discount rule. Toggle on if you want the rule to be active and applied to your WooCommerce store. Conversely, if you wish to temporarily or permanently disable the rule, toggle it off.
Product Filter – Specify which products the discount rule will apply to, such as all products or a product list.
Discount Value – Define the value of the discount, either as a fixed amount or a percentage, depending on your chosen Discount Type. If you selected a quantity-based discount, a table would be displayed where you can enter the discount tiers by specifying the minimum and maximum quantity range and the corresponding discount value for each tier.
Apply discount for specific user roles (registered customers) – Enable this option if you want the discount to apply only to users with particular functions, such as subscribers, customers, or other custom user roles.
Supported User Roles – Select the user roles eligible for the discount, ensuring that the right customers receive the intended discounts and promotions.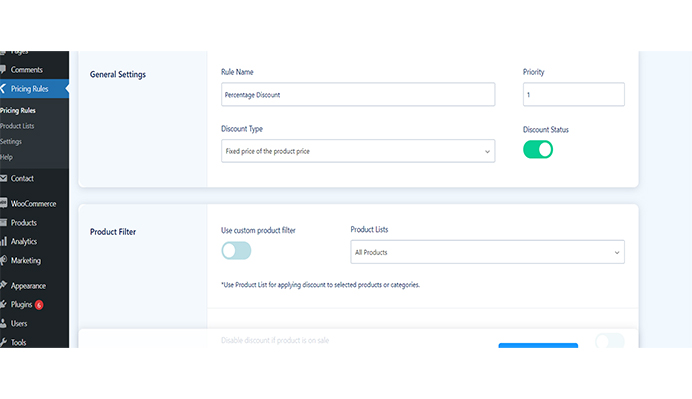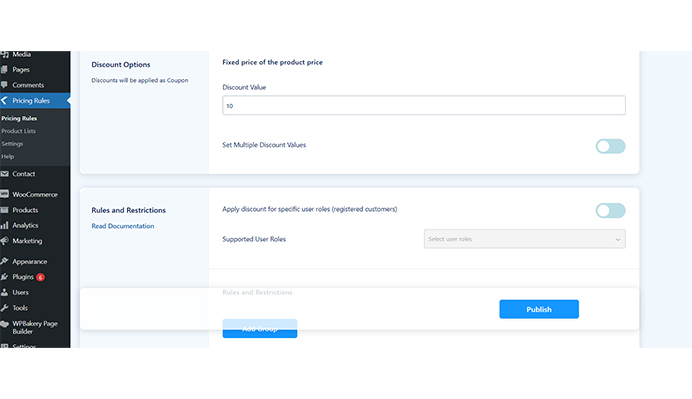 3. After filling in these fields, click the 'Schedule' tab to schedule your discounts. This feature allows you to set a start and end date for your discount rule, making it active only within the specified timeframe. You can strategically plan promotions and sales events for your WooCommerce store by scheduling your discounts.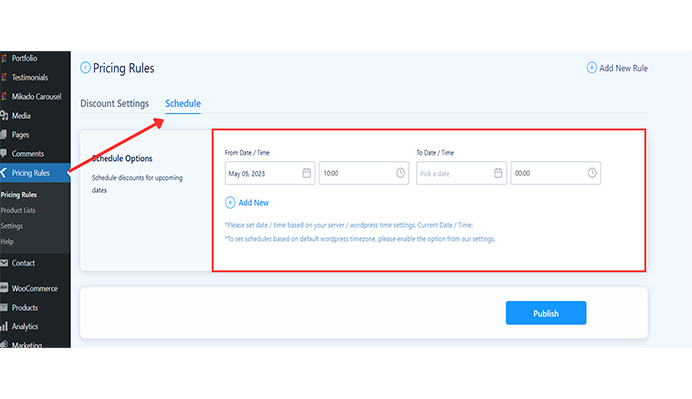 4. Fill in the start and end dates. Once you're done, click on Publish to save your new rule to make it active on your site.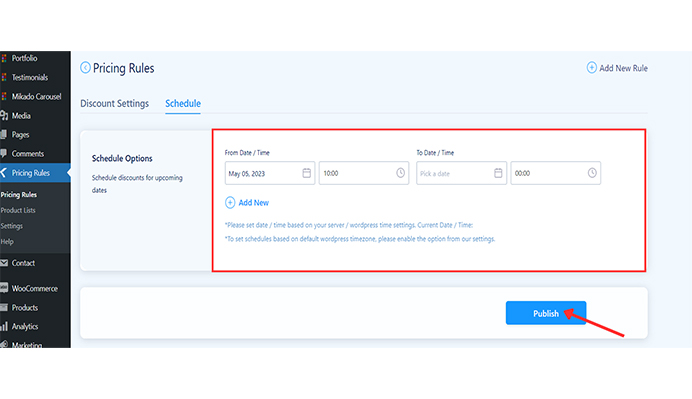 5. After setting up these rules, return to the product listings in your WooCommerce store. The newly created discount rule will now be applied to the eligible products, and your customers can enjoy the discounts you've set up.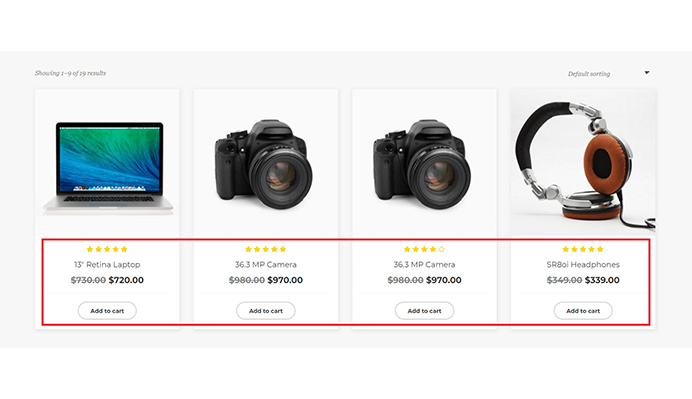 If you don't want to create new rules from scratch, the plugin also has a "Quick Setup" option that offers predefined templates.
These templates cover popular discount scenarios, making it even easier for you to implement dynamic pricing strategies on your WooCommerce store. Select a template that suits your needs, customise the settings, and publish the rule. This way, you can quickly set up dynamic pricing rules without spending too much time on the setup process.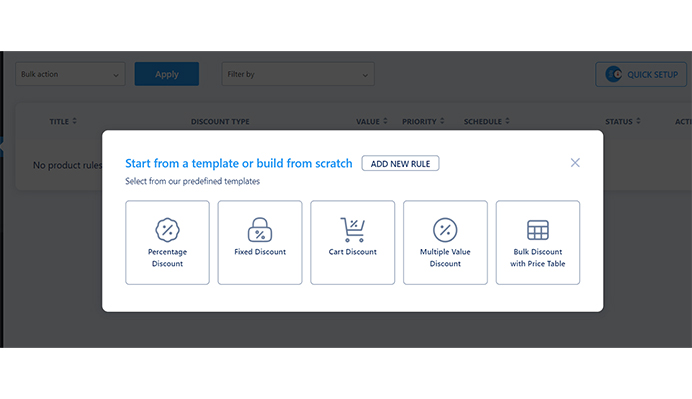 The predefined templates in the WooCommerce Dynamic Pricing With Discount Rules plugin include the following:
Percentage Discount: This template allows you to apply a percentage-based discount on specific products or product categories. It's ideal for offering limited-time promotions or seasonal discounts to boost sales.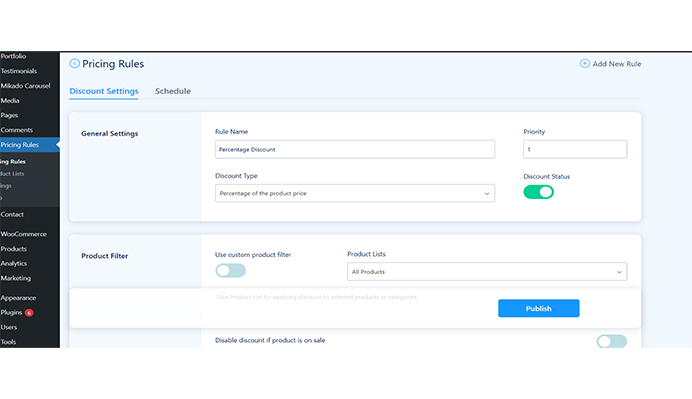 Fixed Discount: With this template, you can apply a fixed discount to specific or all products. It's a great way to provide a straightforward discount for your customers, making it easy for them to understand the savings they're getting.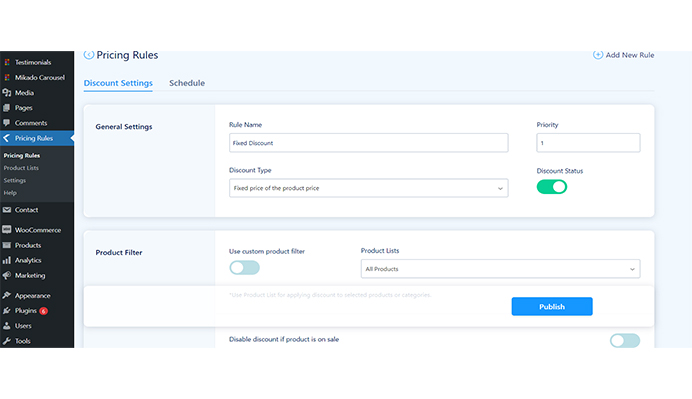 Cart Discount: This template enables you to offer discounts based on the total value of the customer's shopping cart. It encourages customers to increase their cart value and buy more.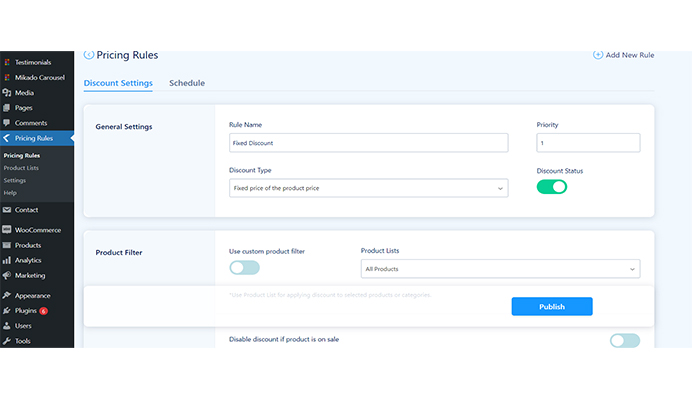 Multiple Value Discount: Using this template, you can create discounts that simultaneously apply to various products or product categories. It's perfect for cross-selling, upselling promotions, and offering discounts on complementary products.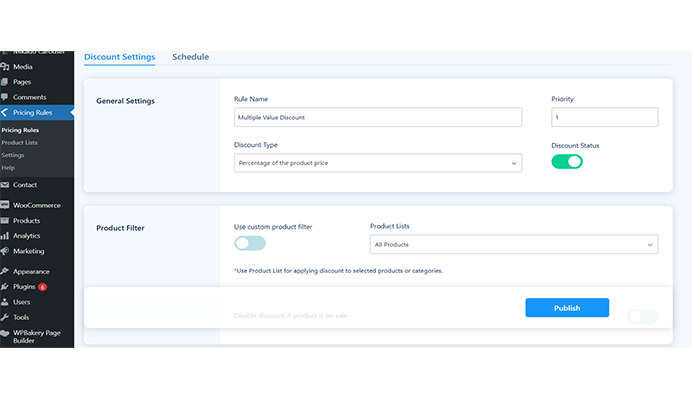 Bulk Discount with Price Table: This template allows you to offer bulk discounts on products with a price table displaying the different discount tiers based on the quantity purchased. It's an effective way to incentivise customers to buy more items to receive better discounts.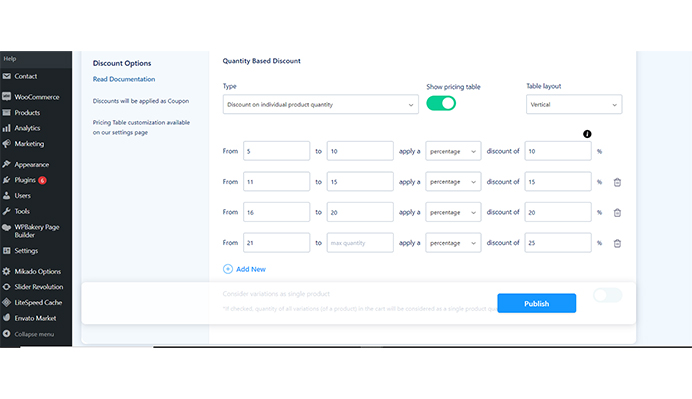 These predefined templates make it easy to set up various dynamic pricing strategies in your WooCommerce store without creating rules from scratch. Simply select a template that aligns with your marketing goals, customize the settings, and offer your customers attractive discounts.
Step 3: Configuring the Settings for WooCommerce Dynamic Discounts
To maximise the WooCommerce Dynamic Discounts, you can customize and configure the settings to suit your store's requirements. To do this, go to Pricing Rules > Settings.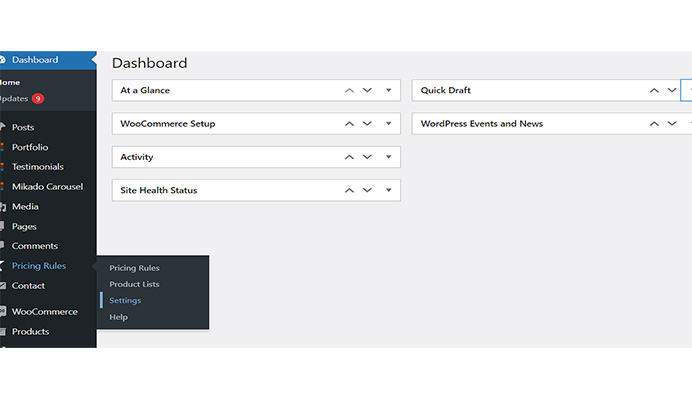 On the Settings page, you'll find various options to customize and configure your dynamic discounts according to your store's requirements. Some of the settings you can adjust include:
General Settings: This section allows you to enable or disable the plugin, set the default discount label, and choose how discounts should be displayed on your store.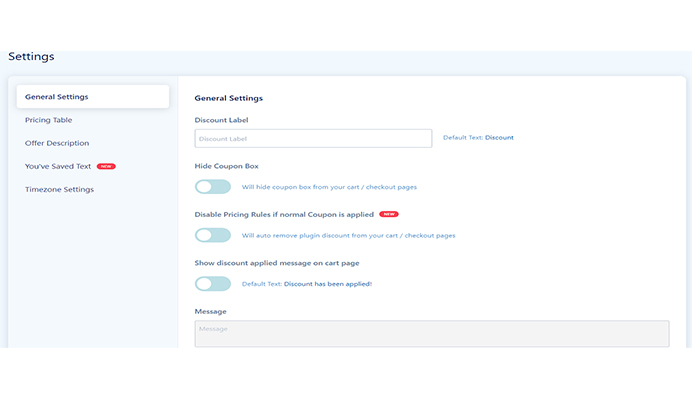 Pricing Table: Here, you can customize the appearance of the pricing table displayed on your product pages. This includes choosing the table's position, sorting, designing, and configuring the quantity and price columns display.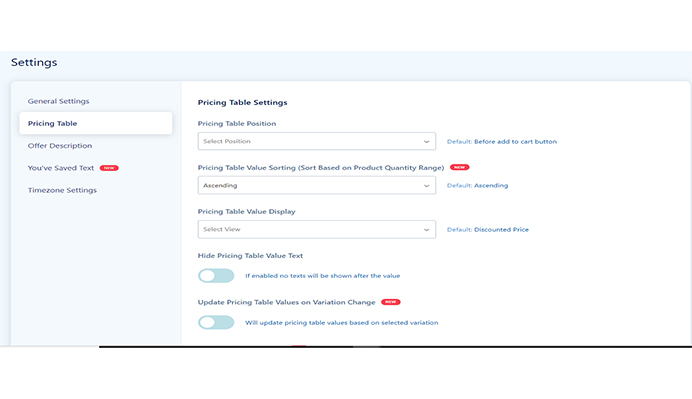 Offer Description: In this section, you can set the default description text for discounts and special offers. You can customize the font style, size, and colour to ensure the offer description stands out on your product pages.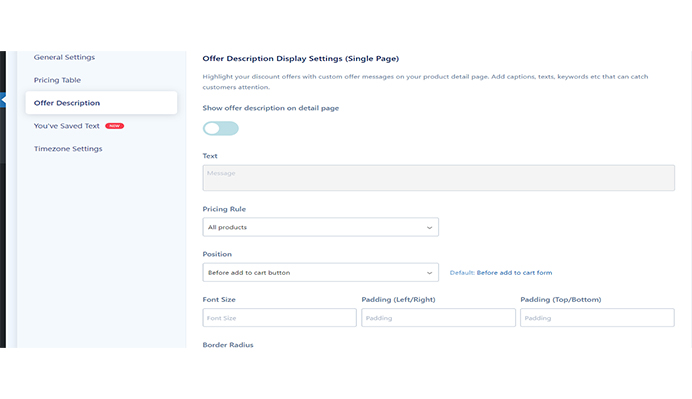 You've Saved Text: This option lets you customize the text displayed when a customer saves money due to a discount. You can modify the text's wording, font style, size, and colour to suit your store's branding.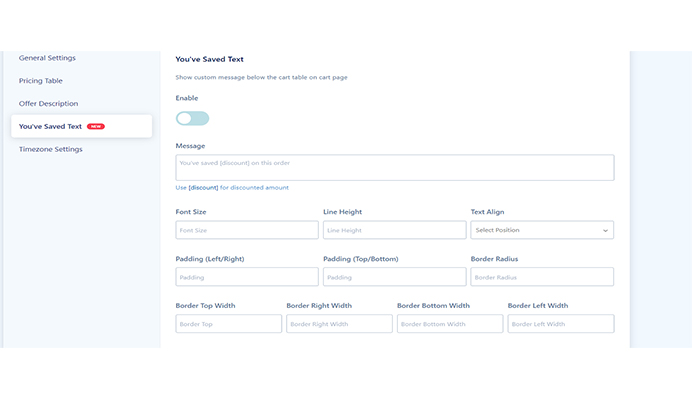 Timezone Settings: Here, you can set the timezone for your store. This is particularly important if you have time-sensitive discounts or special offers, as it ensures that the discounts are applied correctly based on your store's local time. By default, the plugin utilizes the server timezone for schedules and timers. To use the default WordPress timezone instead, simply enable this option.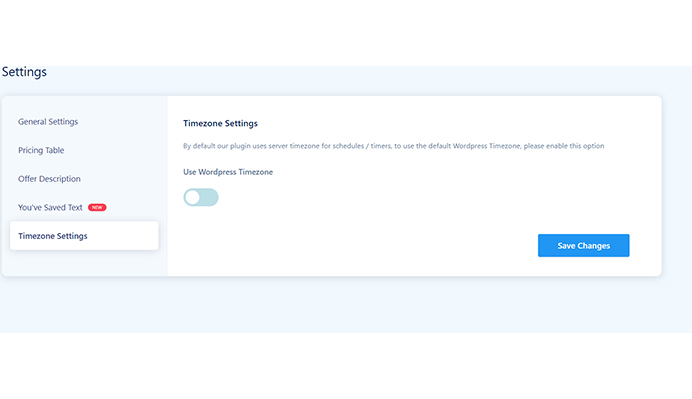 Take the time to explore and configure these settings to suit your store's needs and objectives. Once satisfied with the settings, click "Save Changes" to apply your customizations.
Don't Wait – Build Loyal Customers & Drive Sales Now with the WooCommerce Dynamic Pricing With Discount Rules Plugin!
Well, there you have it! We've covered the basics of dynamic pricing and why it's crucial to your WooCommerce store's success.
You can incentivize customers to make repeat purchases and increase their overall spending by offering tailored discounts and promotions. And with the WooCommerce Dynamic Pricing With Discount Rules Plugin, you can access a wide range of advanced features that can help you create personalized pricing strategies that adapt to market trends and keep you competitive. We've shown you how to install and set up the plugin and how to apply bulk discounts and dynamic pricing rules. So what are you waiting for? Don't let your competition steal your customers and sales. With the WooCommerce Dynamic Pricing With Discount Rules Plugin, you can build loyal customers and drive sales now.
Acowebs are the developers of  WooCommerce Product Labels plugin that helps the customers to include custom product labels or product badges for the Woocommerce products. It has also developed various other plugins, like WooCommerce Currency Switcher, the multi-currency converter plugin that shows prices in the user's local currency and helps customers connect to desired products faster. It helps customers quickly compare products and make a judgment.