Online retail is becoming more social. By 2028, it is expected that social commerce retail sales in the US will amount to around 145.2 billion U.S. dollars.
Platforms are starting to adopt social commerce features, opening up new possibilities for both large and small firms. The COVID-19 outbreak severely hampered brick-and-mortar companies. Executives now support digital transformation wholeheartedly.
Social media use has led to a rise in social commerce. Gen Z and millennials are presently the active social media users most certain to have executed at least one transaction using a social channel in the US.
However, how can you ensure that your brand stands out amid stiffer competition? How can social networking apps help you increase your e-commerce sales?
To deliver a superior customer experience, brands must have a thorough awareness of the buying interests of their target population.
In this article, we examine the social commerce trends, figures, and forecasts influencing the last quarter of 2022 and the first quarter of 2023.
What Is Social Commerce
Social commerce is purchasing or offering a good or service within a social media platform. For instance, Instagram allows users to browse and buy things directly from the app, saving them the added step of visiting the brand's website.
The data demonstrate that social commerce is the future of creating a smooth buying path.
E-commerce products frequently sell out on apps like Facebook, Instagram, and Pinterest thanks to special "buy now" signs on adverts and influencer-run live streams. Social commerce allows consumers to:
Learn about brands
Research output
Engage with customer service
Purchase items
Social commerce is distinct from conventional social media marketing techniques, encouraging consumers to browse a brand's website before making a purchase. Instead, social media sites with virtual storefronts like Facebook Shops and Instagram Shops are used.
Social commerce is a simple solution to placing your business in front of more people when you realize that 4.7 billion individuals, or 59% of the worldwide population, already utilize social media.
Statistics of Number of Social Media Users – Image Credit: Statista
Leveraging social commerce best practices is a straightforward method of product promotion and sales.
Social Commerce Best Practices
Instead of using one overarching strategy, effective social commerce involves a combination of clever approaches.
The most important lessons for using social media for sales can be drawn from the campaigns on today's strong social brands.
Here are some of the social commerce best practices to enable you to make the most of this innovative digital retail environment.
1. Know Your Audience
For optimum interaction, match your social media target demographic with your social commerce strategy. Instead of copying and pasting what is already on your website, choose items based on this specific consumer subset.
You may stay informed as your audience expands with a social media analytics tool. Google Analytics includes follower demographic information that can help create platform-specific client personas.
To decide which goods to list and how to place them, use these in conjunction with post-performance data.
2. Plan Out your content
Schedule a few promotional posts after you've shared a listing to generate interest and traffic to your brand-new social storefront.
It is a fantastic approach to distributing more product details like walkthroughs and up-close images.
3. Customize Your Responses
One of the most common reasons customers contact brands on social media is to inquire about a product or service, whether it be to request detailed product information, inquire about a specific order, or find out what options are available.
You can respond to those queries by recommending a product and providing a direct link to purchase it. Giving customers a useful service and facilitating their purchase of the goods they want is mutually beneficial.
4. Discover What Works
When you dangle a toe in the social commerce realm, the greatest thing you can do is measure and keep measuring.
As you develop your plan, knowing what's working might help you replicate your success. It may also reveal new possibilities that you would have otherwise overlooked. Similarly, Set your product prices to sell.
Clothes, dog toys, and risqué pottery are just a few examples of the many products that can thrive in social commerce, but luxury goods rarely do.
Consumers are less likely to go out on something with a higher price point because of the danger involved in making an online purchase.
5. Use an AI Chatbot To Streamline Sales and Customer Support
A prompt and competent response to a customer's query can distinguish between a sale and an abandoned cart. You may systematize customer service and ensure that your clients are looked after 24/7/365 with the appropriate tools (a.k.a. even when your team is not online).
Utilize a product like a Heyday to interact with your clients on the platforms they prefer and turn support conversations into purchases.
Heyday is an AI chatbot for merchants that connects your social media accounts and online store. Up to 80% of your help desk discussions can now be automated.
Heyday AI chatbot – Image Credit: Heyday
The chatbot instantly responds to questions from customers who contact you on social networks about your merchandise or order monitoring and transfers complicated questions to your support staff.
6. Engage Your Audience
To build a fantastic social commerce encounter, you must remember the "social" component. You can't simply throw away your catalog and move on.
Respond to inquiries, provide useful and engaging content, be genuine and human, and so on. Create a chatbot to assist customers in advancing through the shopping process.
The success factors you typically employ to engage your audience to apply here.
7. Be Keen on the Feedback
You are close to your audience. Maximize your use of it.
Keep a constant eye on the feedback and recommendations on your shop, and when relevant, respond or provide customer assistance.
Establishing social media monitoring on all platforms is among the most terrific social commerce best practices to discover comments or business news outside your immediate circle.
8. Promote Reviews
According to 93% of internet customers, a review can influence or deter their choice. Get your customers to assist you in spreading the news if you have a product they love.
Statistics of Importance of Online Reviews – Image Credit: Podium
Collecting social proof is essential to establishing a good image online, whether through automatic follow-up emails asking for reviews after an order has been received or incentives like contests to persuade past clients to speak out and discuss their experiences.
Once you've received favorable feedback, creatively promote it on your social media pages by publishing user-generated material, inviting satisfied clients to appear in a Live video, or just compiling a carousel of supportive remarks.
There are many social commerce best practices approaches to take that won't come across as boastful.
Common Social Commerce Platforms
It's obvious that social commerce is revolutionizing the market, but which platforms are dominating? Let's examine some leading social commerce platforms and how each makes shopping possible.
1. Facebook
In recent years, Facebook, which Meta owns, has been a pioneer in social commerce. Brands now have the opportunity to build online shops, also known as Shops, where customers can browse and eventually make purchases right within Facebook.
Shops can be created for free; however, when Facebook's native checkout is used, there is a price.
There is a very low entry hurdle for Facebook Shops. The hosting of shops under your Facebook business page is free.
You can quickly sync your whole inventory management system if your e-commerce solution is available as a partner platform. If not, a spreadsheet can be used to input product information.
The Facebook Shop tab on the platform's mobile app displays products depending on user preferences to promote organic brand awareness.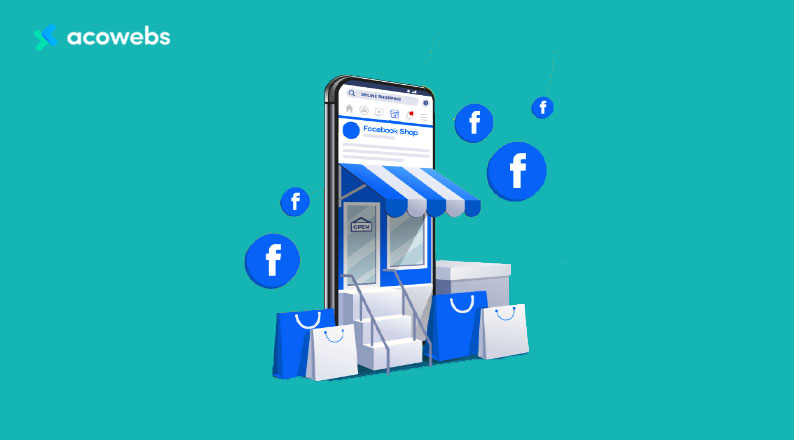 Facebook Shops – Image Credit: Facebook
Customers can purchase items on your website or in the app after discovering your stuff. Through Messenger, sellers speak with shoppers to answer issues, assist, and much more.
2. Instagram
Your Facebook Shop is immediately connected to Instagram Shopping. Users must connect their Instagram and Facebook business profiles to create a store. Users can then upload an existing product catalog or build a new one after that is finished.
If you want to create shoppable content and make it simpler for people to find your products, use Instagram product tags.
Product Tags let you highlight certain goods from your product catalog in your films and posts so that viewers may tap a tag to find out more immediately.
Adding tags to your products can increase the likelihood of appearing in areas where consumers congregate while looking to buy, such as the Instagram Shop tab.
Instagram's emphasis on visual content gives users greater opportunities to promote social commerce in unique ways. Similar to Facebook, purchases are handled within the application or on the website for your company.
3. Snapchat
In addition, Snapchat is embracing social commerce best practices in fascinating and original ways. The social media network relies on augmented reality (AR) to connect with customers freshly and interestingly.
Brands can collaborate with Snapchat to develop lenses that users can use to try on clothing, accessories, makeup, and more. The viewer can then read product details and follow a link to place an order using a brand's web store or Snapchat's native checkout.
"Snapchatters are already engaging with AR more than 6 billion times every day," Snapchat recently stated.
Snapchat New Shopping Experience – Image Credit: Campaignme
Additionally, the business unveiled a new shopping lens in January that allows consumers to browse various products in one location. Users will "view details on pricing, color, sizing, and related items, right from the retailer," according to their statement.
Snapchatters can purchase items using even more of these lenses designed by their favorite businesses in the months ahead.
4. Pinterest
Pinterest is an image-focused search engine and social networking site. Users pin vacation destinations, make mood boards, and, most crucially, find new items.
Merchants can draw in new customers unaware of their items by adding product details from their app shop to Pinterest. For instance, Allbirds uses shoppable pins to attract shoppers on Pinterest.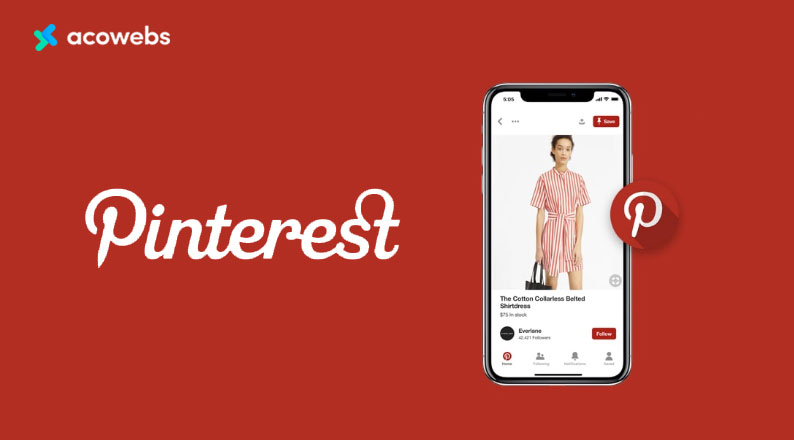 Allbirds Shoppable Pins – Image Credit: Pinterest
These listings give Allbirds the highest chance of reaching customers who use Pinterest's Shop page to find new products since they are geared toward the store brand and the product category.
Each month, over 400 million users use the platform to look for products and get ideas. What's best? Pinterest searches are not branded most of the time.
Number of Active Users on Pinterest – Image Credit: Statista
5. Tiktok
Tiktok Image Concept – Freepik
Regarding social media platforms, TikTok may be the newest player on the block, but thanks to its rising notoriety, the app doesn't lag in social commerce.
This past fall, TikTok revealed the expansion of its shopping features, which now include shops, product tagging, and live shopping.
In 2021, TikTok officially entered the social commerce space when it partnered with Shopify to introduce in-app social shopping.
With a TikTok For Business account, businesses can add purchasing tabs to their business profiles, giving consumers access to a virtual storefront without leaving the app.
6. Twitter
Twitter provides eCommerce firms with a vast potential audience thanks to its more than 330 million monthly active users.
The platform is tapping its toes into social commerce, but they are not entirely new to the game. The site is primarily renowned for sharing news and short tweets with a wide audience.
Twitter used to offer a direct shopping option on its website; however, in 2017, it decided to remove the "Buy" button. Since then, Twitter has clearly recognized the value of social purchasing and unveiled new features, including a "Shop" button on tweets and a Twitter Shopping Card that would help them gain a stronger foothold in the expanding social shopping sector.
Twitter only recently revealed a beta test for Twitter Shops. People may examine items from the accounts of their preferred brands thanks to the function, which is free to use. As a result, users can now browse things on Twitter.
Social Commerce Examples
There is no shortage of social media platforms, and tactics brands may use to stay current. There is no "default" strategy for social commerce best practices, whether in the marketing or software industries or the fashion or food industries.
Below are fantastic examples of major firms utilizing social commerce best practices to stake their position.
1. The Tiny Tassel
The Tiny Tassel is a handcrafted jewelry company that uses Facebook Shop features to build detailed, Facebook-native product pages. Each listing includes comprehensive product descriptions, choices for customization, and shipping details.
Businesses can take a cue from Tiny Tassel and publish listings that convey value. This practice encourages potential customers unfamiliar with your brand to make their first purchase by establishing trust.
The Tiny Tassel Facebook Shop – Image Credit: Facebook
2. Sephora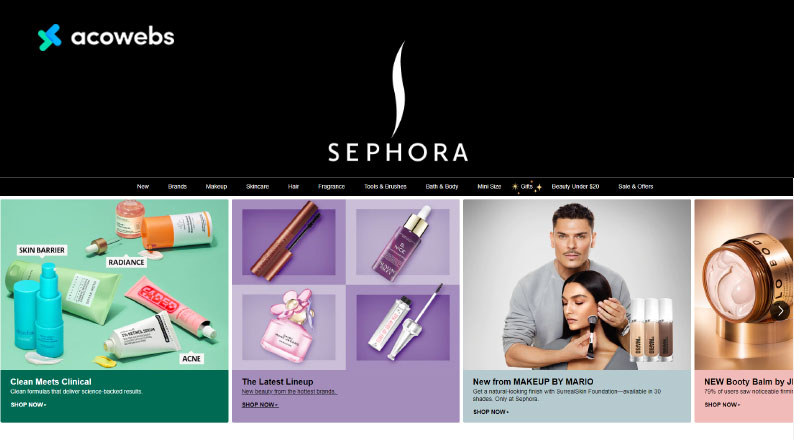 The same guidelines apply to eCommerce in how customers look for a distinctive shopping experience and recommendations in-store.
Personalizing the purchasing experience for your clients is among the most effective social commerce best practices, especially since referrals account for 31% of eCommerce sales.
The "Fragrance Quiz" test from Sephora is a great illustration of customized social commerce. The quiz asks a short set of questions to find the best colognes or scents for the participant.
3. Target
Setting up a catalog can take a while if Facebook isn't a partner with your e-commerce platform.
Target concentrates on things that fit its Instagram content strategy instead of listing all its products. For its loyal Instagram following, this improves the browsing experience.
4. Patagonia
You can create Pinterest boards that serve as tools for your audience to navigate between products.
Consider Patagonia's Pinterest layout: their Product Pin boards replicate their website navigation, providing a comfortable experience for repeat visitors and new potential buyers who click through to the company's main website.
Most social commerce platforms provide just enough freedom to reproduce your brand experience. Make your audience feel consistent by using these techniques.
Patagonia Pinterest Layout Concept – Image Credit: Pinterest
5. Ipsy
Ipsy has a sizable following on Instagram—well over 2 million—and has mastered the technique of social commerce best practices.
Ipsy's usage of social media as a perk for customers to share their content is a crucial lesson to learn from their glam bag's success.
For instance, Ipsy gives its users an advanced look at the products in their glam bags; all you have to do is send a link over Facebook Messenger to get access.
Ipsy and its products can spread like wildfire thanks to this method, which is why "tell a friend" marketing is getting increasingly popular in the eCommerce industry.
Conclusion
Social media has completely changed how companies and customers communicate, and social commerce is its newest application.
The moment has come to be flexible and embrace change. Social commerce can scale more quickly the earlier you try it out.
Social media sales are made possible by applying the above-mentioned social commerce best practices. Because it reduces friction from online purchase experiences that begin on social sites, it is a successful sales technique. Many people look through social media to find products they enjoy.
Giving consumers the option to proceed directly to checkout without abandoning the social network speeds up the process and lowers the possibility of shopping cart abandonment.
Acowebs are the developers of the WooCommerce Deposits– Partial Payments plugin that helps the customers pay a fixed price, percentage, partial payment, or deposits, for the products purchased from your Woocommerce store. It also has developed various other plugins like WooCommerce Currency Switcher, the multi-currency converter plugin that shows prices in the user's local currency and helps customers connect to desired products faster. It helps customers quickly compare products and make a judgment easily.