An expert excels in one thing, while a generalist can do everything passably. When you run an internet business, the same applies. Being general makes it hard to focus on certain goals.
Establishing authority over rival generalists by carving out a niche market and becoming the go-to brand for a particular clientele leads to a more concentrated business.
Concentrating on a small market may make it simpler for the proper customers to declare what works for them, from your unique value proposition to product line enhancements. Finding a specialized niche is an excellent place to start if you're having trouble coming up with your initial product concept.
You have the option of pursuing a multitude of lucrative niches with even more specificity. Finding a specialized market that you can dominate and that has a healthy customer base should be on your priority list.
This article will cover niche marketing for eCommerce, its importance, and how to incorporate the strategy.
What Is Niche Marketing?
With niche marketing, a company advertises its goods and services to a limited, targeted, and clearly defined audience. With this method, you may benefit from brand loyalty as an eCommerce business owner while helping a neglected population.
Customers in a niche market have certain wants or preferences that differ from those in the general market. Common factors affecting niche marketing include
Geographical area. A resident of a specific neighborhood, city, or even nation
Psychometric information. Attitudes, values, and interests
Base demographic. Age, gender, education, and income
Quality level. Economy, handcrafted, and premium levels
Price. Low, moderate, and upscale prices
Generalization makes it hard for consumers to choose. With the use of tools like Facebook ad targeting and social media monitoring, niche marketing has also grown simpler.
Why Niche Marketing for eCommerce Is Important
Having a subset of a broader market distinguished by its particular tastes, requirements, and identities gives your various online benefits, including
1. Brand Loyalty
Niche marketing aids in the development of customer loyalty. You interact with a smaller audience when you are in a niche market. As a result, you can concentrate on providing excellent customer service and cultivating a relationship with them.
As you meet the unique wants of the consumers, you are acting less like a provider and more like a good partner. The fact that specialty marketing encourages word-of-mouth advertising is another advantage for your loyal customers. Because people in a particular niche frequently interact with one another, there are more opportunities to promote your company.
2. Less Competition
Fewer businesses will have the same offering when you have a highly particular good or service. Also, the businesses will compete with you for clients, and it will be more difficult for them to copy your techniques if your product or service is more specialized.
While having competitors is crucial for businesses, less competition is even better. The less competition you have, the less concern you have for observing prices and keeping an eye on what they are doing.
Also, the fewer individuals looking for goods, the more particular they become. Only when there is a sizable audience to fight for is reduced competition a benefit of specialized marketing. It's good news for you if your rivals aren't pursuing a niche since they can't satisfy its requirements.
Below is an example of Lefty's online store niche marketing. The percentage of left-handed people on the planet is between 10 and 12%. The store sells left-handed goods exclusively that are commonly ignored in the market.
One of Lefty's main techniques is targeting individuals via search engines and the internet. As a result, an advertisement from Lefty's is likely to appear when someone searches for left-handed goods.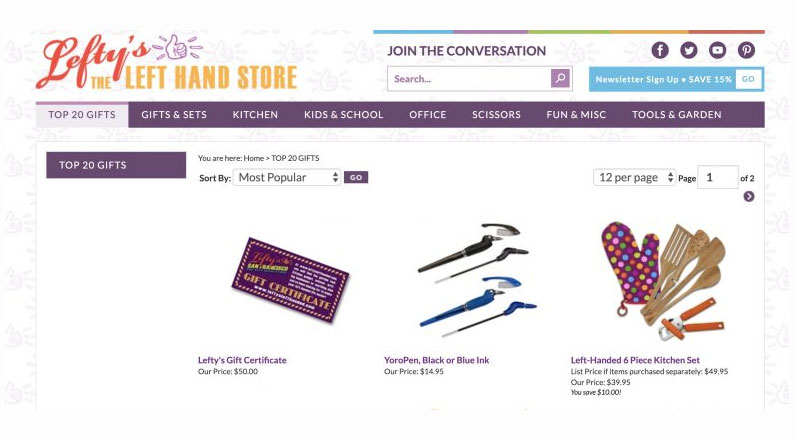 Lefty's Products – Image Source: Mirasee
3. Cutting on Costs
It is in the interest of any business owner to cut operational costs. Finding and understanding your audience is a crucial component of good online marketing, and doing so entails spending time and money on data and analytics solutions.
The advantage of target marketing is that you focus less on digging into your data to understand and keep up with your consumers' wants because you are limited to a specific person and need.
Additionally, you won't be using as much of your resources on resource-intensive trial and error with your procedures. Segmenting the audience is another cost-effective advantage of specialized marketing. Markets with a large customer base have a variety of customer categories.
This means that each market segment will have its successful content, advertising, and communication channels which are expensive and time-consuming. It takes less effort to cater to a single demographic. Additionally, you can work more smoothly and focus solely on this one thing.
4. Higher Profit
High margins of profit are typical with niche enterprises. Niche firms are meeting customers' unique wants. Additionally, customers can't find goods or services anywhere else. They, therefore, have no problem paying more for the service. The increased visibility brought by the market specialty attracts more clients and enhances your internet presence.
Businesses that target a specific market tend to be distinctive, making their goods or services stand out. As a result, they frequently appear on talk shows, radio programs, and social media platforms. All of this increases leads and sales for your online store.
5. Improves Your Experience
Niche marketing helps you develop your skills more quickly because it calls for more focused practice in one area. Niche marketing for eCommerce will help you establish yourself as an authority or thought leader in your industry.
Most clients value competence more than the brand's name or size. The best choice for finding the appropriate solutions is you. Being an authority in every discipline is difficult.
However, you can offer knowledge in your area of specialization. More clients will be drawn in to meet their specialized wants due to their knowledge and proficiency in one area.
Strategies Niche Marketing
To achieve niche marketing for eCommerce, you need to be strategic about your goal and missions. You need to develop plans that will stick up for a long time. Ensure you conduct enough research and consultation before settling on a specific market segment.
Below are niche marketing strategies:
1. Make Videos Showcasing Your Items in Action
One of the finest methods to demonstrate things in action and their various use cases is through videos. This is because people tend to understand products less the more distinctive they are.
Your clients are more likely to purchase your goods if you use their preferred content medium in your eCommerce marketing plan. According to a recent survey, 88% of consumers claim that watching a brand's video persuaded them to purchase a good or service.
Customers will trust and be loyal to you if your video material features your voice, face, and emotions as if you were physically present. It allows you to express your personality and exudes confidence in your business and goods. All of which have the potential to establish a solid connection between you and your audience.
Videos perform better on social media and receive higher engagement than practically every other type of material, from advertisements to tutorials. So be sure to produce a video that draws viewers in. Video marketing is currently supported by practically all social media platforms and applications. You can use multiple platforms depending on your niche type.
Below is an example of Facebook Reels. TikTok and Snapchat have been leading with the reels, and Facebook saw the need to incorporate this feature. With it having a lot of users, it would be a good platform for niche marketing for eCommerce.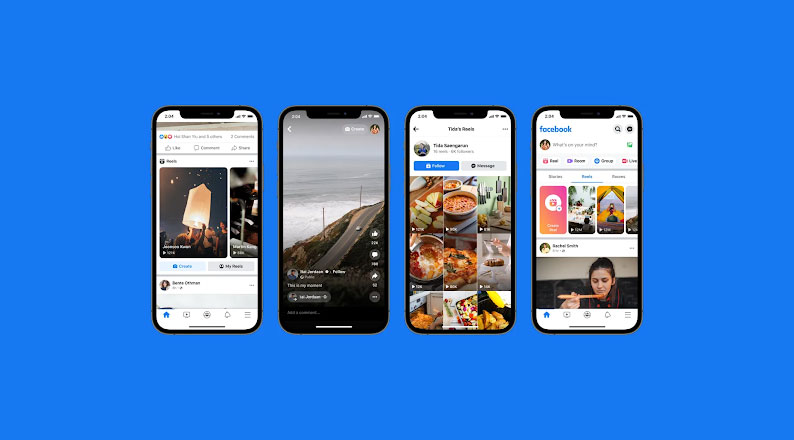 Facebook Reels – Image Source: CNET
2. Concentrating on Social Media Marketing and Local SEO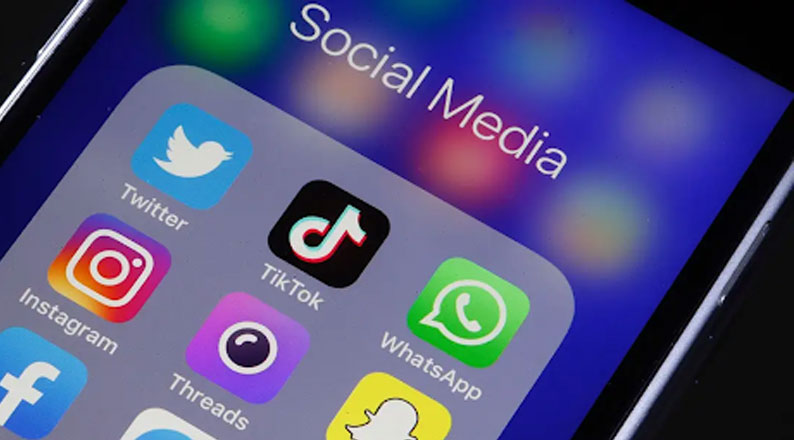 Social Media: Image Source: Honestcolumist
Using location-specific SEO and social media keywords will be crucial for your online store if your specialization is geographically particular. Your social media accounts and website will attract a targeted audience if you use location-specific keywords. Social media is a tool for rapidly connecting with your audience and promoting your content.
You don't want to find yourself in a situation where customers are looking for products and services from a distance yet can't access them. False information and guarantees might harm your reputation and result in negative reviews.
Hence, to create long-tail keywords, include your location in your keyword phrases. For instance, if you sell men's clothing in Texas, you must have a location there so that when Texas residents search for men's clothing, your business appears high on Google SERPs.
3. Conversing Openly and Honestly With Your Clients
In order to build trust with customers and clearly express wants, expectations, and any obstacles, businesses need to communicate effectively. Customers may be more likely to stick with a brand when they trust it.
Open lines of communication with customers can also reduce misunderstandings, increase client satisfaction, and increase the likelihood that customers will refer a firm to others.
Niche marketing for eCommerce focuses on a small and targeted demographic that you must appeal to. As a result, getting to know your consumers, fixing their problems, and responding to their inquiries becomes necessary.
Having a customer care team that hear to your customer feedbacks serves well for your online store, but going further in more direct communication with your customers would be good. Social media is a good way to interact directly with your customers.
Responding to direct messages from clients and comments they leave on your social media postings will help you achieve this. You can follow mentions of your company on social media and quickly respond by using social media monitoring tools. If you just have a specialized customer base, this helps your customers feel more connected to your business.
An illustration below shows an open conversation between a client and a service provider. An honest answer will create loyalty and encourage others to use your services.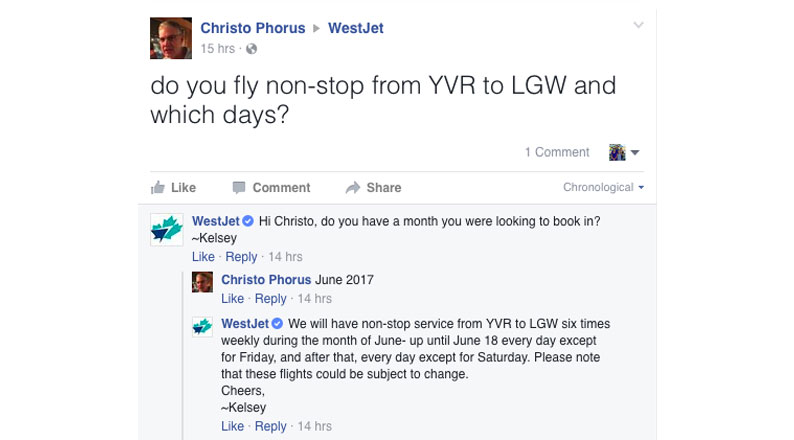 Customer Inquiry and Feedback – Image Source: Peatix
4. Investing in Hyper-Targeted Paid Advertising
Paying for advertising may be difficult for a startup company, but it will eventually pay off. Almost all firms occasionally employ as a marketing tactic. For niche marketing, you must, however, customize your paid advertising plan.
Personalization is crucial to effective marketing. Every customer wants to be managed better. Through hyper-targeting, marketers may connect with consumers and send highly personalized messages to them where they are most likely to be seen.
You can improve results by utilizing data about your target audience and tailoring the size of your campaign or budget to the particular requirements.
Focusing on specific audience characteristics, such as age, gender, location, and characteristics that may include interests, views, and sentiments, is crucial when considering hyper-targeting. You can use social media, google Ads, and email marketing to achieve hyper-target strategies.
You should use specialized and unique keywords that your target audience would type into a search engine. Using long phrases will waste your time and money since it will involve a lot of search activity.
5. Making Use of User-Generated Content
In the modern era, where customers are willing to praise your goods or services online, user-generated content (UGC) has emerged as a crucial component of the content marketing strategy.
User-generated content is the material produced by customers of a brand. It might be anything, including posts on social media, comments, and reviews. 92% of customers say they trust user-generated content more than traditional advertising, according to a recent study.
This is so because user-generated content (UGC) is unpaid, unbiased, and produced by customers who like a company's products. UGC is seen as being more sincere and honest as a result.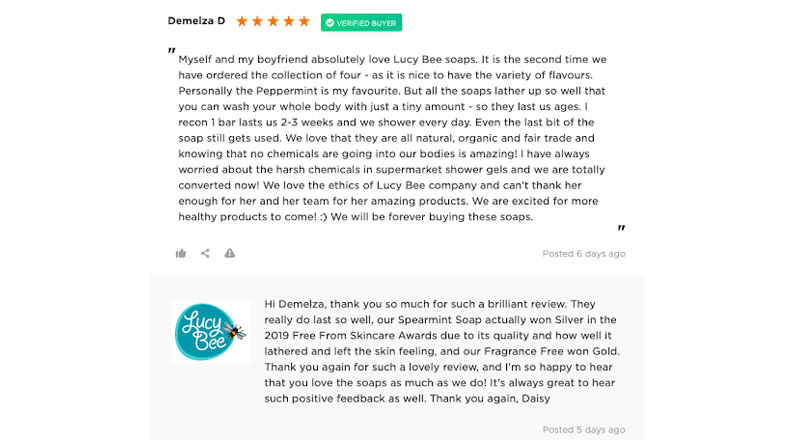 Customer Reviews and Ratings – Image Source: REVIEWS.io. Blog
Examples of Niche Marketing
Building a successful business today frequently means focusing on a tiny portion of a larger market and finding strategies to appeal to a relatively small but devoted audience due to the intense competition now present in the global market. Below are examples of niche marketing for eCommerce.
1. Gamers
The gaming industry is enormous, with a variety of alternatives available to a business, like PC, console, and mobile gamers, hardware, game development/distribution, live events, and more.
Over 2.7 billion people worldwide play video games regularly, and over half of them spend money doing so, creating a market that is predicted to be worth $200 billion by 2023.
The following are gamers segments you can focus on
Goods that are ergonomic for gamers for extended sessions (game setup which includes controllers and accessrories, game chairs, gaming glasses etc)
Custom console and controller decals, etc.
Aspects of gaming culture
being referenced on t-shirts.
Mobile gaming gadgets and accessories
2. Remote Workers
Remote employment is significantly expanding. The rise has influenced the number of independent members accepting remote teams due to pandemic-related closures.
Increased productivity and job satisfaction are the expected main benefits of remote working employees. Those choosing to work independently from their preferred location often wants greater comfotablity and a better work-life balance.
One of the businesses provides services to this particular niche market of independent contractors is Freelancer At Work. Wherever you choose to work, you may advertise what you do with laptop graphics.
3. Travelers
With improved communication and transport people now want to travel to different places. The majority of visitors look for sustainable choices but have trouble locating them. The opportunity for brands to step up and promote eco-friendly activities through sustainable products is enormous, given the gap. Tourists also seek long-term travel, comfort, and real, local experiences.
You can put your attention on
Bags
Mobile device accessories for content producers on the go
Athleisure for regular fliers that is useful and comfy
For those who enjoy compiling travel tales and scratch maps.
4. Homeowners'
Housing trends are evolving. What was commonplace has changed, and some US clients are just moving away from being homeowners. This is due to a variety of factors, including rising cost of living and almost-stagnant salaries and wages.
With the introduction of home-sharing through platforms like Airbnb and VRBO, houses are increasingly being transformed into real estate investments or shared properties that generates additional passive income.
Examples of niche marketing for homeowners include
Home surveillance systems (smart doorbells, cameras and other smart home devices.)
Home furnishings and design for little apartments
Housing options for tenants (like the no-drill blinds)
Conclusion
In order to find an untapped niche market, both new and established business owners and marketers must first create a broad picture of the whole market.
That market will be divided into your niche, which will help to define anything from Your target, the needs of your market with your product features, your product's price approach, quality of production, positioning, and brand and approach to digital marketing.
Niche marketing for eCommerce creates brand Loyalty, high profits, less competition, less operational costs, and increases your expertise in a specific field. Also, before deciding to settle on a specific segment, know its weakness and strengths.
Some strategies to utilize to achieve niche marketing include leveraging user-generated content, focusing on local SEO and social media marketing, investing in a hyper-targeted paid advertisement, and engaging in direct conversations with your customers.
Although not everyone maneuvers through niche marketing, it can be mastered with the appropriate strategies. Even if you won't try all the strategies, try most of them and find out what works for you best
Acowebs are the developers of the WooCommerce Deposits– Partial Payments plugin that helps the customers pay a fixed price, percentage, partial payment, or deposits, for the products purchased from your Woocommerce store. It also has developed various other plugins like WooCommerce Currency Switcher, the multi-currency converter plugin that shows prices in the user's local currency and helps customers connect to desired products faster. It helps customers quickly compare products and make a judgment easily.