Whenever customers buy products or services from your brand, their user experience informs what they feel.
The feedback they leave shows whether they are happy with your services, the level of loyalty towards your brand, and the possibility of referring other customers.
Every eCommerce business needs honest customer feedback to enable it to achieve the desired lead generation and growth goals.
It is through the feedback that you can understand which strategy works and which doesn't for better business performance.
Gathering reviews and complaints is also a great way of letting shoppers know that you care about them.
To learn the most effective ways to collect feedback for eCommerce, this article outlines the whats, whys, and hows to keep in mind.
Before getting into details, let's have a brief overview of the benefits of customer feedback to your eCommerce business.
Why customer feedback is important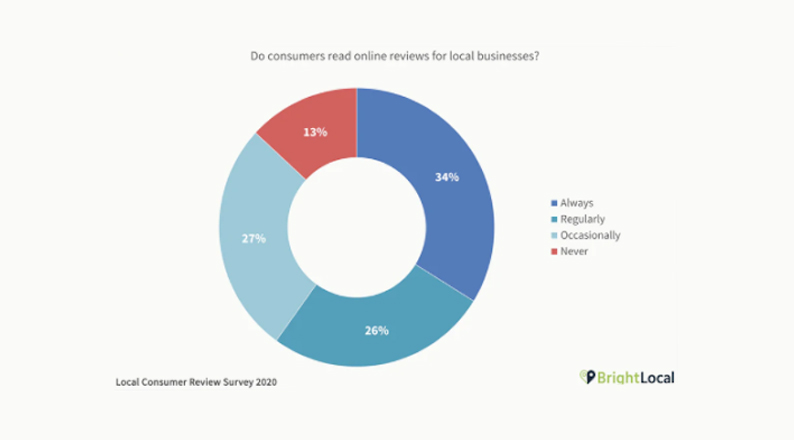 Today's eCommerce businesses cannot afford to disregard customer feedback because product reviews, ratings, and testimonials place a key role in the purchase decision.
Shoppers review feedback left by other product users before buying. Indeed, according to the 2020 local consumer review survey conducted by Brightlocal, 34% of customers always read online reviews compared to only 13% who don't look at reviews before purchasing.
Other statistics by the same source show that in 2020, 87% of customers read online reviews for local brands, marking a 6% rise from 2019.
Another 48% of consumers would consider buying from a business with less than a 4-star rating, indicating that 52% would not think twice.
The feedback collected comes with multiple benefits to your business:
Better customer experience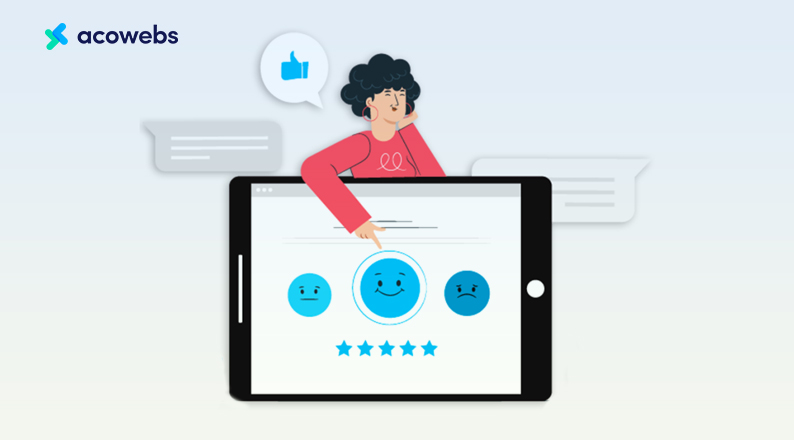 The Customer Experience Magazine shows that only 1 out of 26 customers complain, while the rest just leave without a word, never to be seen again.
Customer feedback gives you time to understand your customers' pain points, how they perceive your brand and products, and their experience from the moment they visit your site to the time they place an order and receive their purchase.
You should then analyze the results to get an idea of the aspects that excite your customers the most.
The insights gathered will guide you into creating and implementing effective strategies that make your processes, systems, and brand attractive to customers.
ALSO READ: 11 Ways to Use Social Proof in Ecommerce
More brand followers
Positive customer feedback implies that your existing customers are spreading good messages about your brand and products.
The word-of-mouth marketing helps influence others to follow suit, creating a loop of recommendations for your products and ultimately, more conversions.
Customer feedback collection metrics like the Net Promoter Score (NPS) helps eCommerce businesses understand their target market better and understand how customers respond to products and services and marketing campaigns.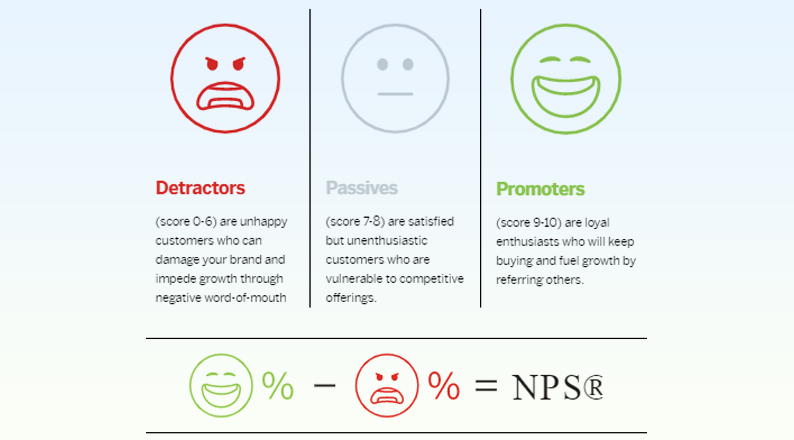 While promoters act as your brand ambassadors, knowing who the detractors are also helps you gather even more feedback on the areas to work on for improved customer experience.
Improved product development
Customer complaints help you identify and address areas of weaknesses in your processes.
When you send surveys to customers to provide feedback on the quality of products and services offered, they are likely to provide more information than the custom product reviews.
It is this information that enables eCommerce owners and marketers to understand the aspects to improve in their product design, features, benefits, and delivery.
Competitive advantages
Customer feedback for eCommerce is a great source of cost savings because you will no longer be spending a lot on customer acquisition.
The more you use the feedback to improve your processes and product features, the more you reduce churn and retain many customers.
Meanwhile, your marketing budget is minimized, leaving you with more funds to finance your research and development initiatives.
Customer feedback also enables you to optimize your website and other customer touch points, giving you competitive advantages over other players in the industry.
The lower the customer acquisition costs and the higher the repeat purchases and referrals, the better your business performance.
ALSO READ: How to Create a Customer Journey Map
For benchmarking
Process improvement is pegged on measurable parameters like key performance indicators (KPIs). With the feedback collected, you can assign KPIs to specific departments in your business, such as customer experience, enabling you to prioritize areas of weaknesses.
Now you have an idea of why you need to gather feedback from the users of your products and services, let's dive into the tactics to employ to collect useful customer feedback.
How to gather customer feedback for eCommerce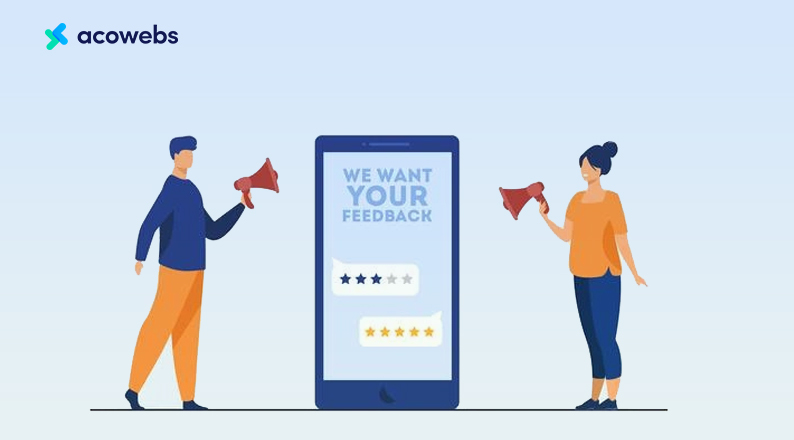 The two main types of feedback collection are quantitative and qualitative.
How to gather quantitative feedback
Conduct customer satisfaction surveys
Metrics like the NPS, Customer Effort Score (CES), and Customer Satisfaction Score (CSAT) will tell you how happy and engaged your customers are with your brand.
The NPS score is a measure of customer loyalty. The detractors (0-6) are clearly dissatisfied with your services and they are most likely to abandon your brand for the competition.
Promoters (9-10) are loyal customers who are willing to refer your products to friends and family.
Collecting feedback using NPS informs you of the customers to target for better business performance. Your goal should be to learn the areas in need of improvement and take the appropriate action to win back the trust of your detractors and passives.
The CES score shows how easy it is for customers to access your services or get their issues resolved.
CES surveys contain questions like "on a scale of 'very easy/very low effort' to 'very difficult/very high effort', how easy was it to interact with [business name]."
Other questions you can ask when collecting customer feedback using CES include:
"How easy was it to get your issue resolved today?"
"How much effort did you have to put forth to handle your issue?"
To calculate CES, get the total sum of the CES scores and divide it by the total number of responses received. For instance, if 50 people responded to your survey and the amount of total score to 200, your CES score will be 4 '200/50'.
The higher the score the better the customer experience.
Improving the CES score from 1 to 5 (when using a 7-point scale) can help increase customer loyalty by 22%. Therefore, you should target to keep your CES scores at 5 minimum.
CSAT, on the other hand, is measured by gathering customer feedback on questions such as:
"How would you rate your overall satisfaction with the [product/service] you received?"
If you are using a 5-point scale, you can ask customers to rate their level of satisfaction from 'very unsatisfied' to 'very satisfied'.
You should then divide the number of satisfied customers by the total number of responses multiplied by 100 to get the percentage of satisfied customers.
Scoring systems are helpful to eCommerce businesses because they provide an objective picture of how customers feel about a brand or products and services offered.
Send out email or social media surveys
You can also collect customer feedback for eCommerce by conducting quantitative surveys via channels that customers are most active and responsive.
For instance, you can take a poll with specific parameters or you can send email surveys targeting specific product users.
Digital marketers on Instagram can create polls easily following Hootsuite's guide.
Take an example of the quiz below, whereby Grub Street asked customers if they would consider trying a concord grape and cashew praline donut.
The responses collected made it easy for shoppers to submit responses, though you can always customize your quizzes to suit your marketing strategy and objective.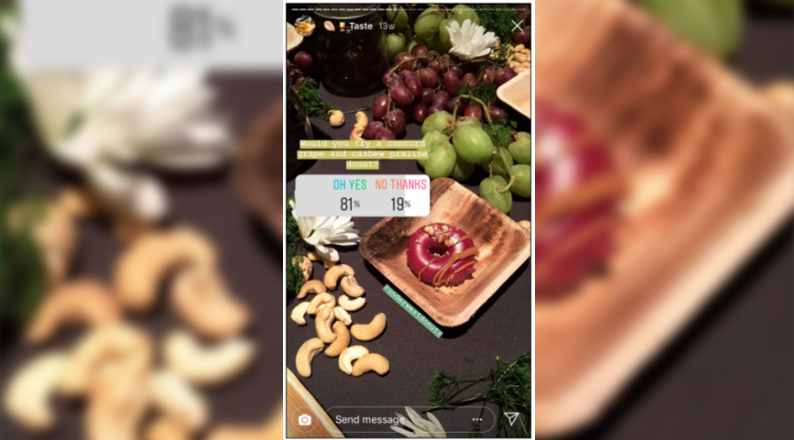 Remember to keep the quiz in line with your brand identity and consistent with your previous posts.
Here are a few more tips to help you make customer surveys with a high response rate:
Ensure to create engaging surveys with a simple structure and easy-to-fill out. Get free survey templates from platforms like JotForm.
Always thank survey respondents for taking their time to fill out the survey. Offering discounts, freebies, coupons, and other incentives can help motivate customers to fill out the survey, but ensure to experiment before settling for a given incentive.
Use both open- and closed-ended questions.
Keep your survey short and precise to increase the likelihood of completion by the respondents.
Evaluate website user activity
Assess how customers interact with your website without necessarily interacting with them directly.
There are many ways to do this, including conducting A/B tests, heatmaps, and click tracking. A/B tests will tell you the landing pages with the highest conversions, as well the most effective CTA button colors and placement.
You can also gather real time data on how customers navigate your website. Tools like Hotjar and FullStory will show you what customers click on, and how deep and for how long they engage with your site.
Elements like heatmaps (click maps, scroll maps, move maps) will give you an idea of the website areas that customers interact with the most and the least.
You can easily use such insights to understand what customers are clicking on and what they are ignoring, enabling you to optimize your site for improved engagement and conversions.
ALSO READ: What is Headless Commerce?
How to gather qualitative feedback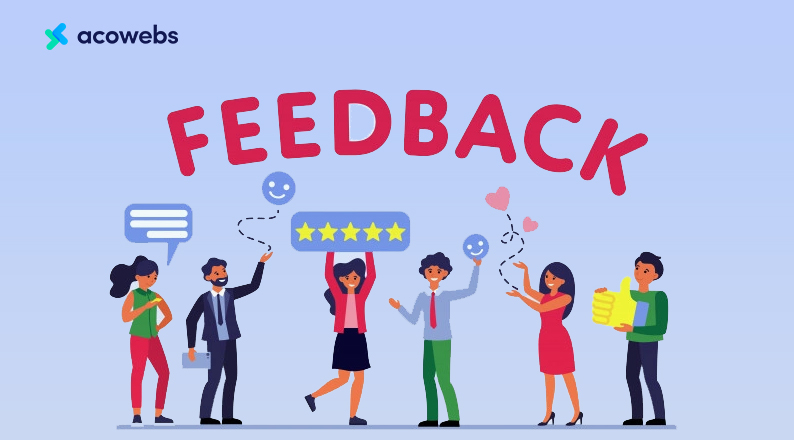 Qualitative feedback can be in verbal or written form. It is a way of collecting information about customers' experiences in their own words, enabling you to understand how they feel.
Let's have a look at the different ways to collect qualitative customer feedback for eCommerce.
Engage customers directly
Conducting surveys has its drawbacks since respondents are likely to answer in a biased manner, especially if there are incentives attached.
To make the feedback collection process more fair and reliable, you can reach out to customers one-on-one or over the phone, giving you quality and useful insights from their tone of voice and body language.
This approach will also enable you to collect honest feedback to help you improve your eCommerce business. You can learn where you are going wrong, why customers are not motivated to purchase from your site, etc.
For instance, you can learn that customers are unhappy about late order deliveries, poor product or service quality, or high service fees.
Such insights will enable you to take corrective measures to address the loopholes in your processes.
Engaging customers directly can be time-consuming but when executed well, this strategy can help you personalize your feedback collection mechanism into an effective marketing strategy.
Use suggestion boxes on websites
Suggestion boxes, also known as feedback boxes, enable you to collect customer feedback at various stages or pages on your eCommerce site.
You can quickly use the feedback to gauge how customers feel about your products, services, and ease of site navigation.
What should trigger the request for feedback?
If a site visitor spends a lot of time on the site without taking a particular action.
If the visitor spends a considerably high amount of time on the knowledge base or FAQ page.
If a shopper recently abandoned their shopping cart.
When a visitor is about to leave your site.
On the thank-you page upon completion of a purchase.
You can request feedback in a number of ways, including displaying slide-in forms, exit-intent popups, or by using chatbots and live chat tools.
For instance, slide-in forms appear from the side or bottom of the page, making them less obtrusive to site visitors while enabling you to easily conduct 1-2 question surveys.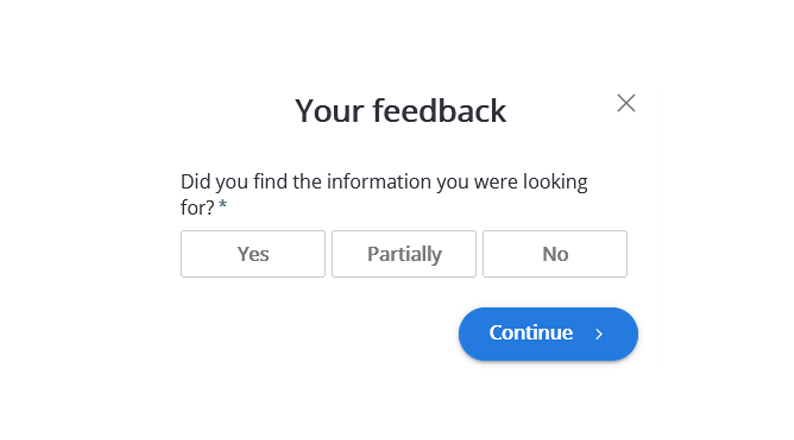 Exit-intent popups are commonplace because they can detect when a user is about to exit the website, providing an opportunity to collect feedback on the customer experience.
Tools like Google Forms, HubSpot Form Builder, and SurveyMonkey, are effective in crafting feedback collection forms that suit your eCommerce marketing strategy.
ALSO READ: eCommerce Trust Signals to Build Customer Confidence
Gather customer reviews and comments
Many shoppers tend to leave feedback whenever on the product pages, providing you with an opportunity to understand what customers think about your brand.
Reactions from other followers will provide you with useful insights on what you are doing right and what you can do better.
When customers express their dissatisfaction with your services, such feedback is valuable to help improve on your processes as well as gain customer trust.
Remember to contact disgruntled customers, provide them with a date when they should expect the issue that led to the complaint to be resolved, and if possible, compensate them for the unhappy experience.
Reviews are also effective in attracting new customers because many online shoppers treat such comments as personal recommendations.
Indeed, research by Invesp shows that 90% of customers read online reviews before making a decision to visit a given business, with 88% giving online reviews the same credibility as personal recommendations.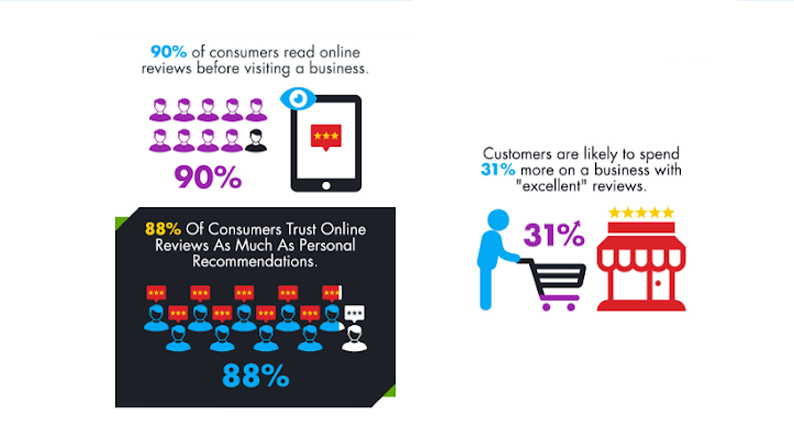 These statistics show you just how important it is to gather customer feedback through reviews and comments.
Track social media comments
Social media platforms like Facebook, Instagram, TikTok, and Twitter provide an opportunity to collect opinions from multiple users of your products and services.
Review the following questions to monitor social media comments effectively:
How many brand comments are there per period (daily, weekly, or monthly)?
How many comments specifically mention your products and services?
Is the trending activity increasing or decreasing?
Which are your most active and least active social media channels?
How does your social media sentiment compare to the competition?
These insights will inform you of where your brand stands in the industry and what customers perceive your product and service offering.
For improved engagement, ensure to use the feedback collected to take corrective action to improve on service delivery.
Tools like Google Alerts and Talkwalker Alerts enable you to monitor your brand mentions as well as your competitors'.
Effective customer feedback collection practices
Now that you understand what quantitative and qualitative customer feedback entails, here are a few tips you should apply to make your feedback collection strategy effective.
Ask both the good and the bad parts of the customer experience.
Ask about what customers would like to see or experience from your brand. Use omnichannel contact center to reach a wider range of customers.
Personalize your message to improve engagement and encourage honest feedback.
Offer a reward, such as a gift, freebie, or discount.
Thank customers for participating in the survey.
ALSO READ: How To Increase E-commerce Sales Using Social Media Marketing
Conclusion
Customer feedback for eCommerce is a great way of understanding how customers feel about your brand and products. The feedback informs you of the things you are doing right and what needs improving.
This exercise has been attributed to multiple benefits for eCommerce businesses, including better customer experience, more brand followers, lower costs of customer acquisition, improved product development, competitive advantages, and benchmarking capabilities.
You can gather customer feedback quantitatively or qualitatively, but despite the method used, ensure to ask both the good and the bad, personalize your survey questions, gather insights on areas of new opportunity (what customers would like to experience from your brand), offer rewards wisely, and thank the survey participants.
Acowebs are developers of Woocommerce bulk discounts that will help you add bulk discounts to products on your stores. It also has developed various other plugins like the popular plugin for managing the checkout form fields in WooCommerce, called Woocommerce Checkout Manager, which is highly feature-oriented yet lightweight and fast. There is also a free version of this plugin available in the WordPress directory named WooCommerce Checkout Field Editor.