Whether you're selling on Amazon, eBay, or your eCommerce store, product videos are a great resource for you to use in your marketing strategies. 
According to Business 2 Community, having a video on your landing page allows you to increase conversion rates by 80%.
In the same way, having a video on your product page is a great way to promote and explain the features of your product.
Product videos are a great way of adding a visual dimension to your products and can help new visitors to your site make a purchase decision.
In fact, according to an infographic by Social Media Today, 90% of customers find product videos helpful when making buying decisions online.
As a result, product videos are an integral component of your entire eCommerce marketing strategy. They can help you boost your eCommerce sales, increase conversions, and even give you more customer trust.
What is a product video?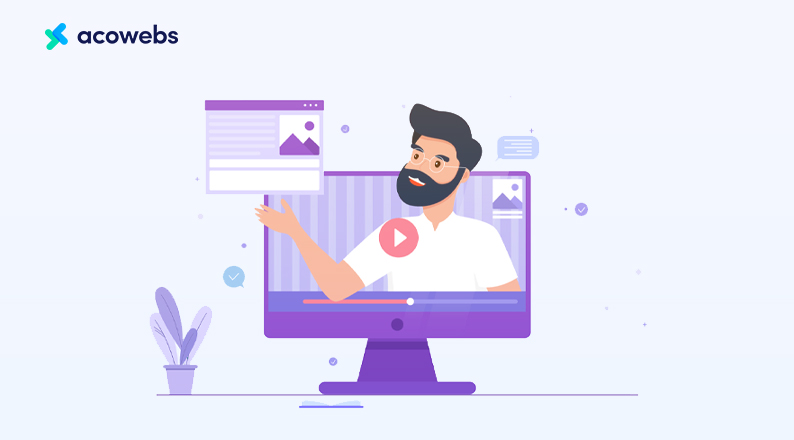 A product video is a video that shows the various features and benefits of a particular product. Brands often use these videos to educate their customers about the goods and services they offer.
Why are eCommerce product videos important?
Product videos convert viewers into consumers
Videos are very important for product marketers as they influence the buying decisions of the users.
According to a survey conducted by Wyzowl, to learn more about a product or service, 96% of people have watched their explainer video, and 84% have been persuaded to purchase a product or service after seeing a brand's video.
A good product video can help viewers feel like they're being given a realistic product view. This strategy builds up their level of satisfaction and makes them more likely to purchase.
Product videos build trust in your brand
When it comes to buying a product online, many people are worried about the quality of the product. Most of the time, online shoppers are not convinced that the product they are buying is good enough.
They are also hesitant to purchase due to their doubts. Having a product video helps clear up their doubts and helps them feel more comfortable buying. It builds trust in the brand and its products.
Google prioritizes videos
Most of the time, Google displays videos for a majority of search terms. If you have a video that has been embedded on your website, the chances are that it will end up in the Google Video section.
According to SmallBizTrends, video marketing increases web traffic by 41% for companies that use it. It's also more effective than non-video users and a great way to get noticed by potential customers.
Consumers engage more with product videos
One of the main advantages of videos is that they provide a clear and consistent representation of the product's details.
They also enable you to tell a more comprehensive story, construct a narrative, instill emotion, and elicit action more effectively.
Going through the product description and absorbing all of the information can be a time-consuming effort for customers.
This process can also be tiring. Videos make it easier for them to consume more information, and they are more likely to engage.
According to studies, the average viewer retains 95% of a message when they watch it, compared to 10% when they read it.
That is why it is critical to make your product video engaging such that the initial few seconds genuinely attract the viewer.
ALSO READ: How to use psychology to shape your E-commerce success
What are the main types of product videos?
Product Demos
A product demo is a video that shows how your product is used. It can show off the features and benefits of the product; Product demos help consumers see the product in action.
They can be shot in a studio or staged in an environment that's likely to be used.
Detail Videos
A detailed video is a visual description of a product or service that the customer will buy. They help guide them through purchase and show them a full 360-degree view of the product.
These videos are often shot in high definition to give a closer look at a product for sale. They are essential to selling visual products such as accessories and furnishings.
10 ways to create product videos for eCommerce
Creating a professional product video is an integral part of your video marketing strategy. Each product video should be professionally shot and edited to make it look its best, as it builds trust and confidence in your audience.
Below are 10 simple tips to follow that can help you create compelling product videos fast and affordably.
Preparations
You'll need to get the equipment necessary to make a great video, such as a high-quality camera, a tripod, lights, and video editing software.
Depending on the type of video you're going to produce, you may also need people for extras; to help shoot and edit your video.
Camera
The kind of camera you'll need depends on the type of video you're going to produce.
A smartphone can produce remarkable results for close-up videos in circumstances where the light is readily adjusted.
More complicated videos, particularly those recorded outside, will almost certainly necessitate a more advanced camera.
Below is an excellent example of a makeup product video being shot on a smartphone. Modern smartphones have such high-quality cameras that they may be used to significant effect.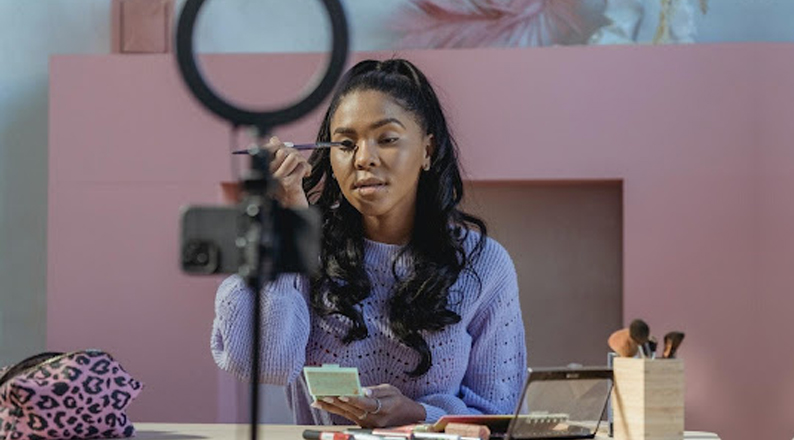 Lighting
When it comes to lighting, you'll need to consider some factors to get the best results from your video.
In most circumstances, you'll typically need three types of lighting: a direct light, a light from the side of your product, and lighting from above.
In certain circumstances, two are sufficient, but a natural light source might be employed in others.
Check out an example of a two-point lighting system below.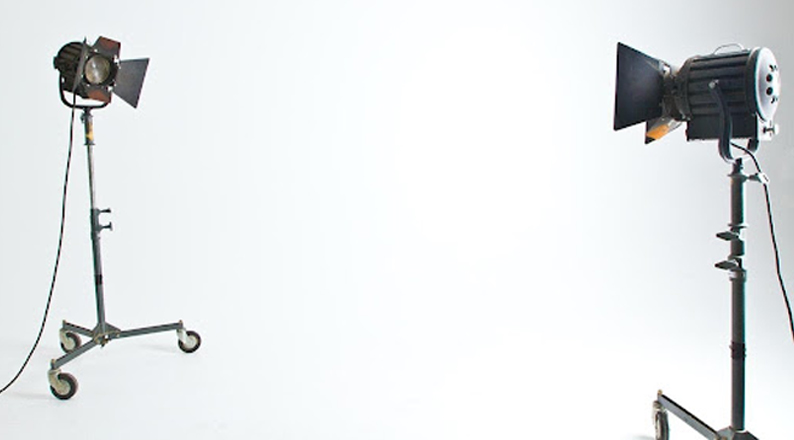 Avoid using colored lights or flares that could alter the natural appearance of your products. You don't want users returning your products because they don't resemble the ones in your video.
Video editing software
Once again, the complexity of your project will decide the sort of video editing software you will require.
For simpler projects, there are low-cost and even free choices, such as Lightworks or DaVinci Resolve. Professional programs, such as Adobe Premiere Pro CC or Final Cut Pro, are recommended for more complex productions.
ALSO READ: Tips to use content marketing for eCommerce sales
Creating a strategy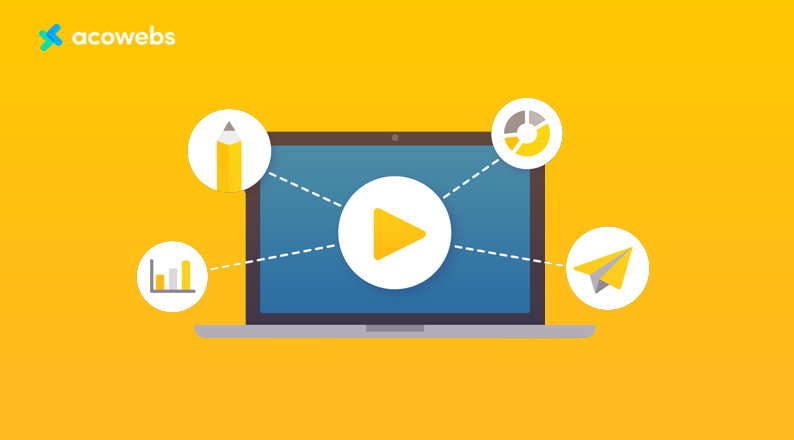 When planning a video strategy for your eCommerce product, ask yourself some key questions like:
What audience will watch your video?
What action should they take after watching it?
Where will the video be released?
What problem does your product solve?
How does it improve the lives of your customers?
Consider how your product can improve your customers' lives and present it in a way that will help them comprehend not just what your product is but also why they should buy it.
Having this information will allow you to create videos that are specifically targeted to each audience. It will also reduce expenses and eliminate the need for extra work.
Choosing the effective video format
You may want to select one or more video formats indicated below to promote your products, depending on how you want to use your product videos.
Product close-up videos
These videos are ideal for product pages, as they show off the most detailed and visually appealing products. When used in conjunction with a 360-degree close-up view, these images can help visualize the product's aesthetic.
Product demos
A product demo is a visual representation of how your product works in real-world scenarios. It can demonstrate the product's features and benefits, allowing customers to visualize the product in their hands.
How-to videos
Similar to product demos, how-to videos are great for explaining complex and practical products. They can also help explain the various uses and features of your product. They help consumers understand how it works and why it's useful.
The Breville Precision Brewer how-to video is an excellent example of this. The video shows off the unique features of their coffee brewer while also demonstrating how simple it is to operate.
The Breville Precision Brewer – Video Source: Sumo
Writing a script
Creating a script should focus on the most important features of your product and the critical information that will help sell it. Plan your shots and make sure that you are capturing the essence of your product.
It is also crucial to remember the purpose of your video. A story-telling video will tackle the subject entirely differently from a demo video or even a detailed video, bearing in mind that you should try to show rather than tell when it comes to product videos.
If you're employing actors for your marketing video, go over the script with them and make any required modifications. It will save you a significant amount of time and work when recording.
Gathering assets
Once your script is complete, it's time to gather all of the assets you'll need to record your product video.
These could include audio clips, photos, or even videos that were shot for promotional purposes, as well as any branding elements that you might want to use, such as logos.
It's always a good idea to take stock of your assets before you start recording.
Recording your product video
Even though products are less challenging to produce, they can still be hard to stand out from the crowd when not done correctly. Before recording, make sure that both the lighting and the angles are ideal for each of them.
You can use a two-point lighting system: one direct light and another light from the side of your product. Doing so will help make your videos stand out and make them look professional.
Here's a simple video lighting setup that looks great.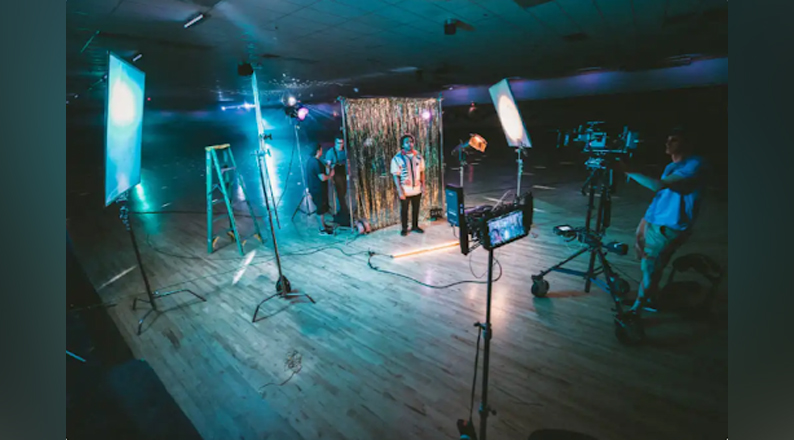 Background noise and room echo can also lower your video's quality and make it appear inexperienced and unprofessional.
Products stand out the most on a simple black or white background. The more professional your product videos appear, the more customers will trust you as a seller.
Below is an excellent example of an iPhone 6s Product Video on a black background. The product video gives customers a full view of the product from numerous angles. You can achieve this by the use of spinning tools such as Spin Studio.
ALSO READ: Top 8 Social Media Strategies That Every E-commerce Store Needs To Implement
Editing your eCommerce product video
Now that you are done recording, it's time to get started editing. It's important to keep in mind that each social media platform has its policies and regulations.
For some platforms, for instance, Amazon forbids any reference of price, promotional information such as "cheap" or "affordable," and discount claims. Instagram, on the other hand, has a 60-second max video length on carousel ads. On Twitter, they can run for up to two minutes and twenty seconds.
Follow these guidelines to ensure that your clips meet the standards of each platform. When editing, keep your intended audience in mind. For instance, retargeting advertising videos should be different from regular ad campaigns.
So, take your time. It is not a matter of deleting the undesirable clips; instead, it is a matter of carefully selecting the ideal images and transitions.
Sharing your product videos
It's time to distribute your product videos after you've shot and edited them. But where do you begin if you want to maximize the effectiveness of your eCommerce videos? There are a few obvious actions to take, including:
Embedding your videos on your website
The most prominent place for your product videos to be distributed is on your eCommerce website.
The videos can be used on landing pages to spark people's interest in your product. Alternatively, they can be highlighted on product pages to assist shoppers in making a final decision.
Incorporating videos on these pages will undoubtedly increase the average time spent on your eCommerce site and improve the customer experience by answering the most frequently asked questions.
Sharing the videos on your social media platforms
Product videos are also great for marketing your eCommerce business on social media. Videos can be shared across your favorite social media platforms, such as Facebook, Instagram, and YouTube.
Check that each platform's video size, length, and other file formats are similar to your product videos. Incorporate subtitles into your videos to make them more widely viewed and accessible.
Using your videos in online advertising
One of the most common ways of reaching out to online audiences is through video advertising. In fact, according to Wyzowl research, 86% of businesses use video ads in their marketing efforts.
There are numerous elements to consider when comparing the impact of video ads vs. static ads. According to a study conducted by Facebook, combining a video ad followed by a static image ad drives the most significant impact on unique conversions.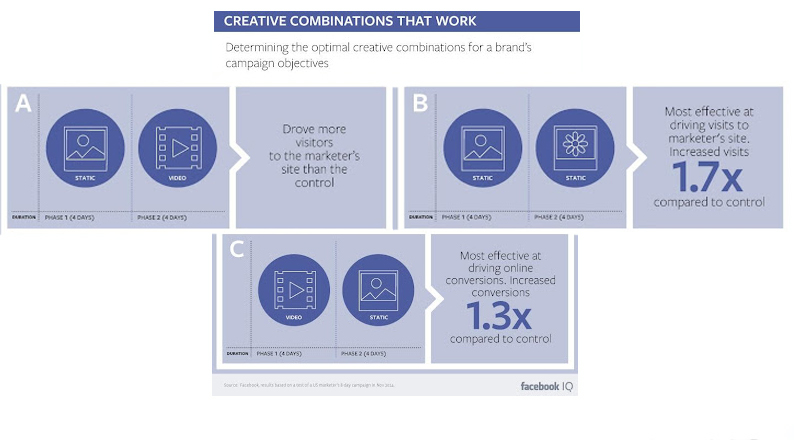 We usually recommend experimenting with both video and static image ads to find which works best for you.
Including product videos in your email marketing
You can send out promotional emails that contain a link to a specific landing page for your eCommerce videos.
Featured product videos can be linked directly to a product page or a particular landing page, directing potential customers to a place where they can make a purchase.
Sending a video in email can still be a challenge as many email clients, such as Gmail, Outlook, and Yahoo, don't support embedded videos. As a result, your subscribers will not be able to watch your product video within the email.
Fortunately, according to Hubspot, there's a way to get around this problem.
When sending an email containing a video, you can either embed a GIF of your product video with a link – "Click here to watch the full video!" or a photo of your video with a "Play" button.
When subscribers click your image, they can be redirected to your product video.
ALSO READ: A complete guide to BOPIS (buy online pick up in-store)
Optimizing your videos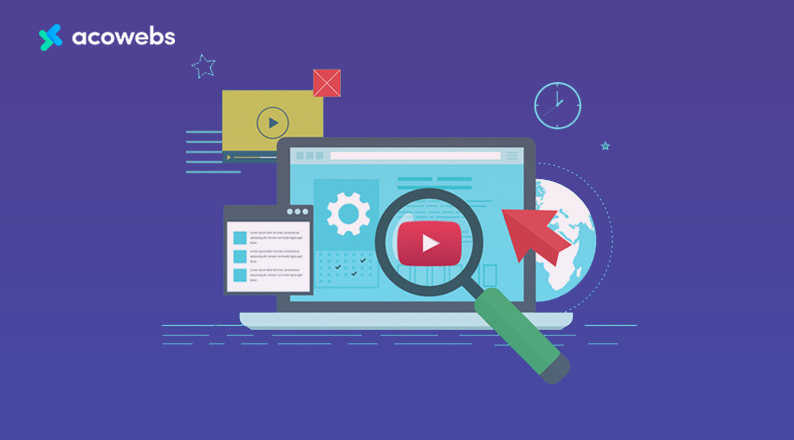 Small changes to your product video can make a major difference in the success of your video marketing. Below are a few things you need to consider that should increase conversion rates.
Always use CTAs on your videos
One of the best ways to measure the impact of your videos is by using Calls to Action.
Use a title card, voice-over, or a platform's built-in capability to accomplish this. Video CTAs can be added to Facebook, Instagram, and even YouTube. CTAs are vital if you want readers to take action.
You can also use the help of external apps like Wistia to embed clickable CTAs into your videos.
These CTAs can be linked directly to a product page or a particular landing page, directing users to a place where they can make a purchase.
Incorporate closed captions to your videos
If you want to reach out to the most potential customers, make sure your videos are viewable and accessible to everyone.
Because social videos are commonly watched without sound, adding closed captions can help your videos reach a larger audience. With Rev's closed captioning tool, you can get high-quality closed captions for your videos.
Use social proof
Social proof is a powerful and persuading tool that can help get people to buy your products. It's also an essential part of any eCommerce marketing strategy.
Including real testimonials in your videos can increase your sales. The idea is to get your customers to express how they benefited from your product or service and how it changed their life.
Measuring the performance of your product videos
Once you have set up your captions and CTAs, it is time to begin measuring traffic. One of the easiest ways to do this is by using Google Analytics.
This tool will allow you to track all of the traffic that is coming to your site. It will also give you a better understanding of how many people are visiting your site and converting.
You can easily track product views and purchases on Amazon or eBay through their built-in features.
ALSO READ: Ways to reduce your eCommerce operating costs
Conclusion
Product videos are an excellent way to promote your products and services because they will allow you to express more detailed information about your products and how they work.
Video is a very powerful medium that can convey information more engagingly and effectively. People love videos because it is a great way to build trust.
It will make your product look more professional, your brand is more trustworthy, and your products more appealing.
We have provided several ways that you can use to create a great eCommerce video for your products which include:
preparations (camera, lighting, and video editing software), creating a strategy, finding the effective video format, creating a storyboard or writing a script if you need one, gathering assets, recording your video, editing your video, sharing it on social platforms, and optimizing your videos and measuring the performance.
Use the video creation tips in this article to develop a strategy for creating a quality product video for your eCommerce business.
Acowebs are developers of Woocommerce bulk discounts that will help you add bulk discounts to products on your stores. It also has developed various other plugins like the popular plugin for managing the checkout form fields in WooCommerce, called Woocommerce Checkout Manager, which is highly feature-oriented yet lightweight and fast. There is also a free version of this plugin available in the WordPress directory named WooCommerce Checkout Field Editor.