By starting, branding, and marketing your business online, you are telling customers that you are available and ready to deliver on your promise. You do not want to put so much effort into your eCommerce store, only to lose customers because you are constantly running out of stock.
Such an experience leaves a bad impression on your customers, and it will cost you even more to get new ones. You also run the risk of customers leaving bad reviews or spreading negative information about your store, which can ruin your brand reputation and success.
Indeed, 91% of customers are no longer willing to engage with a business once they experience bad service, implying just how important first impressions are.
On average, eCommerce businesses have an 8 percent out-of-stock rate (OOS), which goes up to 10 percent for discounted and promotional products and services. The OCS is determined by the number of items not available when a customer is ready to buy.
To avoid the risk of losing customers to the competition just because you cannot fulfill their orders, you must leverage more effective ways of stock management.
In this article, you will learn the impact of out-of-stock events and 10 ways to optimize your back-in-stock marketing for your eCommerce store.
What is the impact of out-of-stock (OOS) events on your eCommerce store?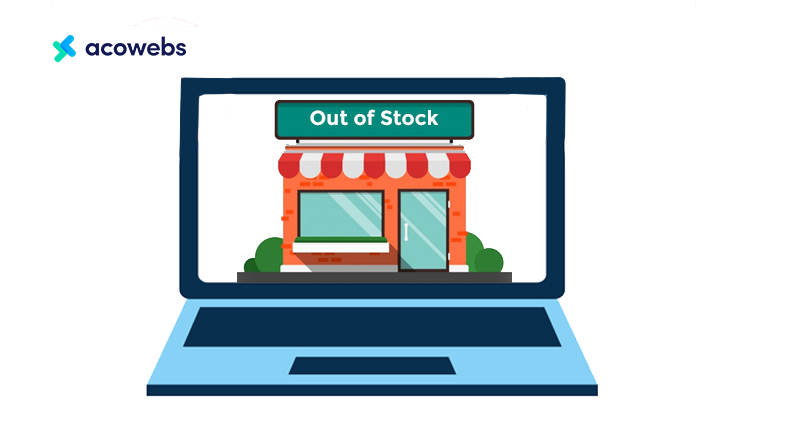 Customers react differently to stock-outs – some will opt to buy from another store, a few will visit your store later to check if the item is available, others will choose to live without the item, while some, depending on the urgency to fulfill the need, will shop for a replacement product.
Irrespective of the decision made, one thing is clear – that the stock-outs will leave a certain impression on your customers.
They may review your store negatively, rave or express frustration before calming down, the device never to shop from your store again, or let go of the bad experience.
Nobody wants to deal with a store that is constantly unable to fulfill orders, and such experiences cause disappointments and loss of customers and brand reputation. Such events also hurt sales despite having spent heavily on marketing budgets.
To address the problem, some brands will take the order, then inform the customer that there will be delayed delivery, or pull the OOS item out of the catalog until it is available for sale, or offer to inform the customer when the sold-out item is back-in-stock.
While these strategies will help manage the OOS events well, you need to do more to keep your customers engaged and convert the negative situation into a positive experience.
One of the best tools for setting up notifications to inform your customers when your products are back on the shelves is the Shopify Back In Stock app. The app is easy to install and configure, enabling you to send alerts to customers by SMS, email, or even Facebook Messenger.
Let's now have a look at the best approach for recovering from OOS events.
ALSO READ: WooCommerce vs Shopify: Which eCommerce Platform is Better?
10 Ways to Optimize your Back in Stock Marketing for your eCommerce Store
Use an email opt-in subscriber button
When a customer visits your website and is unable to complete a purchase due to stock-outs, leverage this opportunity by prompting the shopper to opt in to your email list.
The subscribed email should be saved in your database and an automated alert should be sent to the customer as soon as the item is back in stock.
Running out of stock is inevitable because there are many processes involved between the eCommerce store owner and the supplier. The intricacies of the supply chain should not cause you to close down your business or disappoint your customers.
The email opt-in approach enables you to create an email list of all interested customers and automate the back-in-stock marketing strategy to ensure the affected shoppers are updated when previously OOS items are available.
Sonos does this really well – once you're on their subscriber list, you get an automated alert informing you that the item you missed earlier is now in stock, and you can also view the details of the product and ship it for free. The Shop Now button acts as a quick and effective CTA.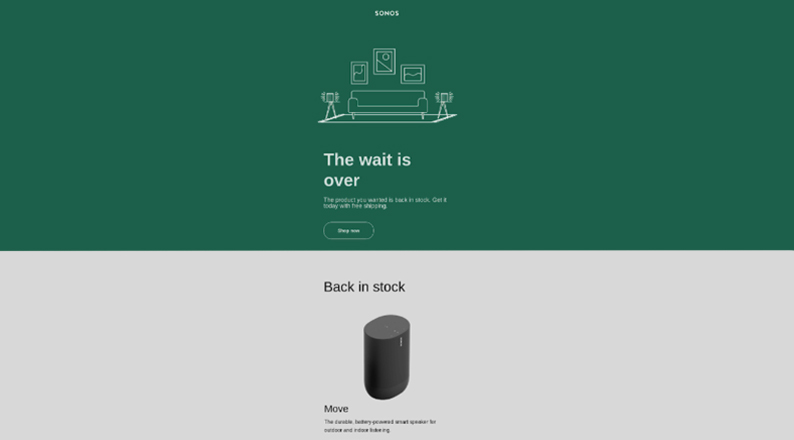 Buck Mason's strategy is also effective in collecting subscriber emails for back-in-stock notifications. Once you select an out-of-stock item, the Add-to-Cart button immediately changes to read, "Notify me when available".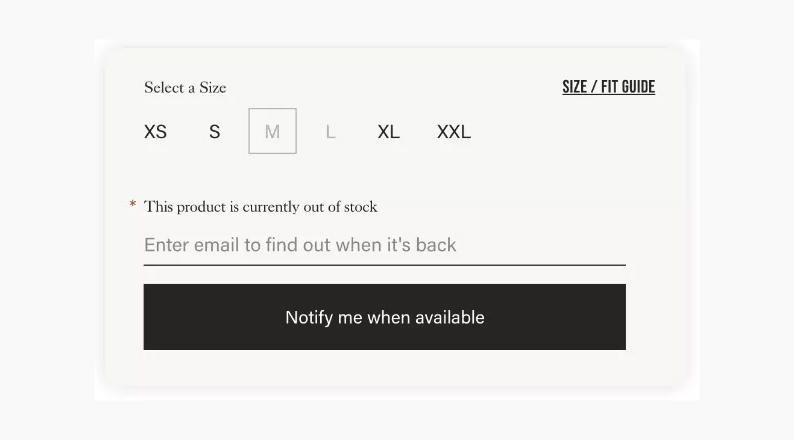 Ensure the process is simple and effective to elevate your site's user experience while keeping customers happy.
Enable anonymous users to sign up
Avoid losing your customers to the competition by requiring them to create an account in order to receive back in-store alerts.
Such restrictive features will cause many users to simply abandon your site, never to return.
Instead, provide anonymous users with the option to fill in their contacts on the subscriber button. In the process, you will have maximized your eCommerce store's engagement and sales.
All sign-ups will appear on your notifications list, but for anonymous users, the notification is tied to the email address they will provide. Registered users' notifications are linked to their UserID.
Remember to include an unsubscribe link or button in your back-in-stock alerts to ensure your notification list contains interested and ready clients for increased engagement and sales.
ALSO READ: How to Use YouTube to Grow Your Ecommerce Sales
Send back in stock alerts via your email provider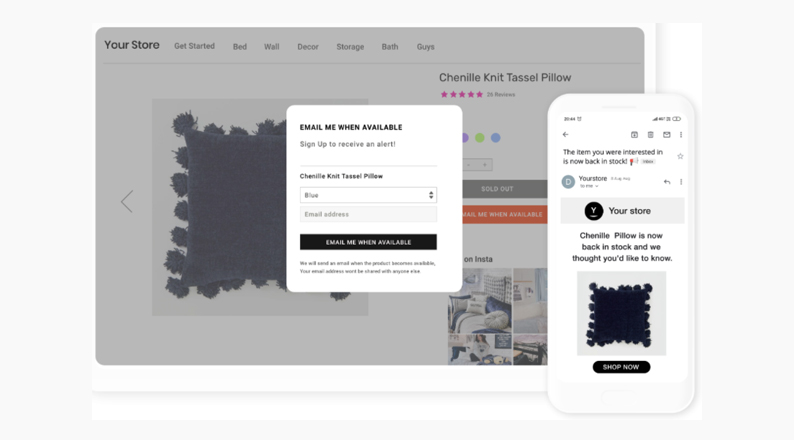 Your optimized back-in-stock marketing emails should be sent from the domain of your business as opposed to other sources in order to establish authenticity.
You can optimize the emails to be sent in bulk using an advanced eCommerce email service provider, such as Omnisend. This way you can customize the emails to ensure they are sent through your business domain to avoid unwanted confusion.
Email service provider platforms also have additional features, which you can use to enhance the performance of your back in stock marketing campaigns.
Remember to include your brand, product, and price in the email subject of your back-in-stock alerts, and reiterate the same aspects in the body, including an image of the item on sale. You should also remind the email recipients why they are receiving the alert.
The more personalized and optimized your back-in-stock marketing emails, the more effective they are in getting customers to return to your eCommerce store to complete the purchase.
Maximize SMS and push notifications
You can also optimize your back-in-stock marketing for your eCommerce store by sending SMS texts. To do so, you can request customers to provide their mobile number instead of the email address.
Remember you will need to cater for the SMS service provider charges, as well as consider consumer privacy best practices; you should get consent from the recipient before sending them SMS alerts, and provide the terms and conditions of the service and simple ways to opt-out.
But why would you choose SMS alerts over emails?
Research by Gartner shows that the open and response rates for SMSs stand as high as 98% and 45%, respectively, as opposed to corresponding figures of 20% and 6% for email opt-ins.
You can also send SMS texts as a follow-up to your back-in-stock marketing emails, reminding customers to read your email. Smart Insights shows that this approach can raise the open rates by up to 30% because SMS users take about 90 seconds to respond to texts as opposed to 90 minutes for email responses.
Fremont uses this approach to optimize the outlet's back-in-stock marketing strategy.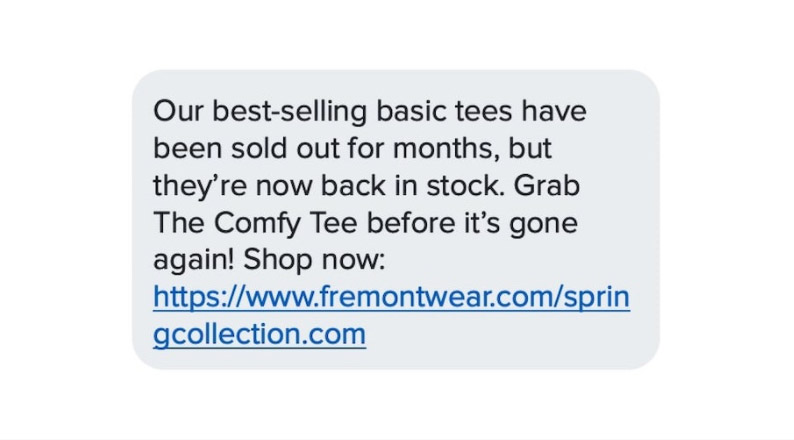 When you target SMS users with actionable and useful information regarding the items on sale, you stand to increase your eCommerce store conversion rates and revenues.
ALSO READ: Top 8 Social Media Strategies That Every E-commerce Store Needs To Implement
Display targeted ad campaigns
You can make the most out of the restock alerts by creating and enabling targeted ad campaigns based on your customers' subscription or pre-order activity.
Instagram and Facebook ads can be integrated with your back-in-stock marketing for your eCommerce store, providing you with an opportunity to run highly relevant and engaging ads focused on retaining customers in your back-in-stock subscription list.
The more relevant your ad campaigns, the more the open and click-through rate for your restock alerts, further increasing your engagement and conversions. You may also want to monitor Facebook ads comments for more insights.
The Swym app comes with tools that allow you to configure targeted campaigns via your own email service provider.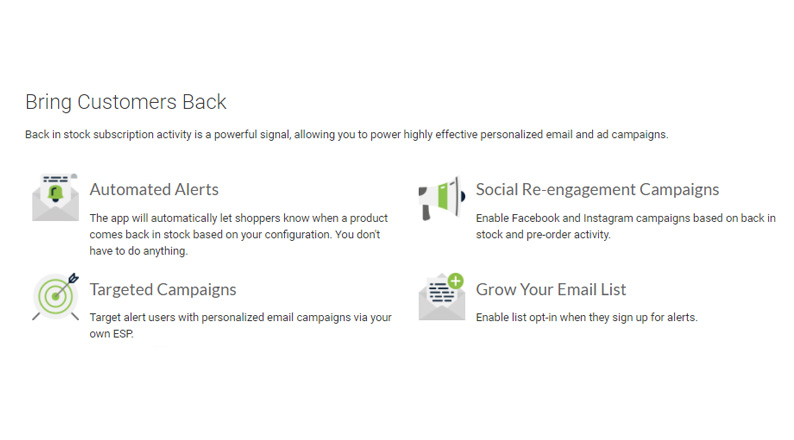 Enable sign-ups for specific products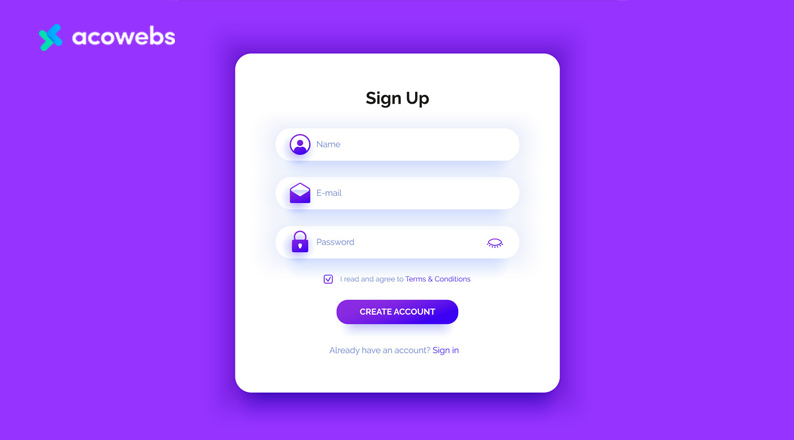 Sometimes you might not be able to restock everything because some items may run out of production, and other challenges with the supply chain or regulations may make it impossible to restock.
To caution yourself against misleading customers, ensure the back-in-stock subscription button is only enabled for products that you are sure you can restock.
If you decide that for one reason or another you are not able to restock a product or service, ensure to deactivate the back in stock alert to give your customers the correct information for decision-making purposes.
For pre-order products, those that are out of stock but the 'add to cart button is enabled, ensure to integrate the back in stock notifications before the customer reaches the check out page. This way, customers can choose to replace the items with others that are in stock or to sign up to be notified when the shopping cart items are back in stock.
ALSO READ: Impact of e-Commerce On Society: Advantages and Disadvantages
Automate minimum quantity threshold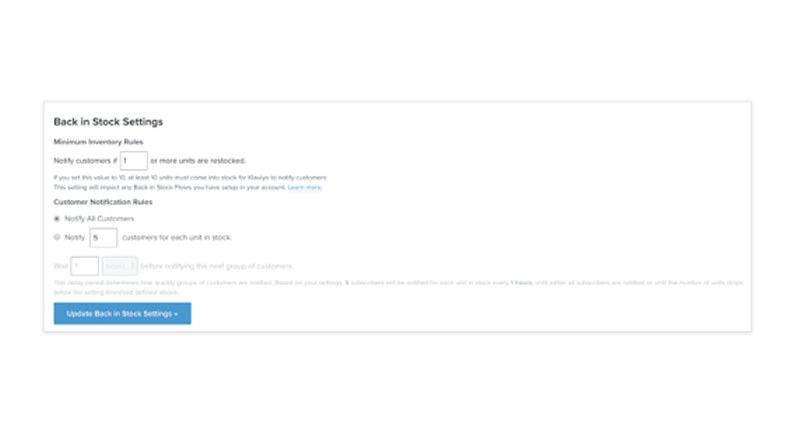 Avoid sending 'back in stock' marketing alerts for your eCommerce store when there is only a small increase in your inventory levels.
Instead, you can set up the notifications to be sent whenever a given quantity threshold is met to prevent situations where customers miss out on the sale multiple times.
For instance, you can create a higher threshold for your fastest-selling or popular products, as well as items that frequently go out of stock. Reordering items frequently may be expensive; hence, you should consider negotiating better terms and prices for bulk orders.
Automating the minimum quantity requirement will keep you updated to ensure you don't run out of stock all the time while optimizing your back-in-stock marketing alerts whenever you restock.
Leverage advanced logic to determine eligibility
Depending on how many back-in-stock items you have in place, you can set notification rules to limit the number of customers to send the restock alerts to prevent customers from missing out on stock again because of low inventory levels and you can also use demand forecasting for maintaining optimum inventory levels.
You can divide the customers in your subscription list into groups, and send back in-stock alerts in intervals depending on the items you have been able to restock at a given time.
You can configure two settings, one containing 'Customers to Notify' and the other, 'Wait Time Between Notifications'.
The first setting determines the number of customers be notified when a given product is back in stock.
The second setting determines the period to wait between batches of back-in-stock alerts. For instance, you can set a 5-hour limit to send emails or messages to the 5 oldest subscribers. After 5 hours, you will then dispatch another set of emails to the next 5 oldest subscribers.
The back-in-stock notifications should be sent in these intervals until your eCommerce store's minimum inventory threshold is reached.
The use of advanced logic will enable you to control stock-out levels, creating a better impression of your brand.
ALSO READ: Tips to use content marketing for eCommerce sales
Personalize your marketing campaigns
To improve the open and click-through rates of your back-in-stock marketing notifications, ensure to personalize them by addressing the recipients by their names.
Optimize the back to the stock subscription button to include the name and email address or phone number of the subscriber.
For users who hold an account with your website, add saved items in the back to stock alerts to increase the click-through and conversion rate.
You can also integrate a product recommendation widget for essential products, which will display other related items customers can buy if their preferred items are out of stock.
Shopify's Back In Stock app and WISER have integrated this functionality, enabling eCommerce store owners to upsell out-of-stock frequently bought and related items.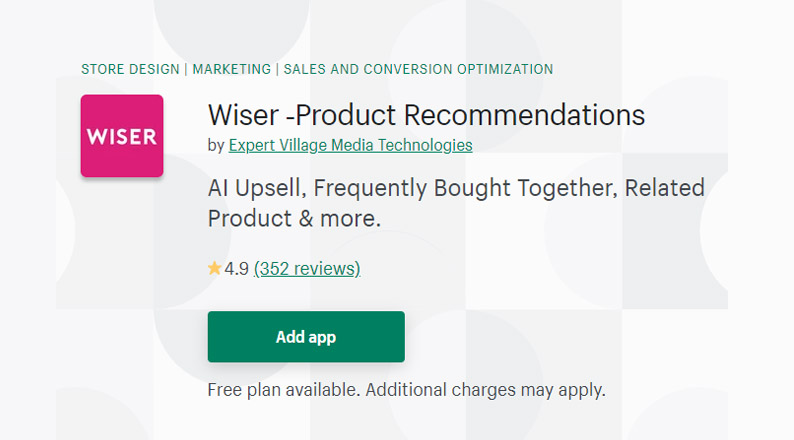 Another way to optimize your back-in-stock marketing for your eCommerce store is to add extras like free shipping, discounts, or coupons to help drive conversions.
Add bonuses to out-of-stock items
The bonuses can also act as a source of motivation to sign up for the back-in-stock alerts.
Overstock leverages promotions in its email sign-up button, and you can borrow this idea to incorporate almost similar aspects in your back-to-stock subscriptions.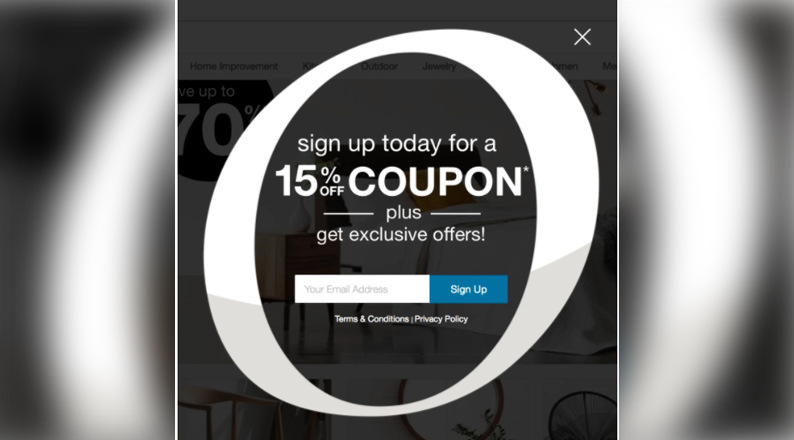 The discounts and coupons you offer to customers to sign up for the back-in-stock alerts need to be reasonable – you can set them according to the value of the OOS item or depending on the history you have with the customer, especially for existing account holders.
Conclusion
eCommerce store owners are embracing the power of back-in-stock marketing in order to leave customers with the right impression. Frequent out-of-stock events can cause customers to rate your store negatively, leading to poor brand reputation and lost sales.
Though stock-outs are inevitable, you can make the best use of the situation by optimizing your back-in-stock notifications.
To do so, consider using an email opt-in subscriber button for both existing account holders and anonymous users, sending professional back-in-stock alerts via your email service provider, leveraging SMS and push notifications, and displaying targeted ad campaigns.
You should also control how the alerts are sent by enabling sign-ups for specific products, automatic minimum quantity threshold, and employing advanced logic to determine eligibility for back-in-stock notifications.
Remember to also personalize the campaigns, as well as add bonuses like discounts and coupons in order to improve engagement and conversions.
Acowebs are developers of Woocommerce bulk discounts that will help you add bulk discounts to products on your stores. It also has developed various other plugins like the popular plugin for managing the checkout form fields in WooCommerce, called Woocommerce Checkout Manager, which is highly feature-oriented yet lightweight and fast. There is also a free version of this plugin available in the WordPress directory named WooCommerce Checkout Field Editor.