Many companies today choose to do their business online in our interconnected society. eCommerce offers advantages over conventional business practices. While some trends are still in the testing phase, many are being adopted by the industry.
The estimated value of global retail eCommerce sales in 2021 was $4.9 trillion. Over the next four years, this amount is predicted to increase by 50%, reaching roughly $7.4 trillion by 2025.
Examine whether a trend will be beneficial to your organization before implementing it. These modifications affect the traffic to your online store and how customers use your goods and services, among other things.
eCommerce stores like Amazon, Walmart, and Alibaba have led the way in implementing many trends. Their improved global coverage of various clients proves that the trends are working.
This article will examine the top eCommerce trends for 2022 and their present and potential future impacts on various industries.
What Is eCommerce?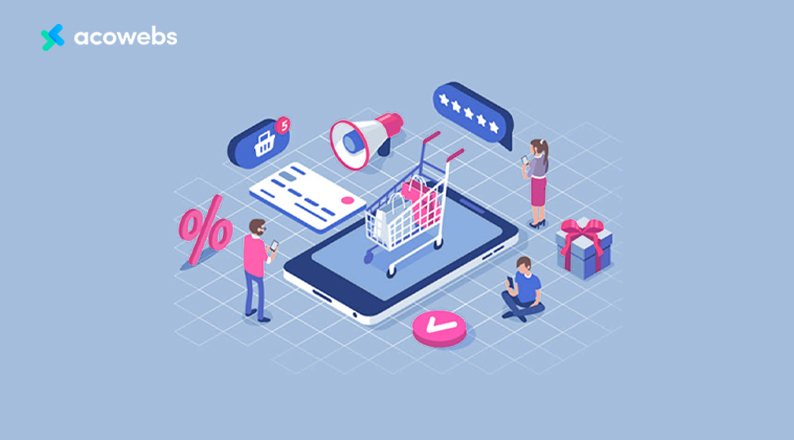 To grasp the eCommerce trends for 2022, we need to know what eCommerce is. eCommerce refers to businesses and individuals purchasing and selling goods and services online.
eCommerce can be done using computers, tablets, cellphones, and other intelligent devices and operates in various market categories.
eCommerce transactions make almost every good or service accessible, including books, music, airline tickets, and online banking, making it a disruptive technology. eCommerce offers several advantages, such as:
The flexibility of both the buyer and the seller
Improved vendor and buyer choice and interaction
potential lower beginning costs for a store
global coverage
maintaining clientele
eCommerce markets come in different types, including Business-to-business (B2B), Business-to-Consumer (B2C), Consumer-to-Business (C2B), Business-to-Administration (B2A), and Consumer-to-Administration (C2A).
The Top eCommerce Trends
Most of you have engaged in eCommerce by doing some sort of online shopping. Therefore, eCommerce is commonplace. This is being made feasible by modern technology, which is why we will examine different eCommerce trends in 2022 that are enabling online business to be easy.
1. Artificial Intelligence (AI)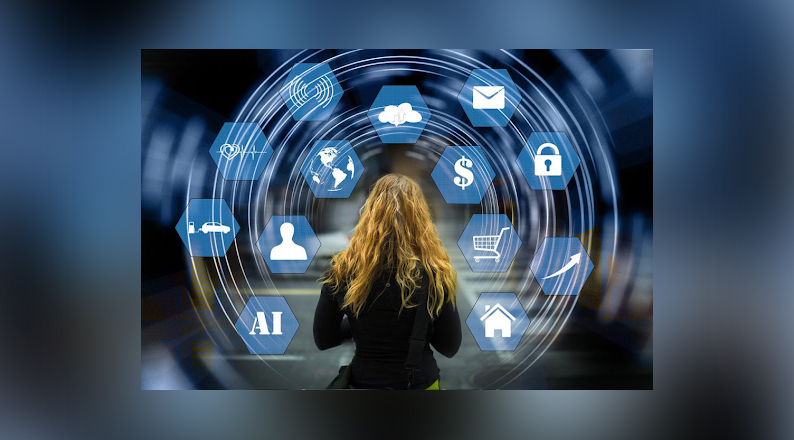 Areas You Can Apply AI Interactions – Image Source: Edgy Labs
Through intelligent product recommendations and predictive search, eCommerce companies are increasingly utilizing Artificial Intelligence and Machine Learning (ML) to provide individualized shopping experiences, making them part of the top eCommerce trends for 2022.
Artificial intelligence (AI), a broad field of computer science, aims to create intelligent machines that can perform tasks that typically require human intelligence. Some common AI you have interacted with are Siri, Alexa, and Email spam filters.
Machine learning (ML) is a subset of artificial intelligence. It incorporates the idea that computer programs can automatically learn from and adapt to new data without human assistance.
Businesses are integrating AI technologies into their operations to cut costs, increase efficiency, produce insights, and open up new markets.
Enterprise solutions driven by AI are available to improve customer service, boost sales, hone cybersecurity, streamline supply chains, free up people from repetitive duties, improve current products, and pave the path for future innovations.
Business leaders using AI to advance their organizations are guaranteed a return on their investment.
The Global Explainable AI Market was anticipated by NMSC to be worth $4.4 billion in 2021 and is projected to reach USD 21.0 billion by 2030 with a CAGR of 18.4% from 2022 to 2030.
However, using AI tech comes with its shortcomings, and they include:
AI technology is changing rapidly due to the extensive research being done. Consequently, upgrading your system each time technology advances is somewhat expensive.
You run the risk of losing crucial data if you are exposed to cyber-security risks. Additionally, if someone hacks into your systems, they might give false information to your customers, costing you those customers.
Implementation periods may be prolonged depending on what you're trying to implement.
Lack of technical expertise may make integrating the technology with other systems challenging, or even if successful, it may cause issues with usability and compatibility.
2. Augmented Reality and Virtual Reality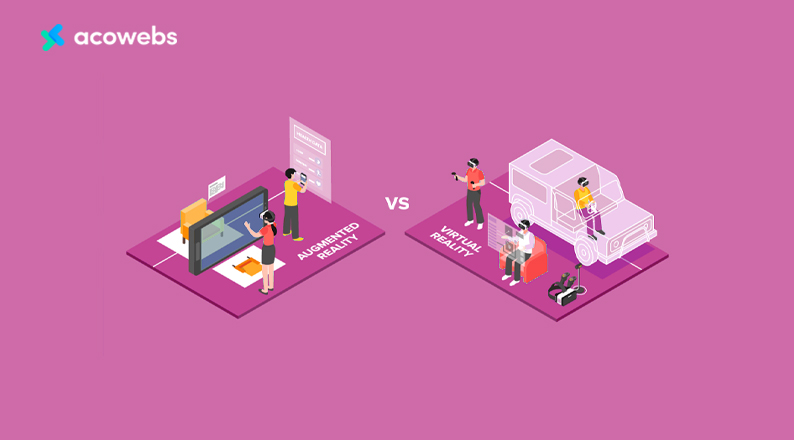 These days, we spend a lot of time staring at screens. Our lives now revolve mostly around computers, smartphones, and televisions; we use them to access social media, watch movies, and much more.
Both augmented reality (AR) and virtual reality (VR) are eCommerce trends for 2022 that are revolutionizing how we interact with displays.
With virtual reality, you can explore a world created by a computer by donning a headgear. On the other hand, augmented reality takes you to a virtual environment by using a smartphone or clear visor to overlay digital visuals on the surroundings of the actual world.
The VR headsets employ head tracking technology that enables you to turn your head to view the scene literally.
The display will track your every move, allowing you to view the virtual environment from every angle. For AR, you can use a headset or not.
These two top eCommerce trends are benefiting the eCommerce segment in various ways, such as:
Assisting in making eCommerce products come to life with thorough information so buyers can make informed judgments. Visualizing something before making a purchase improves the customer experience and trustworthiness.
High return rates are one of the significant issues facing online shops as consumers continue to prioritize online purchasing. When customers interact with the products before purchasing, the return rate reduces.
Increasing the conversion rates. According to Shopify, products advertised with VR/AR content had conversion rates that were 94 percent greater than those of products without similar material.
Below are examples of different platforms that you can apply augmented reality and Virtual Reality to boost your customer interaction and increase sales.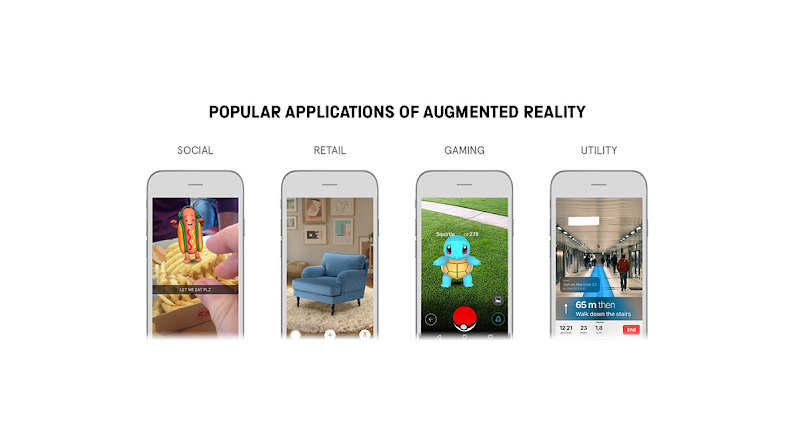 Different Platforms To Use AR – Image Source: Daniel Christian
3. Social Media Shopping
One of the most popular online activities is the use of social media. According to research done on 2021, more than 4.26 billion people globally used social media, which is expected to rise to approximately six billion by 2027.
The social media top eCommerce trends for 2022 and beyond are receiving a lot of positive feedback from buyers and sellers.
It is helpful to interact with customers and foster a feeling of community, pointing them toward a new item or enticing promotion through different social media platforms.
Make sure you plan before using any social media for your internet business. If you're just starting, you can use fewer channels initially and add more as your company expands.
After choosing the channels, make sure your marketing strategies are consistent and that you are open to fresh suggestions. Because most social media posts are based on conversations, social media planning requires study and intuition.
Decide which areas will benefit the most from your time and effort spent on social media. Using high-quality product images, a corporate logo image, and background social media profiles is always a good idea.
The use of social media offers the following benefits:
Increases brand recognition
Boost visitors to websites
Boost conversions on your partners, brand, and products
Influences purchasing decisions
Enhancing your customer service
Below is a demonstration of different social media platforms you can adopt for your eCommerce store.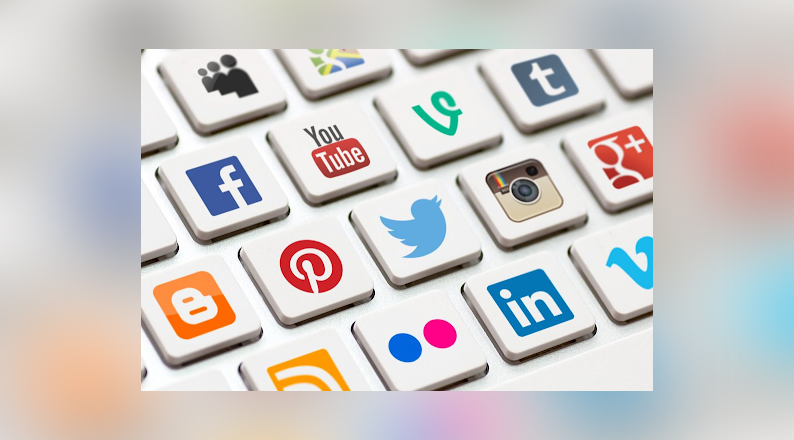 Social Media Platforms – Image Source: The Latin Way
4. Brand Ambassadors
Pushing marketing on your social media platforms might be challenging at times. If this is the case, you can choose to hire a brand ambassador who uses enormous flowers on their social media sites.
Nowadays, it is common to see celebrities and people with massive followers marketing different products making this mode of marketing among the top eCommerce trends. If a familiar face is advertising a product, people naturally get excited to want to try the product.
Make a careful choice when selecting a brand ambassador since they are an asset to your business.
When choosing a brand ambassador, be sure they can communicate confidently, are enthusiastic about your company, are dependable, resilient, and adaptable, and have sufficient marketing expertise.
The availability of brand ambassador agencies is a plus. You can speak with them, and they will advise you on the best brand ambassador based on your line of work.
5. Review Option for Customers
The customer review option has been popular in the past and is still ranking among the top eCommerce trends for 2022.
Online customer reviews have given rise to a brand-new area of marketing and communication that straddles the line between traditional word-of-mouth and a viral kind of feedback: consumer perception.
Why are customer reviews critical?
1. Greater comprehension of the client
Customer reviews can help your organization better understand overall customer happiness by giving your firm input on what your consumers want.
By swiftly and effectively resolving customer problems, you will be able to enhance customer service by giving them a great experience and maintaining your attention on their needs.
2. Social proof and authenticity
Similar to how we would ask friends and family for recommendations, review sites let users do this online with just a few clicks.
Putting your company out for consumer feedback implies that you have nothing unethical to conceal. It also means that you are receptive to criticism and eager to change.
3. Better rankings
In local search, reviews seem to be the most crucial ranking component. Even if their link profiles are of poor quality, it still helps firms rank well.
It has been demonstrated that pages with evaluations that contain the name of a city or a keyword rank higher in search engines.
4. Indirect marketing
Positive online customer evaluations are extremely valuable and can benefit your company in ways that a straightforward marketing effort cannot. They are similar to micro-marketing campaigns that continue to be effective even after the online review has been posted,
By doing this, the company creates consistent brand awareness and maintains a favorable perception among potential customers, resulting in short- and long-term benefits.
An interaction between a client and the company owner is shown below. The client listed both benefits and drawbacks of utilizing the company onboarding services through the review platform, and the business owner reacted positively to each review.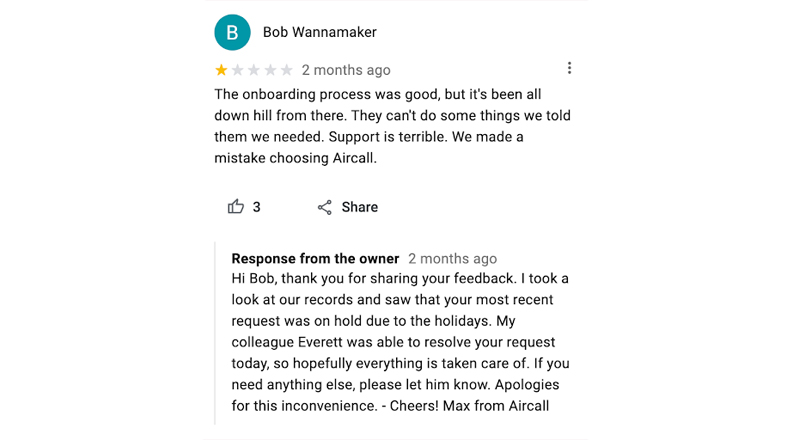 Customer Review and Response – Image Source: Hubspot
5. Buy Now Pay Later (BNPL) Model
The BNPL model enables customers to make purchases and pay for them at a later time, frequently interest-free. Consumers heavily used this model during the surge of COVID 19, and it is still among the top eCommerce trends for 2022.
Numerous businesses, including Klarna and Affirm, have adopted the BNPL approach. PayPal has introduced a point-of-sale installment financing option. Credit card providers like American Express and Chase have embraced this journey.
Between 2019 and 2021, the global trend of BNPL transactions climbed by almost 400%. There will likely be $450 billion more in global buy now, pay later (BNPL) transactions between 2021 and 2026.
BNPL nevertheless succeeded in securing a 3% global market share in 2021, with eight of the top ten global markets for buy now, pay later located in northwest Europe.
It is essential to know that a credit card company might offer buy-now, pay-later financing with lower costs or interest rates than the typical variable APR applied to outstanding balances.
Buy now, pay later programs have different characteristics. Each business has its terms and conditions. Below are the pros and cons of the BNPL model.
Pros
Easy method of making regular payments for products
There is often no interest or a lower interest rate than credit cards
No credit history or high credit score is required to qualify
Quick approval of goods and services
Cons
Sometimes it becomes hard to track the payment
Missed or late payments incur late fees and lower credit scores
No money refunded or rewards are obtained from purchases
Even if the item is returned, payments may still be made
7. Live Video Shopping
Modern consumers' "see-now-want-now" mentality is fueling the top eCommerce trends for 2022 of live video purchasing. Regarding live video shopping, China has been far ahead of everyone.
China has long been the world's leader in digital consumer markets, with a market of tech-savvy consumers that numbers about 1 billion internet users.
Think of live shopping as a somewhat different method of interacting on social media platforms: You may now immediately buy the things an influencer promotes there and then rather than just liking a post or following them.
Engagement rates for traditional eCommerce checkouts frequently decline due to bad user experiences. It takes effort to maintain a relationship with your consumers, or even just to make them feel as though they are connected to you.
You shouldn't always expect your marketing campaigns to convert. There is tremendous competition for interest and involvement, so you must look for better methods like live video shopping.
These type of top eCommerce trends offers the following benefits:
Live shopping enables eCommerce businesses to exhibit their products and enables customers to make purchases in real-time.
Online video shopping is much more engaging than clicking and adding items to your cart.
Using trust ques to display evaluations and suggestions helps overcome obstacles and assist consumers with purchasing decisions.
Since this trend is still relatively new, early adopters will stand out from rivals. Make sure to be among those who benefit from this trend before it becomes a cliche.
The image below shows that Samsung Panama successfully delivered a live shopping experience with special, occasion-based discounts using Smartzer's interactive video platform. Hundreds of spectators watched as sales staff from Samsung presented a selection of products.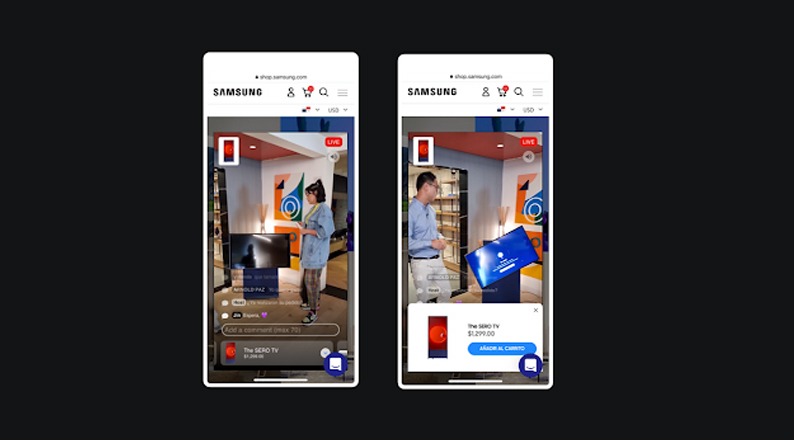 Samsung Live Video Shopping – Image Source: Smartzer
8. Flexible Payment Options
A category of products with prices ranging from lowest to highest is stocked in an online store. It frequently occurs that a client wants to purchase something, but because of the high price and limited payment options, they either go on to another online retailer or give up on the notion.
Don't let your website's lack of support for their preferred payment method drive away potential customers. According to Worldpay, digital or mobile wallets made up 49% of all eCommerce transactions globally in 2021, making them the most widely used payment method globally.
Promote the usage of various credit cards, debit cards, bank transfers, and even cryptocurrencies. Find out which payment methods are most popular in your target nation.
Customer happiness is the cornerstone of any business, whether it is in the traditional or online market. It is the secret to any company's success.
Your brand will benefit from word-of-mouth marketing because of your loyal and satisfied customers' willingness to enthusiastically recommend you to others and share their positive buying experiences.
Conclusion
It's not only about selecting the best marketplaces to sell your goods.
Conducting in-depth research on the product niche and rivals is vital to make sure there is still room for competition and that the market is not saturated.
What is driving the success of the online market is how open businesses are to experimenting with new trends like AI, AR, VR, multiple payment options, social media, live video shopping, and brand ambassadors.
The objective is to create a plan to help products appear on the first page of search results due to the volume of organic traffic online marketplaces receive.
All this will be achieved by incorporating top eCommerce trends for 2022 and beyond.
Acowebs are developers of Woocommerce bulk discounts that will help you add bulk discounts to products on your stores. It also has developed various other plugins like the popular plugin for managing the checkout form fields in WooCommerce, called Woocommerce Checkout Manager, which is highly feature-oriented yet lightweight and fast. There is also a free version of this plugin available in the WordPress directory named W0ooCommerce Checkout Field Editor.