In this article, we'll discuss the plugin – WooCommerce product Addons, which enables its users to add custom product fields like text, color, checkbox, etc.
Do you offer products of different shapes, sizes, materials, and colors on your eCommerce store?
Then, definitely, you'll be looking for some smart featured WooCommerce product Addons that can help you in creating custom product fields to guide your customers.
WooCommerce is loaded with rich features; however, it offers limited features to add WooCommerce custom Product options.
In this article, we'll discuss the WooCommerce plugin known as WooCommerce Product Addons that allows input from your customers on your eCommerce site.
You can set different fields or product prices depending upon the product options.
Why Do You Need WooCommerce Product Addons?
WooCommerce Product Addons plugin is useful for you if you offer a product of different sizes, materials, or with different prices so your customers could personalize their products and add extra options.
Once you add the extra product field, it will enhance WooCommerce plugin functionality, and it will automatically adjust the product pricing accordingly at the checkout and also in the WooCommerce cart.
You have to choose a product addon plugin carefully. Otherwise, it may affect your site loading speed as well as it can cause wrong calculations.
ALSO READ: Top 8 Snippets For WordPress
Product Addons For WooCommerce Plugin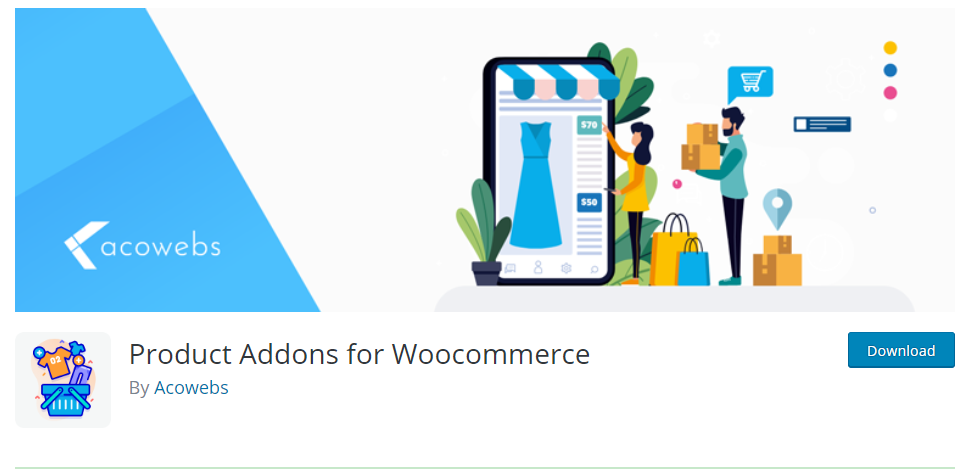 Product Addons for WooCommerce also searched as 'Woocommerce custom fields' plugin by many, offers an easy solution and multiple possibilities to incorporate additional options such as fields, text boxes, price options, checkboxes, email fields, and many other fields.
In the free version, it comes with limited features with extra product options.
However, the premium version offers many comprehensive features where you can add conditional Logic, pricing options image, and color group selector.
Conditional logic helps you in creating dynamic WordPress menus. These menus will appear only on the specific selection made by the user.
You can display or hide certain fields such as payment fields based on the answers given by the customers on a question in the form.
These answers or you can choose a dropdown menu that will appear only on predefined conditions or actions that users perform.
Product Addons plugin offers convenient shopping options to the customers, where they can manage additional options for each product smoothly. Hence customer's propensity to shop more will increase.
ALSO READ: Checklist To Create The Best WooCommerce Website
There are many advantages to using a product addon plugin.
First of all, you will have a dedicated drag and drop form builder, which will help you to control and manage form fields.
Secondly, you can customize product attribute selectors and add custom fields with additional pricing options. You can enable checkbox fields for selecting more than one option, and the price will automatically add up to the final price.
Also, the conditional logic option will allow you to hide or show some fields depending upon the customer's product option selection.
Which text fields are allowed by WooCommerce Product Plugins; here are a few which comes with the free version,
Text field
Number field
Radio field
Checkbox field
Select field
Text area field
Date field
Color field
Hidden field
Password field
Email field
Paragraph tag
Header tag
ALSO READ: How To Set Up Bulk Discounts In Your WooCommerce Store And Skyrocket Your Sales
WooCommerce Product Addon Key Features
If you like to provide a next-level shopping experience to your customers by allowing them to personalize their product, then use WooCommerce Product Add-ons to keep your customers coming back.
The product Addon plugin is a premium plugin with more than 20k+ active downloads and 102 five star rating.
You can offer any type of product with all sorts of add-ons options. You can display product options as a dropdown list with their price and current stock.
Also, you can collect more notes, instructions from the customers to know about their preferences.
ALSO READ: Top WooCommerce Tips To Make Your Website More Effective
Textarea Or Input Field – Collect personalizes customers messages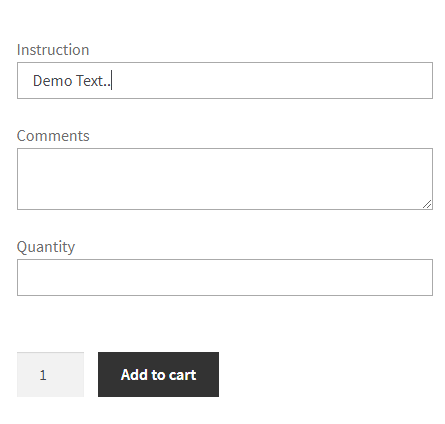 Now you can easily collect personalized information by your customers in the text field area. Also, you can set prices as per product quantity specified by the client.
These input fields can be used in several ways such as to collect product-related information, numbers, passwords or Email, etc.
Select Field And File Upload – Collect files from users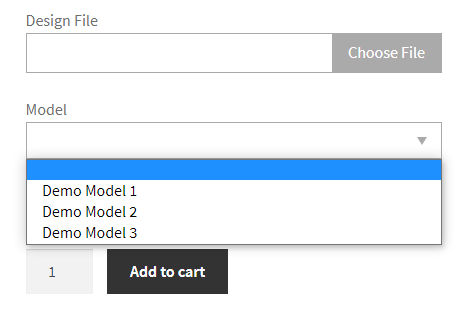 Select field: select field enables the users to select multiple items from the dropdown menu. You can configure the field whether the customers are allowed to select one option or multiple options from the dropdown menu.
File upload: the file upload field is very useful if you like to collect any sort of files from your customers such as documents, images, videos, or anything which is allowed by the website admin.
Checkbox And Radio Field – Set different prices for each option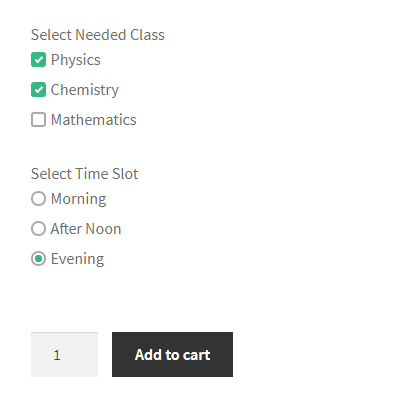 The checkbox is useful to select multiple items, and the radio group is used for selecting a single item.
You can also set prices for each field. Another way to offer a next-level shopping experience to the customers is by allowing "Other" fields where the customers can add any value depending upon their choices.
ALSO READ: Enhance Buying Experience From Customers Using WooCommerce Product Addons
Date And Time Picker – Perfect for scheduling bookings and appointments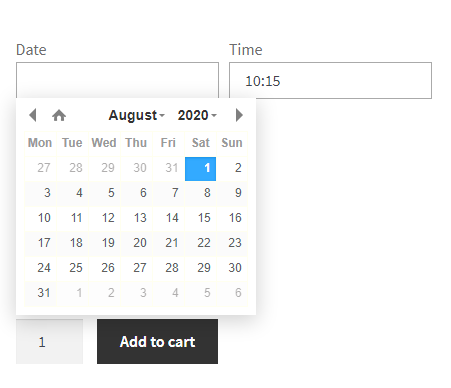 Adding date and time field is essential if you run a business that requires pre-bookings and appointments. Now, you need not worry about adding a separate time picker or calendar addon.
You can simply allow date and time fields separately where the customers can select any available time slot or date available for bookings.
Image Selector And Color Group – Set custom colors and images to choose from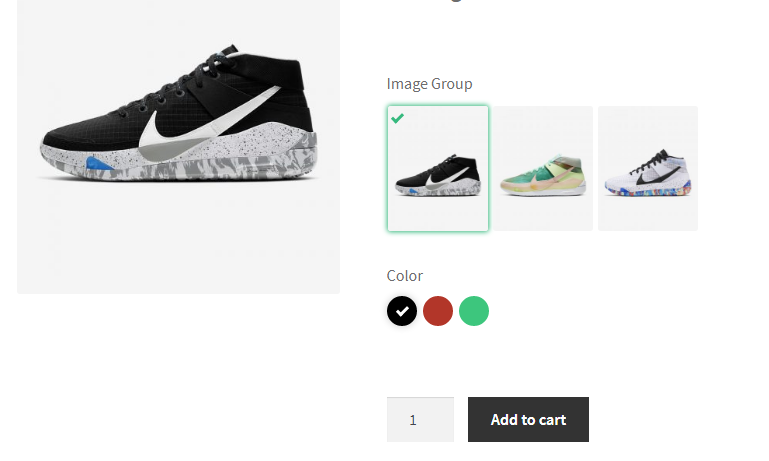 The image selector feature works just like a checkbox or radio feature where the admin has an option to display his products as an image, additionally, along with setting custom images to choose from, the admin can change the product image to the selected image from the groups.
The color box works the same as a checkbox or radio group where you can set custom colors of your product that can be selected by the customer. The customers can also go for custom colors if you allow the "Other" field.
ALSO READ: 12 General Mistakes That WooCommerce Shop Owners Make And How To Avoid Them
Color Picker- Let your customer choose from the customized color picker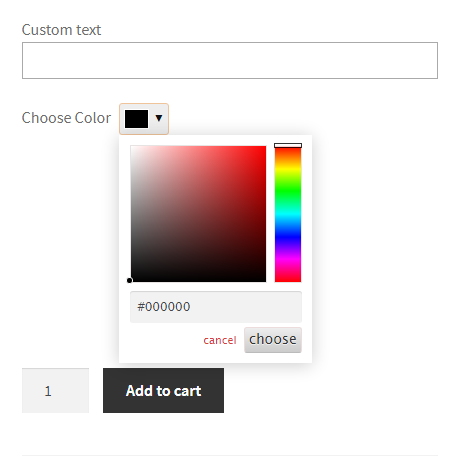 With the color picker customized field, you can let your customers choose the color of their choice from the dedicated custom design color picker. The color picker option is supported by jQuery plugin spectrum.
Price Field
You can set the price in two ways, either using a fixed value or percentage value of the product base price. Also, price is determined by calculating characters entered by the users or by multiplying the value entered by the customer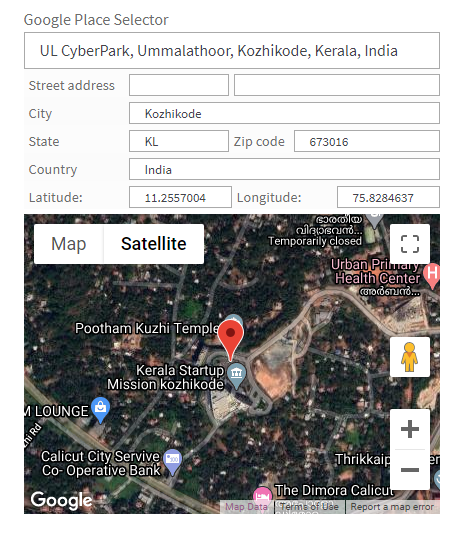 Another handy feature you'll get with the premium version is that you can set custom price fields based on the custom price formula.
The custom price formula can determine product price with a mathematical formula by using user input value, product quantity, and product base price.
Location selector – turn on the location selection option by the customer
You can let users select a location by using Google Maps or Google places API will suggest the places when the user types in the text field.
Conditional Logic – Show or hide fields based on customers selection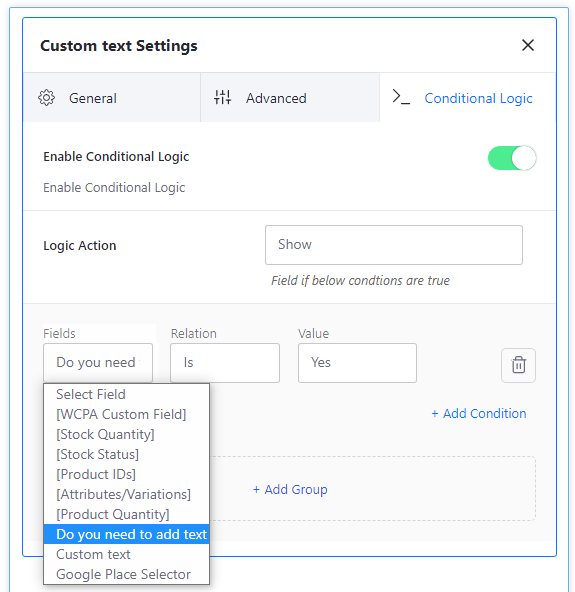 The conditional logic field is available only in the premium version where you can show or hide fields depending upon the options selected by the customers.
You can set 18 types of conditions, which once selected, will show up other fields associated with the conditional Logic.
Pros And Cons Of WooCommerce Product Addon Plugin
Pros
Comes with more than 20+ field options
Drag and drop form builder to arrange fields in whatever order you select.
You can add as many product images with the image selector field
Allow creating the custom price formula for product price calculation
Add conditional logic with more than 18+ conditions support
Compatible with WPML
Compatible with WooCommerce price calculator
Compatible with Google Map and Google places
Enable tooltip or help text for each field.
Set date and time field from the custom-designed calendar
Cons
Limited features in the free version
You cannot add the price field with the free version
WooCommerce Product Addon Pricing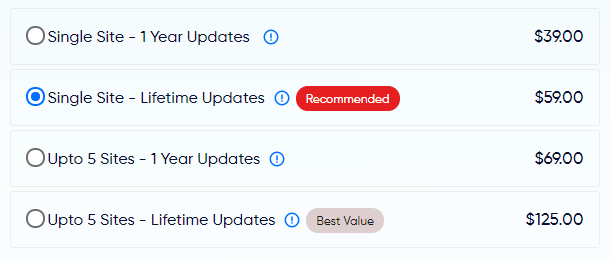 The free version of WooCommerce Product addons can be downloaded from the WordPress repository. At the same time, the premium version is available from $39 for a single site.
ALSO READ: WooCommerce And Product Options – Adding Extra Fields To Product Page
A Quick Comparison Of Free Vs Premium Version Features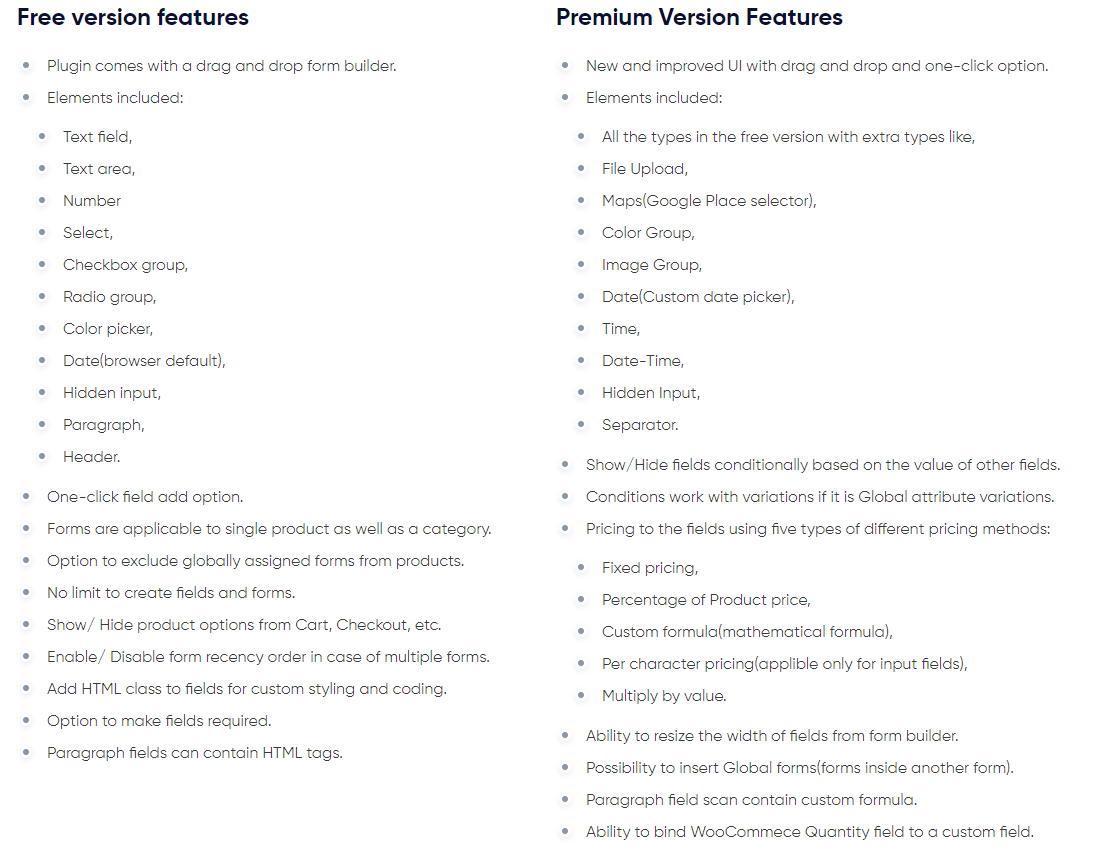 Here is a quick comparison of free vs premium features of the WooCommerce Product Addon plugin for your convenience.
Final Verdict
People tend to buy more from the stores where they could make the most out of it. If you offer more convenience, customers will spend more.
In E-commerce, competition is tough if you do not know how to arrange suitable items together to maximize the user's satisfaction.
With the WooCommerce Product Addon plugin, you can easily add custom fields such as text fields where the customers can add their personalized features they like to see in their products, you also set time and date fields so customers could select the suitable time slot and dates for their appointments.
I highly recommend using WooCommerce Product Addons so you could offer attractive features to your customers and achieve higher sales targets and profits.
Acowebs are developers of multiple WooCommerce plugins that will help you personalize your stores, which inlcides plugins like WooCommerce Checkout Field Editor that helps to customize the Checkout Form Fields in WooCommerce. Update your store with these add-ons and enjoy a hassle-free experience.