WooCommerce is an ideal platform that comes with plenty of useful resources to increase your physical and digital product sales.
However, WooCommerce has limited options to set discounted rules, and you would much rely on third-party plugins to set discount rules in your online store.
The good thing is these WooCommerce discount rule plugins can help you expand your online sales manifolds, which work as a baseline to strengthen your customer's trust and user experience.
We are going to show you how these bulk discount offers can be used in your online store and what are the different ways to offer incentives to your customers based on the quantity they buy.

Why Should You Offer a Bulk Discount On Your Products In Your WooCommerce Store?
Now, the question is, why should you offer bulk discounts in your store? The bulk discount offer is one of the most common in the oldest sales techniques found in history.
Primarily, because it hits our intent to buy cheap, and this appeal to get a cheaper product creates an urge to buy more. It's a proven effective way, which allows you to set a price based on the quantity purchased by the user.
Let's talk about some of the right reasons that can be supportive of your bulk discount offers.
Low price –more volume: when you offer a product for a cheaper price, you are encouraging your customers to buy more because they will get more in fewer costs. Who won't like to get their favorite product at a cheap price?
Attract new customers: when you are offering tempting discounts on your products, it will automatically attract new customers who were buying the same products at a higher price from your competitors. In other words, you will stand out louder than your competitors.
More returning customers: a solid base of returning customers is a treasure for any online store, and the bulk discount offers will make them coming back with a good reason.
Offer a new range of products at the same time get rid of old inventory: when you offer a bulk discount offer, you can quickly clear out old stock, and at the same time, you can submit a new range of seasonal products.
Try out a new range of products:  People try to buy more from their trusted Brand, then why are they going to try your newly launched products? You can offer them a discount on your new range, which will encourage the customers to give your products a try, and you can easily break into a new market.
ALSO READ: Use Of Discount Pricing Strategies To Make Sales

What Types Of Bulk Pricing Discounts Can You Offer?
You can set many discounts offers to target people's natural desire to buy more at less price.
The simplest form of bulk discount offer can be
Get a 10% discount for buying ten more items
Now, consider you already have purchased eight items, then purchasing two more to avail this offer won't be difficult for you because you know you'll get the value of your money in the shape of a discount.
Similarly, you can set different discount levels on different purchase rules such as;
Buy 5-10 items and get 5$ discount
Buy two more items to avail 10% discount
Buy 50 items and get one thing free
These are such attractive and targeted offers that people quickly end up buying more products, even if you have less traffic on your site.
Same way, you can offer discounts on specific occasions, such as summer clearance sale, black Friday sales, where you can set a bulk discount offer to attract more visitors.
ALSO READ: 7 Ways To Prepare Your Online Store For Holiday Sales
Which Is The Best Bulk WooCommerce Discount Plugin?
You can set bulk discount offers on several occasions; also, you can boost your sales by targeting 'event-based' sales, like seasonal clearance sales, newly launched product sales, black Friday sales.
These event-based sales can cover your cost over the whole year if availed properly because significant numbers of visitors storm to the stores to help this opportunity.
If you allow a discount on your specific products or the 'set of products,' your profit will increase manifolds.
So, what is the easiest and seamless way to set these bulk discount offers on your online store?
We have handpicked one of the outstanding plugins that can let you set up discount rules based on several conditions such as user's role, number of product orders, and also on the order history of previously placed orders. Its WooCommerce Dynamic Pricing and Discount Rules plugin by Acowebs.
ALSO READ: What Is Scarcity Marketing? How Is It Useful In eCommerce?
Dynamic Pricing For Discount Rules For WooCommerce Plugin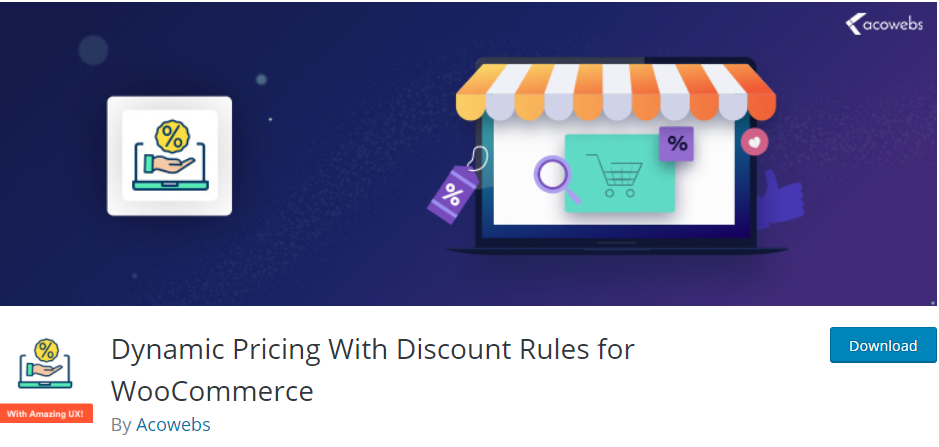 The plugin also called WooCommerce bulk discounts plugin comes with some of the incredible features which allow you to set or schedule discounts on individual products or sets of products.
You can set values in two ways; percentage-based discount and fixed price discount.
Another awesome feature of this plugin is that you can set a timer or sales badges on your targeted products.
This incredible feature will let you plan and pre-schedule any bulk discount for any upcoming event, and you can set the timer accordingly when the sales are going to start and when it will end.
Let's get down to its salient features and discuss them in detail.
Dynamic Pricing For Discount Rules Key Features
Dynamic pricing Discount Rules plugin comes with flexible discount rules, which can be set in several ways.
You can select discount options from two variables, such as a percentage-based discount or fixed price discount. Furthermore, you can set the discount on any of the desired modules such as;
product price
cart Total
Product quantity
numbers of items in a cart
Also, you can create multiple types of discounts for your products such as;
Percentage-based
Product Quantity Based
Fixed Amount
Dynamic Pricing
Bulk
Product Based
Cart Based discount
Set Rule to exclude some products from discounts
Schedule your discount as per date range
Allow/ restrict discount on user role
Although the free version comprises many essential discount features however if you like to get more features such as a gifting option or buy one get one free type of discount offers, then you should buy the pro version where you can set a discount timer and sales badges with customized styles.
Here are a few details of some excellent features of Dynamic pricing for discount rules plugin.
Two Types Of Discounts – Percentage / Fixed-price
The percentage discount can be used with different conditions. You can set percentage prices on all of your products, categories, or on user roles. Have a look at percentage discount options that you can put on your products.
Get 50% off on all T-shirts of our Brand new collection
Get a 20% discount on Baby's clothing section.
50% discount for Wholesale customers
Buy any T-shirt from the winter collection and get 20% off on men's socks. (Conditional logic).
Likewise, a fixed price will deduct your selected amount from the product price or at the cart total.
Set Discount On Different Modules
Dynamic pricing plugin comes with flexible discount options, which can be set in several places such as Product price, cart total, number of products in the cart.
It works smartly, and when the new discounted price is defined, the original price of the product will be knocked off. However, the discounts will be displayed at the cart for cart based deals.
If you have set values on a specific range of products or purchases of any particular quantity of a product, then this discount will be shown as a pricing table.
ALSO READ: 11 Silent Killers Of Customer Checkout And How To Fight Back
Set A Product As A Gift Option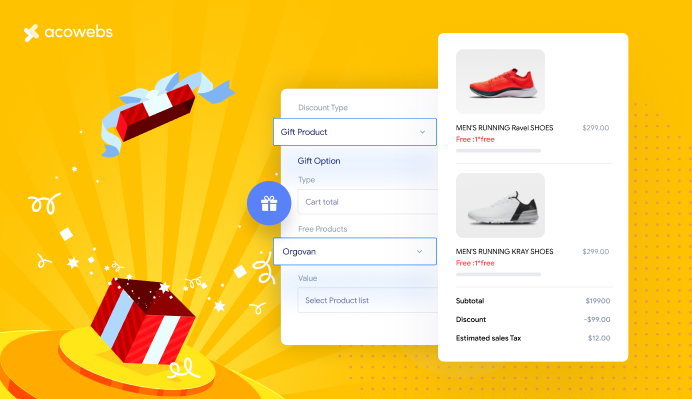 The WDP pro version comes with more variation of discount deals where you will get an option to add any product as a gift option. You can set this gifting option on
When the buyer is making their first purchase
Buying from a specific category (suppose buy 3 T-shirts and get one men's socks pair for free)
Spend $500 and get one gift product
Buy any three products of 200$ and get a gift item
Offer "Buy x Get One x Free" Discounts
The BOGO feature is not a built-in feature in WooCommerce, and it is one of the most influential and proven ways to attract more traffic to your site.
Mostly this option works for those stores that want to reactivate their abandoned cart sales. The BOGO deal is an excellent technique to sell the second product instead of offering it for free.
You can set 50% off to promote the sales or add buy two and get one offer. Using WDP, you can set both percentage offers and free offers when the customer buys a certain amount of your product for sale.
ALSO READ: eCommerce Marketing Ideas To Boost Your Business
Regulate Discounts As Per User Role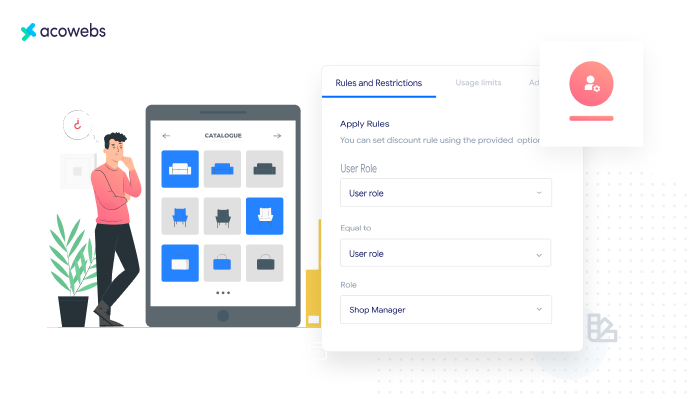 Now you can set prices as per user role on your site. You can create groups of users with special discount offers, such as registered customers or subscribers.
Also, you can create several membership levels where the customers can avail discounts as per their membership level. You can offer special discounts for the store's employees and management.
Also, you can offer special discounts for wholesalers when they buy a specific range of products or how frequently they place an order, or when a new customer registers for your memberships.
WDP supports all of these types of discounts as per user roles.
ALSO READ: Using Personalization On Your Online Store To Enhance Customer Experience
Set Discount Usage Limit As Per User Role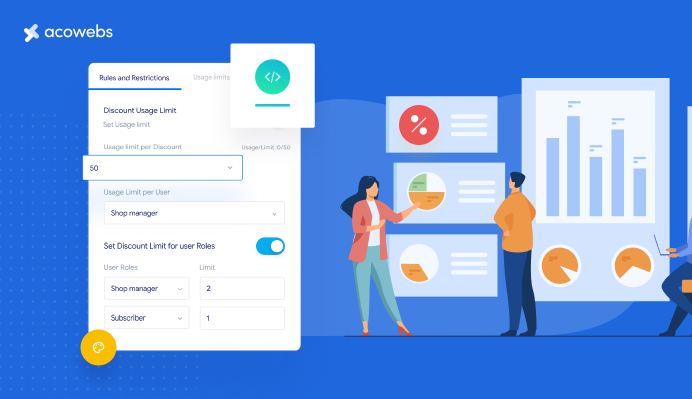 Using a discount usage limit with WDP, you can set the minimum and maximum amount of product a customer can purchase using the discount coupon. You can define how many times a coupon can be used. Also, you can select discount limit rules as per the user role.
Apply Discount To Specific Product List Or Category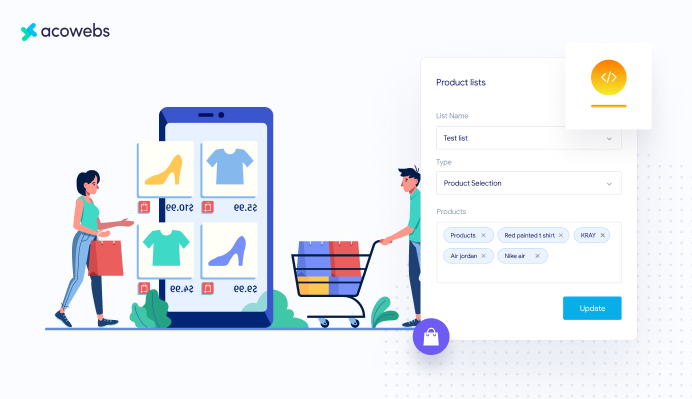 WDP allows you to create bulk discount offers across your eCommerce store. The WDP dynamic pricing rules let you create maximum and minimum discounts not only on all products but also you can create discounts on a specific category, or you can create a product list comprising those products which are available with discount offers.
The customers will have an option to include products from the product list, and discounts will be applied when they click through the cart when ready to checkout.
Use A Shortcode To Display The List Of Discounts
You can create a shortcode of active discounts in the additional setting area. Also, you can put a description of the product list ready for discounts.
Set Conditions And Rules To Manage Discounts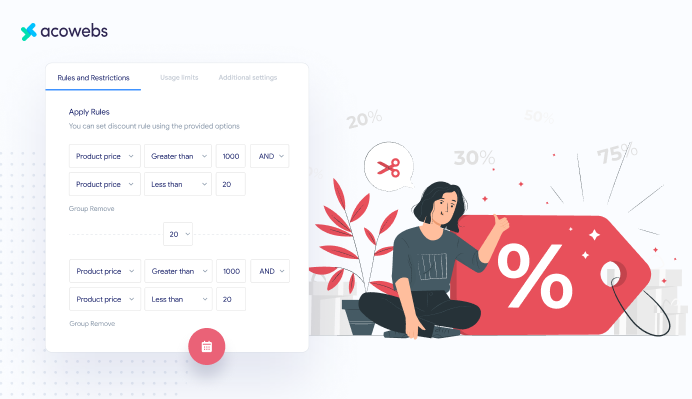 This excellent feature will let you create specific status-based rules and conditions which can be applied to products, users, or on cart items. Suppose you can check the customer's total spending history and set restriction rules to purchasing up to a specific amount.
You can set region-based conditions if the user belongs to a particular region, then he can avail of the discount offer.
Similarly, you can set the price of the product for the discount rule; if the product price is more significant than 1000 and product quantity is more excellent than two, then the discount will be applied.
ALSO READ: Dynamic Pricing Strategy For WooCommerce
Set Schedule For A Discount Before The Sale Starts
With this incredible feature of WDP, you can plan a schedule ahead of time before your sale starts. You can set the starting and ending date of the discount, and it will take only a couple of clicks, and you will be done with scheduling your upcoming sales counters.
Display A Pricing Table On Specific Product Pages
You can add a pricing table on your product page so the customers could compare prices of all levels of products available for sale. This pricing table will be available only when you apply a range of product discounts.
Also, you can set the pricing table display options, both vertical and horizontal depending upon your website's design.
That's all! We are done with a quick snippet of the WooCommerce Dynamic Pricing Plugin, and you can see it's enriched with all essential features related to bulk discount.
You can see how much powerful pricing discounts you can set in the simplest way, and you will get lots of options to create a variety of discounts for your customers.
Now, let's move on to our next section, where we will see how we can install WooCommerce Dynamic pricing and set discounts on products.
WooCommerce Dynamic Pricing Plugin Installation

First of all, let's install the Dynamic pricing plugin from the WordPress repository.
Head over to the Dashboard > Appearance > plugins
Click on Add new plugin > write in the search bar WooCommerce Dynamic Pricing
Install and activate
You are done with the installation. The first thing to be noticed is its user-friendly interface. It's super easy to add discounts to your products.
Once you have installed the plugin, you will see a pricing Rule option under the WooCommerce tab on the left side menu bar.
When you click on the pricing Rule option, you will enter into the pricing rules setting area where you can add new rules to select the discounts on your products.

Now enter the credential to activate the discount rule on your products.
Insert rule name; I have selected "winter clearance sale."
Select the product list option as "All" because this discount will be available on all products.
Now set the discount type from the dropdown menu. You'll find three rules options in general product rule, cart rule, and quantity rule. I have selected the percentage of product price options.
Enter the value of the discount you want to offer. I have given a 10% discount offer.
Now, you can publish the discount, and it will be visible on all of your eCommerce products.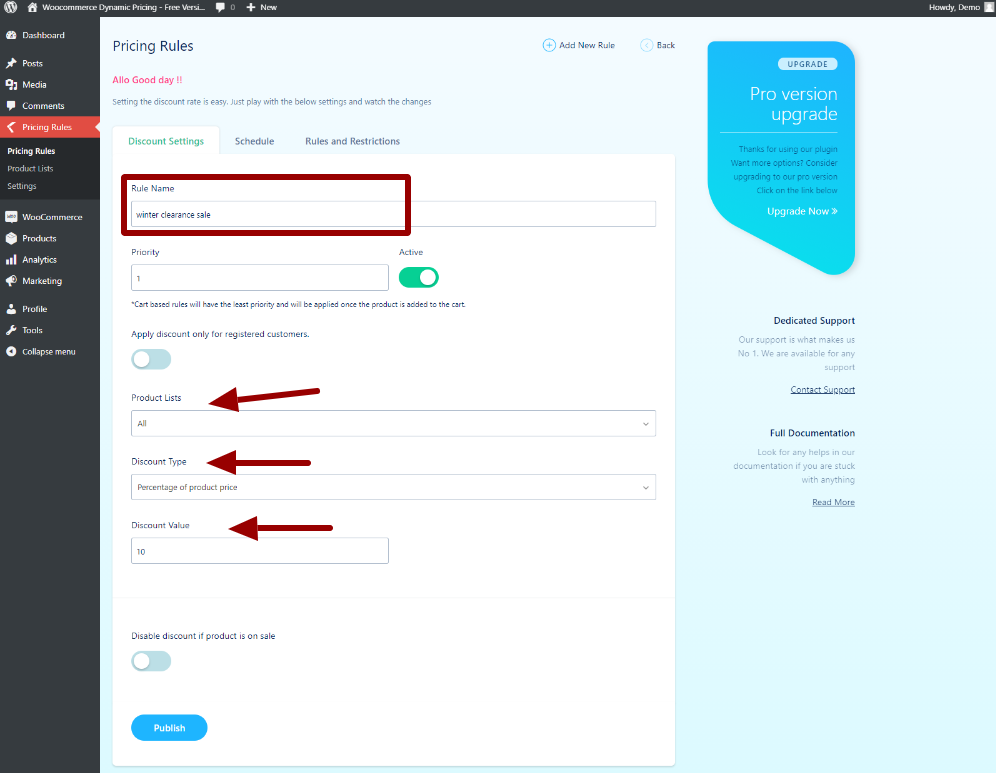 However, this is not it. You can schedule the discount's start and ending date and time by using the "Schedule" option.
How To Schedule The Time And Date Of Your Product Discount
We will start right from where we have entered details about product discounts in the previous section.
Once you have entered details regarding discount offers in the "Discount setting" area, now move to the "Schedule" tab to set the timing and date of the discount rule.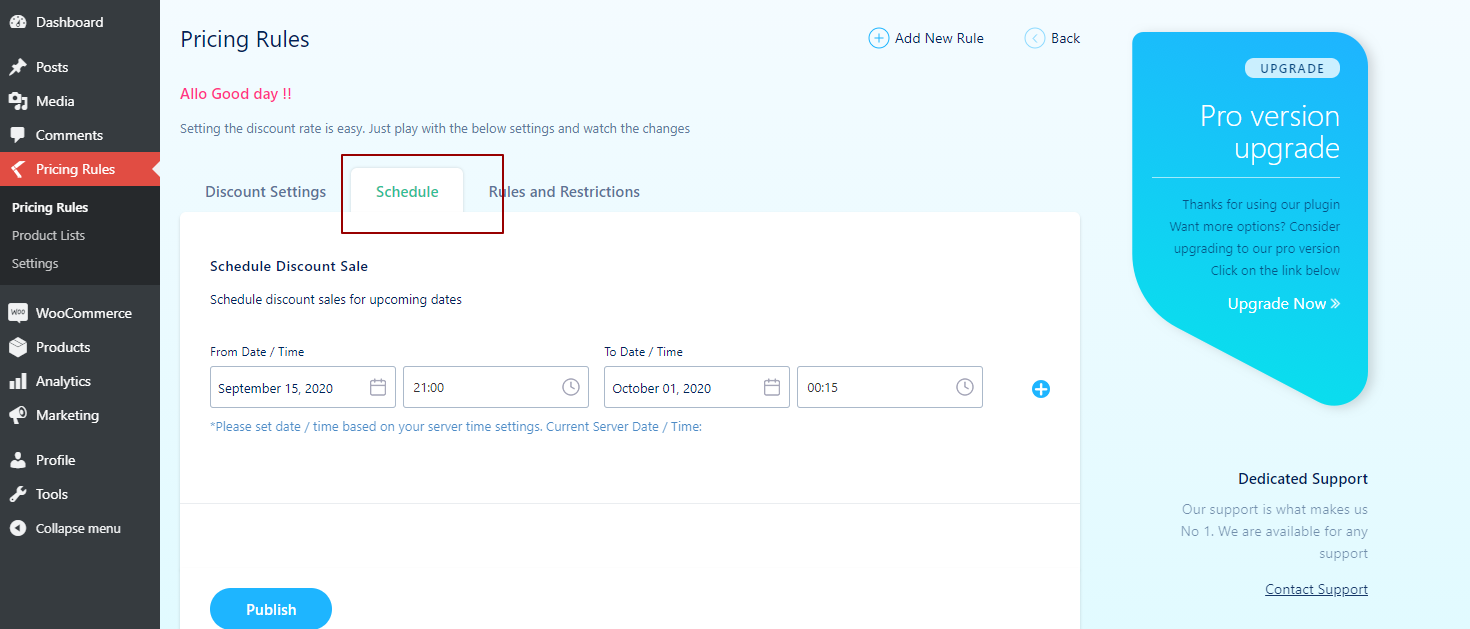 Now enter the starting date of your upcoming sale's discount and also ending date and time in the required field.
Finally, your product's discount is ready to be published. Hit publish and preview the discount settings on your product pages.
How To Set Rules And Restrictions On A Product Discount
Next, we'll learn how to set rules and restrictions. You can apply rules on the following options.
Product price

Cart total amount (product list)

Cart total quantity (product list)

Cart total items
I am going to set a product price rule that this product discount is only eligible for the product, which is less than 100$ cost.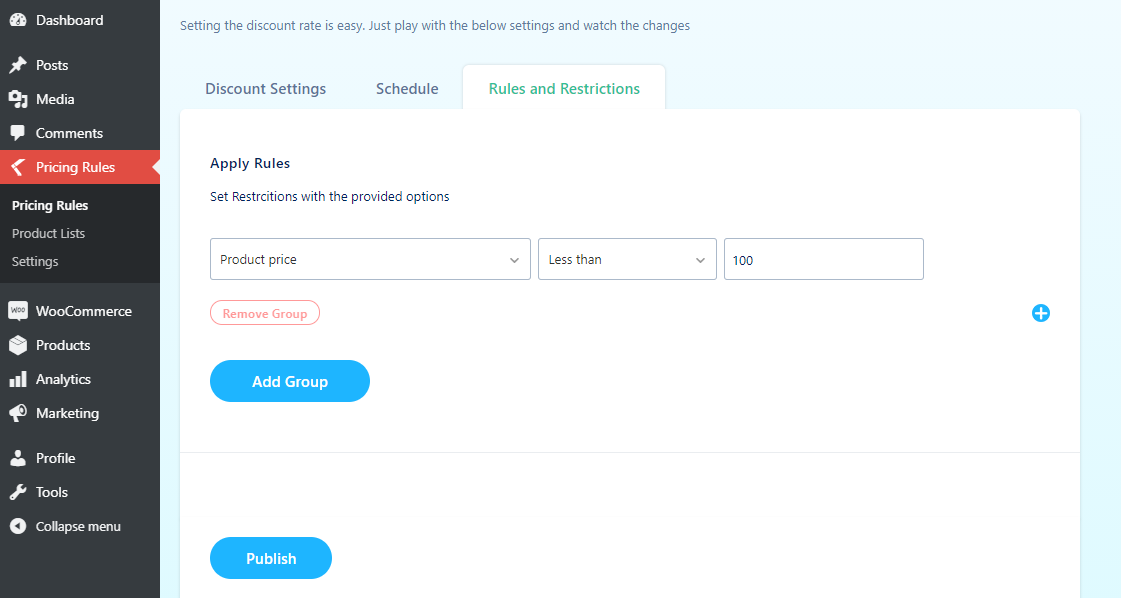 Now publish the discount rule, and to preview your settings, go to the pricing rule section, and you'll see your scheduled pricing rule.

How To Apply A Discount On Cart Total?
Likewise, WDP allows you to set a discount based on the total price of products on the cart total. For example, you can set a discount if a customer spends 100$ or 200$, then he will avail of a discount of 10% on the cart total.
Same way, you can offer more discounts on spending more. You can set discounts in many ways on cart total. You can set the discount rule as a fixed price of cart total amount or percentage of cart total amount.
Let's see how it works out;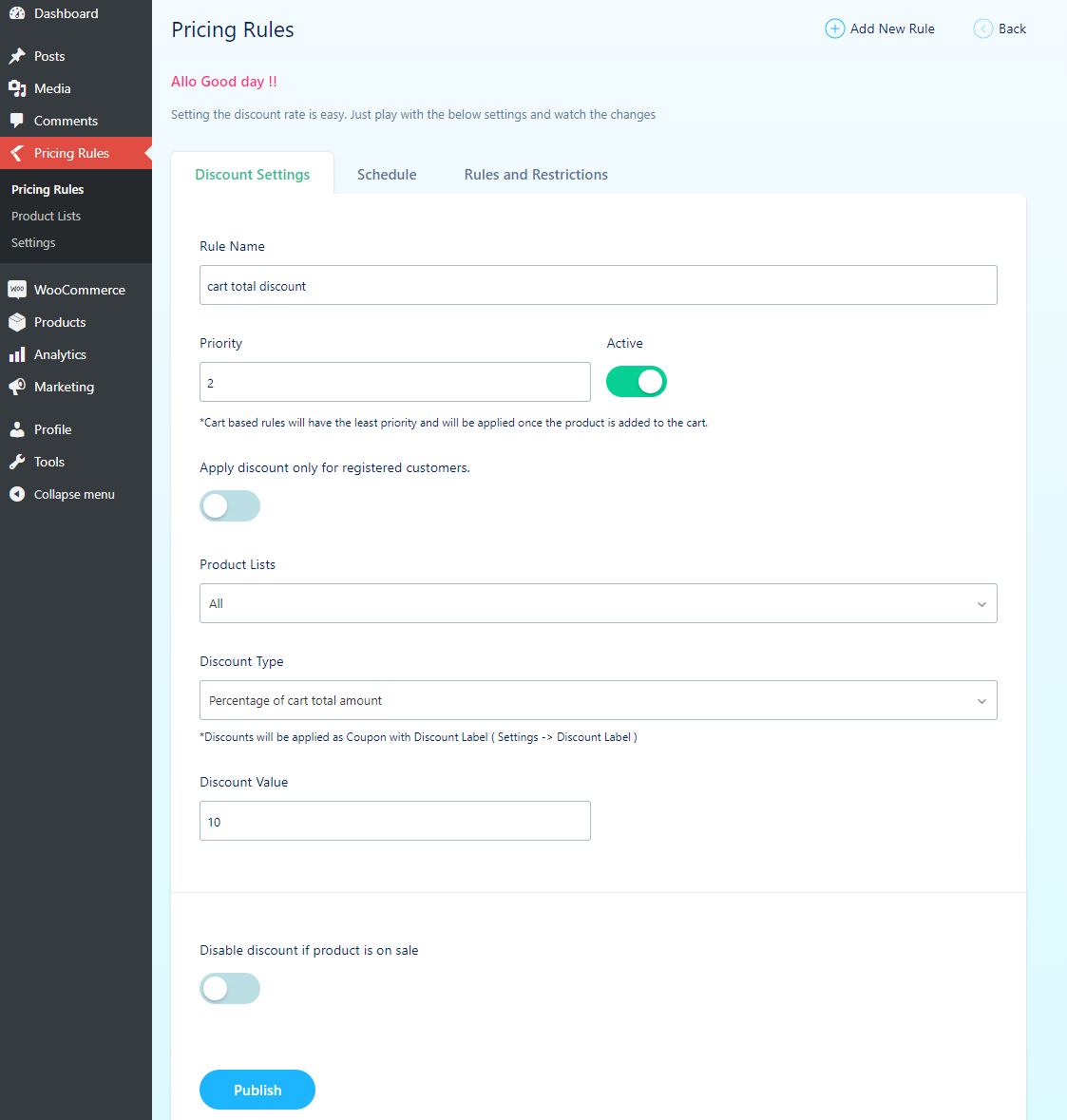 Head over to Add new Rule

Add discount settings; enter the rule name.

Set priority as you need

Select the product list option where you want to apply the discount. I have selected All products

Select discount type as a percentage of cart total amount

Apply the discount value. I have entered 10%.

Now you can schedule the discount start and ending date and time from schedule option

Also, apply the Rule by entering the cart total amount as an option where you can set the minimum amount for using a discount on the cart total as you desire. I have entered a minimum value of less than 100.
Now publish the discount on your site and preview.

Dynamic Pricing With Discount Rules For WooCommerce Pricing
WooCommerce Dynamic Pricing plugin has a free version that you can download from WordPress.org. While the pro version has four tiers, and the most recommended one is $49, with lifetime updates for a single site.
Final Verdict
If you own an eCommerce store and need an easy and powerful solution to set dynamic discount rules on your products, then the WooCommerce Dynamic Pricing plugin can serve you best.
Also, If you are on a low budget, then go for the free version, which includes pretty awesome dynamic pricing options. However, the pro version comes with more robust features such as a gifting option, BOGO deals.
Also, you can set discounts based on shipment method, user role. Some other exciting features include adding a shortcode for discount rule listing and displaying sales badge with customized styles.

Acowebs are developers of WooCommerce plugins that will help you personalize your stores. It supports the additional option with feature-rich add-ons which is WooCommerce Product Addons, that are lightweight and fast. Update your store with these add-ons and enjoy a hassle-free experience.