If you own a WooCommerce-based shop or any shop for that matter, you might already know the importance of the product page.
An individual product page lets the customer know about the product he wants to buy. An extra functionality or better customer experience is always appreciated here.
If you look at Amazon, eBay, Etsy, AliExpress, their individual product pages are filled up with lots of images, paragraphs, different colors &  sizes for every product, and so on.
The variety of features of the product attracts the customers more and they are more interested to know about it. And, guess what? Thus a conversation is likely to be created.
However, unfortunately, the most popular eCommerce plugin, WooCommerce, which powers a big chunk of eCommerce sites globally, doesn't let you add these kinds of functionalities on your eCommerce website.
However, there are ways that you can add these functionalities to your website. This will allow you to potentially let your customer choose between different options within a product, a feature that is long been expected but missing from WooCommerce.
These features will give your customers an all-round and exciting product page experience, just like they get in market leaders like Amazon or AliExpress. Is it exciting enough?
So without any further ado, let's get to know how we can customize WooCommerce product options and increase conversion along the way.
Why Aren't You Getting Enough Conversion from Your Website?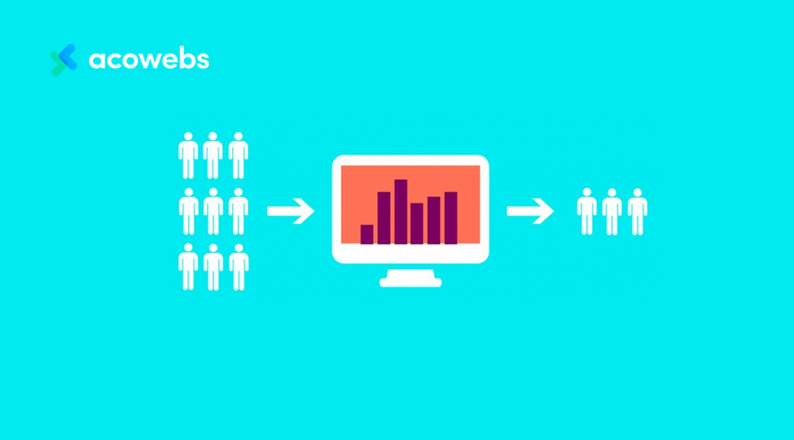 Okay, let's have a fun conversation. Out of every 100 eCommerce shops out there, about 80 to 97 eCommerce shops fail to make their mark.
To be even franker, they fail miserably. So, why do so many eCommerce shops fail, even when the overall industry is growing more than 15% every year since 2017 and is expected to hit more than 19% growth in 2020?
Well, with giants like Amazon, eBay, AliExpress, Etsy ruling the market, it doesn't take too many shops to reach $4.206 billion dollars yearly revenue worldwide.
What sets these big guns apart from the failing ones is the conversion rate. As an example, Amazon has an average conversion rate of 13%, want to know the overall conversion rate of the eCommerce industry? Just 3.32%.
Yes, their conversion rate is actually 4 times better than the market conversion rate.
So what stops you from achieving these kinds of conversion figures? Well, there are many different reasons that add to the conversion rate of an eCommerce shop.
Quality design, guest checkout, exciting discount offers, upright personalization, and engaging product pages are just to name a few. These things are very important to increase the reach of an eCommerce website.
While we do focus more on the design, functionality, or even more offering more discounts, we often leave out an important page that has the potential to double your conversion rate. What is that page? Well, it is the product page.
A page that eCommerce shops like Amazon, eBay, Etsy give a lot of focus onto. And that's why they have reached the top today.
So, trust me when I tell you this, one of the biggest reasons for your visitors not converting into customers, might be because you have a poor product page with lesser functionality and potentially a page that is offering lesser choice for the customer.
Let's dive in to know more in detail.
ALSO READ: How to Customize WooCommerce Product Page to Boost Your Sales
Can Customizing Your Product Options Really Help Increase Conversion?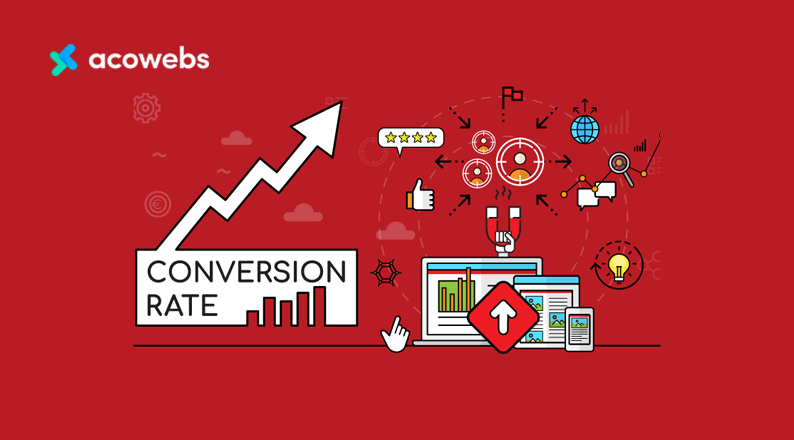 I know you are not very familiar with this particular question. But I am here to tell you that, yes, customizing your product option really helps increase the conversion rate for an eCommerce shop.
How? Well, that is what you will get to know now.
Look at the below image.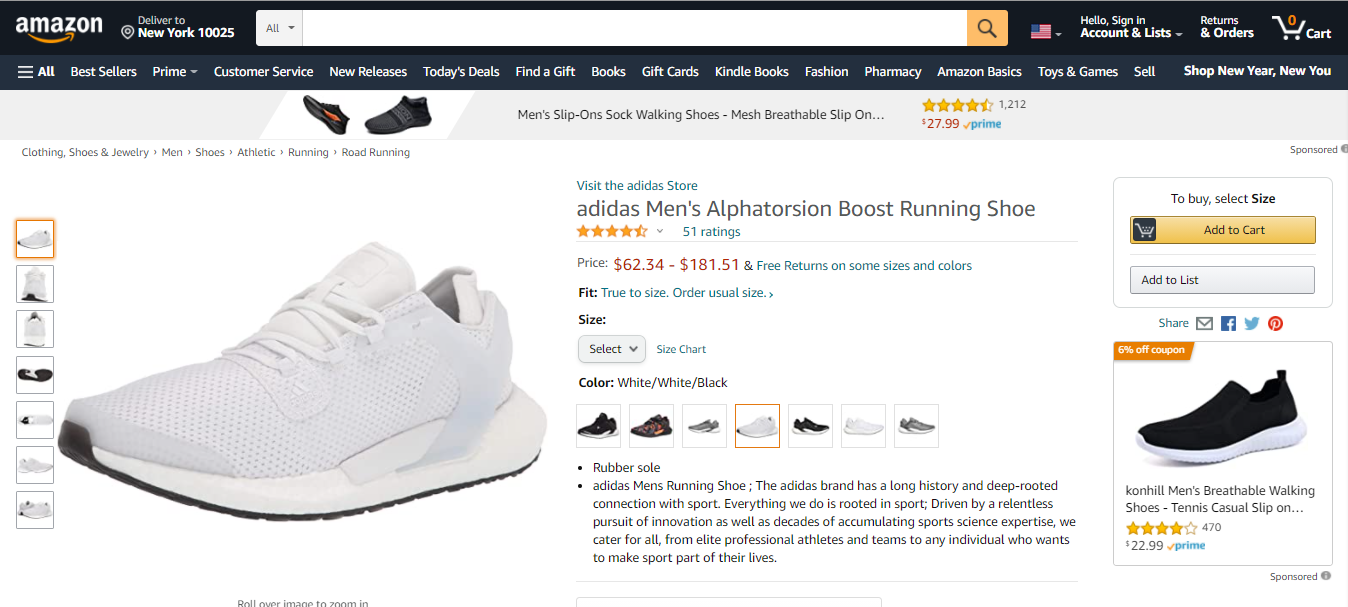 Now, look at the below image.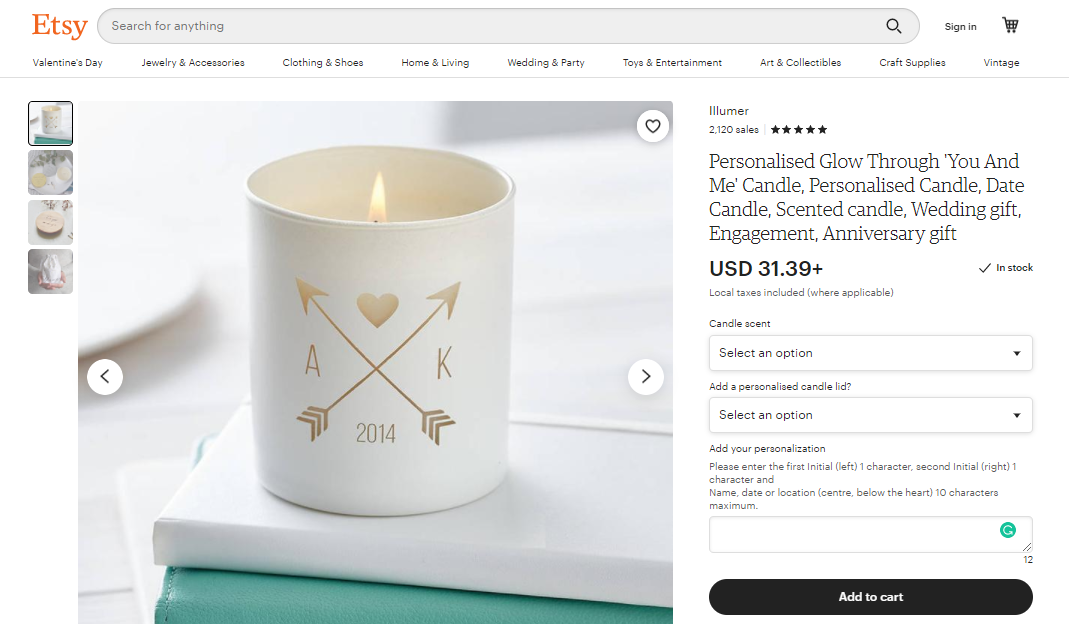 What do you see in the two images above?
I might have an idea of what you see. An Adidas shoe on Amazon and a Candle on Etsy. Two products from two of the most famous eCommerce shops.
But why am I showing you this? Confused? Don't be!
If you look at the Amazon product page of this Adidas shoe, you will notice there are 7 images of the product. What's more, you can also choose between 7 different colors of the same shoe. And if you need sizes, you can choose that too.
Such a variety of options create a great impression on the customer, don't they?
Now if you look closely at the Etsy image, you will see that apart from the regular product details, there is an option to select the candle scent, as well as a personalized candle lid.
What's more, there is also an option to enter a 10 character text that you want to print on the personalized candle. If you notice a little better, you can understand their page is well decorated.
Now if you want to add the product size chart like Amazon, or the character input on Etsy, and a lot more features with your WooCommerce site, you can not actually do it.
But if you can do that and offer these functionalities to your customer, it will surely help make the customer experience more wonderful thus resulting in a better conversion rate, like Amazon and Etsy already have.
Added Benefit of Customizing Product Options Plugin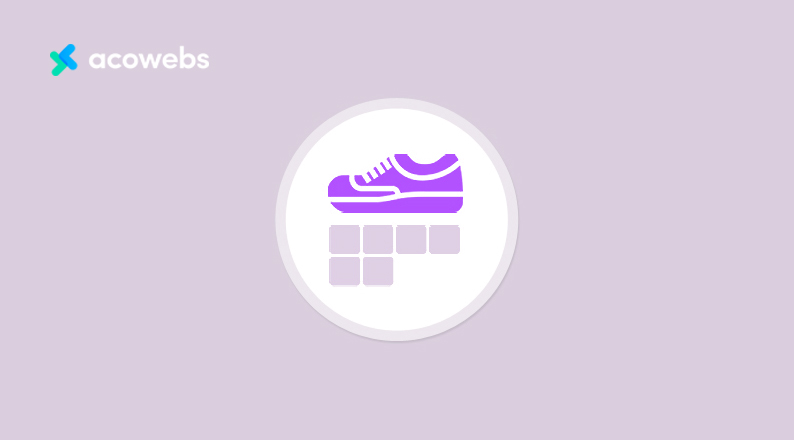 Apart from more conversion, customizing the product page with more options also has other benefits.
If you run a very niche business, especially like the one we saw on Etsy, being able to customize product options will help you in great deals. So, look! One way or another, product customization is giving you benefits.
Let's assume, you run a custom t-shirt shop and rely on customers to upload their preferred image that they want on their t-shirts. But by default, there are no ways to upload a picture on the product page, that's where the customization comes in handy.
Or, let's assume you build a custom PC. In that case, you will need detailed instructions from the customer. But there are no ways to get that from the customers using the default WooCommerce product page. That is what brings us to our next sections.
How do we actually customize the product options and offer our customers these added benefits? Well, we are here to make it easy!
How to Customize WooCommerce Product Options
Now as I have already told you, by default you cannot customize product options on your WooCommerce shop. But using a simple and lightweight plugin, you can do that with ease.
The plugin we are talking about is none other than, "Woocommerce Product Options". A one of a kind featureful plugin, a performance-optimized brilliant piece of tool that boasts the following features in its free version –
The free version of the plugin comes with a drag and drop form builder, which makes it easy to build and edit your form.
The free version includes the following elements:
Text field option,
Text area option,
Number option
Multi-Select option,
Checkbox option 
Radio button option,
Color picker option,
Date option (browser default),
Hidden input option,
Paragraph option,
Header option.
You can add a field with just a single click.
Forms that you create can be applied to both a single product or a category.
Want to exclude a single product from the globally assigned form? You can do that as well.
You can create unlimited fields and also forms.
You can choose to show or hide the product options from the Cart section as well as from the Checkout part.
Option to Enable or Disable form and also recency order in case if there are multiple forms.
You can do custom styling and also tweak the code by adding HTML classes to fields.
You can make any fields a required one.
Paragraph fields are capable of having HTML tags.
If you get the premium version of this plugin, you will have access to even more features that will allow you to add more advanced features. The premium version of the plugin consists –
The premium version always gets the groundbreaking UI design with a drag and drop and also a one-click option.
Following elements are included in the premium version:
All the features in the free plugin are also included in the premium version. In addition, you'll also find the following features –
File Upload feature, giving the user option to upload a file,
User can select a place using Google Maps Place selector,
Option to select a Color Group
Option to select Image Group is available
User can choose a custom date,
Option to choose Time,
Option to choose Date-Time,
Option to add a Hidden Input,
Adding Separator.
You can Show or Hide fields using conditional logic based on the value of other fields.
In the premium version, there is scope for conditions to work with different variations if it is Global attribute variations.
You can also offer customized pricing to the customer using different pricing methods, like –
Fixed pricing,
Percentage of the Product price,
Custom formula (mathematical formula),
Per character pricing (applicable only for input fields),
Multiply by value.
The width of fields in the form builder can be resized
There is an option to insert Global forms ( ie, one form inside another form).
The paragraph field scan contains a custom formula.
There is an option to bind the Quantity field of WooCommerce to a custom field.
So these are the features in this power-packed yet super lightweight plugin.
Now, let's take a dive into how we can use this plugin, step-by-step, just how you like it.
Step 1 – Installing the WooCommerce Custom Product Addons
Before we inform you about the way this plugin works, first we need to show you how to install the plugin. Disclaimer:
This portion is not for a pro, but we just want to make sure that even a first-time visitor can use this plugin. With that being said, first, login to your WordPress Admin Dashboard. After logging into the WordPress Admin Dashboard, navigate to the Plugins > Add New.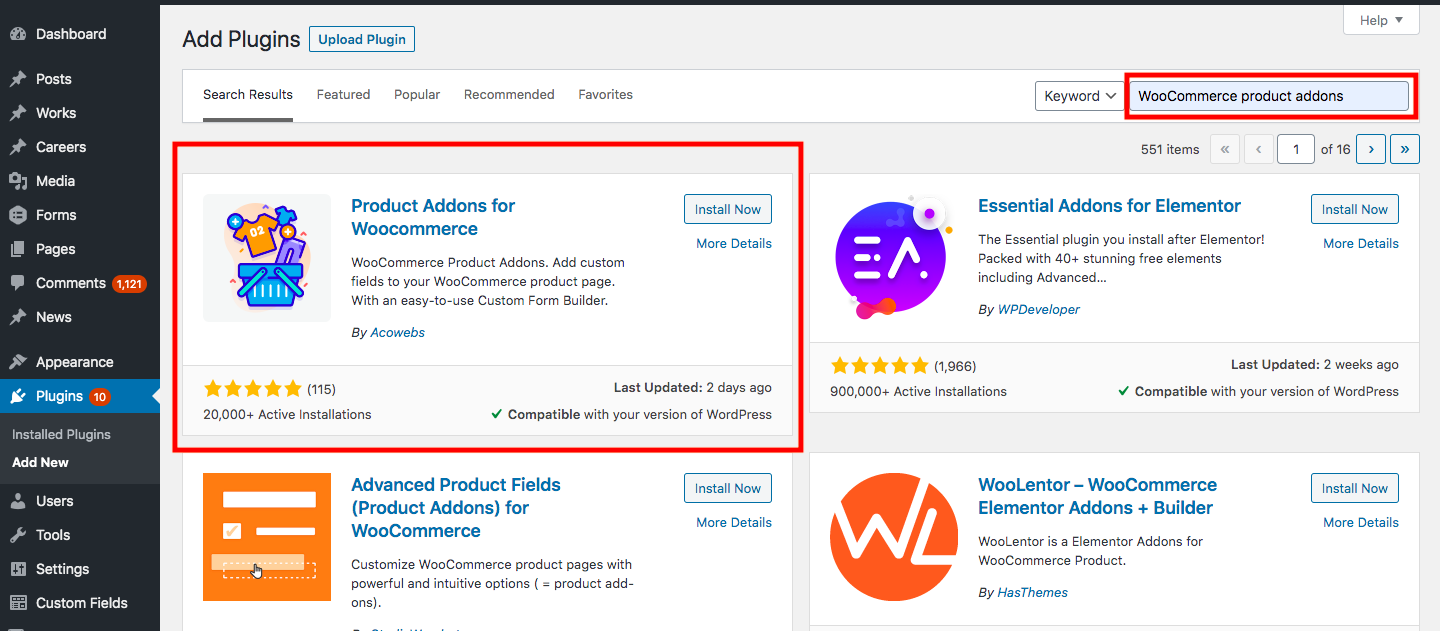 Here you will find a search box on the top right, just like the below image. Search with the keyword "Woocommerce Product Addons". Install the one from Acowebs, and once the installation is done, activate the plugin and we are ready to use it on our site.
Step 2 – Building Your First Form using the WooCommerce Custom Product Addons
To use the plugin to customize your product options, navigate to WP Admin Dashboard > Products > Custom Product Addons.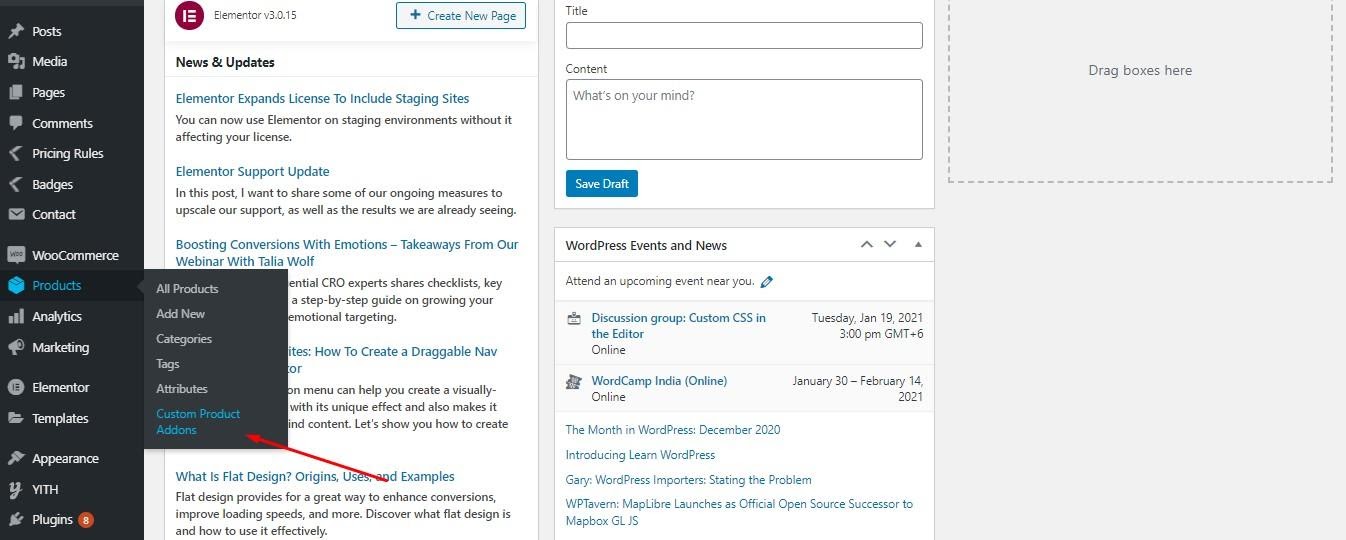 Once you are on the page, you will be asked to "Add New Form". To add the desired options on the product page, you need to click on it and add a new form.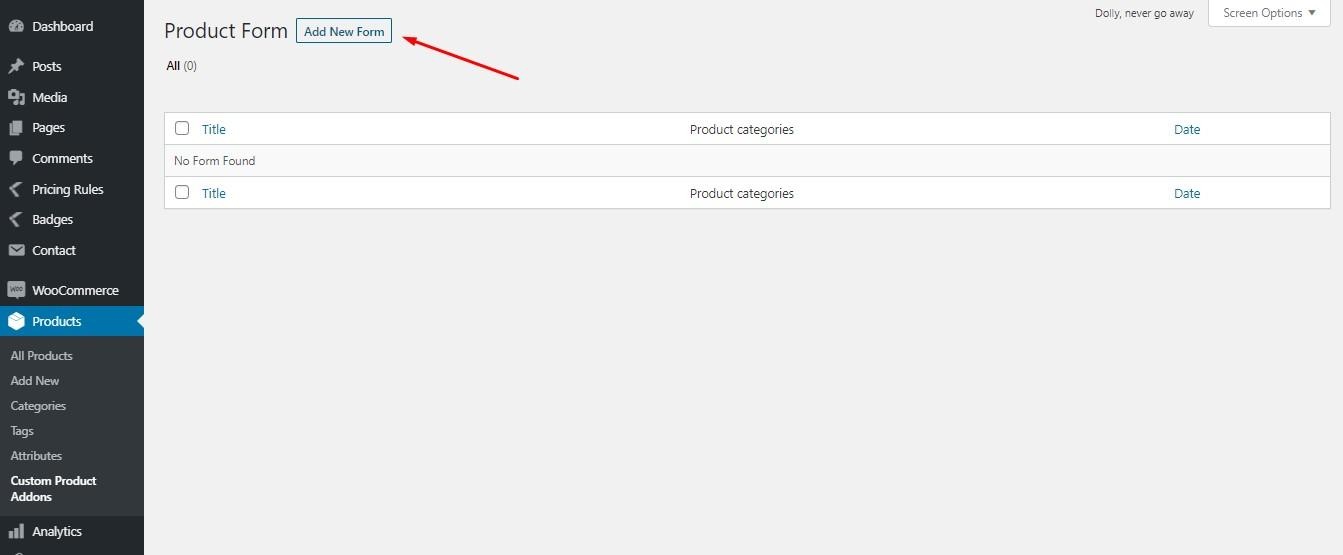 Once you click on the "Add New Form" option, a new page will appear. Now if you use the free version, you will find 9 different elements that you can add to your product page, starting from Text Field, Text Area to Header.
The premium version users will find 9 more elements to upload, which are File Upload, Maps(Google Place selector), Color Group, Image Group, Date(Custom date picker), Time, Date-Time, Hidden Input, and Separator.
Assuming you are using the free version and have an online shop that provides a custom t-shirt printing service. Let's see how you can get the customer details on the product page to print the t-shirt accordingly.
First, drag a Text Field to our form builder and click on the pencil button on its top right. Now you will be able to edit this field according to your necessity.
We are naming the label of our field as "Text to Print" and the Placeholder as the "Text you want on your t-shirt front".
If you have looked closer at the image below, we have also made the field a required one. Let me tell you something else, from the "Product Categories" on the rightmost, you will notice that you can even set this product option for a specific category.
However, if you choose to not alter the category settings,  the newly created form will be visible to all the products on your website.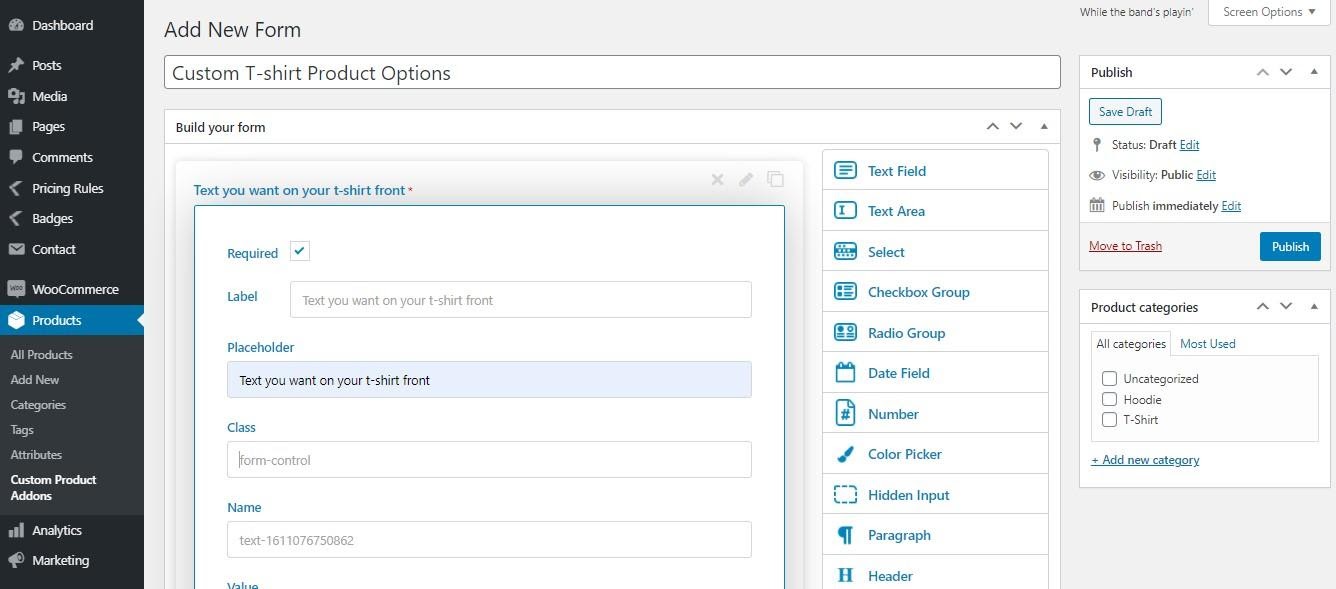 Now without changing anything else. We are closing the menu. But you can change the Value, Type, or even Text Length from this page.
Later we also added the Primary and Secondary colors for the text, so that the customer can choose the colors used to print the text on the t-shirt. The way of adding the colors option is the same way that we have used for the Text Field. So I am not going to repeat the steps again.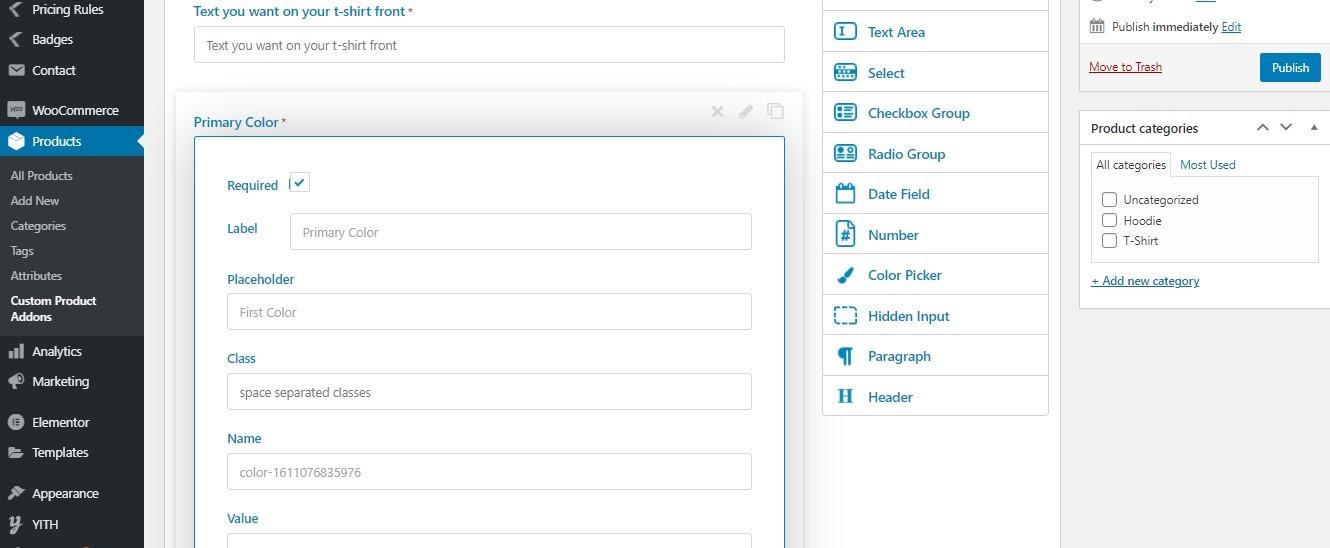 Now let's go over the whole process once again in the below GIF.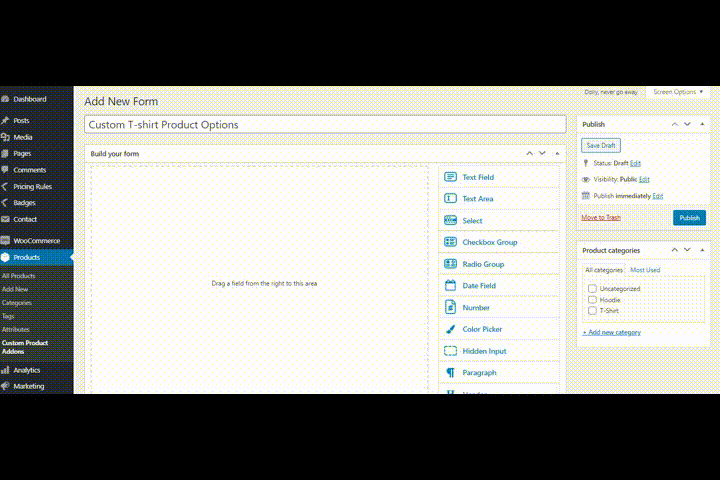 Step 3 – WooCommerce Custom Product Addons in Action
Created your custom product options along with me? Then if you visit any product from now on, you will find that the options that we have added are right on the product page. Here's a look at that.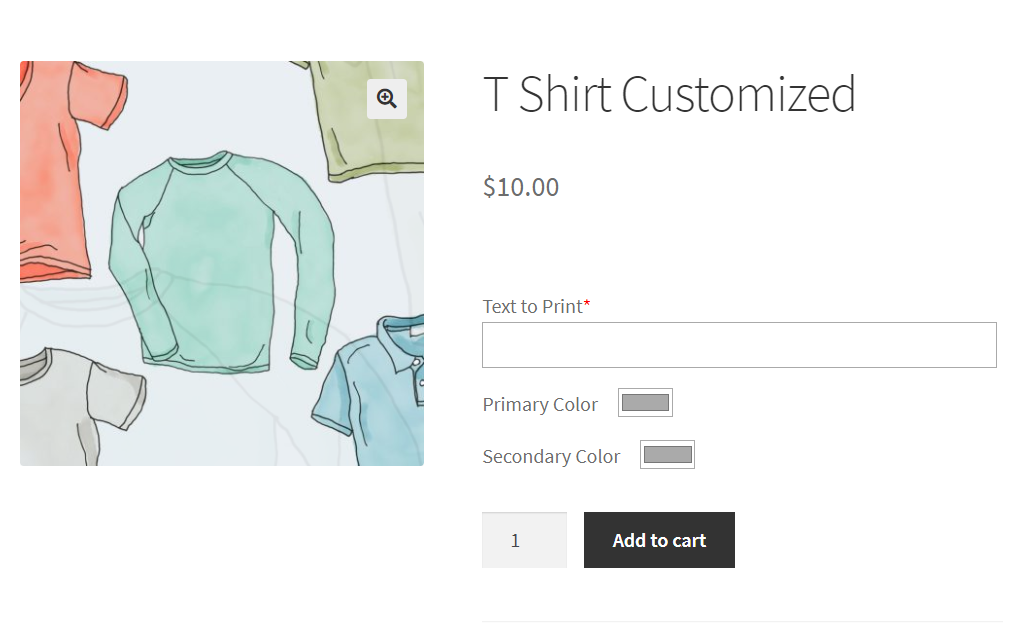 Look how easily we have added the "Text to Print", "Primary Color" and "Secondary Color" on the product page?
Step 4 – Making an Order
So we are done adding the product options on the product page. Now let's try buying a product and see how it looks from our admin page.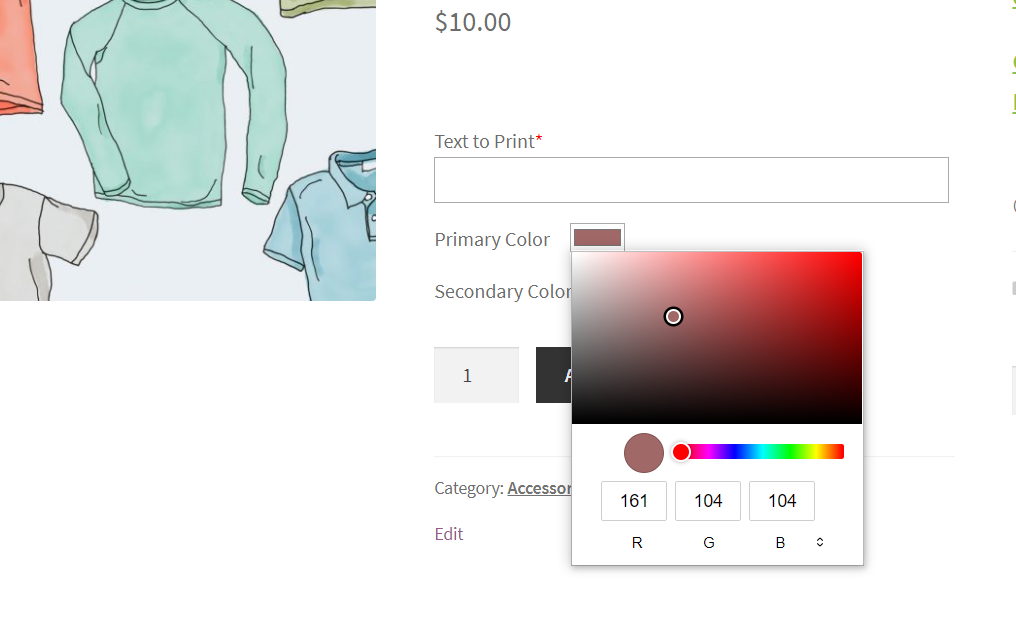 After selecting the text and color, as shown above, we will just make a test purchase.
Now let's get back to our WordPress admin page and see how this turns out. In order to do that, we will navigate to WP Admin Dashboard > WooCommerce > Orders.
As you might have already known, this page shows all the orders of your store. In our case, you can see the order that we have placed is right on the order page.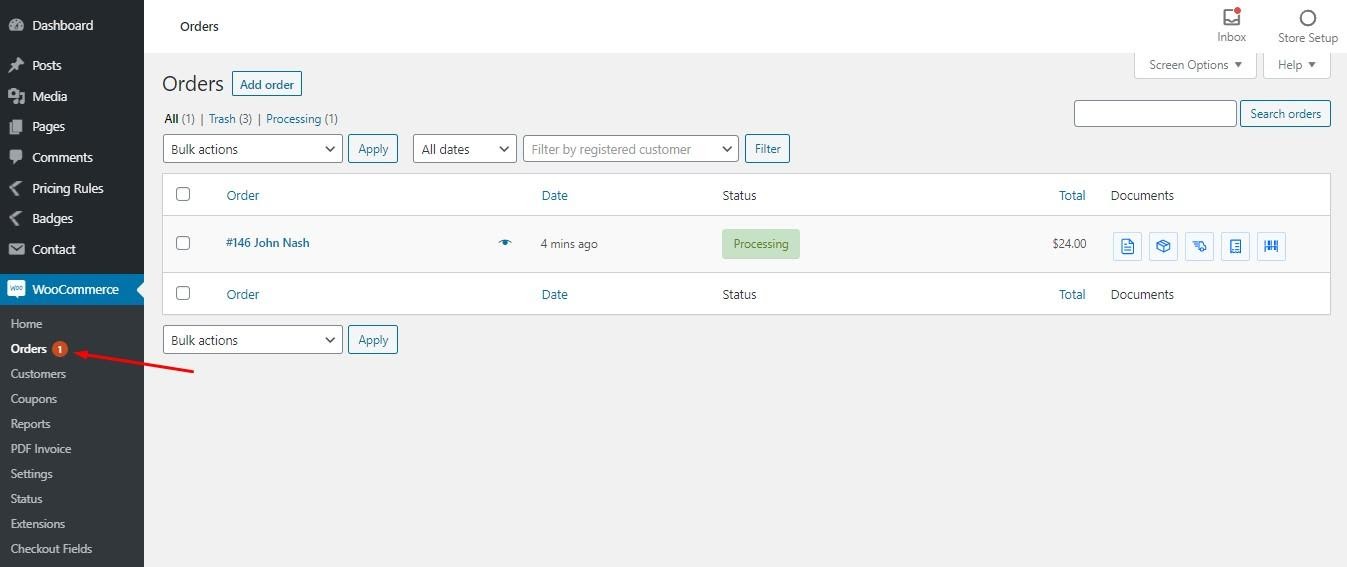 Now if you access the order details by clicking on it, you will find out that inside the order there is the text and colors that the customer inserted from the product page.
If you have the premium version, you can even offer your customer the option to attach an image so that the logo or image becomes much more personalized as much as the looks go.
Now we know how easy it is to add a product option on your WooCommerce product page using the WooCommerce Custom Product Addons plugin.
If you have the premium version, you can add even more elements that can prove to be very useful when it comes to customer experience and personalized products.
The premium version of the plugin is not that costly, with the basic version starting at just $39.
Conclusions
When it comes to running an eCommerce shop, you have to face many adversities and at the same time, it is challenging too. It is true that a low conversion rate is one of the most challenging parts of an eCommerce website.
The main purpose of an online e-Commerce shop is to be profitable. So, if you have a good conversion rate, it is also convenient for business, as you have to spend less on acquiring customers.
Product option customization will undoubtedly increase the conversion rate of your eCommerce shop. WooCommerce Custom Product Addons is a trusted plugin, and its extraordinary features will not disappoint you.
Product option customization increases the customer experience of your website and helps it to compete with the top eCommerce shops. So, what's the delay? When you have a great opportunity to grow your eCommerce shop?
<Button> Get the WooCommerce Custom Product Addons today for free from  WordPress.org <button>
In this article, we have tried to explain how to customize WooCommerce product options and how it helps to increase conversation.
We hope that now you will be able to customize your WooCommerce product page with ease. If you still have any questions about this, please comment below. Our expert team will try to answer your question.
Acowebs are developers of WooCommerce Discount Rules that will help you personalize your stores. It supports the additional option with feature-rich add-ons which are woocommerce product addons, that are lightweight and fast. You can easily update your store with these add-ons and enjoy a hassle-free experience, check out the best options for additional woocommerce custom product options.