Product landing pages are crucial for any eCommerce business because they represent the point where the sale is made and where users gain the strongest value.
Product pages should build the confidence of your website visitors by providing all the information they need to make a purchase decision in a simple and intuitive manner.
To create a great product page, you need the product, brand and page design, copywriting, and a good user experience (UX). Keep in mind not to build an overly simplistic eCommerce product page nor too complicated as to confuse your customers.
The content and design of your product page determine whether or not you will convert your visitors into buyers.
Research by Monetate reveals that product pages comprise a quarter of landing pages on eCommerce sites. Even more, customers who visit a product page view about 3 products versus 1.8 for customers who land elsewhere.
There are many elements to consider and opportunities to create an exceptional customer experience. In this article, you will learn the top 10 eCommerce product page best practices to consider for improved conversion rate and their applications.
Top 10 eCommerce Product Page Best Practices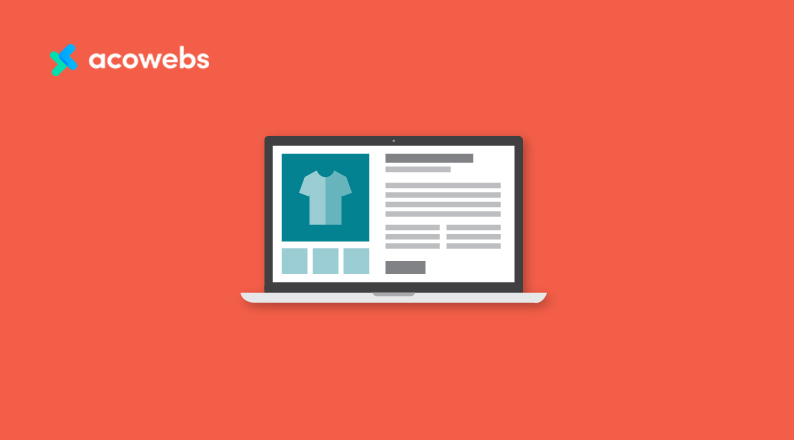 The following are the most elements to incorporate in your product pages to ensure an optimal customer experience:
Searchable, Reader-friendly, and Unique URLs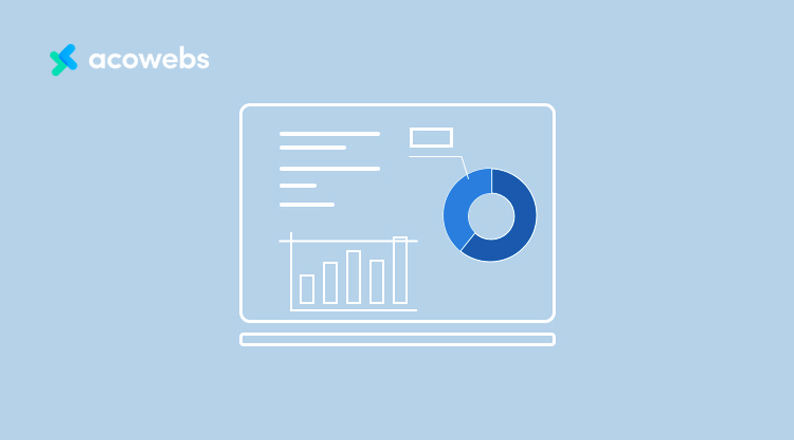 Your URLs should not comprise random letters and numbers, but instead, should have keywords about your product.
You still should not overuse the keywords to avoid creating the impression of a spammer.
Searchable and reader-friendly URLs are easier on customer's eyes, contain concise and clear information about your products, and are ranked well on search engines. Shoppers can see the necessary details about your product and navigate easily on your site, leading to improved conversions.
Below is a sample of a well-crafted URL showing Apple's product page for iPhone 12.

You should use clear and organized URLs to enable your site visitors to understand clearly what page they are on.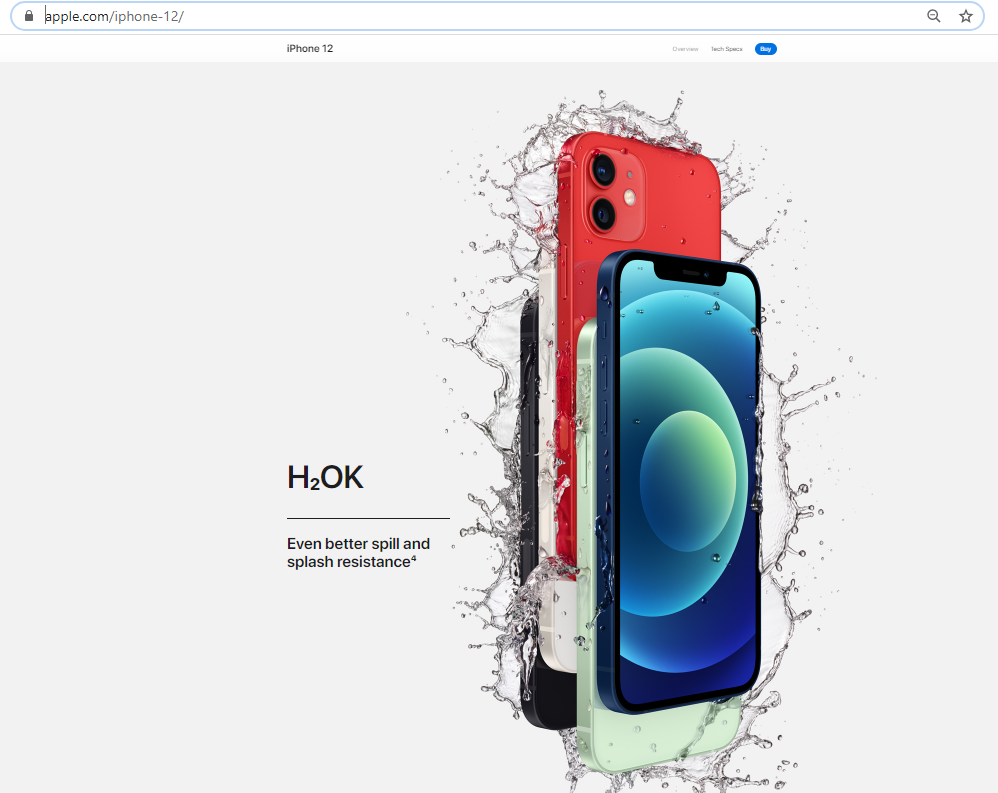 If you're running a complex store, it may be challenging to have a unique URL for every product. Sometimes one product will feature in various categories while others are accessible through multiple URLs.
The recommended practice to remedy the negative effects of such a scenario is to define a canonical (consolidated duplicate) URL for your content, which informs search engines of your preferred URL.
This eCommerce product page best practice will enable your customers to view the URL you want them to see while improving your ability to analyze the performance of specific pages.
ALSO READ: How To Write A Top-Notch PPC Ad Copy for E-commerce Websites
Descriptive Content & Explanatory Product Titles
You should use product titles containing clear and concise details about the item on sale. Catchy, descriptive titles are captivating, compelling customers to click on your products.
Consider keeping your product titles at 55 characters or less to create the best impression. You should also make the content of your titles explanatory, using relatable terms.
For instance, if a given shirt is made of cotton, you should not use "polyester" to describe it because customers will be searching for items with specific keywords.
You can use any keyword analysis tools to source for keywords containing terms that people are using when searching for products online.
You can list down the following details regarding your products in short and straightforward bullet points:
Full dimensions, including weight, height, depth, etc.
Sizing information for products to be worn, including a linked size chart.
Materials used
The product's country of origin
Whether or not assembly or additional parts are included
Any warranties, disclaimers, warnings, or hazards
Some brands can still pull off detailed product descriptions, but you need to test which one works better for your eCommerce store.
You should also not waste time describing obvious things, but instead, tell what cannot be seen, such as a rugged, light, or heavy fabric, wind or waterproof properties, and the details mentioned earlier.
Basically, high-converting product descriptions should tell who the product is for, its use, how it works, what differentiates it from others, and why visitors should purchase it.
Below is an example of how Method Home describes titles for products under the laundry category: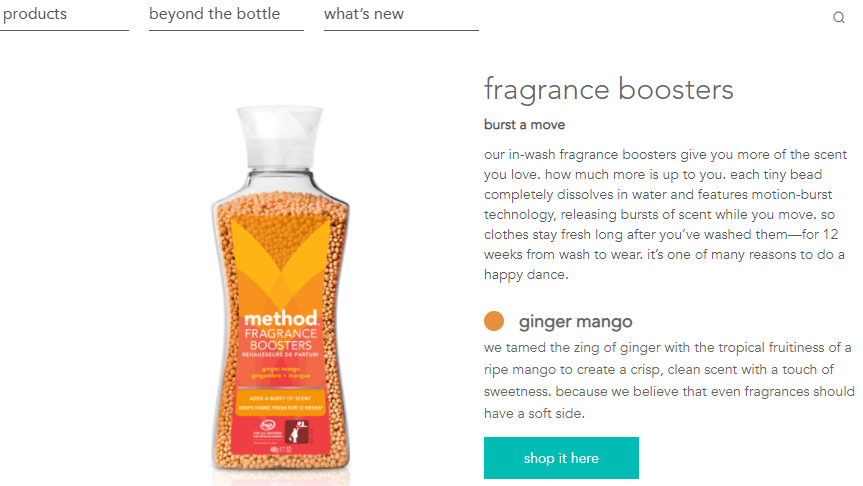 The main takeaway is to keep your product titles short and sweet while ensuring they don't overlap with similar products. You should also avoid stuffing titles with generic keywords.
The extra product details confirm you have a high level of expertise on the given product, compared to the competition, improving customer trust.
Here is an example of a generic versus explanatory product title.

Clear Images
The quality of your product images can persuade or dissuade customers from making purchase decisions.
Keep your images displayed clearly against a white background. You should also include additional photos in different environments and multiple, relevant angles to give your site visitors a better view of product details.
Investing in high quality and relevant images will attract more users, leading to improved conversions. Capturing your own images instead of using generic manufacturer-supplied photos because the images may be shared across many sites, implying a lack of originality and authenticity.
Another eCommerce product page best practice is to demonstrate how the products are used. You can take photos or images of people using or modeling the products.
You still should consider using minimal image sizes to avoid compromising on page load time. Keep the quality and accessibility in balance for improved conversions.
Net-a-Porter product page with multiple angles and a model for its clothes: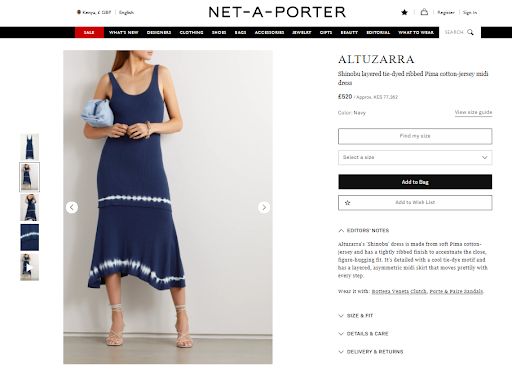 ALSO READ: 12 Tips for eCommerce Product Photography
Links to Helpful Resources
Suppose you are selling products, which require user guides or manuals, such as software, furniture, or electronics. In that case, it is a standard eCommerce product page best practice to provide extensive documentation.
Many of your site visitors will be writing to you for clarification, making it essential to add helpful, essential resources on your product page. This practice will reduce the need for lengthy talks between the seller and the buyers.
For instance, you can include the following items:
Downloadable PDFs containing guides, manuals, and assembly instructions
Links to other useful pages containing FAQs, resources, guides, terms, and conditions, etc.
Tutorials with how-tos, creative tips, or links to blog posts containing more details regarding product use
This approach effectively creates a trustworthy relationship with your customers as they will feel supported in their quest for useful information.
You can use tools like Product Documents extension to add downloadable documents for improved customer experience and conversion. Implementing this strategy will ensure your eCommerce customers do not struggle to look for essential, detailed information about your products.
WooCommerce adopts this approach by adding links to documents and FAQs on its product page: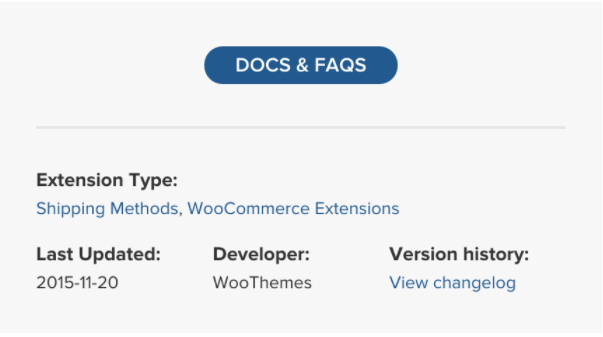 Related Products
Why not link together items that are used together?
Adding matching items to your product page is one of the leading eCommerce best practices because it is equivalent to cross-selling complementary items for increased sales. Many shoppers are likely to check out well-coordinated products if you tell them.
For instance, you can display coordinating goods that work well together, such as phones and earbuds. If you add extras like presenting items that match in color or model, you will likely gain a higher conversion rate.
Recommending related items encourages shoppers to buy more. It also helps with decision-making because the suggested products could bring shoppers closer to what they are looking for.
Amazon implements this strategy very well. For instance, if you're searching for security cameras, you will see categories like "Frequently bought together," "Products related to this item," and "Products related to this item."
When you observe the variety of items presented, you hardly will leave without locating your preferred product.
You can also take it a notch higher by displaying items bought by other customers. That is, "customers that bought a white security camera also bought white security locks." These tactics will enable you to derive more conversions and higher sales and profits.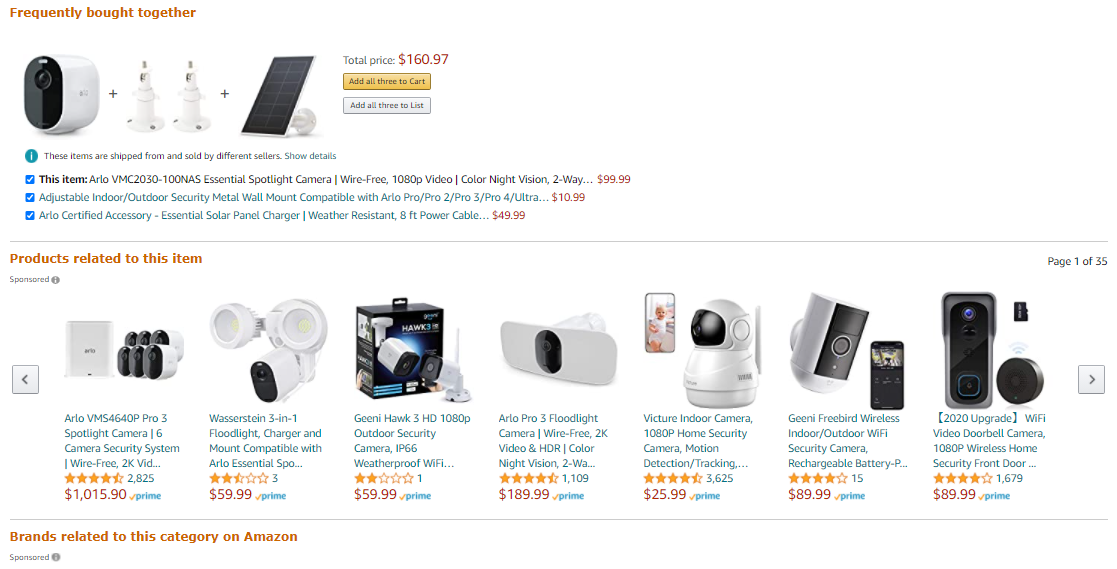 Impressive, Compelling Call-to-Action (CTA)
Having a visible and eye-catching and CTA forms the basics of eCommerce product page best practices.
Studies show that online retailers are losing sales because about 69.57% of shopping carts are abandoned. One of the factors contributing to this trend is a confusing checkout.
Some sites will have customers taking longer than expected looking for a "Buy Now" or "Add to Cart" button. Many people will not hang around if you require them to create an account before completing a purchase.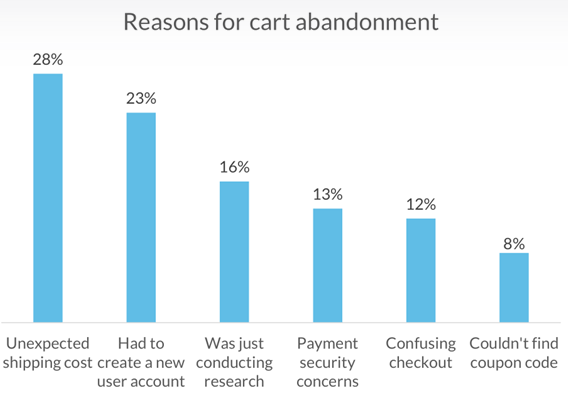 Ensure your CTA buttons are both clear and appealing on your product pages to give your customers a smooth shopping experience and improve sales.
For customers who are not ready to make a purchase, you can add a feature where they can favorite their products or create a wishlist. Ensure you have a mechanism where shoppers can save such items for 30-60 days as it helps improve the impression that you value their interests.
Keep in mind the following elements when designing your CTA buttons:
Make it easy to recognize
Ensure the color contrasts well with the color scheme of the remaining space on the page
Appeal to the target audience using relatable words. For instance, in the US, Amazon uses "Add to Cart," but in the UK, the CTA is framed as "Add to Basket."
If you already have contact information about your customers, you can retarget them using email marketing to convince them to check out the items saved or left in the shopping carts, hence, improved conversions.
Shipping Information and Return Policies
Ensure your customers are well informed of the shipping costs. Many eCommerce sites are embracing free shipping, but ensure to find a way to incorporate the related charges in the product cost instead of sneaking them in the checkout stage.
If your shipping arrangements are not free, you should provide a resource with the applicable charges depending on factors like weight, location, and others. This practice will reduce your eCommerce store's abandonment rate and improve customer retention.
You should also provide a clear return policy to avoid any misunderstandings and unnecessary refunds.
Many customers will opt for free shipping and a flexible return policy, but you need to keep these benefits within your profit margins. Online retailers like Amazon offer free shipping by requiring shoppers to order $25 or more of eligible items to qualify, making the process sustainable.
There are many ways to make your shipping and return policies blend with your profitability strategy. Besides adding the cost to the product price, you can also optimize the packaging depending on product weight.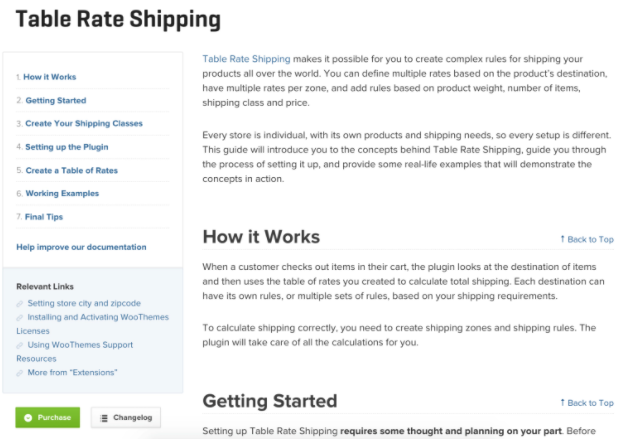 Live Chat support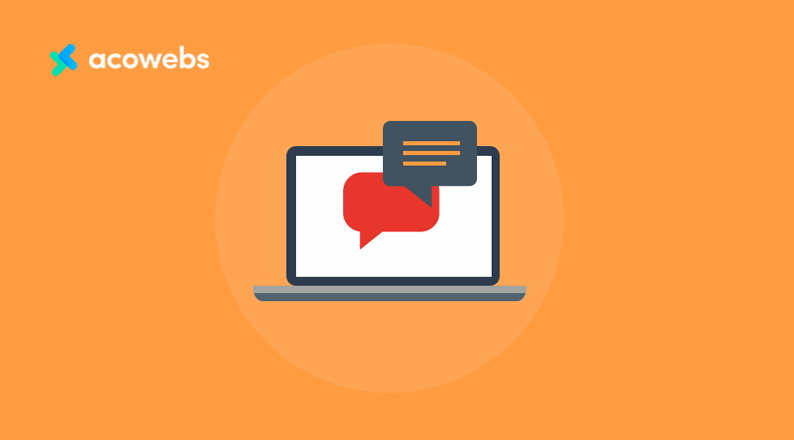 Your eCommerce product page should feature Live Chat support because no matter how much you provide users with product descriptions and links to helpful resources, some just want to chat with a human.
This tactic is also preferred to many online shoppers because it enables them to have instant responses rather than sending an email or navigating through multiple resource links and user guides. You can also integrate the tool with chatbots to handle frequently asked questions (FAQs).
This feature will improve the customer experience and sales. Indeed, in a study by Forrester, 44% of participants reported that getting answers from a live person when shopping online is one of the leading features a website should have.
This tool is a key eCommerce product page best practice because it will help boost your sales and lead to increased customer retention and brand reputation, setting your business apart from the competition.
Some of the leading Live Chat Platform providers include BoldChat, ClickDesk, and Comm100.
Petplan uses Live Chat to onboard customers: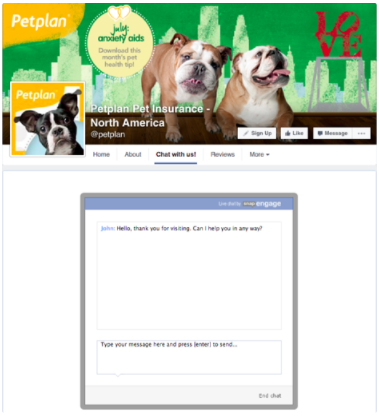 Trust badges and reviews
With the rise in online card fraud, eCommerce sites are now required to take more measures to build credibility and customer trust. You can do this simply by adding a message of guarantee with your brand or products' social media mentions or displaying trust seals and safety logos.

Customers rely on reviews to tell if a product is worth checking out. Statistics show that 91% of customers will likely buy a product with positive reviews, while negative ratings will put another 82% off.
Another study by PowerReviews indicates that close to 94% of customers check reviews before buying a product or service.
Given the importance of ratings and reviews in consumer buying decisions, you will surely gain more sales and conversions if your eCommerce product page features testimonials from previous users.
How you display reviews on your website will depend on its layout and the solutions being offered. For instance, Amazon displays reviews per product, while other sites will feature a testimonials section on the main products page.
Squarespace features customer stories and interviews for improved engagement, relationship building, trust, and conversions: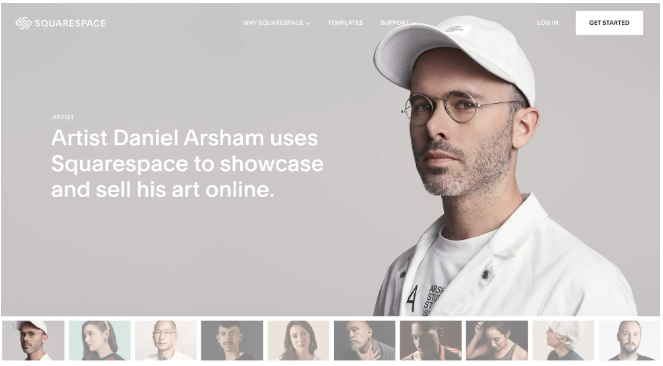 Social media buttons
Businesses are increasingly using social media platforms, such as Twitter, Facebook, and Instagram, to improve content sharing, customer engagement, and sales.
These tools enable you to content with customers, improve brand awareness, and increase conversions.
There are more than 4 billion people using social media across the globe, out of which 2.7 billion are the number of Facebook Users Worldwide and this figure is set to increase as more businesses move their stores online.
As an eCommerce owner, you need to embrace the power of social media by allowing your site visitors to share details about your product or service with their friends and family.
Ensure to add social media buttons on your product pages to enable your happy customers to become your brand ambassadors.
This tactic provides online retailers with free publicity because people are more inclined to trust recommendations from friends than advertisements.
You should also have a social media account where you can run adverts and group initiatives, follow other brands, and share your new product listings with a loyal group of customers.
Social shares will enable you to tap into a new clientele, boosting your product sales.
ALSO READ: Top 8 Social Media Strategies That Every E-commerce Store Needs To Implement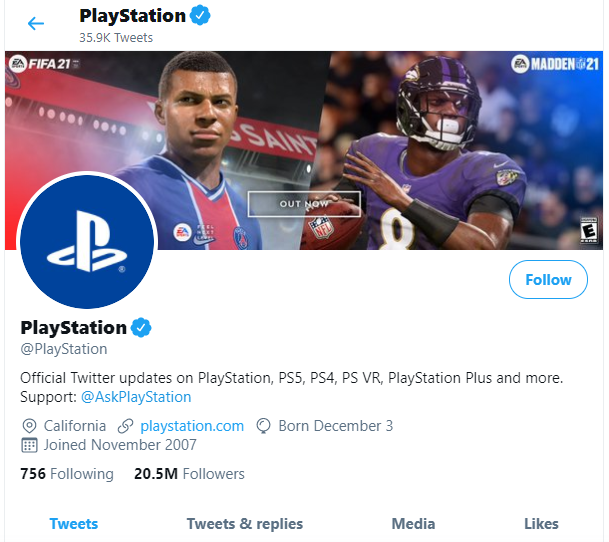 According to UnMetric, PlayStation gained a 373% growth in Twitter followers between 2014 and 2019 by consistently posting content about its products and running programs like the #PlayAtHome initiative.
With more than 20 million followers as of December 2020, this brand has the most members on Twitter.
Conclusion
Product pages provide all the essential details about your product offerings. They help build customer knowledge and confidence in buying your product or service, hence, driving sales and conversions.
Some of the eCommerce product page best practices include using searchable and reader-friendly URLs, descriptive content and explanatory product titles, clear images, and links to helpful resources.
You should also feature related products, compelling CTAs, shipping information and return policies, and trust badges and customer reviews. Other add-ons to consider are LiveChat support and social media buttons for improved customer engagement and conversions.
By implementing the proposed strategies, you stand to see a remarkable increase in your product sales, customer retention, and business growth.
Acowebs are developers of WooCommerce plugins that will help you personalize your stores. It supports the additional option with feature-rich add-ons which are Woocommerce product addons, that are lightweight and fast. The premium version of this plugin named Woocommerce product extra options can be purchased from this website. Update your store with these add-ons and enjoy a hassle-free experience.