eCommerce trust signals help promote people's trust in your brand, encouraging customers to interact with your site and complete purchases.
Given the limited level of engagement that brands and customers can have online, it is difficult to achieve an optimal level of trust.
Indeed, there are loads of misleading images, videos, and other content online, which could harm customers, including phishing emails, scams on social media, and even fraudulent payment platforms.
In the process, customers are exposed to credit card data fraud, identity theft, and other dishonest practices that cost them billions of dollars yearly.
For instance, according to the 2019 FBI Internet Crime Report, the agency received hundreds of thousands of reports on fraud-related losses amounting to $3.5 billion.
Given the insecurities surrounding online shopping, it has become paramount for eCommerce retailers to employ ways to build brand recognition and customer trust. The reverse is the risk of a high bounce rate and loss of shoppers to more established and trusted brands.
You also need to reap the benefits of your marketing efforts by implementing a strategy that promotes customer trust, leading to improved conversions.
In this article, you will learn the importance of building customer trust and 10 eCommerce trust signals to build customer confidence, as well as increase conversions on your site.
The importance of customer trust in eCommerce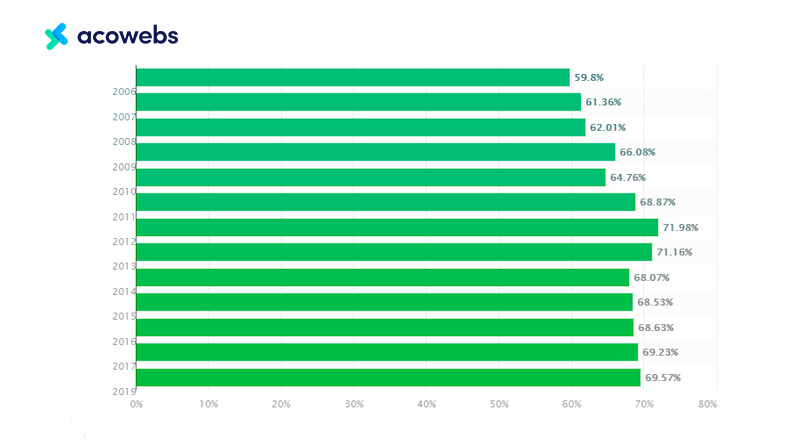 Unlike brick and mortar stores where customers can see the person selling the items and even the products on sale, eCommerce stores do not have a physical presence.
It is difficult to trust the promises made on an online store until you have actually bought and used the items.
Trust helps build customer relationships as it improves their confidence in how you interact with them, deliver their orders, promote your products and services, and protect their data.
The more customers trust your brand, the better the online conversions and vice versa.
Trust signals also serve as validation that your business is legitimate, authentic, and credible. Elements like customer testimonials, trust badges, ratings, and certificates are essential symbols of authenticity for your site.
Such trust signals also imply that your website is SEO-friendly, making it possible to rank better on Google and other search engines.
Websites with a consistent content-delivery strategy and those that display logos of well-established brands imply that they can deliver high-quality services and exceptional customer experience.
They appeal to customers because such signals are indications that the business is a thought leader in the industry.
When it comes to customer retention, building on eCommerce trust signals gives your business an upper hand. According to a report by Statista, about 70% of online shopping carts are abandoned annually, implying the high number of incomplete online purchases.
The main factor causing the high abandonment rate is the lack of customer trust in business legitimacy, the ability of the business to fulfill orders, and issues about credit card data security.
The more customers abandon their shopping carts, the lower the conversion rates, which trickle down to lost revenues, and wasted marketing efforts and ad budgets.
The loss of customer trust, reputational damage, and poor reviews should also give you a good reason to build customer confidence by investing in eCommerce trust signals.
Now that you understand why customer trust is such an important aspect, let's dive into the eCommerce trust signals to increase conversions on your site.
ALSO READ: Pros & cons of using shopify for ecommerce stores
10 eCommerce Trust Signals to Build Customer Confidence (+ Increase Conversions on Your Site!)
Customers will find your eCommerce site more trustworthy if you present trust signals that prove that your business is secure, reliable, and legit.
The following eCommerce signals will help boost customer confidence and loyalty in your brand, leading to increased conversions:
Professional web design
Customers will find your eCommerce website trustworthy if it is well-designed. Some of the aspects to consider when building a site for your online store is the loading speed, because pages that load fast make it easy for customers to purchase products without hindrances.
Indeed, shoppers expect your mobile web page to load within 3 seconds, failure to which 53% of them will end up abandoning the site. Site optimization can help improve the loading speed and customer confidence.
Professionally crafted and presented web pages and product information will also appeal more to your customers, increasing conversions on your site.
Ensure to also have your website easy to navigate to establish the desired credibility. The goal should be to improve the site experience for your customers, as well as the customer's purchase decision.
You should invest in highly responsive web pages both for desktop and mobile phones, and high-resolution images. Unclear and grainy images and poorly responsive web pages will cause your customers to doubt the professionalism of your business.
On the contrary, high-resolution images and page display that loads fast on all devices will give your site a more polished appearance, boosting customer confidence and improving your sales conversions.
Sonos, a producer of wireless sound systems, has invested in captivating, smart, and intuitive product pages, enabling site visitors to view products and their use with ease.
The Call To Action buttons (CTAs) are strategically placed, the large imagery is product-focused, and the product categories are displayed in a clean layout.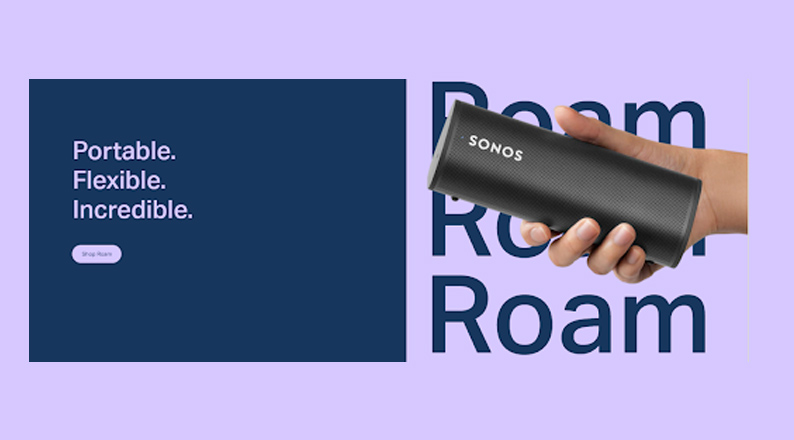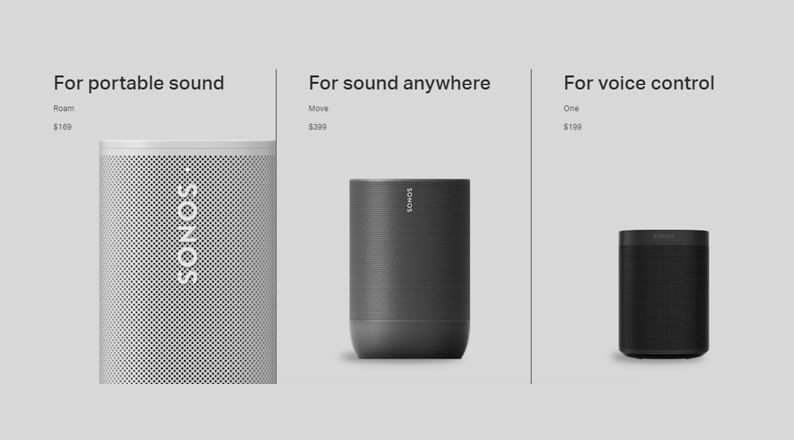 An eCommerce portal with high loading speeds, and high quality product images and page display will definitely build customer confidence and improve on your site conversions.
ALSO READ: Common ecommerce copywriting mistakes and how to avoid them
Display product info and reviews
Today's online shoppers want more helpful information from your website than a display of lengthy product descriptions.
In addition to the features and benefits of your product or service offerings, ensure to provide educational manuals or tutorials, which can help potential buyers understand how to use your products.
For instance, you can create training videos for customizable and technical items like software. This practice will enable your customers to understand how your products work and how you can customize the offering to suit their needs or solve their problems.
Canva does this best through a Tutorials section, whereby users can watch short and dynamic videos on how to use the company's products. Customers can also use the user guides to learn design, branding, and presentation skills.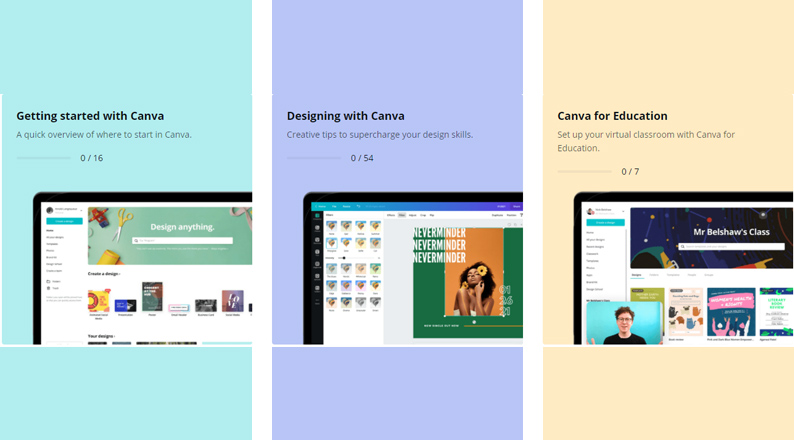 Product reviews submitted by your customers also act as eCommerce trust signals because they allow shoppers to discuss their experience with using your product.
Product testimonials also help prove that you value your customers' opinion and build confidence among prospective buyers.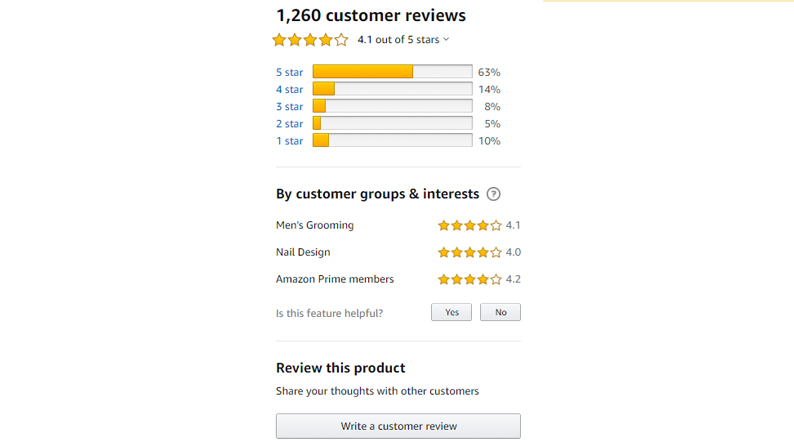 You can display customer reviews on the homepage, reviews page, product category pages, or product pages.
The reviews show new customers that your business has a good reputation, leading to an increase in conversions on your site.
Display customer testimonials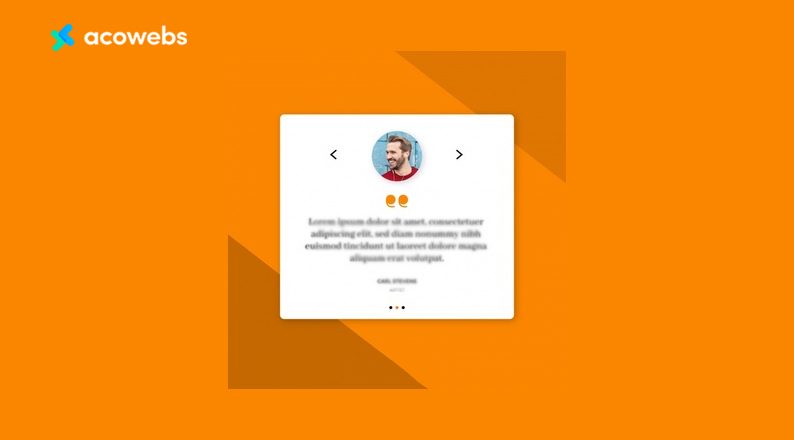 Customer testimonials can also be used as trust signals as they imply that shoppers are satisfied with your products and services.
Indeed, testimonials, especially in the form of videos, are more believable than generic reviews. You can display such on your landing pages or homepage, providing a detailed account of how your existing customers are benefiting from using your products or services.
Testimonials stir certain responses and reactions from prospective customers because they originate from real people and real experiences with your brand. You can add the name of the customer and their photo, company name, and job title to make the testimonials appear legit.
This practice builds customer confidence and increases conversions on your site because customers unfamiliar with your business can learn from real product users, who help move shoppers further up the marketing funnel.
ALSO READ: The future of voice assistants in the ecommerce and other industries
Share your social media profile
Sharing your social media links on your website, product pages, or blog pages helps increase your credibility because when customers see the number of followers on your social accounts, they are convinced that other people trust your brand.
Conversations and interactions between your business and social media users also give prospective customers an idea of the kind of attitude your followers have towards the brand.
Remember to integrate your social media profiles into the header, footer, or sidebars of your website, while matching the icons with the theme of your site. You should also ensure that the social media accounts linked to your website are both active and up to date.
Toyota keeps the social media icons on the bottom-right corner of the website, making them both visible and engaging.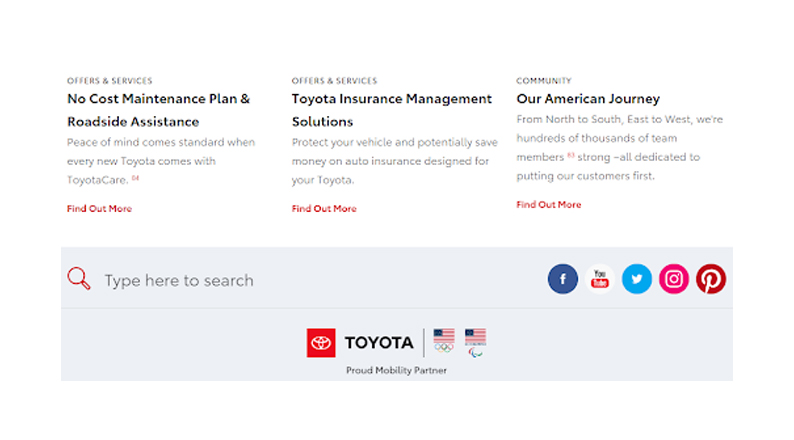 To boost customer confidence, you can also show your personal LinkedIn or Twitter account accompanied by your picture, creating more personal connections with prospective customers while linking you up with like-minded professionals.
The more active and positive your social interactions and relationships with followers, the better the consumer trust and conversions on your site.
Display your contact details
Customers will get frustrated and leave your website if they cannot locate ways to reach you for questions or clarification.
Missing contact information on the website can also imply that you are not to be trusted. Indeed, a report by TrustedSite shows that one of the main signs of a fraudulent business is the lack of contact details.
Ensure to display your business contact information in the website header, making it easy for shoppers to locate it with ease. You can show your company's office line, email address, and chat platform on a separate contact page.   
YETI's 'Contact Us' page contains an appealing background photo, while the middle section has a 'Send Us an Email' button. The bottom of the page contains the company's toll-free phone number and operating hours for the customer service, corporate, and sales teams.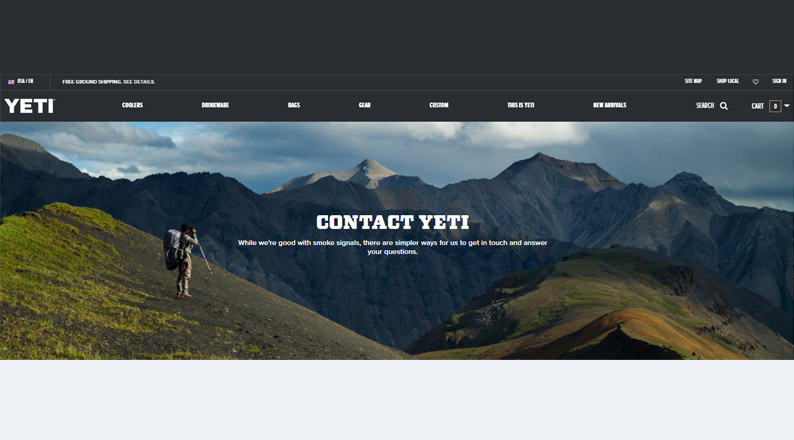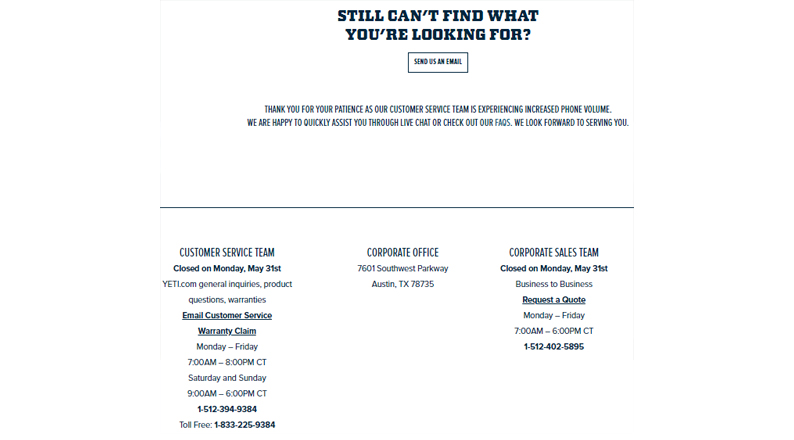 Displaying information about the physical address of your business is also an eCommerce trust signal to build customer confidence by simply informing shoppers where they can physically find your company.
ALSO READ: 10 ways to optimize your back in stock marketing for your ecommerce store
Display trust badges and seals of approval
Trust badges are also known as trustmarks or trust seals, and they imply that an eCommerce site is evaluated or verified by a credible third party.
For instance, you can have your website verified to prove that it is an accredited or legitimate business, does not contain malware or viruses, uses encryption to collect and store data, or that it does not spam followers.
The trust badges are displayed upon meeting certain requirements set by the provider. The more original your badges appear, the more they will help build customer confidence and increase conversions on your site because customers will see that you did not pay for the right to hold them.
Remember to use a trust badge provider that can create seals that blend with your customers' expectations and display them in strategic places, such as the checkout and shopping cart pages, making it easy for shoppers to see them.
eBay, an eCommerce outlet, uses two trust badges on its product pages, boosting customer confidence.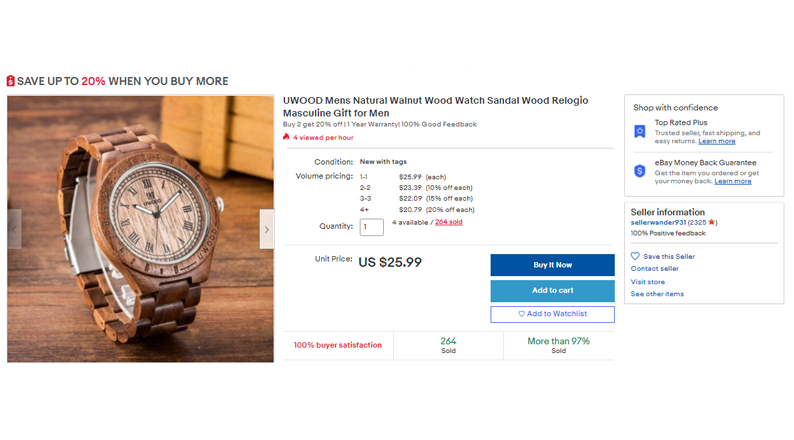 Security seals, such as anti-virus secure badges, are effective eCommerce trust signals that build customer trust as shoppers search your website and make purchase decisions.
Provide returns, shipping, and privacy policies
Customers may not always get the product they ordered online, especially because they cannot inspect the goods physically before buying.
To caution shoppers against the fear that your products or services will not meet their expectations, provide them with a fair return policy.
You should provide the terms of the return policy on your shipping policy page, FAQs, or even the checkout platform, making it easy for shoppers to find the necessary information they can use in the decision-making process.
For instance, you can provide a short statement on your product pages indicating that you offer 'Free Shipping & Returns', then add an icon where customers can click to see more details regarding the policy.
At the same time, you should provide lenient shipping policies that will encourage shoppers to buy more, such as free shipping, while assuring them that their data and information will be kept secure.
Add an SSL certificate
Secure Sockets Layer (SSL) certificates imply that the website you are visiting is secure. It is a global standard mark of website security that ensures encryption between the server and the browser.
Installing an SSL certificate on your website informs customers that their sensitive data is retrieved and stored securely without being intercepted by hackers.
Indeed, beginning 2018, any site that does not use an SSL certificate is deemed insecure by Google Chrome. To build customer confidence and increase conversions on your site, ensure that your site displays a secure lock symbol and the HTTPS encryption (not HTTP) on all browsers.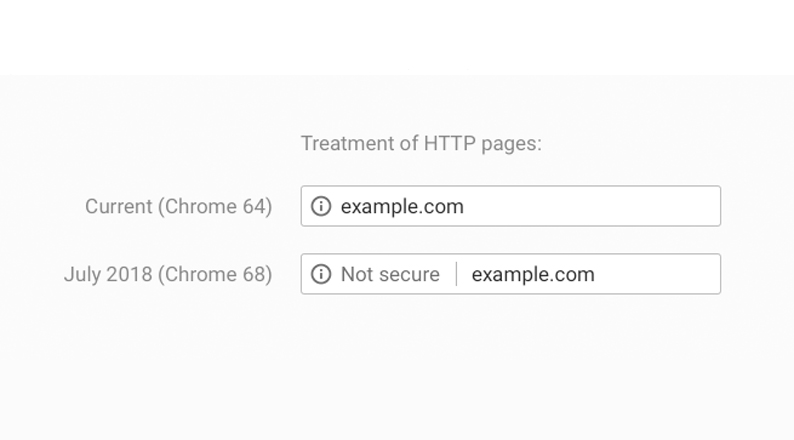 You can buy SSL certificates with an expiration date from sites like Let's Encrypt. You should renew the certificate before expiry to ensure your site is not marked insecure when customers visit it.
ALSO READ: Best WooCommerce Plugins to Increase Your Sales in 2021
Provide a clear About Us page
eCommerce owners use the About Us page to tell customers who they are, their values, and what shoppers should expect to gain from visiting the site.
You can provide information about your company's history, employees, culture, supply chain, and community initiatives that give your organization a strong foundation with a human touch.
Customers who visit your site will see for how long you have been in operation, how you conduct business, and how you interact with the community, further building their confidence in your brand.
Walmart's About Us page features the company's history, data on the number of customer visits and club membership, number of employees, and values. The page also contains relevant images that show that the business is a social entity.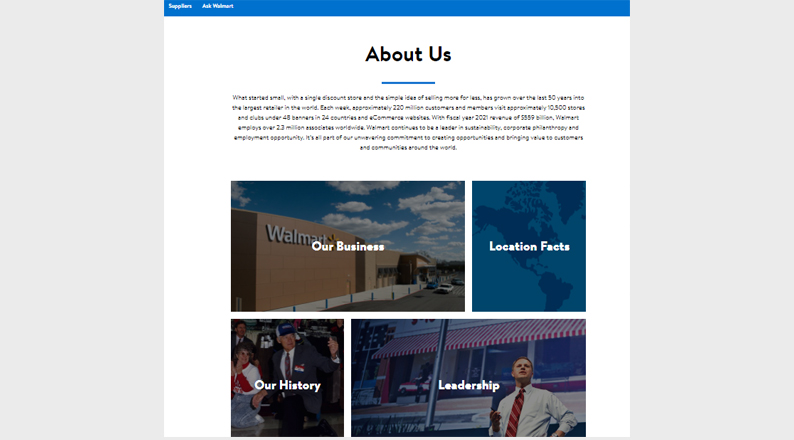 Your About Us page should still be linked to your homepage and product pages to avoid losing customers during navigation.
You can also add attractive images or videos showing your company history or social initiatives. This practice will help improve your site's authenticity, and customers will perceive that your company is trustworthy.
Share your blog posts
Another important eCommerce trust signal to build customer confidence is the use of content marketing tools to share useful information that addresses customers' problems or needs.
You can run a page for blog posts within your website to demonstrate that you are a subject matter expert whom customers can trust for valuable instructions and insights.
Content writing will also improve your site's ranking on search engines like Google, because you can insert relevant keywords describing the products or services that you offer.
Remember to keep the content educational as opposed to sales pitches to avoid your site being marked as self-serving and untrustworthy.
Keep your blog posts updated frequently to show customers that you are up to date with issues affecting their decision-making capabilities.
ALSO READ: Tips to use content marketing for eCommerce sales
Conclusion
eCommerce trust signals help promote people's trust in your brand, encouraging customers to interact with your site and complete their purchases.
Trust markers help build customer confidence as they serve as validation that your business is authentic, legit, and reliable. Sites that are deemed trustworthy attract more customers and have lower cart abandonment rates, high conversions and referrals, and good reviews and reputation.
To build customer confidence and increase conversions on your site, ensure to design a professional website, display useful product info and reviews, show customer testimonials, share your social media links, and display your contact details and trust badges.
Your site should also have flexible product returns and shipping policies, an SSL certificate while providing valuable information in the About Us page and blog posts.
Acowebs are developers of WooCommerce plugins that will help you personalize your stores. It supports the additional option with feature-rich add-ons which is WooCommerce Product Addons, that are lightweight and fast. Update your store with these add-ons and enjoy a hassle-free experience.