The multiple uses of hashtags for eCommerce businesses, make them very effective for eCommerce businesses seeking to reach more customers, communicate hilarious content and irony, and organize brand messages.
However, the use of hashtags requires skill and experience because failure to understand when, how often, and whom to target with your hashtags can cause confusion in your digital marketing strategy.
Worse still, you could end up using hashtags in the wrong context. The better you understand when and when not to use hashtags, the higher your customer engagement and social media reach will be.
Whichever social media platforms your eCommerce business is using, you no longer have to worry about getting your hashtags wrong.
In this article, you will learn tips to effectively use hashtags and the do's and don'ts.
What are hashtags?
Hashtags are phrases or words written after a pound symbol, such as #FollowFriday.
Ecommerce businesses use hashtags to indicate to algorithms and users that a given content is associated with a specific content category or topic. Hashtags help organize social media posts, shares, and interactions into themes and topics either created by users (through the invention of new hashtags) or contributed through existing hashtags.
The use of hashtags is an easy and effective way of making your content discoverable on social engine sites and social media, thus boosting customer reach and engagement.
For instance, if your brand used #sportsgear on Instagram, TikTok, or another social media platform, users who share content or photos by tagging their posts with the said hashtag would enable more fans to easily access the content without having to know or follow the people who shared the content.
But why should you use hashtags?
The benefits of hashtags for eCommerce business
The adoption of hashtags by eCommerce businesses is now widespread due to a number of reasons:
To highlight products and services with specific hashtags, making them more visible to users. This leads to increased engagement, improving your brand's number of likes, shares, comments, and followers.
Branded hashtags help build brand awareness by driving conversations, be it jokes, memes, and other forms of interactions.
To mobilize support for social issues, which shows your brand's alignment with social responsibility. For instance, CommunityFirstYorks and other institutions that advocate for social good use #volunteer and other hashtags to create buzz around the cause and gain support and following.
To contextualize social media posts. Social media platforms have limited spaces to write captions, hence, using hashtags helps you pass across valuable information effectively.
To guide and display sponsored content. According to the advertising disclosure guidelines issued by the Federal Trade Commissions, influencers may disclose to their audience that a given piece of content is sponsored, thus you will find brands and influencers using hashtags for this purpose.
How to Effectively use Hashtags for Your eCommerce Business: The Dos and Don'ts
Now that you have an idea of how hashtags help your marketing strategy, what should you do or not do to ensure you are using them effectively?
The Dos:
Use hashtags appropriately to promote your content and offerings
Use hashtags selectively to make your content and products visible and discoverable to your audience.
Identify relevant hashtags, at least 2-4, and use them to launch an effective social media campaign. You can also use the tags to promote your products and services in your social media posts, website, emails, etc.
Remember to avoid the temptation of cluttering your posts with too many tags as doing so may be counterproductive; your viewers and followers will perceive your brand as spammy.
But where can you find relevant hashtags for eCommerce business?
Start by following what influencers in your niche are using to promote brands. YouTube users, bloggers, and celebrities can be the trusted people with a huge following, meaning that the hashtags they use help capture the attention of their audience.
A tool like Buzzsumo will enable you to identify leading hashtags writers, bloggers, and publications are using regularly to promote their content and products.
Other research tools for identifying effective hashtags include:
RiteTag – get instant hashtag ideas to ensure real-time engagement.
Hashtagify.me – informs you of the trends and popularity of hashtags.
Keyword research – use the search bar on your social media pages like Twitter to identify relevant tags for your content marketing.
For leading hashtags related to your target demographic or location, use resources like the Search and Explore function available on Instagram's Help Center page.
Here are a few useful tips on how to use hashtags on the leading social media networks:
1. Twitter
Given the limited space for your Twitter feeds (maximum 280 characters) you should keep your hashtags short and precise.
Highlight your keywords by integrating hashtags at the beginning, in the middle, or even at the end of your Tweets.
You can also add tags to your replies, retweets, and Twitter bio. Use 1-2 tags on your Twitter feeds.
If you find that your content is comprehensive, leaving no space for hashtags, give priority to the content provided that it is quality and relevant. You don't have to forgo quality content for hashtags.
Audi's #WantAnR8 is one of the most successful Twitter hashtags. The campaign required the audience to use the tag to express why they want an R8. As a result, the brand garnered a lot of followers and improved shares and engagement, especially because the best tweet was set to win an Audi R8 for a day.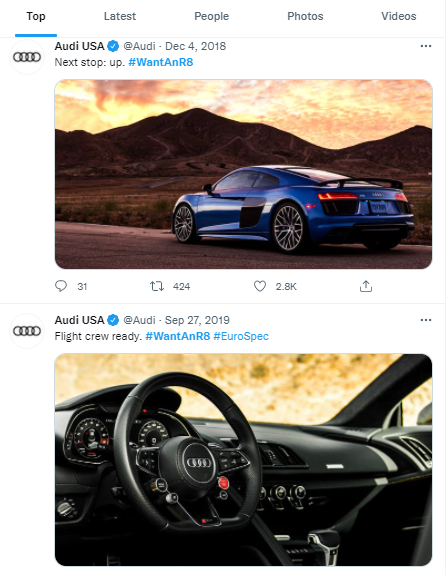 2. Facebook
Facebook hashtags mainly help you categorize or group people's conversations.
You can add hashtags to your Facebook posts, comments, and conversations in private groups. You can then use the tags to group or search for content according to themes or topics.
Facebook's search bar is useful in displaying trending hashtags. You can also find relevant tags using the search bar in private Facebook groups.
While profiles of many Facebook users are private, you can still monitor how your audience is interacting with your hashtags by monitoring the public profiles joining the thread. Do so using the URL, facebook.com/hashtag/…, followed by the keyword you wish to search.
Always keep your Facebook hashtags relevant, thoughtful, and concise.
A simple tag like #MotivationMondays will surely enhance your brand reach and engagement as it does not distract the audience, and it enables you to appear in the search results. It is also easy to remember.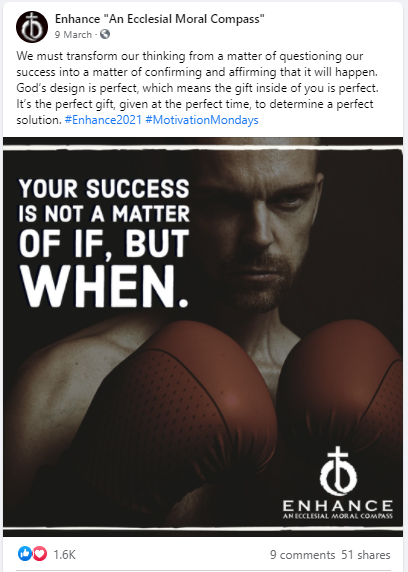 3. Instagram
Instagram gives you the flexibility to add up to 30 tags per post. It is recommended to stick to 1-3 to avoid appearing spam.
Always prioritize quality over quantity, meaning that you should post relevant, engaging content while using tags as accompaniments.
You should also take advantage of the search tool on your Instagram page to identify relevant keywords related to your tags. This is an easy and effective way of discovering popular and high-volume hashtags to promote your products and services.
The Instagram Explore section also comes with a Tags tab which you can use to search for relevant tags.
Add hashtags after your Instagram captions, in the comments section, and profile bio. You should also consider following other creators' tagged content to improve the visibility of your promotions and conversations.
Coffeehomebrewers is a brand that uses Instagram hashtags to promote its products to a loyal clientele.
You can also use Sprout's Compose feature to schedule hashtags on your first Instagram comment, post, and caption.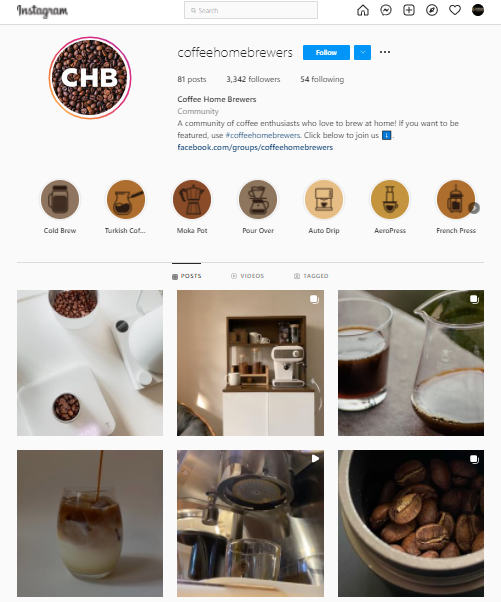 4. YouTube
YouTube for eCommerce has turned out to be an inevitable medium for Marketing. YouTube hashtags are found on the video title or description. Once a viewer clicks on your brand's hyperlinked tag, they can view other videos that share the same hashtag.
Avoid crowding your content with too many hashtags. Instead, focus on 2-3 to avoid being flagged for spammy activity.
2. Engage and interact with your target audience
Hashtags are a great way for brands to connect and engage with their followers, either through conversations or visibility of products and services.
You can also use them to run promotions for your eCommerce business, such as through user-generated content (UGC). Rewarding campaign participants is a common and effective product promotion tactic that brands use to encourage interaction with followers around a given hashtag.
The more your hashtag attracts more likes, shares, new followers, and comments, the more your brand gains popularity, leading to increased conversions.
Search through public posts to identify hashtags being used within your niche, especially those with a high level of engagement in terms of likes and comments. Provided that these tags are not branded, you can always integrate them in your content for improved interaction.
You can use tools to track and monitor popular hashtags on the social networks you use. Monitoring them to stay up to date on what's new is a wise option, as is using them to have your postings featured in the most interesting trending topics.
Various platforms can help you with this, including Hashtracking, Top Hashtags, and Postcron.
3. Keep track of the competition
Keep track of what others are saying about your competitors. Hashtags aren't simply for promoting your own eCommerce business.
Remember that the purpose of hashtags for eCommerce businesses is to make it easier to search for a specific topic by aggregating similar posts and conversations.
Use relevant hashtags to see what customers are saying concerning your competitors' brands. Platforms such as Talkwalker allow you to conduct in-depth research to see the popular Instagram hashtags related to the brand.
This approach may provide insight into what your competitors are doing well and where you may want to spend more time improving. If used properly, the hashtag is a useful and strong marketing tool capable of providing numerous opportunities to broaden your customer base.
To make your work easier, identify the hashtag they mostly use that acts as a catchphrase for the brand and search for it on your social platforms.
Learn how your competitors portray themselves and how their audience perceives them.
Here is an example of the most engaging Instagram posts in Talkwalker based on the #GabrielleChanel hashtag, which helps identify trending topics.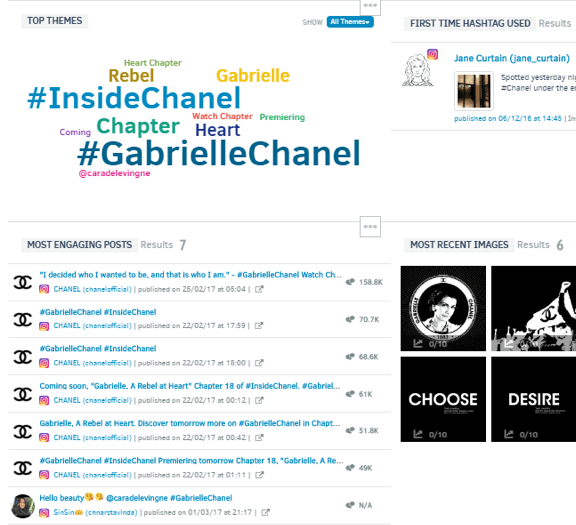 You can also look at the most engaging posts to see if there are any related hashtags.
4. Leverage branded hashtags
Hashtags are an important part of every digital marketing strategy, and branding your hashtags may help you take your digital marketing strategy to the next level.
Leveraging branded hashtag strategies, you may broaden your brand's reach, enhance interaction, and see measurable results from your efforts. According to Jumper Media, branded hashtags account for 70% of all Instagram hashtags.
So, exactly what is a branded Instagram hashtag?
A branded hashtag is one that is specific to your brand. It could be something as basic as your trademark, campaign, slogan, or your product name.
Herschel's #welltraveled branded hashtag is a perfect example. It is the global accessories company utilizes to inspire their customers to share images of their journeys across the globe.
It is critical to evaluate which branded hashtags will perform best for your eCommerce business. Also how to incorporate them into your own Instagram and Twitter campaigns.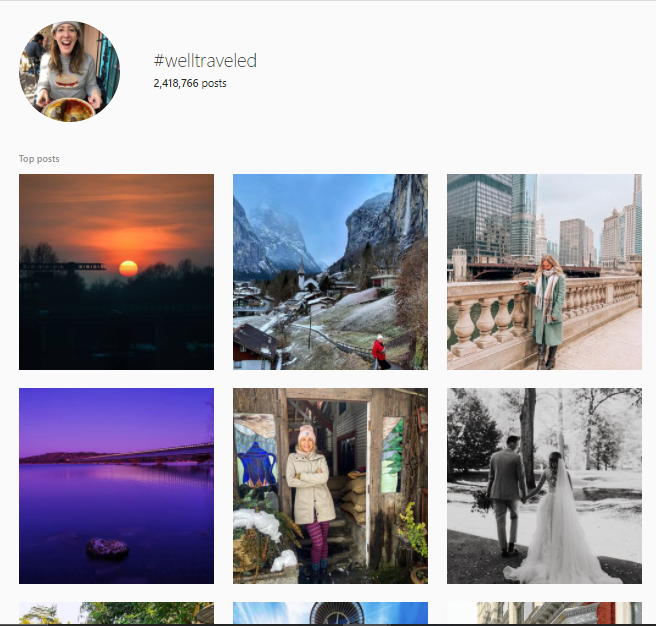 The Don'ts:
1. Don't use hashtags excessively
Simplicity is key when it comes to hashtags. Get to the point and utilize the time to summarize and establish your eCommerce business. Maintain your hashtags to a maximum of 2-3 for each post.
While Instagram permits up to 30 hashtags, using too many hashtags is considered spamming. Ensure your hashtags are relevant to your image or post.
According to a BuzzSumo analysis, posts without hashtags receive more engagement than posts with hashtags. They analyzed over 1 billion posts from 30 million brand Facebook pages.
The bottom line is that you shouldn't use hashtags excessively, as some people find hashtags within phrases unpleasant or distracting. Instead, aim to keep the number of hashtags in your posts or tweets to a minimum and constantly change them up.
Consider including them at the end of your post or in the first comment as well.
2. Avoid using lengthy hashtags
You want to make your argument swiftly with a simple statement. If you use long hashtags like #10annualeventforourbrandinnewyork instead of just #10AnnualBrandEventNY, you risk folks skimming over your post.
Sometimes brands use long hashtags to convey their message instantly. The truth is, such hashtags are hard to read and appear completely annoying.
The audience and customers merely want to participate in the brand event and have a good time. They don't want to spend a lot of time deciphering the hashtag.
Whenever it comes to hashtags for eCommerce business, keep in mind that less is more. Use short and simple hashtags to describe the topic and to help you establish your brand.
3. Don't hijack hashtags
Hashtag hijacking occurs when a hashtag is used for a purpose other than the one intended. In other terms, hashtag hijacking is just attempting to profit from the hashtag's prominence and search results.
This is also a type of spam, and it gets worse if you try to profit from unfortunate situations.
For instance, DiGiorno made headlines after misusing the hashtag #WhyIStayed, which was designed to raise awareness about domestic violence.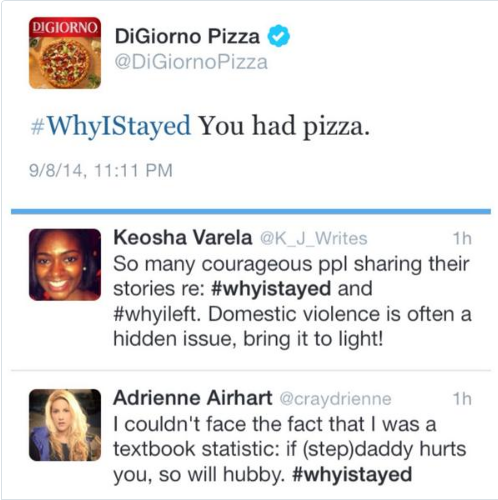 The corporation didn't check to see what the hashtag was being used for before posting its message on Twitter, and it took a lot of heat for it.
When DiGiorno realized their mistake, they swiftly deleted the tweet and issued public apologies.
Given the popular reaction to DiGiorno's apology, it appears that business and sincerity may still coexist.
4. Don't add hashtags only at the end of a post
Including your hashtags at the end of your post is one of the Don'ts on how to effectively use hashtags for your eCommerce business that may not be as bad as previous ones. However, waiting till the end of your post prior to actually adding hashtags can impact negatively.
This is particularly necessary for Twitter, which has a character restriction. If your tweet gets retweeted, it will likely exceed the up to 140 characters limit.
Most significantly, when you use hashtags at the end of a post, they are more likely to be ignored or dismissed.
For greater visibility, insert hashtags somewhere inside the content itself, in which they are a perfect match within the sentences.
Bottom Line
Hashtags for eCommerce businesses are an effective strategy for increasing traffic and communicating with customers. Before posting, you should spend time researching suitable hashtags to utilize in conjunction with your high-quality content.
As previously stated, overly long, complex, or sophisticated hashtags are hard to use and remember.
Keep your hashtag basic, whether it's a custom or a CTA hashtag, as consumers will not utilize them if they take too long to put in on a mobile device.
Remember not to be too creative or unconventional, as customers might find it hard to find your hashtag when it's not something that they can naturally search for if they aren't already devoted customers.
Acowebs are developers of Woocommerce Product Addons, a performance-optimized, light-weight, and fruitful plugin that simply is the best to add extra product options using its custom form builder easily. You can easily update your store with a free version of WooCommerce Custom Product Addons from WordPress. All the plugins and apps from Acowebs offer a seamless experience on your eCommerce stores on WooCommerce and Shopify. To enjoy a hassle-free reporting experience of your Shopify store, take a look at our latest product Shopify reports which is available on the Shopify store.