Whether you run an offline shop or an online one. There are some things that remain the same. Invoices and packing slips are two such examples.
Unless you sell only digital products, generating packing slips are necessary. And when it comes to invoices, it doesn't matter whether you are selling digital or physical products, having it is necessary for any kind of business.
However, if you are an eCommerce site owner, chances are that you are using the popular combination of WordPress and WooCommerce to run it.
If you really are like us here in Acowebs, you might have also looked for ways to generate invoices, packing slips, and other order-related documents for your website.
Because, we got all the data we need for these documents when the customer orders for a product, so there's no point manually creating every invoice & packing slip, right? Well, while these might sound easy as it is, there is actually no official solution from WooCommerce to do that.
Well, your searching is over, as I have documented the way you can generate and print WooCommerce invoices and packing slips for your eCommerce. We know you have no time to waste, so let's dive right in!
What Are WooCommerce Invoices & Packing Slips?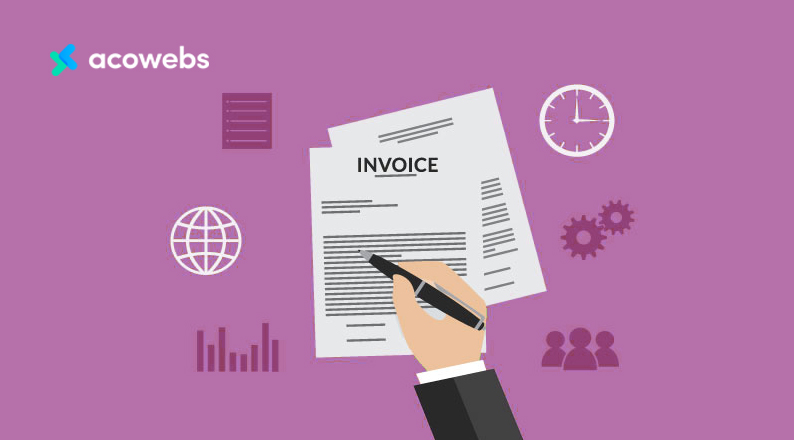 Both WooCommerce Invoices and Packing Slips are super important for any online or offline shop. So if you are a businessman, chances are that you already know what they mean. If you do, don't hesitate to skip this section of the blog and move on to the next one.
If you are reading this portion, I'm assuming you want to know what invoice and packing slips are, and how different they are from each other.
Invoice is a document that lists the products or services a business provides to a client in order to generate the bill and make the customer obligated to pay for the products and services bought.
Invoices are created mainly to create a legal document of final pricing for an order in an eCommerce site.
Packing Slips, on the other hand, is a written list of items that are included in a package or shipment. It includes weight, dimensions, and quantity which is important to know for the customer.
It is also called shipping slip, packaging slip, and order slip by different persons. Packing slips are used to identify the missing items of an order and ensure that everything ordered was received.
Now, both the Invoice and packing slip contains a list of items ordered. So many people get confused between these two. So, here's how you can differentiate them.
Unlike invoice, packing slip usually does not contain pricing. In packing slips, you will get to know detailed product specifications, such as weight and form.
However, invoice focuses more on the amount paid/needs to be paid and the other charges against the order.
So by judging this way, you can easily determine which is a packing slip and which is an invoice.
Besides invoices and packing slips, we need some more documents for our eCommerce site. These are – Shipping Label, Delivery Note, and Dispatch Label respectively.
ALSO READ: How Shipping Costs Affect E-Commerce Conversion Rates
Shipping Label is the document that we often find attached on the outside of the box. It gives you a brief idea of what is inside the package.
Delivery Note is usually used as a proof of delivery completion, which is signed by the customer and returned by the delivery man to the shop owner after delivering a product.
Apart from that Dispatch Label, another important document is used by the personnel of the warehouse to certify which are the products they are shipping.
Why Do You Need to Print Invoice & Packing Slips?
As I have talked about already in this blog, print invoices and packing slips are used on offline and online businesses alike. That is because of their sheer importance.
Now there are 4 crucial reasons to generate and print invoices.
For Record-Keeping: No business can succeed without proper record keeping. Because you wouldn't even know if you have made a profit or loss. As an invoice keeps track of the payment of an order, it helps you with foolproof record keeping and makes the business process smoother.

For Tax Related Purposes: Tax is another reason that you should generate invoices. Even for a simple issue, government officials can ask for proof of sales, and an invoice can help you dearly in these types of situations.

For Legal Needs: Invoices are also important because they can help you in case of a legal issue. If you have legal proof of selling a product to a certain customer, it can help you if a legal issue arises for an order.

For Marketing: Invoices help keep a record of every sale you make. They also help keep a record of sales date, amount, and much more important data which can be collectively used for product marketing. Let's say you need to promote how much you sold last year, or what is your YoY growth. These types of data can be easily accumulated from the invoice.
ALSO READ: An Ultimate Guide To WooCommerce Dropshipping
So these are the reasons to generate and print invoices for all your orders.
Packing slip, on the other hand, is also important, albeit for different reasons.
Tracking the Products Easily: You might ship a single order in multiple boxes, a packing slip can help you do that with ease, without the fear of losing any item.

You can also find a package from a lot using the packing slip.

Identification of Damaged Goods: With the packing slip a damaged item can easily be identified. It also speeds up the refund/return process.

Packing Slip is a Comprehensive Document of the Order: A packing slip shows all the goods inside the package, their specification, and weight. Thus, to help make the shipping process accurate and less time-consuming, it is the perfect solution.
So, here you go! Now you know why we are prioritizing so much on invoice and packing slips. As an eCommerce owner, both are essential for your business.
How to Print WooCommerce Invoices & Packing Slips
Want to print WooCommerce invoices & packing slips? Well, there is no default way to do so, at least for your WooCommerce powered website.
So in order to generate and print WooCommerce invoices & packing slips, you must use a WordPress plugin. And there are no better plugins to do that except WooCommerce Invoices Plugin (WooCommerce PDF Invoices and Packing Slips by Acowebs).
Apart from generating the super important duo of invoice and packing slips, it will also help you generate other important documents like shipping label, delivery note & dispatch label automatically.
Now before we head on to inform you about the process of generating invoices and packing slips, let's take a look at the features that this awesome plugin offers.
Free Version Features
The free version supports creating an Invoice, Packing Slip, Shipping Label, Delivery Note & Dispatch Label. However, design customization of the documents is not possible in the free version.
Supports PDF invoice generation for each order automatically. Invoices will also be sent out alongside order emails.
The free version also supports customization of store logo, name & address on the Invoice, Packing Slip, Delivery Note, Shipping Label & Dispatch Label.
If needed, options for advanced items tables with different tax rates columns is also available.
Options to download invoices from the My Account page for the customers.
Customers can also download an invoice from the thank you page
Auto-generation of the invoice number and options to customize. (you will also be able to add provisions to set prefix, suffix as well as padding).
Changing invoice name slug.
Option to set the order date as the invoice date.
Multiple Google Fonts support for invoice templates.
RTL Support.
Compatible with WPML.
Premium Version Features
Premium versions of this plugin offer all the features from the free versions and more.
Multiple invoice templates for greater design choice.
More options in invoice customizer like a discount, subtotal control panels.
Supports Paid Stamp on the invoice.
Support multiple templates.
Provision to save customized invoice template as a new template.
Option to attach static files like return policy along with the invoice in order emails.
The premium version is packed with some great features and enables customization of the invoice template. If you want to buy the premium version, you can start with as low as $32 and get it from here.
However, most of our customers tend to like the second cheapest package, as we offer lifetime support along with it. You can also download the free version of WooCommerce PDF invoices plugin from the WordPress directory.
The first step of any user-guide is how to get the product. We're no different. However, if you're a pro, don't mind skipping this step!
Now, to install the plugin, from your WP Admin Dashboard, go to Plugins> Add Plugins.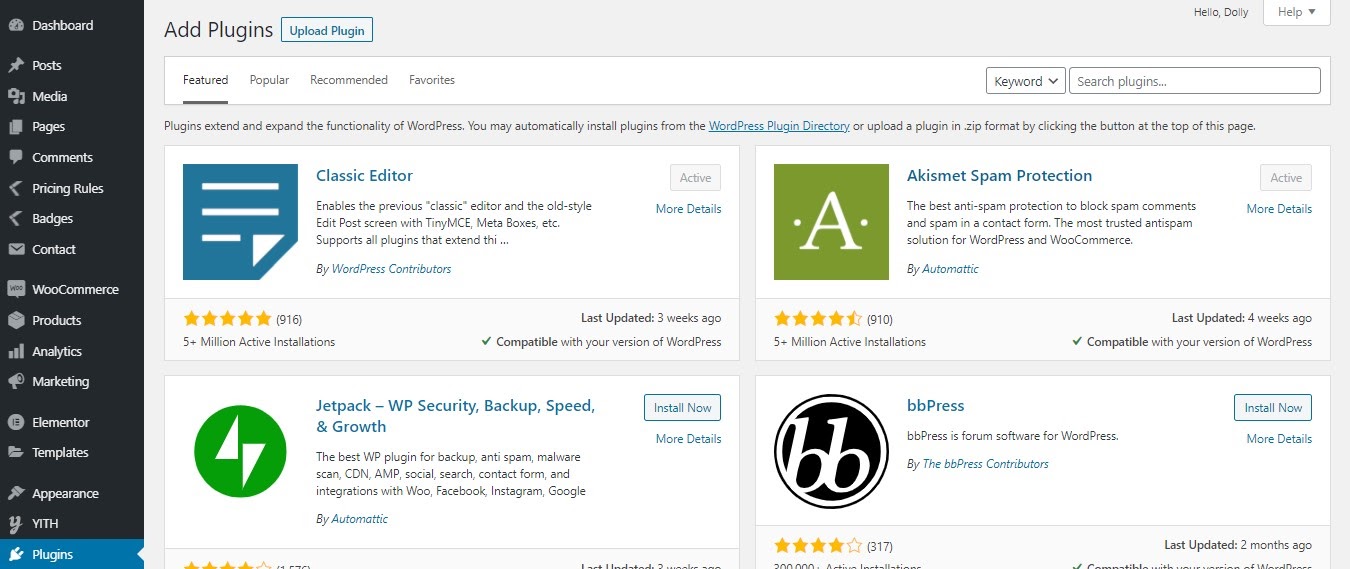 Once you see the above screen, search with the term "PDF Invoices and Packing Slips for WooCommerce". Install the one from Acowebs, just like we did.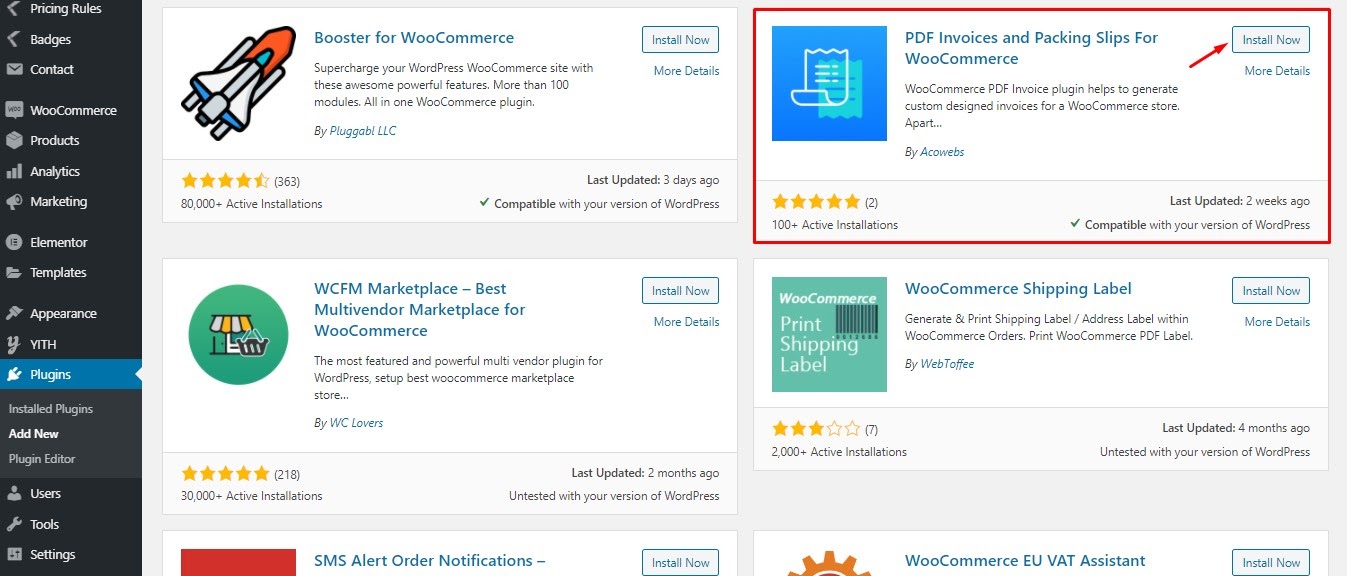 Once the installation is done, activate the plugin and you're good to use it.
Step 2: Updating General Settings
To set what should be displayed on your invoice, there is a general settings page on the extension PDF Invoice. To navigate to the invoice page, just simply open PDF Invoice from WP Admin Dashboard > WooCommerce > PDF Invoice.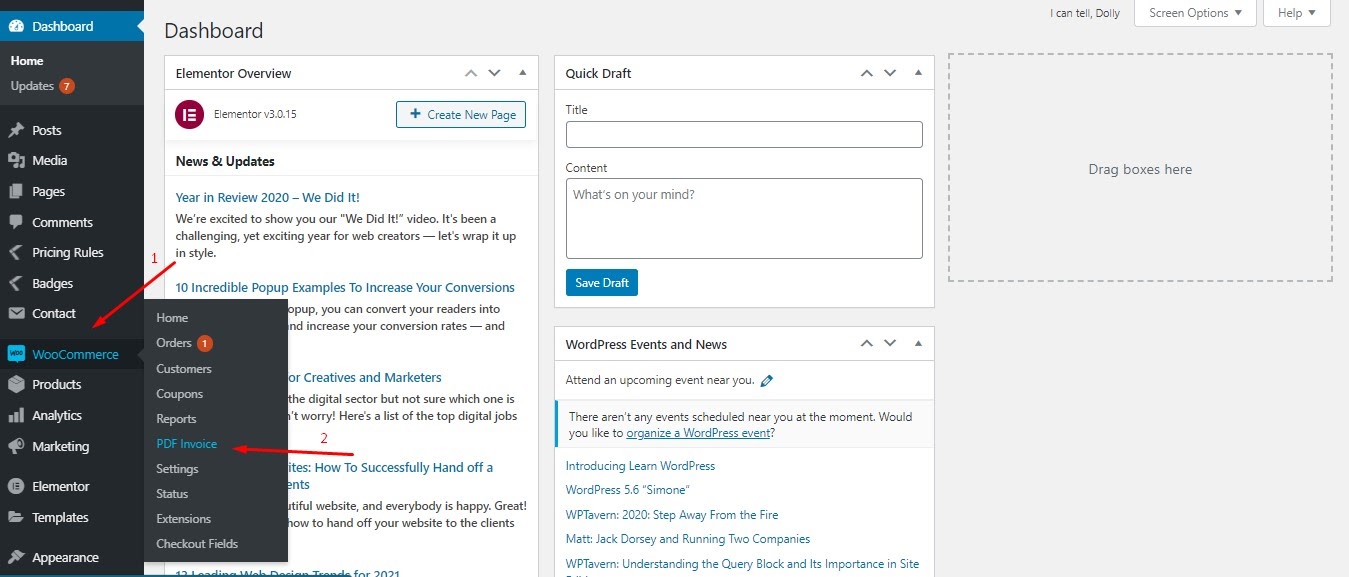 As you can see, the general settings will appear once you get to this page.
From this page, you can set your company name, upload the company logo, and a footer text.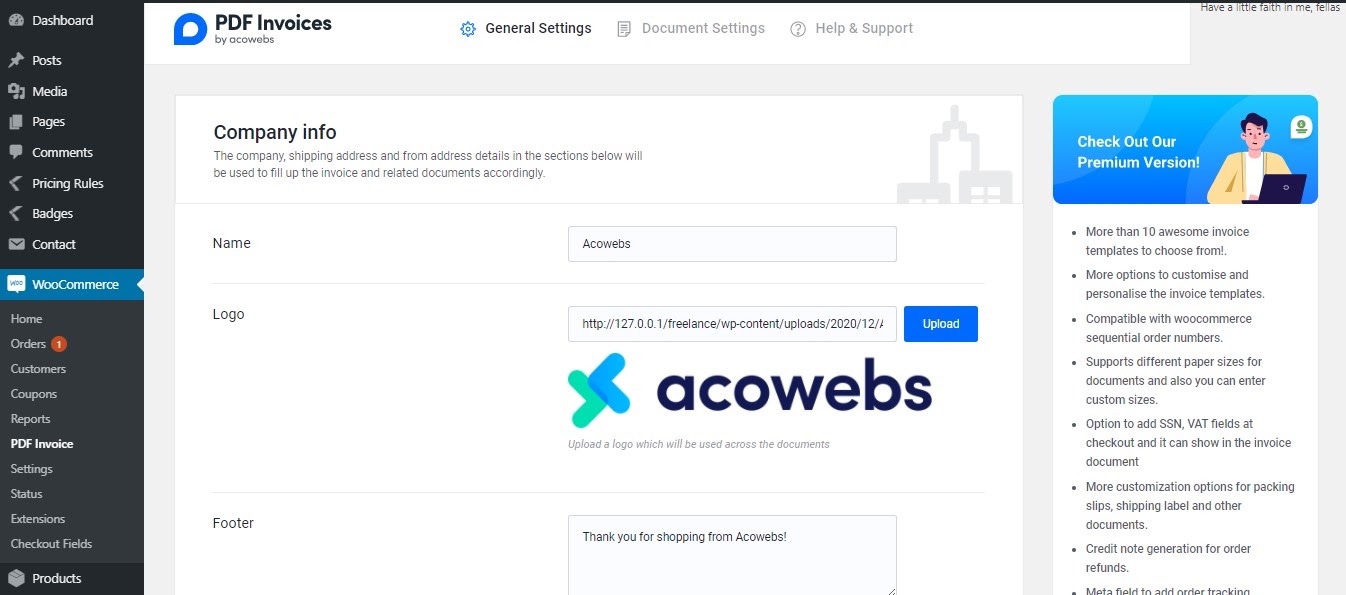 Apart from that, another crucial information also needs to be filled out. That is the address of your company. Company address is one of the most important for an invoice.
You'll also notice a field to insert your VAT or GST registration number, which is mandatory to be displayed on the invoice in some countries.
You can also enable RTL language formatting if needed.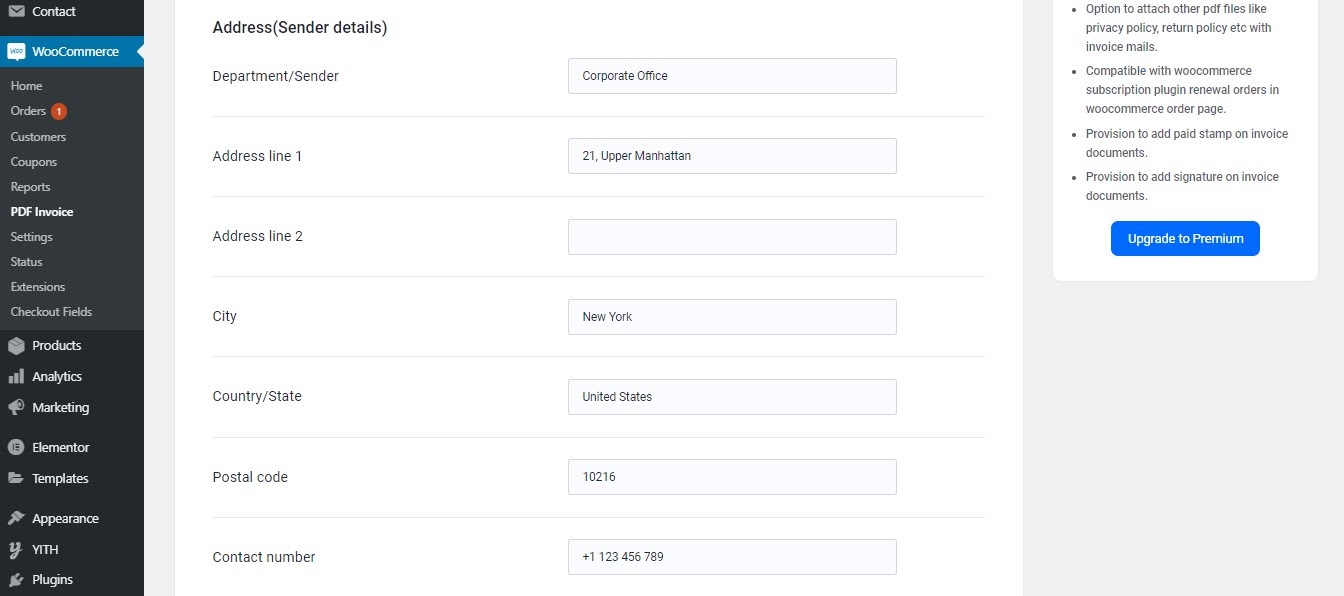 Once you are done make sure to save the settings.
Step 3: Updating Document Settings
So you are done updating the general settings, the important part. After that, you need to update the document settings. You can find the document setting just beside the General Settings tab.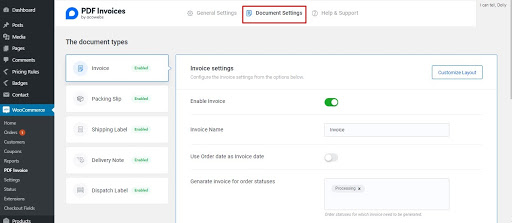 As soon as you open document settings, you will notice 5 different document types that this extension helps you generate automatically, whenever an order is placed.
Let's take a look at the settings for each of the document types individually.
1. Invoice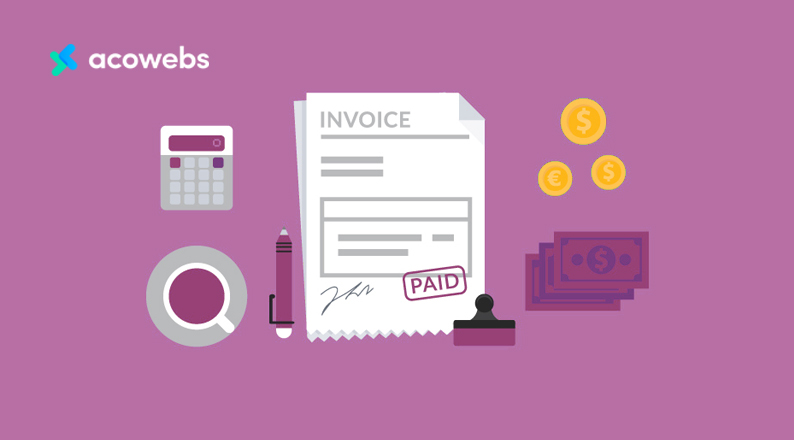 Invoice settings will be the first one that you notice once you get to the documents settings page. From here you can do one of the most important tasks, which is enabling the invoice for your orders.
Without enabling this, no invoice will be generated.
You can also set the name for the Invoice document. While Invoice is the most common, terms like Bill, Cash Memo are also used in place of the term invoice.
There is also an option to set the order date as the invoice date.
You can set the invoice to be generated for any order status, using the "Generate invoice for order statuses" option. In case you didn't know, there are eight different types of order status for an order that you can find in WooCommerce.
These are Pending Payment, On Hold, Processing, Completed, Cancelled, Returned, Failed, & Draft.
You can also set the invoice number format on this page.
Apart from that, you can enable the automatic attachment of invoice PDF in the order email while also letting the customer print their invoice on the order page, using the Attach invoice PDF in email & Enable print invoice option for customers options respectively.
You can set a custom logo only for invoices as well. With all things being updated, this is how our invoice will look like.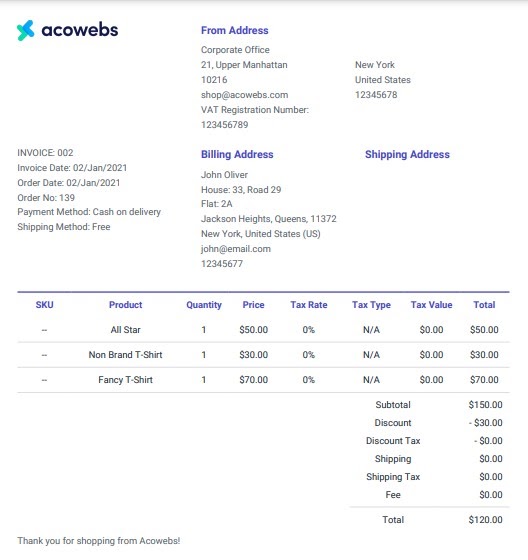 If you want to customize the layout, you can do that using this plugin. But for that, you need to get the Premium version of this plugin, which starts from just $32!
Get the Premium Version of WooCommerce PDF Invoices and Packing Slips
2. Packing Slip
From the packing slip option, enable it to generate when an order is placed. You can also enable the option to include product images on the packing slip.
Apart from that you can also set to display the customer note on the packing slip. In case you don't remember, what customer note is, it is the additional information customers type in during checkout. Here is an example of the customer note.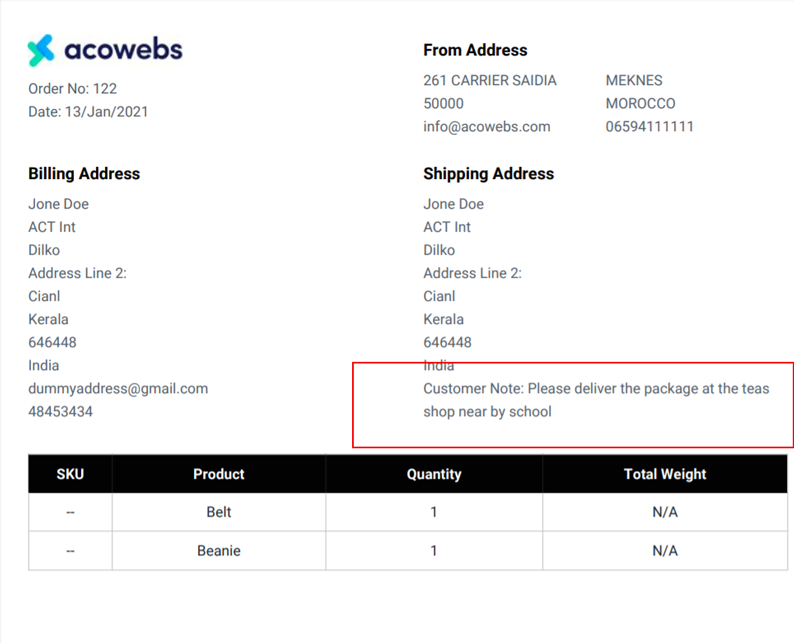 Last but not the least, you can add a footer to your packing slip from this page.
3. Shipping Label
Shipping Label, the label that you site outside the packaging of your order, can also be automatically generated using "PDF Invoices and Packing Slips for WooCommerce" plugin.
You can enable it from the shipping label settings, while also adding a footer if you want.
4. Delivery Note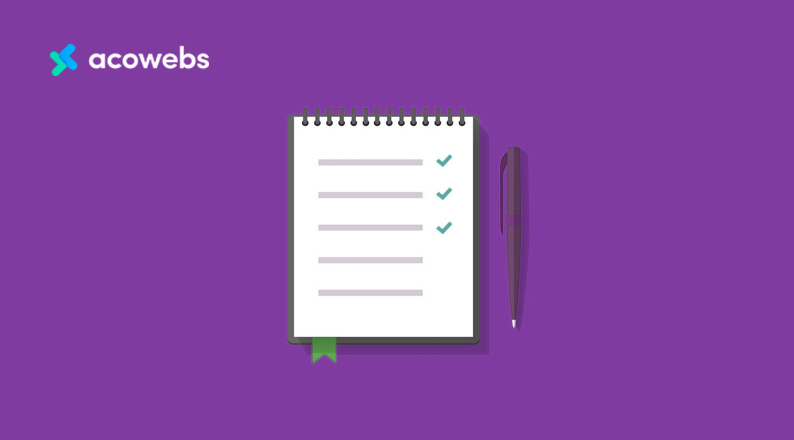 Although delivery notes are almost the same as Packing Slip by looks, some shop owners want to generate these two documents differently.
It is often used to return back proof of delivering all the items by getting a signature from the customer that he/she got all the products that he ordered.
From the delivery note settings, you can enable the delivery note generation, determine whether the product image should or should not be added on the delivery note and whether the customer note and footer should or should not be added on the delivery note or not.
5. Dispatch Label
Dispatch Label is a document that warehouses use to crossmatch the products that are being shipped. This label contains the total order information, receiver details, the value of the product, and the tax amount.
You can enable this label from these settings and add a customer note and footer if needed.
Step 4: Printing the Invoice, Packing Slips & Other Documents
Once you update all the settings, whenever an order will be placed on your website, the invoices, packing slips, and other documents will be ready to be printed.
To access these documents, we will have to go to WP Admin Dashboard > WooCommerce > Orders. Here you can find all the orders, no matter what their order status is.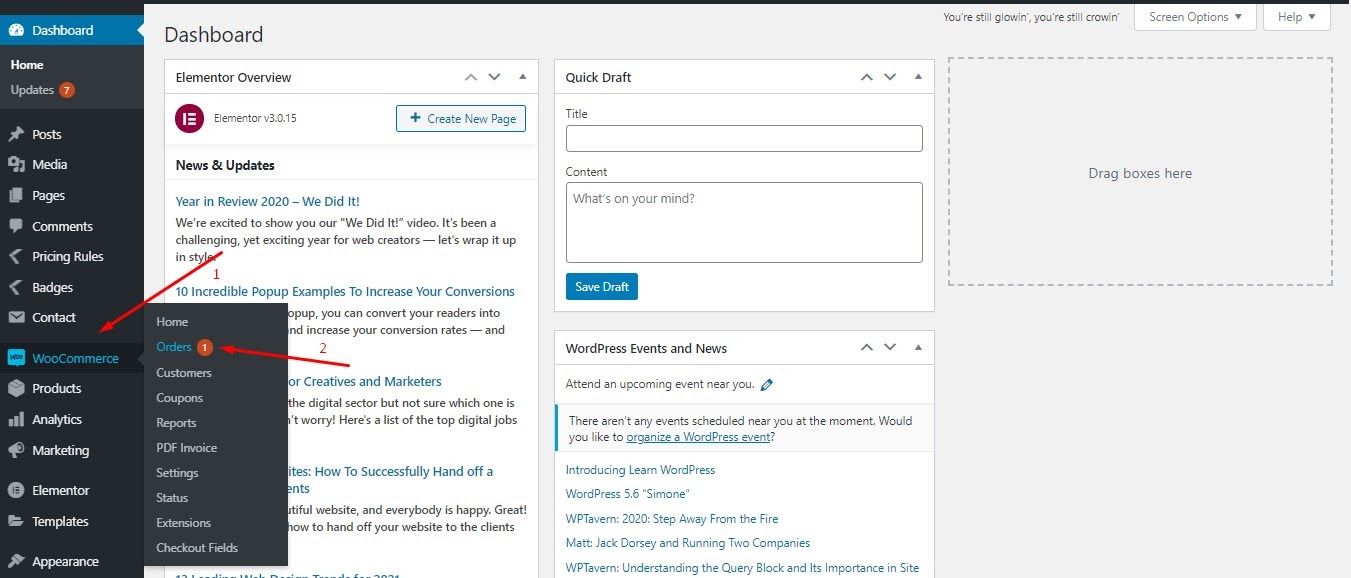 Now on the right side of the order total amount, you can find all the documents.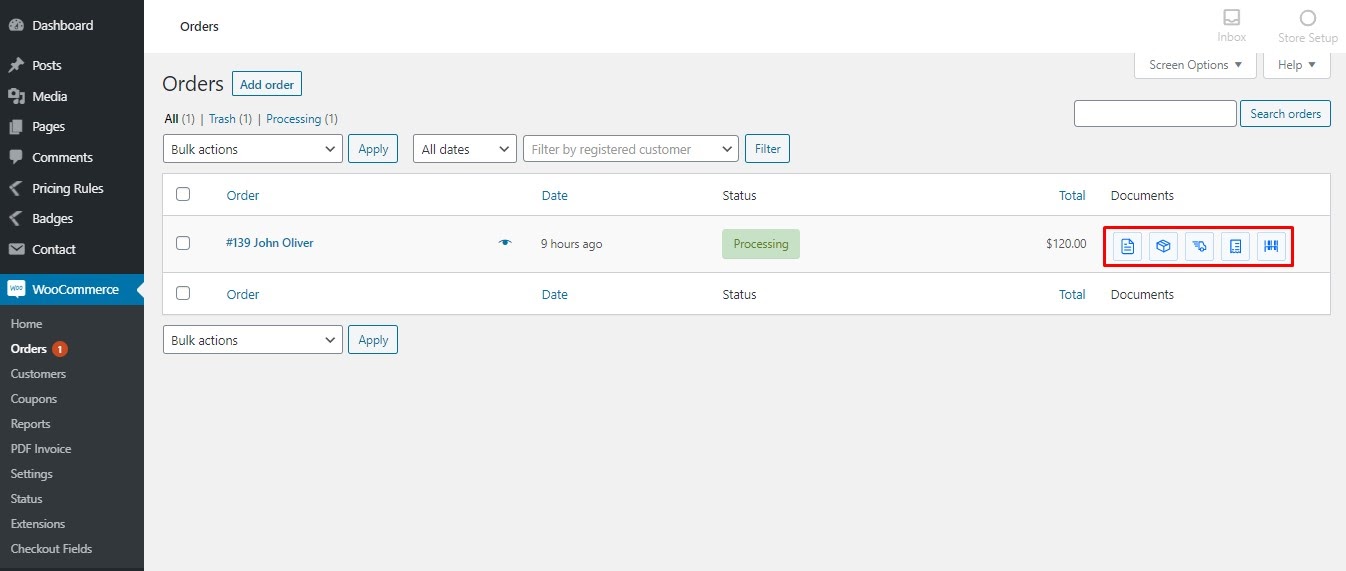 If you click on any document, it will open in a new tab and you will be able to print the document by clicking on CTRL+P if you are using Windows and CMD+P if you are using a Mac device.
So there you go! Now you know how to generate and print invoices, packing slips, and other eCommerce order documents. All using a single plugin.
Are WooCommerce Invoices & Packing Slips Helpful for Customers to Trust an eCommerce Site?
It is very important to have an invoice and packing slip with the product for an eCommerce site.
The invoice contains some important information about the company, which includes the company address, contact number, etc. The customer can know about all the charges for his product by invoice, including tax and any other VAT, if applicable.
When the customer has an invoice, if there is any problem with the product, the buyer can apply for a refund or complain about it easily. Thus, packing an invoice along with the package can help people to trust your company more.
On the other hand, a packing slip contains the complete list of products in a parcel or packet. The packing slip makes it easier to crossmatch what is inside the box.
After receiving the product, if the customer feels that the ordered product has not been delivered or the products are not in the correct quantity, or he has received the correct product in damaged condition, he can complain.
In this case, the buyer can easily apply for a refund and explain the reason that according to the packing slip the product is not in the packet, or even if the product is there it has reached in a damaged condition.
Many companies use third-party services to deliver the product to the customer. In this case, there is a risk of theft or loss of the product by the delivery service provider or any other means while delivering the product.
When using a packing slip, both the buyer and seller get a sense of assurance, as theft of the product can be easily traced and determined.
Above all, the function of the invoice and packing slip is to prevent the product from being lost or stolen while delivering the product. And, to ensure that the customer can easily complain if something like this happens.
That is how trust can be built and thus WooCommerce invoices & packing slips can be helpful to create a sense of credibility towards your eCommerce site.
Why PDF Invoices and Packing Slips For WooCommerce is the Best Plugin for Invoicing
For an eCommerce site making invoices, packing slips, delivery notes, and some other documents are necessary. By default, these things can not be automatically generated. However, you can automatically generate it.
As you get all the customer information needed for an invoice or packing slip from an order, generating it automatically becomes the easier choice.
WooCommerce PDF Invoices and Packing Slips does this brilliantly. This plugin is the best among many plugins because it doesn't lack any features.
While there are many features that can help you generate a proper invoice for your WooCommerce-powered shop, no other similar plugins have all of them.
Apart from that, it has a beautifully-designed UI, which makes it very easy to use this plugin without any hassle.
All in all, while PDF Invoices and Packing Slips for WooCommerce is very new in the market, it is still the best and most complete plugin for invoicing and other eCommerce document generation.
Wrapping Up
So, now you know how this plugin works and why it is important for eCommerce businesses to generate invoices and packing slips.
It is clear that an eCommerce site requires an invoice and packing slip and if it can be generated automatically through this plugin, it saves the seller a lot of time.
We have tried to show the whole process of making invoices and packing slips in an easy way by describing it through images. If you have any inquiry, comment below, and one of our specialists will try to guide you to resolve the issue.
Acowebs are developers of WooCommerce Discount Rules that will help you add bulk discounts to products on your stores. It also developed the plugin for adding various extra product fields which is called WooCommerce product addons, that are lightweight and fast. You can easily update your store with these add-ons and enjoy a hassle-free experience, check out the best options for additional WooCommerce product options.