Twitter is one of the leading social media platforms that businesses are using for marketing purposes. The platform has been developing new, robust eCommerce options, including a call-to-action (CTA) button for shoppers.
The trend shows that many Twitter account holders shop online approximately 6.9 times every month, with non-users shopping only about 4.3 times per month.
More Twitter statistics show that Twitter users are 2.7x more likely to purchase a product advertised on the platform, while businesses that use Twitter influencers have seen their purchase intent rise by 5.2 times.
Indeed, brands that are pairing brand and influencer Tweets have seen a tremendous rise in engagement, brand awareness, and purchase intent, compared to eCommerce businesses still using traditional digital ad formats.
To gain the most from Twitter eCommerce marketing, this article covers the benefits of using the platform and 8 marketing strategies for the successful use of Twitter eCommerce marketing.
Why Twitter eCommerce marketing?
You have every reason to trust Twitter as a useful and reliable eCommerce marketing channel. Beyond the obvious, which is increased engagement, brand awareness, and purchase intent, Twitter is a powerful resource for targeted marketing.
About half of females and 17% of men have purchased items online following influence by Twitter ads. You can easily and effectively target specific demographics and interest groups, such as users under 50 or millennials.
Brands are using Twitter for increased conversions, revenue, and social proof, especially because customers are able to share reviews via social media on their experience using products sold on eCommerce sites.
With about 36% of Twitter users visiting the platform daily, you can leverage the huge traffic to target daily visitors through ads.
But how do you generate brand awareness and create effective adverts with high returns on investment (ROI)?
Let's have a look at the most effective ways to do so.
ALSO READ: WooCommerce vs Shopify: Which eCommerce Platform is Better?
8 effective Twitter eCommerce marketing strategies
Develop a captivating profile
First, you should create an eye-catching profile that is optimized to impress users and generate sales for your business.
Ensure to design and upload a visually appealing and clear profile photo showing your company logo or an image that represents the mission statement of your brand.
The pinned tweet feature also enables you to display and promote important and new products and messages about your eCommerce store.
The feature appears and stays static on top of your profile, which helps emphasize your brand offerings for increased engagement and conversions.
When people visit your Twitter profile, the pinned Tweet is what they see first, irrespective of when the tweet was created.
To develop an optimized profile with a pinned feature, go to your Twitter profile, identify the tweet you want to pin, click on the three dots beside it, and select "Pin to your profile page."
To gain the highest levels of engagement from the pinned tweets, ensure that the tweets have been liked and retweeted severally, that they are accompanied by a catchy profile image, and there is a strong CTA.
You can also add a URL to your eCommerce site's landing page, which you can track for conversions.
Coca Cola uses the concept to promote products like Coke Mini. Since the tweet does not provide all the details, Twitter users are forced to click on the trackable link for more information.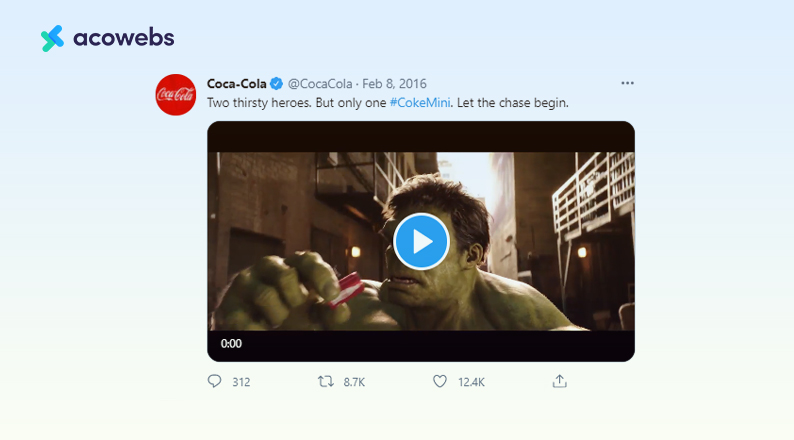 When you add a catchy profile photo to a pinned tweet, you stand to gain more attention from your existing followers and new users, leading to increased content sharing and conversions.
ALSO READ: How to Use YouTube to Grow Your Ecommerce Sales
Engage with your fans
With Twitter, you can easily track what people are saying about your brand by tracing mentions that include your username.
Ensure to make the conversations engaging by responding to such interactions, retweeting, and giving a nod to tweets from your favorite followers. However, don't forget to keep the tone of your tweets in alignment with your brand's image and values. If you need help with this then use a writing app to help you out before you post any sort of content.
You can also send interactive tweets using Twitter polls to get responses to question prompts. The polls can last between 5 minutes and 7 days after being posted, and their results can be viewed immediately at the end of the session.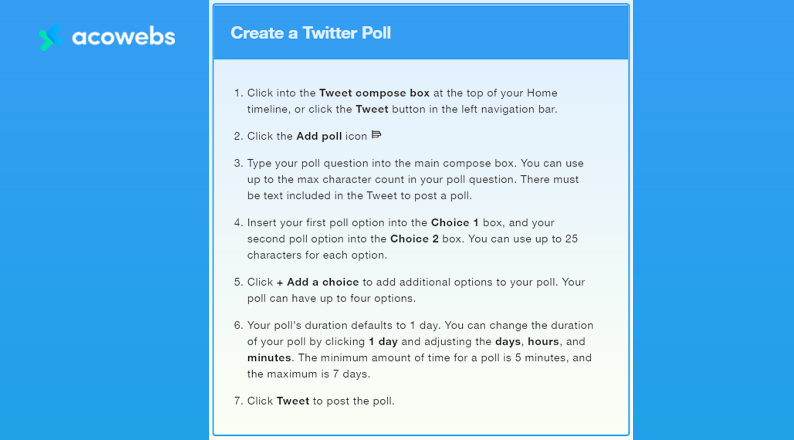 Some topics to cover in your Twitter polls can be around your product or service offering, or trending events in the industry.
You can use the polls to gather information on what your followers and prospective customers think or feel about your brand.
Eventbrite uses Twitter polls to engage with followers and gather insights related to fans' habits during holiday seasons. The results can be used to target an audience likely to plan for holiday events or even to get followers thinking about planning an event.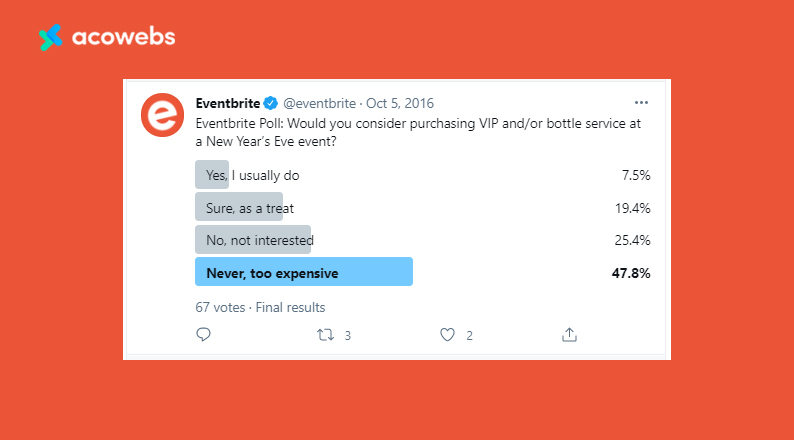 You can also engage with fans by creating relatable posts or memes that are relevant to your products or industry.
Twitter chat is an effective tool that you can use to engage with your audience through conversations aimed at solving people's issues, responding to user queries, or simply getting to understand your audience better.
You can also use the chat tool to filter conversations according to hashtags, pause tweets, or slow them down to enable you to respond to them at your convenience. A tool like Tchat.io is useful in organizing and managing Twitter chats.
Be on the lookout for trending hashtags which you can join for conversations relevant to your area of interest, increasing awareness around your brand and offering, as well as enhancing conversions.
Create campaigns to grow your following
It is important to grow your audience by running marketing campaigns aimed at creating brand awareness and attracting more visitors to your online store.
The more the following, the better, because your content can reach even more people, leading to quick sales for your eCommerce business.
One of the best and most effective ways to gain more followers for Twitter eCommerce marketing is to create campaigns with trending hashtags.
Such tags enable you to reach new social media users who may gain interest in the content you are marketing.
You can start by using the search function on Twitter to search for 3-word keywords relevant to your eCommerce business.
Such terms are highly valuable because they indicate what many people are searching for or talking about on the platform.
They are a show of people's interest in a given topic or product, and when you use them in your conversations and campaigns, the keywords will lead visitors to your Twitter profile and eventually, to your eCommerce site.
To successfully create and execute an effective Twitter hashtag, ensure to keep it unique, relevant, simple, and catchy. The tag should convince your followers to use the hashtag to create more relevant content that can increase your brand's visibility.
Remember to also welcome new followers by sending them a friendly, automated welcome message. You can customize the message and send it directly through the DM to make it feel more genuine, creating a start of potentially long lasting relationships.
You can incentivize people to post your content by running Twitter hashtag campaigns with an attached reward.
Kraft ran a Twitter campaign during the 2018 Super Bowl, using hashtag #FamilyGreatly. The selected entrants were to qualify for a 30-second ad feature in the second half of the game.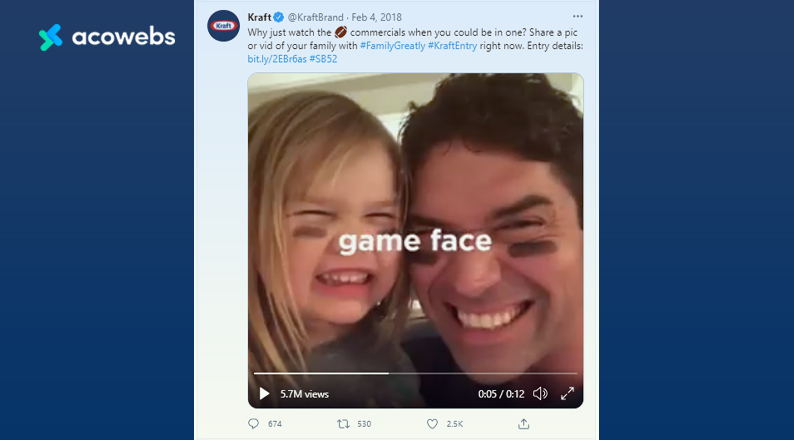 People are more encouraged to participate in social media campaigns if there are rewards attached. The rewards do not have to be monetary, but the idea should be to make them more engaging for increased shares, interactions, followership, and conversions.
ALSO READ: Impact of e-Commerce On Society: Advantages and Disadvantages
Share content consistently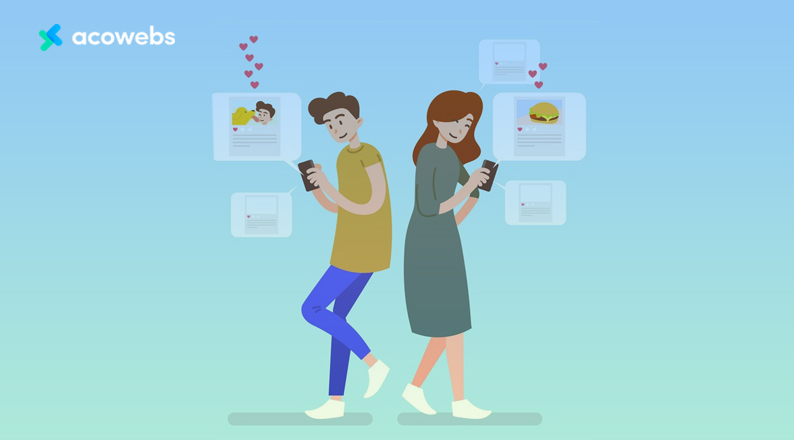 Twitter eCommerce marketing is only as effective as how well and often you engage and communicate with your followers.
You should run campaigns and share engaging posts to make your page active – the goal is to increase your brand reputation and keep followers thinking about your content and offering.
To ensure that you are sharing meaningful and relatable content consistently, consider using a scheduling technique, such as the social media management tool to enable you to share your posts on time.  
You should also take advantage of the best posting times for Twitter to ensure your content is scheduled and posted when there is a high chance of maximum engagement and conversions.
For instance, tweets perform well around 6.00 pm, but the best timing depends on how your target audience interacts with your Twitter page, the regions being targeted and their corresponding time zones, and your eCommerce marketing goals, such as shares versus clickthrough rates.
Use Twitter ads & influencers to target relevant users
You can increase customer reach using awareness ads and generate more conversions through website click campaigns.
Both of these Twitter eCommerce marketing programs are payable, whereby awareness ads are billed for every 1,000 impressions, while ads are billed per web click.
The beauty of sponsored tweets is that you can target customers with your intended user traits, which increases interest in your content, as well as conversions.
Your tweets should be short, clear, and precise, while at the same time keeping the message human, friendly, and approachable to keep it relatable to the type of conversation Twitter follows are used to.
Twitter remarketing is another common technique, whereby your sponsored ads are focused on people who are likely to convert, such as those who have visited your site before, as opposed to targeting every other Twitter user. This approach helps reduce the charges for website click ads, because the users targeted have a higher chance of converting.
For instance, brands often target users who have bought an item before or who have added an item to their shopping card, leading to increased sales.
Kikkoman has used remarketing to target customers who have previously expressed interest in nutritional foods and/or cooking. The ad focuses on people who love grilled meals, and would not think twice before watching the soy sauce brand video.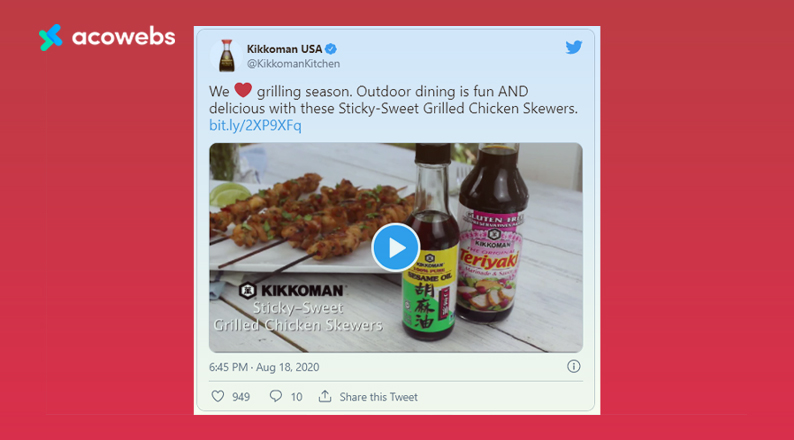 You can spice up your ad content with appealing and relevant images and videos for improved engagement with your target audience.
Influencer marketing is also gaining popularity, and many brands are collaborating with famous people, such as celebrities, as they have a huge number of followers, who can be convinced to follow a certain brand, share content, or click on eCommerce links when targeted with the relevant content.
To identify, interact, and collaborate with relevant influencers, use tools like Grin, Socialpeeks, NeoReach, and BuzzSumo.
ALSO READ: Tips to use content marketing for eCommerce sales
Demonstrate how your product works
People are not going to buy your product, but the solutions your product is offering. Customers will be looking for value in exchange for their money; hence, it is essential that they understand how your offering meets their needs.
To do so, ensure your Twitter eCommerce marketing strategy presents the uses and benefits of your products or services. The campaigns you run should inspire people to try your product, which will drive the clickthrough rates and sales conversions.
For instance, you can display different contexts in which customers can use your products.
In addition to using a hashtag in its bio, Fenty Beauty markets its products on Twitter by presenting videos on how to use the company's beauty products, such as lipsticks:
Demonstrations or before-and-after comparison images help grab customers' attention and interest, as they tell them why they should care about your products.
Use Twitter cards for improved visibility
For increased visibility online, use Twitter cards, which you can link to your website, enabling your brand followers to view more useful information about your product or service.
For instance, the Twitter cards display a snippet of the product page, featuring the number of items available and product pricing.
The feature is more useful than the chat tool because Twitter limits the number characters to 280 in a given tweet. To compensate for this limitation, use Twitter cards to drive more engagement.
The practice will enable your audience to learn more about your product, leading to increased conversions.
There are up to four types of cards that you can use on Twitter, including the summary card, summary card with large image, app card, and player card.
The summary card is the most ideal for eCommerce marketers because you can add a page URL and an image with a thumbnail, tile, and description.
You can also use the summary card to engage in conversations with other brands that mention your business on their website, show off your latest or most popular products, and promote a new blog post or article.
To demonstrate your new products, you can feature a large infographic or image with important statistics to gain followers' attention and trigger action.
Although there are other ways to set up Twitter cards, WordPress sites can do so by installing plugins like JM Twitter Cards or Yoast SEO. You can also select and set up cards of your own from the Twitter Card Page.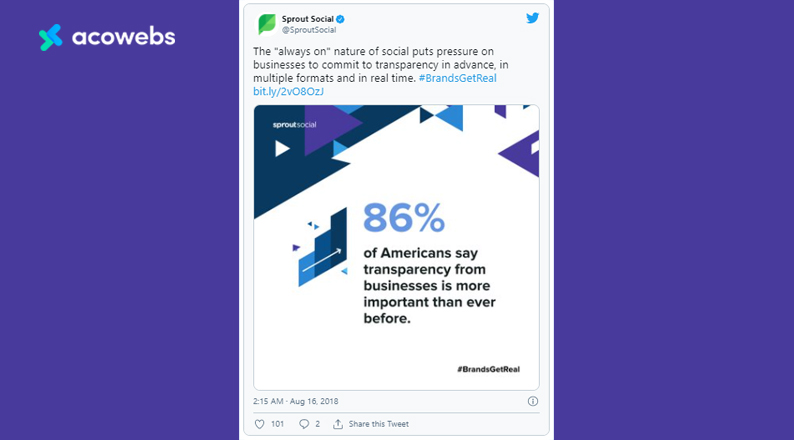 Use Twitter cards for improved brand image and increased visibility, engagement, and conversions.
Use Twitter analytics for performance measurement
Measure, review, and boost your impact on Twitter using the analytics tool. The data and results obtained will tell you how different tweets featured in your eCommerce marketing campaigns have been performing within a given period.
The concept helps you understand the tweets that are most engaging, and the users that are engaging the most with your brand.
You can use the stats to review your Twitter eCommerce marketing practices to determine which areas to improve on, the types of marketing campaigns to run, and the audience to target for specific types of products.
ALSO READ: How eCommerce businesses can turn organic traffic into valuable leads
Conclusion
As more Twitter account holders continue to use the platform for online shopping, so are eCommerce business owners leveraging the platform for increased engagement, brand awareness, and purchase intent.
Businesses using Twitter for marketing purposes are benefiting from targeted marketing, increased conversions and revenue, and social proof.
With as high as 36% of Twitter users visiting the platform daily, you can leverage the huge traffic to target visitors that you can move up the sales funnel.
To do so, you must use effective marketing strategies unique to Twitter, including creating a captivating profile, engaging with your fanbase, creating campaigns to grow your following, and sharing content consistently.
You should also gain more interested followers by the use of sponsored content through Twitter ads and influencers.
To give your followers and customers a reason to buy from you, ensure to accompany your marketing campaigns with product demonstrations, while displaying Twitter cards with more product information. You should accompany these tactics with Twitter analytics to measure and improve performance.
Acowebs are developers of Woocommerce bulk discounts that will help you add bulk discounts to products on your stores. It also has developed various other plugins like the popular plugin for managing the checkout form fields in WooCommerce, called Woocommerce Checkout Manager, which is highly feature-oriented yet lightweight and fast. There is also a free version of this plugin available in the WordPress directory named WooCommerce Checkout Field Editor.