WordPress is a software or program, which enables users to design websites, online stores, and blogs. It is an online web application that allows you to upload and manage blog posts, text, media, and eCommerce products.
WordPress.com and WordPress.org may sound like one and the same thing, but what you will learn is that the two represent different organizations, websites, and web solutions.
Site builders use WordPress as the software or operating system for powering their websites. According to statistics by CodeinWP, WordPress is the most popular website engine, serving about 36% of all websites across the globe.
It is the fastest growing content management system (CMS), with more than 500 new websites created daily while powering 14.7% of the top 100 sites globally. It comes with multiple features, plugins, and themes to design the most user friendly and customizable web interfaces.
The main confusion surrounding WordPress.com and WordPress.org is obviously around the name. The two names are identical, and the only difference is the domain, where one is .com and the other, .org.
What sets the two apart?
Well, that is what we'll discover from this article, where we will learn the basics, discuss 8 differences between WordPress.com and WordPress.org, and suggest which between the two is better for your website.
WordPress.com and WordPress.org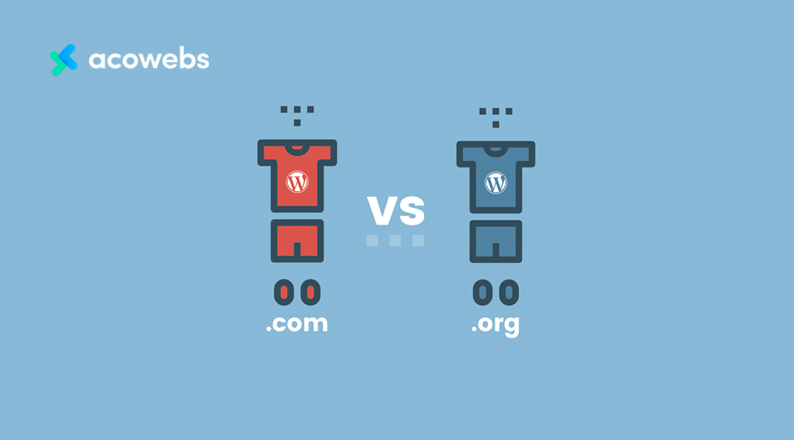 The simplest way to differentiate between WordPress.com and WordPress.org is by comparing the domains. ".org" stands for organization, while ".com" represents commercial.
Word.Press.com is a "build-your-own-website" tool, which you can acquire for free without an external domain name or hosting. On the other hand, WordPress.org is an operating system, which enables you to host a website on your own.
While the two use the same software, WordPress.com is hosted for you. It has a complete website building solution in the same manner as Wix or Squarespace, does not require third-party hosting, and is less technical.
In comparison, WordPress.org is a self-hosted CMS, requiring site builders to download the software onto their computers, acquire their own hosting, and create the desired website without any limitations.
Now that you understand the basics and foundations of WordPress.com and WordPress.org, let's see how the two platforms compare on multiple parameters.
ALSO READ: Why WordPress is the Best Platform To Build Your Business or Startup Website
8 Differences between WordPress.com and WordPress.org
1. Setup, Installation, and ease of use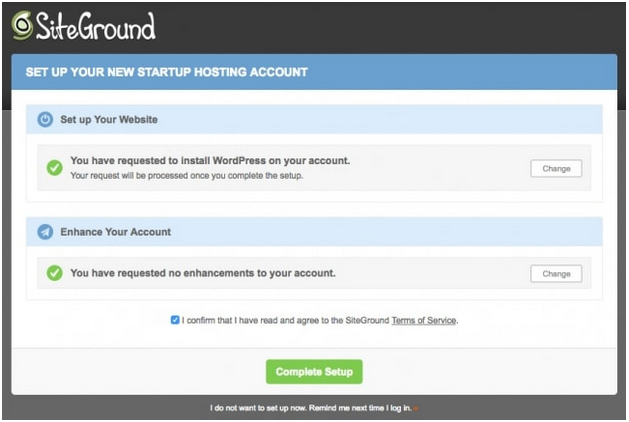 WordPress.com is easy to set up, install, and use. It only requires the following steps:
Create an account on WordPress.com
Select the type of website you would like to build
Enter the site's name
Obtain a domain name (you can buy or use the free one with an auto-suggested URL)
Select a paid or free plan
Start updating and using your site
The main benefits of using WordPress.com are that it comes with a free plan (for sites needing less than 3GB space), requires little technical experience to install and use, and is ideal for blog sites. You can easily register and design your website and start using it.
However, the free plan comes with adverts and restricts owners or users from displaying ads, making it hard to monetize.
To set up and install WordPress.org:
Purchase a domain name
Shop and buy a web hosting plan (you can do so on GoDaddy, Namecheap, Dreamhost, etc.)
Develop a server-based WordPress database
Use an FTP client to download and upload the WordPress software to your domain.
Install the script.
Steps d-e can also be done easily using a 1-click WordPress installation, depending on your web host.
Start updating and using your site
WordPress.org can be more challenging, especially for beginners, but its tools are more advanced and offer more flexibility. You can customize your site design, run your own ads, and install plugins like Google Analytics for free.
Though you will be required to acquire an external hosting provider and to back up your website, you can still hire the services of a web developer to assist you in installing and navigating the platform.
WordPress.com is better than WordPress.org in terms of ease of set up, installation, and use.
ALSO READ: Top Reasons Why WordPress Will Never Die
2. Theme Design and Customization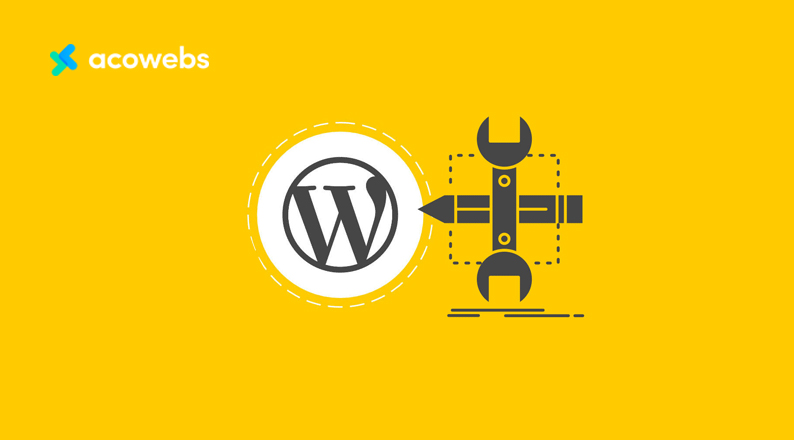 WordPress.com enables you to access about150 free themes and other built-in features through the lower-tiered personal plans. Users on paid programs can also buy 200+ premium themes.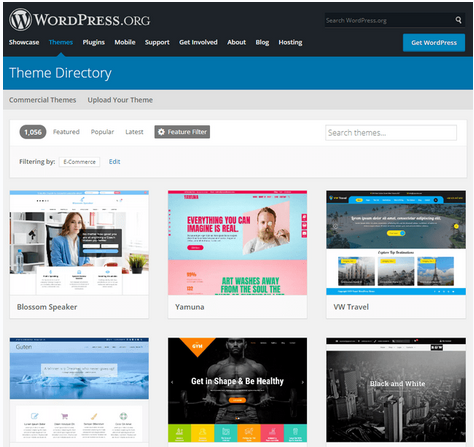 Free-plan site designers are limited, but they can still use the freely available themes to select good and responsive designs.
You can also use the platform to make basic edits though users on paid plans have more flexibility around this area, including the ability to install extra plugins. Using this ability, you can do tons of other useful things like crediting content creators for instance
Compared to WordPress.com, WordPress.org is open-source, making it better for theme design and customization. It comes with thousands of free themes (more than 7,500), readily accessible source code for editing, and the ability to install plugins with drag and drop functionalities.
You can also use tools available on the web, such as 'Elegant Themes', to install and upload free and premium templates.
These features give site builders using WordPress.org more design flexibility compared to WordPress.com users, making the former the better of the two.
ALSO READ: How to Create a WooCommerce Child Theme?
3. Plugins
There are tens of thousands of paid and premium plugins available to WordPress users, such as WooCommerce and WPML (for building multilingual sites). There are many top-quality plugins for WooCommerce itself and some of the notable names are:
WooCommerce Product Addons and a free version of it WooCommerce Custom Fields Plugin
WooCommerce Checkout Manager and its free version WooCommerce Checkout Field Editor
WooCommerce Dynamic Pricing and WooCommerce Discount Rules which is its free version.
WooCommerce Product Labels and its free version WooCommerce Product Badges
WooCommerce Invoices plugin and a free version of it WooCommerce PDF invoices
WooCommerce Wishlist Pro and a free version of it called WooCommerce Wishlist plugin
However, you can only install a few of these plugins on WodPress.com, on the paid plans. The platform still comes with limited pre-installed plugins like FormBuilder and Social Media Buttons, but many are pre-selected depending on your site's goal.
On the contrary, WordPress.org gives the freedom to use thousands of plugins and install third-party ones as per your wish.
If you are seeking a platform with no restrictions on which plugins to install, then you should go for WordPress.org rather than WordPress.com.
4. WordPress support
The free plan for WordPress.com comes with no support for users, though users on paid plans can access email and live chat support at a fee of about $4 per month.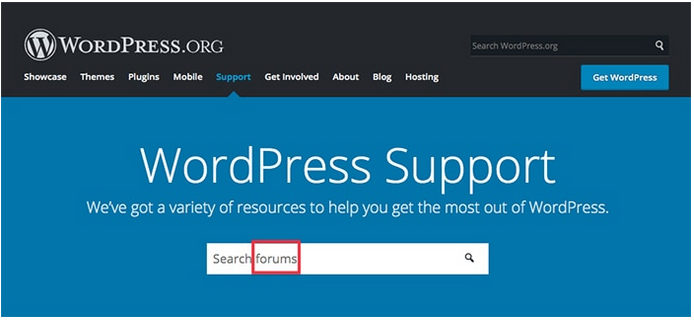 Although WordPress.org provides no support on its official channel, users can still be assisted through their WordPress hosting provider. For instance, HostGator provides specialized hosting solutions for WordPress.
Other hosts like Bluehost, SiteGround, and Kinsta are also known for their outstanding WordPress support.
Most of the support from these hosting providers is accessible 24/7, enabling you to learn from experienced WordPress customer support teams.
In addition to the official support, users can also find a vast amount of tutorials and advice on WordPress online. Most of this advice relates to WordPress.org; there are limited support materials for WordPress.com.
For instance, you can find information on FAQs and community forums created by other people who have experience using WordPress.org.
It is, however, tedious and time consuming to search through multiple pieces of information to get what you need. Asking questions on community forums can also leave you confused or misinformed, especially if the members provide you with technical responses.
WordPress.com's paid plan scores better than WordPress.org, mainly because the latter has no official site support, other than the one provided by third-party hosts.
5. Backup and security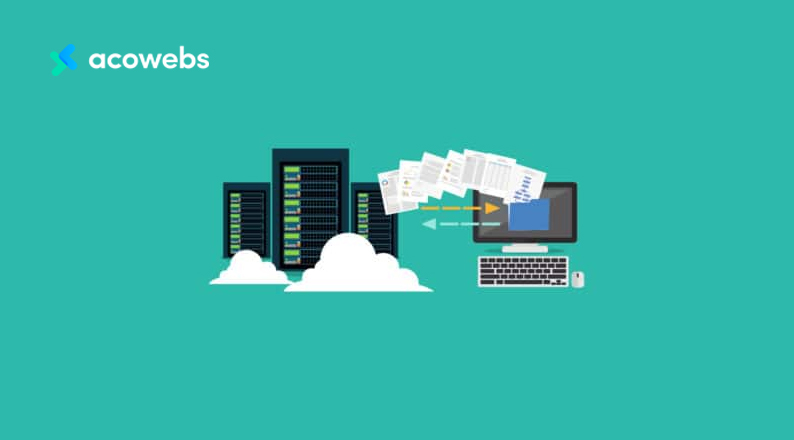 One of the main differences between WordPress.com and WordPress.org is that the former comes with basic security and backup features, which are in-built from the time you set up the platform.

This security functionality relies on WordPress.com's security parameters, and you may have little or no control over its reliability. Notably, there have been no major cyberattacks on the platform, mainly because the WordPress.com team is responsible for updating the software consistently.
In comparison, WordPress.org has an open-source code, which can be seen by everyone, but with robust and advanced security parameters. If you are using the software for personal projects, you don't need to install additional security tools.
If you are running a business site, you can install extra security plugins like Sucuri or Wordfence for improved safety.
You will also need to backup your data and information. You can do so using plugins like UpdraftPlus and Backup Guard to protect your site from malware, hackers, and unplanned server outages, which can make your site unusable.
WordPress.org users can install updates during the year upon notice in the WordPress dashboard.
WordPress.com makes it easier to take care of backups and security features, while WordPress.org gives you flexibility on how to secure your site. Still, WordPress.com is better because you don't have to worry about site maintenance, security, and backups.
ALSO READ: WordPress and Security – Is WP Good Enough for eCommerce Websites?
6. Monetizing
Free and personal sites available on WordPress.com cannot be monetized. If you are on a free plan, WordPress.com will also display their ads on your website without your consent.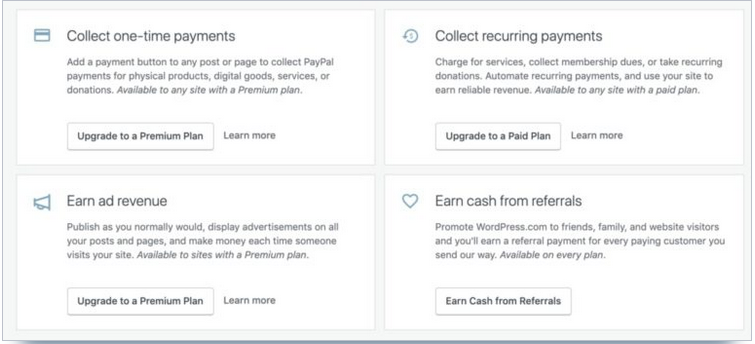 Since you cannot disable these ads, you are limited on how to use your site to make money from your traffic or online products.
However, you can still upgrade to a Premium plan to earn from ad revenue. You can run WordAds (an ad network operated by WordPress), Adworks, and other permitted monetization programs.
In contrast, users of WordPress.org can monetize their sites using unlimited methods. You can add affiliate links, sign up and run Google Adsense, sell ad space, or even sell digital products like ebooks.
WordPress.org runs on open-source software, enabling users to install, add, and enable all manner of monetization tools.
WordPress.org is the best for monetizing your site because it gives you the flexibility to use your preferred monetization plans.
7. Ownership
When comparing WordPress.com vs WordPress.org, one of the key issues to consider is copyright and ownership of your site.

If you are using WordPress.com, WordPress reserves the rights of ownership, meaning that it can delete or take down your site as it pleases. This situation can occur if you violate WordPress' terms and conditions.
In comparison, you own 100% of a WordPress.org website. You are in charge of paying for security, updates, domain, and hosting, giving you authority to use your site according to your terms. It can only be taken down if there are illegal activities flagged by the government.
The key identifying factor for WordPress.com sites on lower-tiered pricing plans is WordPress branding or subdomain, which you will not find on WordPress.org URLs. Such websites will appear as "mywebsite.wordpress.com."
WordPress.org is better than WordPress.com because it grants you site ownership and control over the operation of your website.
8. Pricing
WordPress.com comes with both free and premium packages.
The free plan will not cost you, but you will have to set up your site on wordpress.com domain. You will also be required to use a maximum disk space of 3 GB and bear with uninvited ads.
The premium package costs between $4 and $45 monthly, depending on the features and benefits. The Personal plan is the cheapest, at $4 per month, Premium, $8, Business, $25, and ECommerce, $45.
You will also need to pay for premium themes at a one-off fee of between $30 and $150, and premium plugins, costing between $5-$150 monthly.
The below breakdown shows the cost of acquiring a WordPress.com hosted platform (free and billed plans):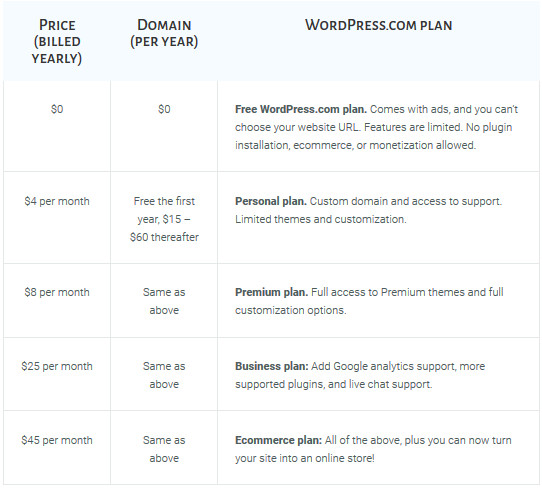 On the other hand, WordPress.org is a free software, but you will need to pay third-party sites to acquire a custom domain name and web hosting.
Your hosting expenses can range between $5 and $40 per month, depending on the choice of your hosting and domain name provider. For instance, DreamHost charges $3.95-$9.95 per month, while SiteGround charges $14.99-$39.99 per month for hosting.
When we compare the pricing for wordpress.com and wordpress.org, the latter is cheaper when you consider all the features, benefits, and value for money.
Which is the best? WordPress.com or WordPress.org
Both WordPress.com and WordPress.org have their advantages and disadvantages.
The best between the two will depend on your needs or expectations, the type of website you are launching, and budget.
For instance, if you are running a personal blog, hobby website, or un-monetized site, you should choose WordPress.com. You can also use it if you are looking to start a personal project to test or share your thoughts or hobbies.
This option will enable you to set up and launch your website quickly without spending a lot of money.
Given that WordPress will provide maintenance and support, you will be good to go either on a free or paid personal plan.
However, if you would like to launch a professional site or site for business, projects, and eCommerce, you should go for WordPress.org. This platform will enable you to monetize your site and customize it as desired. At the same time, there are other eCommerce specific alternatives that could be considered for selling online.
Given the issues discussed, WordPress.com wins in the following areas:
Setup, installation, and ease of use
WordPress support
Backup and security
In contrast, WordPress.org scores better in the following areas:
Theme design and customization
Plugins
Monetizing
Ownership
Pricing
Both WordPress.com and WordPress.org score fairly well. The best choice will depend on the factors addressed earlier, though you can always migrate from WordPress.com to WordPress.org as your needs change.
Conclusion
WordPress.com and WordPress.org are not the same though the names are almost identical. The former is a "build-your-own-website" platform hosted by WordPress.com, while the latter is a self-hosted content management system (CMS).
From this article, we have learned the features and benefits that set the two platforms apart. WordPress.com is better when it comes to setup, installation, ease of use, WordPress support, and backup and security.
These features are in-built and available on both free and paid plans, enabling site builders and owners to design, run, and maintain their websites with ease. However, WordPress.com users have to bear with restrictions on the number of plugins and themes available and ad display.
We have also learned that WordPress.org scores higher in terms of theme design and customization, plugins, monetizing, ownership, and pricing. This platform has limitless features and benefits, including themes and plugins for personalizing your website to suit your needs.
You are also free to use unlimited methods to monetize your site. Since you are the site owner, you can design it as desired to meet your expectations. WordPress.org is an open-source software, giving users more freedom than WordPress.com.
Overall, acquiring and maintaining WordPress.org is more favorable and cost-effective than WordPress.com, but both platforms will serve you according to your needs.
Acowebs are developers of WooCommerce plugins that will help you personalize your stores. It supports the additional option with feature-rich add-ons which is Woocommerce custom fields, that are lightweight and fast. Update your store with these add-ons and enjoy a hassle-free experience.