Customers who are happy with your products and services are the best advocates for your brand, because people tend to have high regard and trust for word-of-mouth ideas from friends and family.
Reviews, ratings, recommendations, and referrals are common elements on today's eCommerce platforms because many online retailers now understand the value of these aspects in brand awareness, lead generation, and sales increment.
Customers' experience with your products and brand can range from quality, cost, and customer service, but what makes referral marketing even more valuable is its scope.
There are many smart ways of motivating and driving customers to leave positive reviews and refer your products to others.
Unlike word-of-mouth marketing where friends and family talk about your products due to their experience using them, referral marketing comes with incentives, such as discounts and freebies, inciting customers to promote your brand within their network.
For a better view of how the concept works, we have compiled a complete guide to eCommerce referral marketing.
What is referral marketing?
Referral marketing is a strategy eCommerce businesses use to encourage their customers to spread a good word regarding the products and services used.
Customers can refer your offering to others naturally through word-of-mouth, which mainly takes place through face-to-face communication or via social media shares and text messaging.
While word-of-mouth brand ambassadors do not expect compensation for promoting your products, other referral marketing strategies may require you to provide incentives to your customers to encourage them (not bribe) to advocate your brand to their friends and family.
Referral marketing is, therefore, associated with spreading promotional messages by multiple channels, and rewarding customers or promising to do so with lucky rewards for being your brand ambassadors.
eCommerce marketers use the concept to raise brand awareness and increase conversions for their products. The practice is also associated with increased traffic flow and improved site ranking on search engines like Google.
ALSO READ: How eCommerce businesses can turn organic traffic into valuable leads
How referral marketing works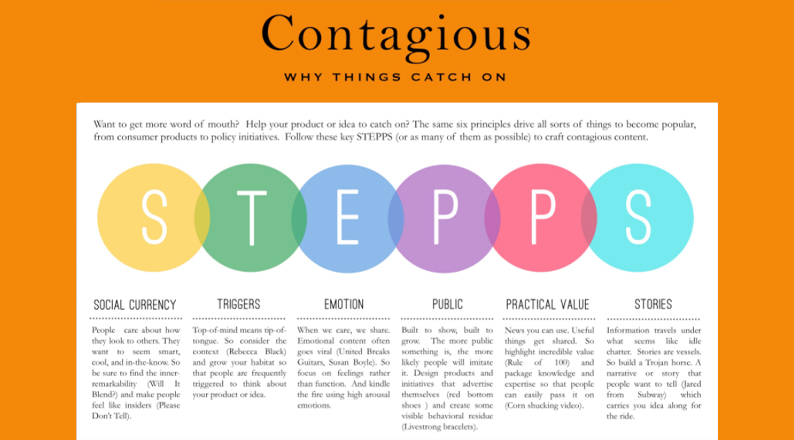 Referral marketing is an essential tool whose workings are driven by a number of factors, summarized as STEPPS. The concept was coined by Jonah Berger, and it stands for:
Social currency
People will share messages about your products or services because they want to be perceived by others as smart, cool, and important. They want to gain social reputation, value, and respect.
Trigger
Using rewards, cashback, and prizes triggers the customer's mind in a way that they are motivated to share messages regarding your products.
Emotions
When your products or services impress your customers, they develop an emotional attachment to your brand, making it easy to refer your products to others.
Public
The more people become familiarized with your product, the more they are likely to refer it to new users, including their friends and family. It is easier to refer a product people are accustomed to using, than a new product that is yet to be tested for quality, usability, and reliability.
Practical value
The more practical a product is to customers, the more the positive sentiments. Customers will refer your products to others, depending on how much information they have regarding the product's usage, benefits, and value.
Stories
A good story behind your brand or product, such as one motivated by the need to offer solutions to certain problems in society, remains in the minds of your customers.
It is such stories that customers retell when recommending your products and services to others seeking solutions to their problems.
In addition to the above 6 concepts of referral marketing, you stand to gain a lot from applying the strategy to your eCommerce business.
ALSO READ: Tips to use content marketing for eCommerce sales
Why is referral marketing important?
You should care about referral marketing for a number of reasons:
Increased brand awareness
When you reward your customers, you motivate them to remain loyal to your brand, as well increase the chances of spreading positive messages regarding your products to others.
Indeed, statistics show that 49% of American consumers have gained brand awareness from their friends and families. Another 58% of consumers use social media platforms to ask friends, family, and colleagues for opinions about brands; these consumers also use social media channels to share positive experiences.
The trend shows that referral marketing is a widely accepted and used tool to spread a good word regarding your brand and products, leading to improved awareness, engagement, and conversions.
Builds trust
As of 2020, statistics by Marketing Charts show that friends and family are still the most trusted sources of information regarding brands (93%), followed by review sites (91%), while advertising scores the lowest at 38%.
Therefore, if you are looking to build customer trust, look no further than building relationships with your customers, popularly known as relationship marketing, as it's the customers that you provide good service to that act as the best sources of product recommendations.
Improved customer retention & lifetime value
Referral programs will enable you to retain your existing customers, attract new ones, and improve customer lifetime value (CLV).
Indeed, statistics show that the CLV of a new referral customer is 16% more than that of your average customer, and 25% higher than that of other customers in general.
When you attract many customers through your referral programs, you stand to gain more value or net profit over the entire period of the relationship with prospects.
5 eCommerce referral marketing strategies
How should you implement referral marketing for your eCommerce business?
Let's have a look at 5 tactics leading businesses are employing:
Offer coupon codes and discounts
You can execute eCommerce referral marketing by generating coupon codes for your loyal customers, which they can share with friends and family.
When new leads use the referral code to purchase your products or sign up for your services, both customers get rewarded.
You can offer to reward your customers using discounts, coupon codes, free plans or delivery, among others.
If you are on eCommerce programs like WooCommerce, there are many Coupon Referral Program plugins that are great resources to use for this purpose.
Gillette, a leading supplier of on-demand services for shaving creams and razors, uses two-way discounts in its referral program.
Two-way discounts are incentives that motivate both the referring customer and the recipient to buy the product.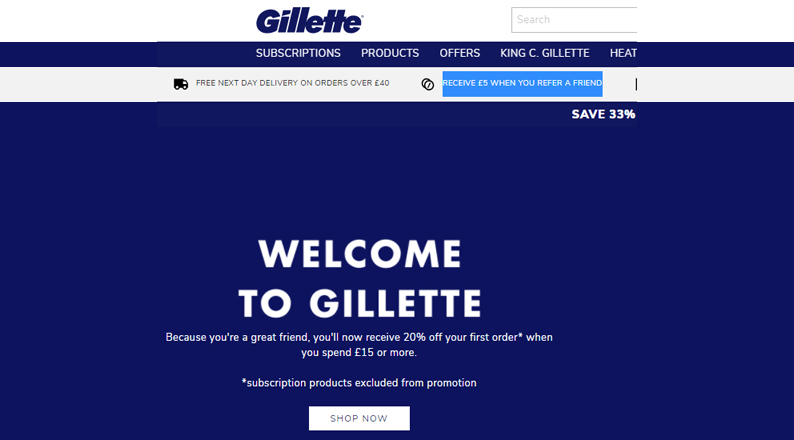 Two-way referrals using discounts motivate your existing customers to buy your products, while driving new targeted and ready leads, hence, increased sales conversions.
Use your loyal customer base
Target your loyal customers and use them to spread positive messages regarding your brand. Customers already participating in your loyalty programs are a good source of referral traffic.
You can create customized referral links specifically meant for these customers, to entice them to refer their friends and family to buy your products or services.
You can also get loyal referrals through an ambassador program, through which you can empower your customers and fans to share messages and stories around their experience with your brand.
Ambassador programs create deeper connections with your client base, building engagement, meaning, awareness, and an active community of product users and brand followers.
Hincapie Sportswear, a cycling apparel eCommerce outlet, uses this concept, whereby the company offers custom-made cycling jerseys for certain expenditures by a customer's friend or relative.
Customized gifts are unique to the customer, giving them a high value and attachment. Lovers of Hincapie's products also share their messages through the company's ambassador program.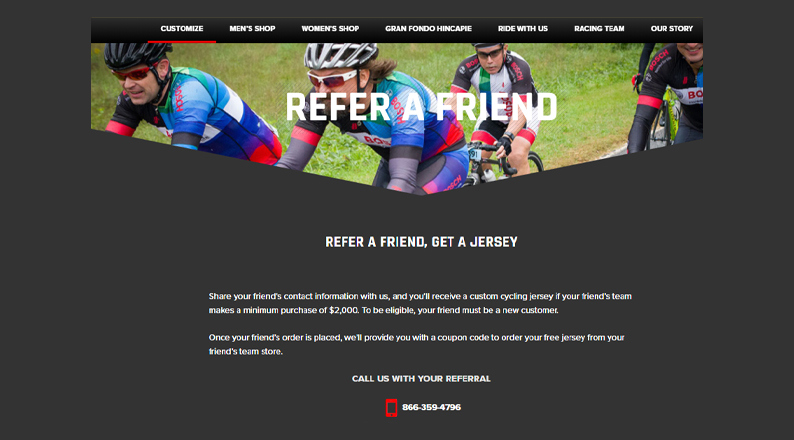 Referral programs run by targeting already loyal customers are a great way of attracting ready users of your products.
Use contest referral programs
eCommerce marketers are now running contests to expand their subscription list, enhance brand awareness, and improve sales.
Contests with rewards attached to them are even more appealing, because people are naturally attracted to challenging tasks. You can use the participants to market your brand and products, while increasing engagement, shares, and conversions.
Thermador Kitchen uses creative contests to encourage participants to vote for their preferred kitchen design. Participants get a chance to win prizes, enabling the brand to gain user-generated feedback and leads from their customers.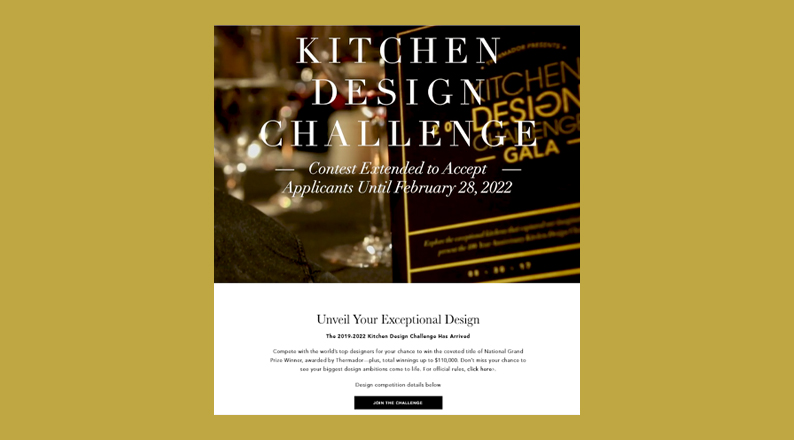 Contests are an interactive way brands use to capture the attention of the audience, trigger their inquisitive side, and persuade them to subscribe to a newsletter or buy a product.
ALSO READ: Twitter eCommerce Marketing
Extend cashbacks and reward points
Cashbacks is an eCommerce referral marketing strategy, whereby customers receive immediate cash rewards for referring their friends and family.
The objective is to entice and motivate your existing customers to share your products with others, for increased sales and followership.
You can also customize this approach by offering gift cards, in which customers will be required to use the gift cards to buy more products from your eCommerce store.
Another way is to offer reward points if customers refer new clients. The points can be redeemed for free gifts or discounts. Customers who do not use their points actually save you revenue.
Glossier's referral program offers rewards points in the form of gift cards and credits, which customers can use to purchase items from the store. The customers you refer to also earn a discount off their first-time purchase.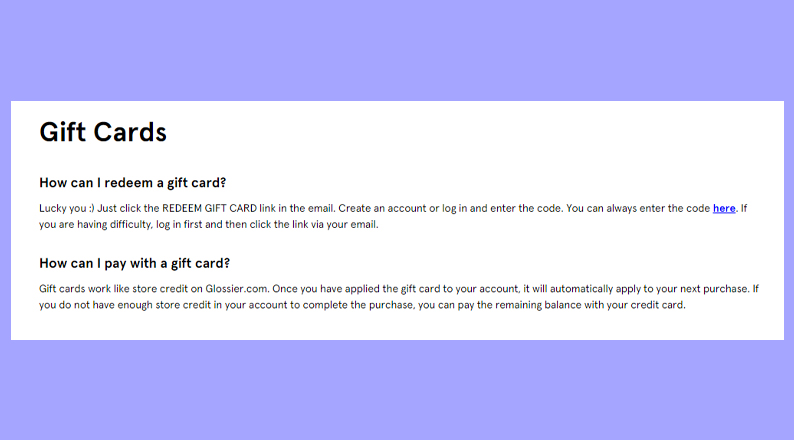 It is easy to customize your referral program to determine the kind of rewards you would like to offer to your customers. You can also test with more than one kind of reward to determine which one performs best in specific seasons.
Organize event-based referral programs
Event-based referral programs are created to promote a current or upcoming event, such as a gathering, summit, conference, discussion, etc.
You can use the program to invite specific customer categories or groups of target audience to share their experience using your products. You can also open up the platform to pioneers of eCommerce brands to discuss trending topics.
Outdoor Voices, an active lifestyle brand uses this approach to draw a huge following, enabling it to compete with brands like Nike and Lululemon, simply by engaging with its community of people seeking to remain active in the company of their friends.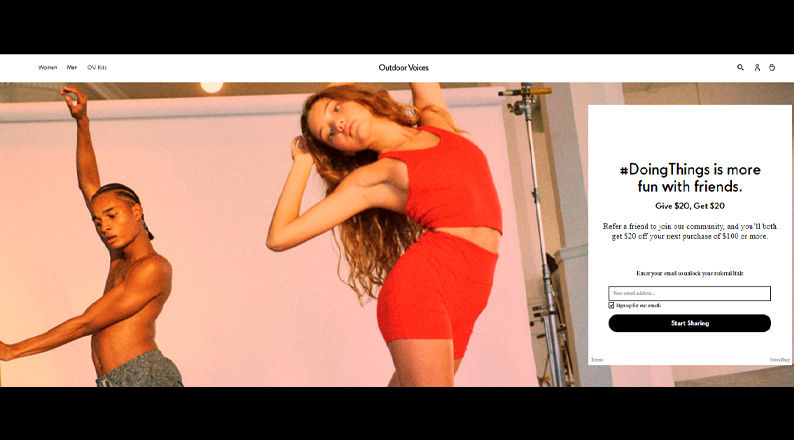 An event-based eCommerce referral marketing strategy shows that you care about your customers and are not around only to make money. It is an indirect way of increasing your customer reach and conversions.
How to run a referral marketing program effectively
Create an incentive
An incentive can take the form of free gifts, discounts, cash rewards, points, customized products etc., which customers get for referring others to your eCommerce store.
Plan and schedule the referral program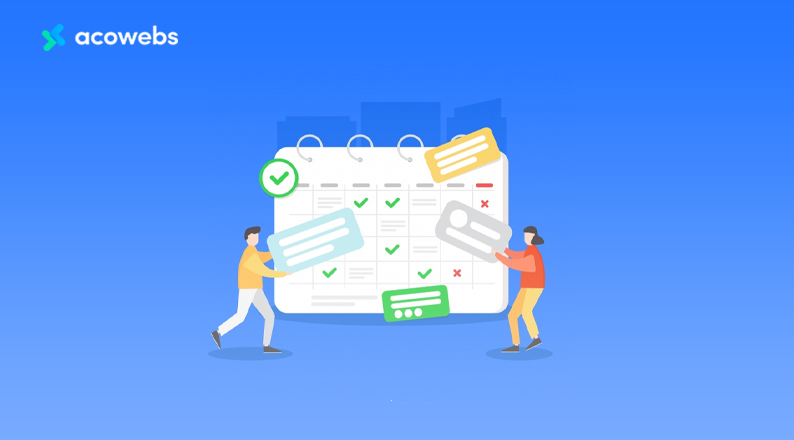 Before executing a referral program, ensure to conduct research to determine the group of customers that are highly likely to promote your products by word-of-mouth.
You can also take surveys to know and predict the customers likely to take part in the referral campaign. Examining how your competition is running their referral marketing strategies will also offer you tips to do it better.
Next, launch your referral marketing program by creating content and buzz around it. Ensure to promote it on your landing page, homepage, products page, and social media platforms.
You can also create an email marketing campaign targeting your existing customers. The email should have a catchy headline and should provide brief details regarding the program. It should also have a referral link, which drives traffic to your landing page or the product page.
Other channels to promote your referral programs are transactional emails (such as order confirmation emails and shipping confirmation emails), blogs, and chatbots.
Chatbots like Tidio and Chatfuel will inform your customers about the referral program in place as soon as they visit your website.
Remember, the best time to run your email referral marketing program is during the day, between 8 pm and 12 pm, as this is the time many customers are likely to open their emails and surf the internet.
ALSO READ: WooCommerce vs Shopify: Which eCommerce Platform is Better?
Leverage the power of social media
Social media is also a highly lucrative platform for promoting your referral program, as it helps spread the work quickly and effectively to a select target audience.
Platforms like Facebook, Instagram, Pinterest, and Twitter have multiple followers for your brand and groups and communities that you can reach with your referral links.
The more your program has a win-win benefit attached to it, the better, as people will be more encouraged to share the referral links with as many friends as possible, in order to earn the highest reward.
Nintendo uses social media reward programs, requiring customers to participate by retweeting, liking, or following their brand, a tactic which helps increase exposure, engagement, follower count, and possibly, conversions.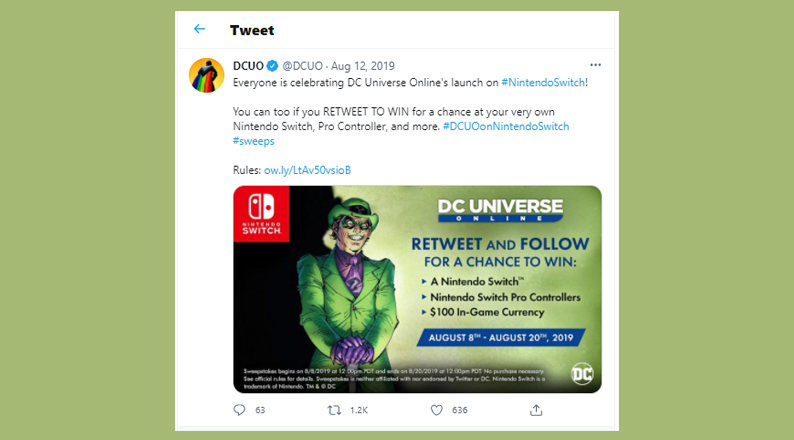 Personalize the campaign
Personalized or customized referral campaigns are great at increasing engagement and shares. Indeed, research shows that 79% of customers will engage with a personalized offer, increasing the chances of converting leads to referrals.
When you use a personalized invitation message, you also increase the open rate, click-through-rate, and response rate for your referral marketing campaigns, especially those done via email and SMS.
Emails with a personalized subject line and message have up to six times higher transaction rates than random emails, making the former better for high conversions.
Keep track of your referrals
You must track how your referral marketing programs are performing by collecting data on new customers enrolled through the referral links, the return on investment (ROI), and feedback from your existing customers.
Use the feedback to address areas of concern, and ensure to reward them for the free work they are doing bringing in new leads.
You should also thank your customers for participating in the referral program, even when they did not win an award.
There are several tools you can use to monitor your referrals, which are discussed in the next section.
Effective referral marketing tools & metrics
Tools like ReferralCandy, Friendbuy, and InviteBox are effective in setting up a referral program. They can be easily integrated with your online store, whether on Shopify, BigCommerce, or Magento.
Email marketing softwares are good for eCommerce referral marketing campaigns. You can use them to send commercial messages to several loyal customers with promotional referral links.
You should also use the available tracking metrics to measure and analyze the returns you are making from investing in referral marketing.
The ROI determines how successful your referral marketing campaign is, irrespective of how sophisticated it appears. Your objective should be to make a positive ROI, whereby the amount of capital invested in your referral program is lower than than then gross profit or revenue made.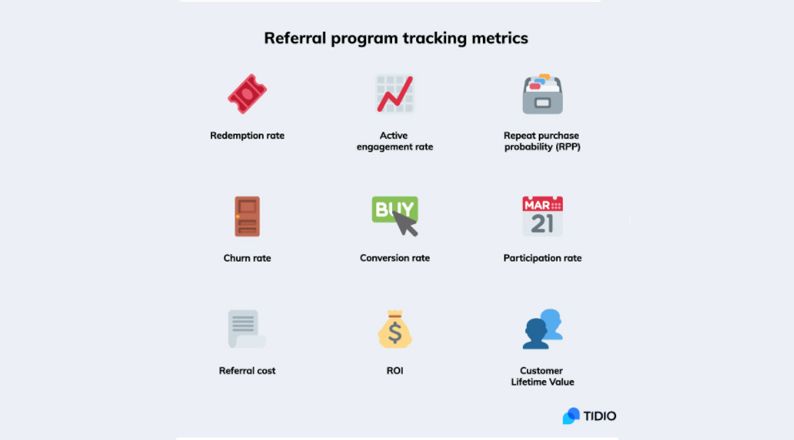 The common metrics for measuring the performance of your eCommerce referral program include:
Redemption rate – The number of coupons or percentage of redeemed reward points.
Active engagement rate – The number of customers actively engaging in your referral campaign, measured as a percentage.
Churn rate – The percentage number of customers or subscribers who have not returned to your eCommerce store (those who have stopped using your service) over a given period.
Conversion rate – The percentage of site visitors who took an action, such as subscribing to a newsletter, opening an account, buying a product, or referring to your brand.
Repeat purchase probability (RPP) – It is the possibility that a customer will buy your product(s) again. Gives you an idea of your repeat customers, to whom you can send referral emails.
Participation rate – The average number of customers taking part in your referral marketing campaign.
Referral cost – The cost of running the referral program, such as rewards for advocates and their referrals, and the administration costs.
ROI – The net returns made from running a referral program, giving you an idea if the campaign is worthwhile or not.
Customer lifetime value – The value you generate from every customer, including those that purchase once and those that are repeat clients.
ALSO READ: Impact of e-Commerce On Society: Advantages and Disadvantages
Conclusion
eCommerce referral marketing entails the use of promotional messages to encourage customers to spread messages regarding your brand, products, and story, and rewarding them or promising to do so with lucky rewards for being your brand ambassadors.
To launch a successful referral program, ensure to adopt the STEPPS concept for improved brand awareness, customer trust, retention, and lifetime value.
To run an effective referral program, you can entice customers with coupon codes and discounts, personalized messages, contests, cash backs and reward points, or event-based referral sessions.
To hold a referral marketing campaign, you should create an incentive, plan and schedule the reward program, use social media for promotion, and personalize the messages.
You should also keep track of the performance of the program to ensure you are making positive returns.
Acowebs are developers of WooCommerce plugins that will help you personalize your stores. It supports the additional option with feature-rich add-ons which is WooCommerce Product Addons, that are lightweight and fast. Update your store with these add-ons and enjoy a hassle-free experience.