Email marketing for e-commerce businesses is one of the most effective and inexpensive marketing strategies.
It is nearly impossible to find an entrepreneur not using Shopify or a similar e-commerce platform in today's modern business world.
This is because Shopify has given them a perfect opportunity to sell their products and services online to a broad audience overnight.
But did you know that you can build a Shopify email list of your own? With a Shopify email list, you can easily attract targeted traffic to your shop, which, in turn, will grow your business.
What is an Email List?
An email list is essentially a collection of emails obtained from people who agreed to receive updates and promotional emails from your business via your newsletter, contest, blog, or website.
It is a group of email addresses used by individuals or businesses to distribute marketing information to many people. This list serves as a marketing tool for digital marketers.
Why Building an Email List is Important?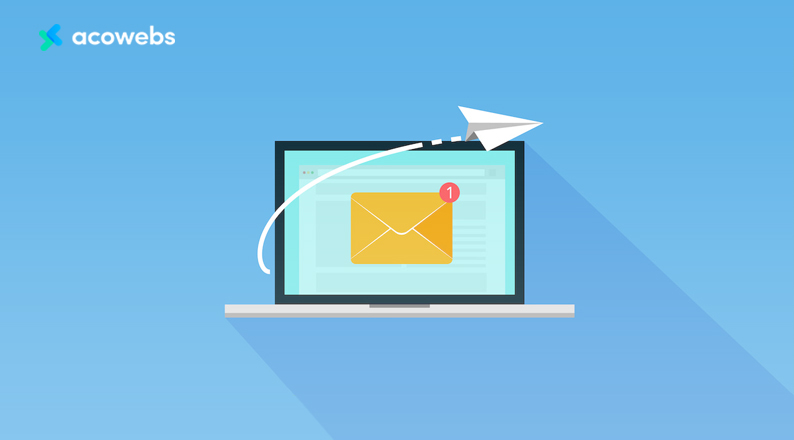 Email allows you to maintain continuous customer interactions. Email is one of the most effective channels for building and maintaining long-term consumer relationships.
With a good email campaign, your business can retain and attract new customers. It can also motivate them to return to the store and make a purchase again.
Email marketing is quite effective in increasing sales. According to a study conducted by Emarsys, 80% of businesses rely on email marketing to acquire and retain customers.
It is also one of the most effective ways to generate leads and increase sales.
Third parties cannot influence email. If platforms like Facebook and Google decide to change their policies, it will affect your digital marketing and SEO efforts.
However, you own the email list, and the decisions of other businesses do not influence it.
Email is very direct and personal. As a result, email enables you to generate personalized campaigns and creative content.
People check their email inboxes multiple times per day, allowing you to engage with them whenever you want. According to Statista, 306.4 billion emails were sent and received each day in 2020.
With this email marketing statistic in mind, it's difficult to overlook the power of a great email campaign.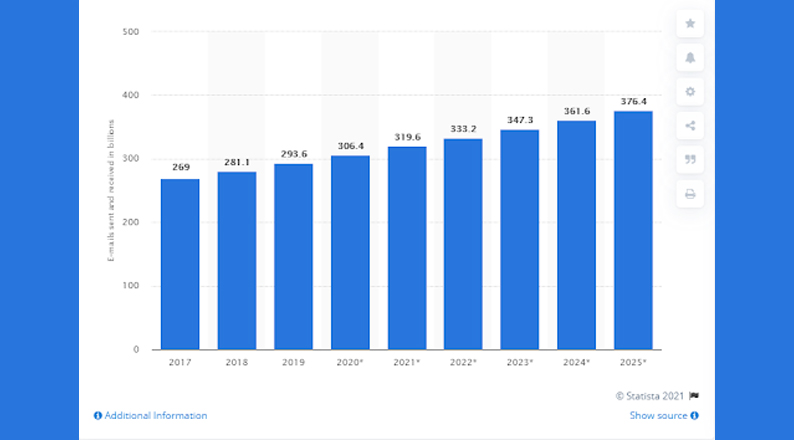 What are the Most Important Considerations while Building an Email List?
Creating a great email list is the first step in any successful campaign. It's important to make sure that your lists are properly managed to perform well in the future.
The following are three critical priorities for creating a valuable email list:
Quality: You want to ensure that your emails are obtained and delivered to genuine people who check their inboxes regularly.
Relevance: You should target people who are sincerely interested in your products – people who have expressed an interest in receiving emails from your business.
Volume: After you've completed the first two criteria, you can start concentrating on the number of subscribers and expanding your list. Quality is far more essential than volume/quantity; thus, purchasing an email list to boost your reach is always a bad idea.
ALSO READ: Top 8 Social Media Strategies That Every E-commerce Store Needs To Implement
Shopify Email List Building Tips To Grow Your Business
Create Pop-Up Offers for Your Website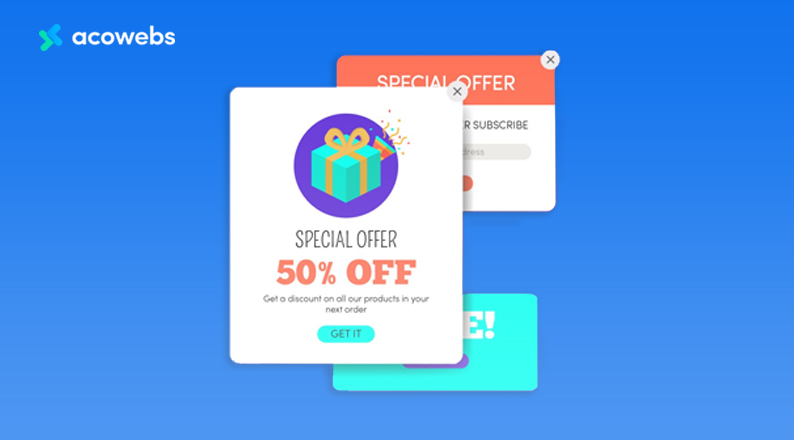 Although some people may dislike them, email pop-ups can be very beneficial. Test after test has shown that pop-ups may significantly increase email sign-ups with the right offer delivered to the right audience.
You can start with an entry and a timed pop-up depending on the average amount of time users spend on your site.
The message could be an offer to purchase your product, or it might be as straightforward as urging the customer to sign up for the email list to receive free information on new information and techniques.
You can also have an exit-intent pop-up. This pop-up appears when the user is about to exit or log off your website. You may offer them a discount or an offer in return for their emails with this pop-up.
For instance, Revolve gives new visitors a 10% discount on their first purchase in exchange for their email address.
This entry pop-up discount offer is an excellent example of how to use entry and timed pop-ups to grow your Shopify email list.
As visitors move their cursor around your website, they will notice the discount and complete their purchase. By using this technique, you can significantly build your email list with qualified and focused subscribers.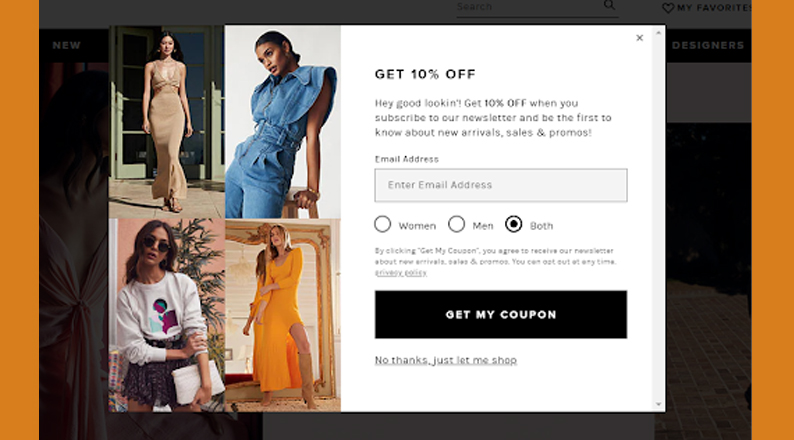 Place Email Sign Up Forms Across Your Site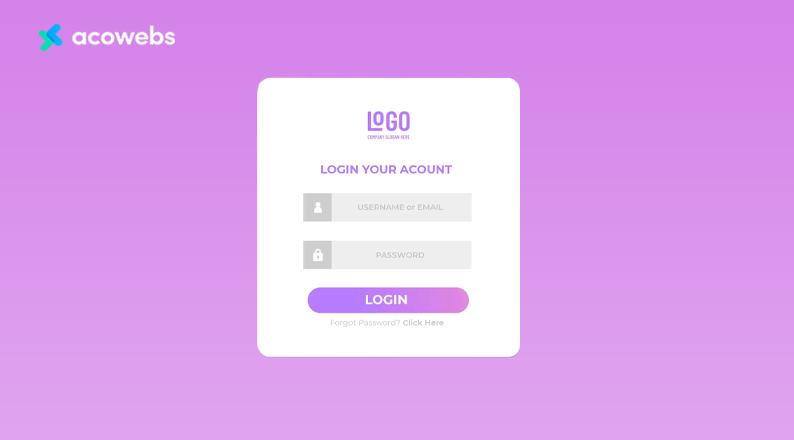 Including an email sign-up form on your website can help you automate the list-building process and steadily increase opt-in rates.
An email sign-up form is used to collect email addresses from leads and potential customers.
You can put this form on your header, navigation or footer, about us page, your blog, or resource pages – where your visitors can enter their email address to be added to your email newsletter.
Below is an example of a simple email sign up form: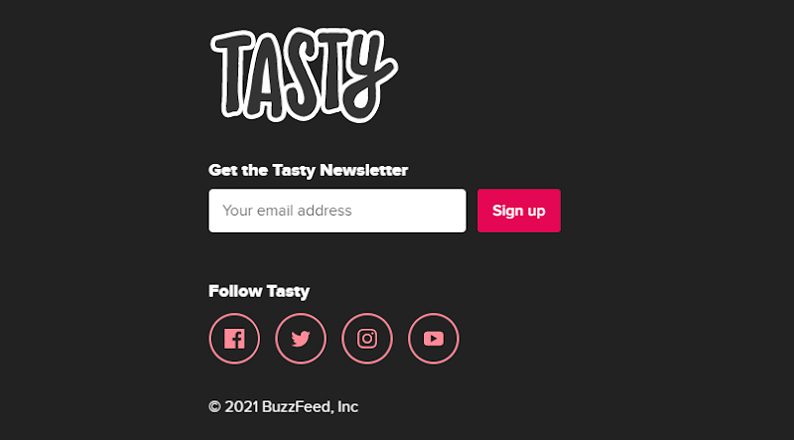 To significantly increase conversion rates, offer your potential customers irresistible offers. As a result, you will easily obtain customer data while also increasing your store's email subscribers.
Seafolly takes a much better approach by offering a $20 sign-up reward to their users. Give your visitors an incentive to hand over their email addresses and join your marketing newsletter list. It's a simple yet effective strategy.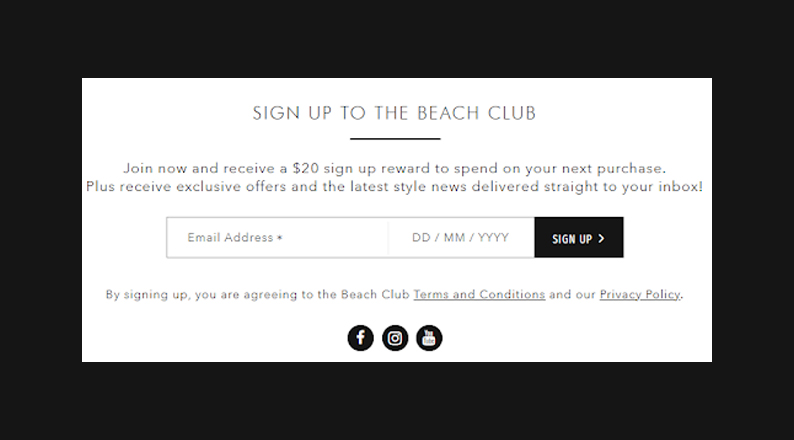 ALSO READ: Using Personalization On Your Online Store To Enhance Customer Experience
Create A Survey to Engage with Your Visitors
Asking your audience to participate in a survey or a quiz effectively builds an email list.
Customers significantly value feedback, and businesses are increasingly using surveys to gather valuable information about their customers and improve their products and services.
To create a simple survey for your audience, you can use Interact, Typeform, or even Google Forms.
Include a special bonus that corresponds to the outcome of your quiz. For instance, Tonic Site Shop includes a cocktail recipe and a playlist with each of the user's results. These are exciting, unexpected bonuses that people enjoy.
You can include a field for collecting email addresses when people complete your survey.
With this strategy, you'll know that the people who gave their email addresses want to hear from you. They'll be more likely to open your emails as a result, and you'll have a healthier email list.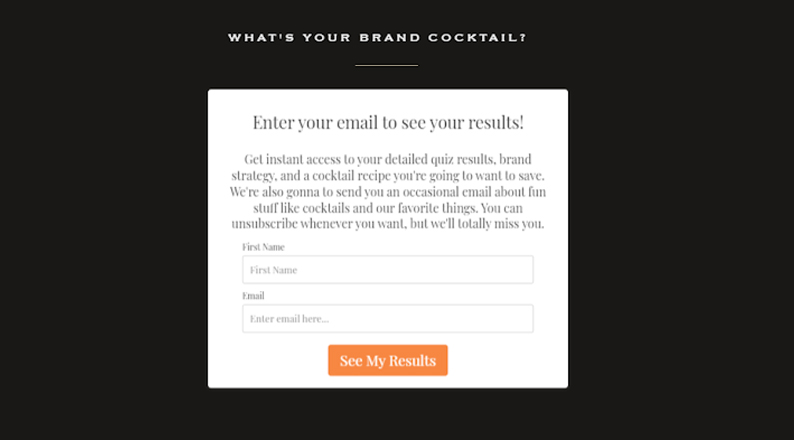 Personalize Your CTAs
CTAs are an essential doorway to conversion and sending visitors through the sales funnel, which is why they must be optimized.
Their goal is to encourage the visitor to take action – either subscribing, buying a product with a discount, or even downloading an ebook.
Take a look at the Optinmonster pop-up CTA button below, for instance; it encourages the "Yes" answer while also providing a "No" option.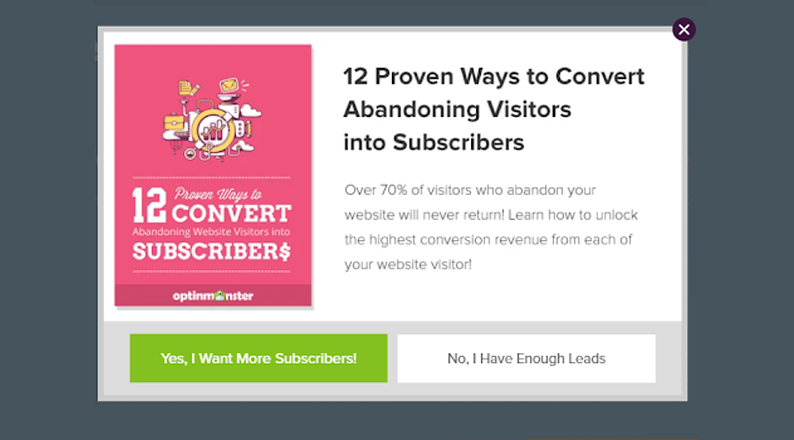 The call-to-action button "Yes, I want more Subscribers!" is vibrant to capture the visitor's attention, but the "No, I Have Enough Leads" button is in a white shade that the visitor can hardly notice in the pop-up.
The "Yes" choice should be standard, but the "No" option allows you to be creative and get your visitor to think. Optinmonster uses persuasive words, "No, I Have Enough Leads", to persuade visitors to accept their offer.
ALSO READ: Tips to use content marketing for eCommerce sales
Use Social Media Platforms
Most people (about 57% of consumers) who follow brands on social media want to stay up-to-date with new products and services, so it makes sense to highlight your email list as a way to keep them informed.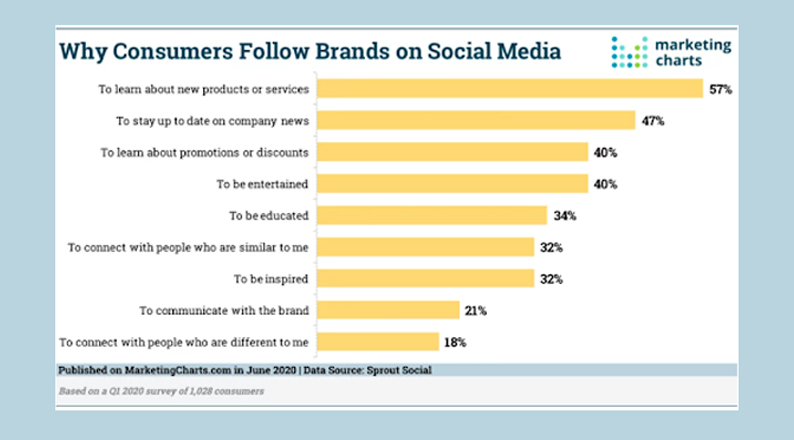 Suppose you have a following on Instagram or Facebook or even on Twitter; in this case, you may try adding an email newsletter on your brand pages to connect with your loyal customers and followers to grow your email list.
On Instagram, for example, you can add multiple links to your bio with Linktree. This tool lets users sign up for your email list through a redirect link.
Also, if you want to expand your email list, don't forget to include a sign-up button on your Facebook business page. Use the call-to-action button to encourage email sign-ups as well.
Create More Landing Pages
Landing pages are often used to generate leads for your eCommerce business. They can be easily created and incentivize visitors to take action, such as buying a product with a discount, downloading an ebook, or registering for an online course.
The goal of creating several landing pages is to get visitors to input their email addresses.
According to research conducted by HubSpot, brands with 10 to 15 landing pages increase leads by 55% over those with less than 10 landing pages. Those with more than 40 landing pages can generate over 500% more leads.
Leads here are names, email addresses, or any information your visitors share in following up with them.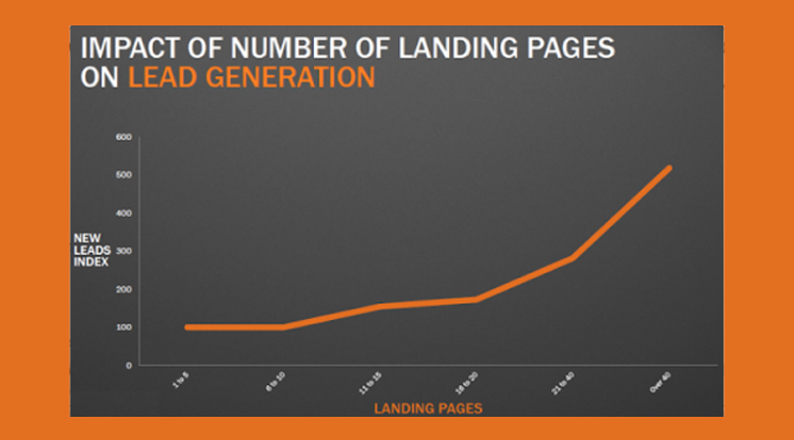 Unique and customized landing pages help you reach a wider audience. Every person who visits your ecommerce website needs something special.
For instance, you may create two different landing pages for your visitors; one landing page offers coupons & discounts in exchange for an email address, while the other offers contests that require the user to enter an email address.
By creating multiple landing pages to address each visitor's specific issues, you'll end up with more email sign-ups.
Include A CTA on Your About Page
One of the most powerful features of your About page is its conversion potential.
People frequently visit this page to learn more about your brand: the community or brand partners.
Include a call to action (CTA) that encourages visitors to sign up for a newsletter and become part of the community. You can use this to generate leads and convert them into sales.
For instance, in the example below, General Assembly CTA on the About page does an excellent job of defining their product offering for entering an email, "Our guide covers high-growth roles in tech, design, and data, along with required skills, stats, and more."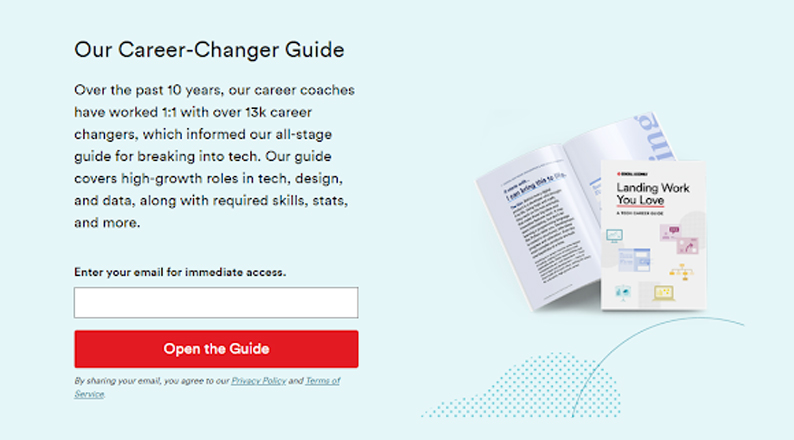 Below is another General Assembly CTA example on their About page. They give visitors a 10% tuition credit on their part-time courses discount on their 10th anniversary.
You can use this strategy to generate leads and convert them into sales.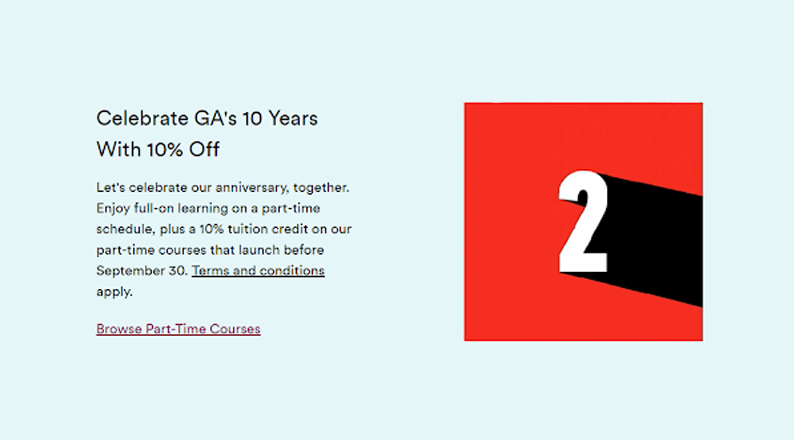 Hold Contests and Giveaways
Contests and giveaways are great ways to accelerate list growth by turning a simple act of subscribing into a powerful event. They can be helpful when your list is small and you don't have existing traffic to generate additional leads.
Visitors like to win something they were already planning to buy, and the potential of doing so is reason enough to join your email list.
Combine a number of your best-selling items or services, allow your visitors to win, and don't forget to use an exit-intent pop-up to avoid disrupting their visit.
After the contest is over, you can email a voucher code to everyone who doesn't win to thank them for their support and simply for entering.
For instance, KnivesShipFree launched a monthly giveaway campaign to grow their email list and increase their sales. And with this campaign, they collected over 5,000 new email addresses in less than four months and generated $10,118.20 on the first day of the new product launch.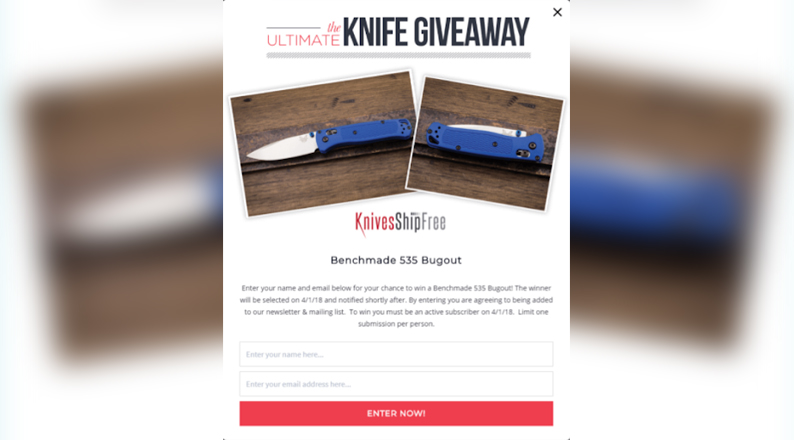 Giveaways are an excellent method to engage your present traffic while also gaining new leads. Choose goals that align with your business and marketing objectives to get the most out of your giveaway promotion.
ALSO READ: WooCommerce vs Shopify: Which eCommerce Platform is Better?
Conclusion
With many entrepreneurs creating Shopify sites, it's vital to use email marketing to help with your business growth. With that in mind, we've put together a few tips to help you build your Shopify email list.
These include creating pop-up offers for your website, placing email sign-up forms across your site, creating a survey to engage with your visitors, personalizing your CTAs, leveraging social media platforms, and creating more landing pages.
You should also include a CTA on your about page, as well as hold contests and giveaways. Remember, the best way to use email marketing to achieve your goals is to create a strategy and follow it. So, what are you waiting for? Get started today!
Acowebs are developers of Woocommerce bulk discounts that will help you add bulk discounts to products on your stores. It also has developed various other plugins like the popular plugin for managing the checkout form fields in WooCommerce, called Woocommerce Checkout Manager, which is highly feature-oriented yet lightweight and fast. There is also a free version of this plugin available in the WordPress directory named WooCommerce Checkout Field Editor.