eCommerce businesses send order confirmation emails once a customer places an order on the company's website.
These emails are a great source of even more leads because they have an open rate of about 60%, which is higher than18%, the standard rate for regular marketing emails. 
The power in the order confirmation emails lies behind the details found therein, including transaction details, order numbers, shipping details, tracking numbers, and other valuable information to your customer.
In addition to high engagement, your order confirmation emails have high deliverability and scalability, making them an excellent tool for customer retention.
In this guide, you will learn 8 ways to send effective eCommerce order confirmation emails without sounding promotional.
What is an order confirmation email?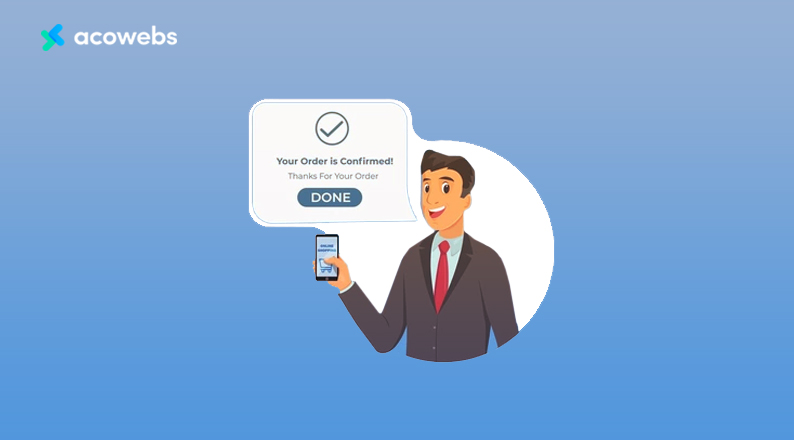 eCommerce merchants send order confirmation emails once a customer completes a purchase or upon placing an order.
Many such emails contain details about a customer's order, such as the product purchased, the cost, estimated delivery time, and delivery address.
Being transactional in nature, order confirmation emails are highly effective in marketing your products because they are sent to an already interested clientele, and they contain additional elements that help enhance their performance.
A good order confirmation email will entice your customers by providing them with clear information regarding their purchase, thus eliminating confusion and building a trustworthy relationship.
The confirmation email also helps turn one-time shoppers into repeat customers, who eventually become your brand advocates.
Many customers tend to buy an additional item or make a last-minute purchase when offered an item that complements what they have already bought or ordered.
Such post-sales deals delivered through optimized transactional emails can lead to a 1-3% increase in your eCommerce revenue.      
Having known what an order confirmation email is and its benefits, let's dive into the best practice for sending one.
ALSO READ: A complete guide to eCommerce referral marketing
8 ways to send effective eCommerce order confirmation emails
Use attractive, interactive designs
Your order confirmation emails and templates must be creative and powerful enough to capture the attention of your customers.
To achieve this goal, ensure to use eye-catchy templates for high conversions. Some of the factors to consider include:
Blend with your company's brand – ensure the email background aligns well with your brand colors. You should also display your business logo for easy recognition by customers, and add links to your social media pages for high engagement.
Make the template more appealing by using catchy and bright graphical elements, picture backgrounds, and illustrations.
Add visible, actionable call-to-action buttons (CTAs) – ensure to use contrasting colors to make your CTA buttons easily recognizable by customers.
Use highly-responsive designs – your order confirmation emails should be optimized for mobile, browser-compatible, and easily legible on email.
JetBlue's order confirmation email elements blend well with the company's brand colors, while the contrasting CTA enables customers to easily update their seat arrangement and order extras.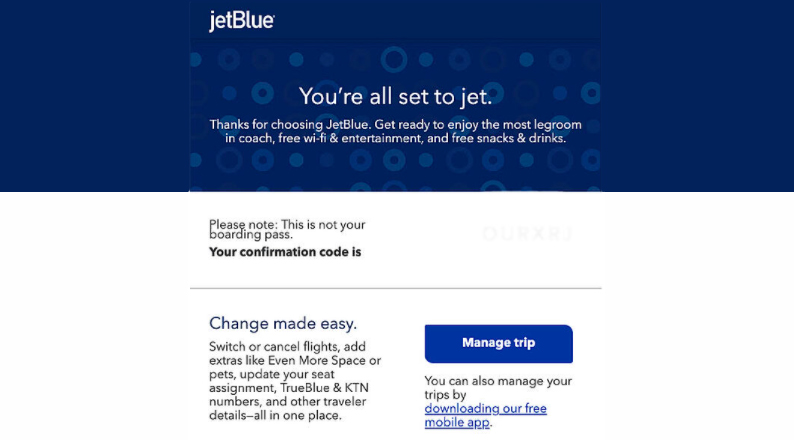 The idea is to ensure your confirmation emails have a visual appeal and components that provide another opportunity to create strong customer loyalty.
Another way to make your order confirmation emails interactive is to use animated images or GIFs, giving life into your promotions while increasing the click-through rates.
While not every client will appreciate an animated email, you can customize and A/B-test it to determine the aspects that work best with your target customers.
You should still stick to one GIF per email, while giving more emphasis to value-added content or relevant information.
Avoid distracting users by keeping many visual aspects like videos to the landing pages, homepages, product pages, and checkouts.
A tool like Opayo helps you create customized email confirmations for your payment pages, according to your website logo, colors, and style. 
Provide the three w's
The content of your confirmation email should provide assurance to your customers that you got their order right and they can rest easy knowing that the item purchased will be delivered on time.
To ensure your email contains all the necessary information, it should contain the three w's, i.e. the 'where,' 'when,' and 'what'.
The automated email should display your delivery address, the expected order arrival date, and a summarized version of the product's description, quantity, size, price, and preferred mode of payment.
You can also add more details like your shipping and return policy, and your contact details like phone, email, or live chat.
ASOS, an online fashion site, sends a detailed and clear order confirmation email with the delivery address, expected delivery time, and order summary, which contains the product details, price, quantity, and total cost.
The email also comes with useful CTA buttons, enabling customers to view the delivery status and seek help regarding their order.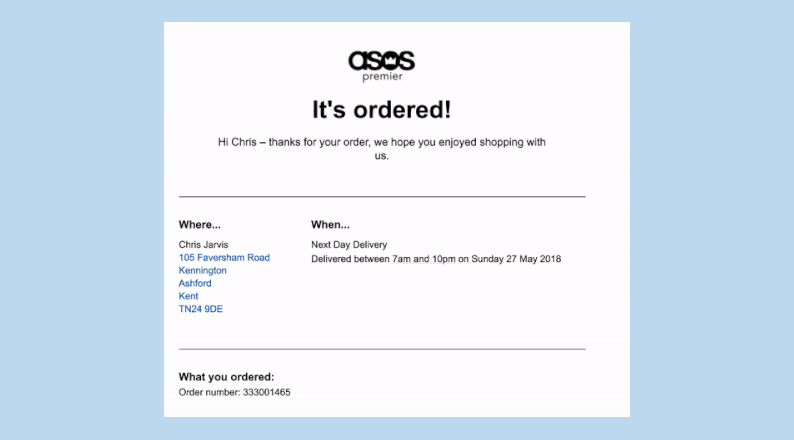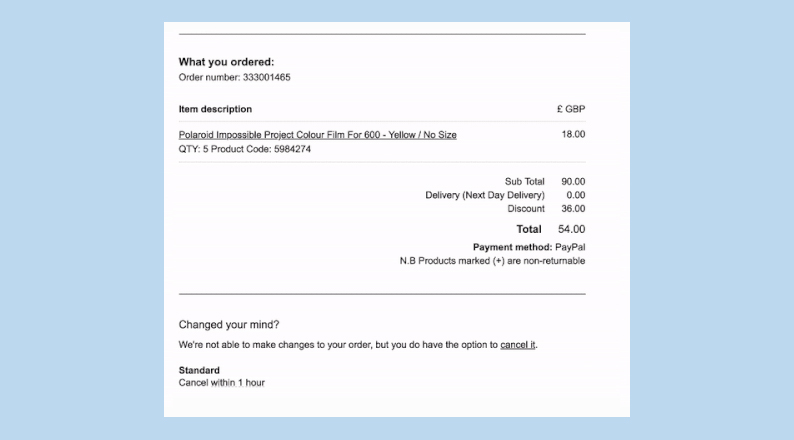 ASOS also provides you with an option to cancel your order in case you have changed your mind, while the flexible return policy tops up to the eCommerce retailer's easy shopping experience and exceptional customer satisfaction.
Ensure to keep your eCommerce order confirmation emails sleek and informative at the same time to avoid ambiguity.
To relieve your customers of the stress associated with waiting for their delivery, you can provide a tracking number on the order confirmation emails.
ALSO READ: Ways to reduce your eCommerce operating costs
Cross-sell and upsell products
Another way to send effective eCommerce order confirmation emails is to promote related products and services, or upgrades.
Research by Forrester shows that upsells and cross-sells are linked to 10-30 percent of eCommerce sales revenues. It is a smart way of getting your customers to spend more on items they are already interested in.
You can also encourage your customers to buy recommended products related to the items bought because many shoppers are in an exciting mode at the time of purchase.
As you cross-sell and upsell, remember to always follow up shortly after the purchase, but avoid sending too many emails to push customers away.
The products you are promoting should range within 25% of the price of the original order, while your promotions should not be too overwhelming and paralyzing, because such a scenario will make it harder for customers to make a buy decision.
A study by Bain revealed that narrowing down choices and reducing complexity can help boost eCommerce revenues by 5-40%, while cutting down on costs by 10-35%. Avoid overloading your customers with many adverts, by keeping the promoted products to 2-3 items. 
Crate & Barrel, an international home decor outlet, features additional items on the order confirmation emails, such as personalized recommendations in the "You'll Also Love" section, encouraging more sales and revenues.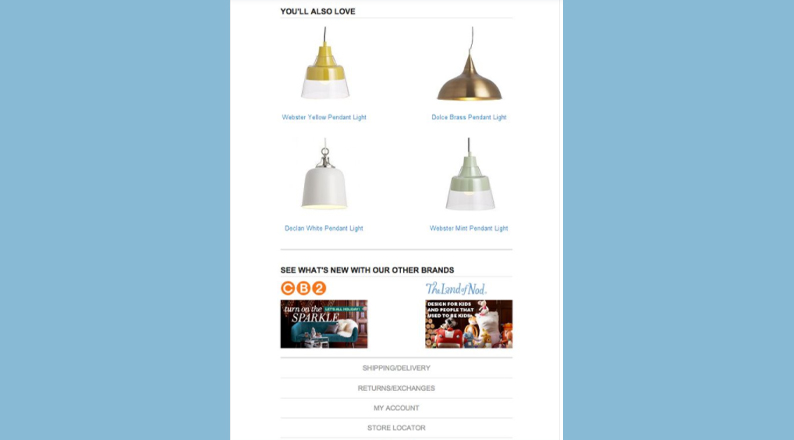 Your order confirmation email is also a good opportunity to promote related products sold by your other brands or partners.
Irrespective of the approach you choose, ensure you don't waste the opportunity by equipping your confirmation emails with a few best sellers related to the transaction that has just taken place.
Promote your reward programs
Keep your customers coming back for more by enticing them with a reward program in the form of loyalty points, discounts, cash-backs, and other benefits, for future purchases.
The goal is to build a strong relationship and reputation with your existing customers, a connection, which you can create by customizing your eCommerce order confirmation emails effectively.
For instance, you can attach a referral link with a 15% discount or cash-back for every customer referred by your existing buyers, while rewarding the new leads, creating a win-win situation for everyone.
The more you create a sense of urgency the better because customers will take action almost immediately, leading to increased promotion email click-through rates and conversions.
GoDaddy has mastered the art of sending effective order confirmation emails, by attaching attractive discounts to lure new customers.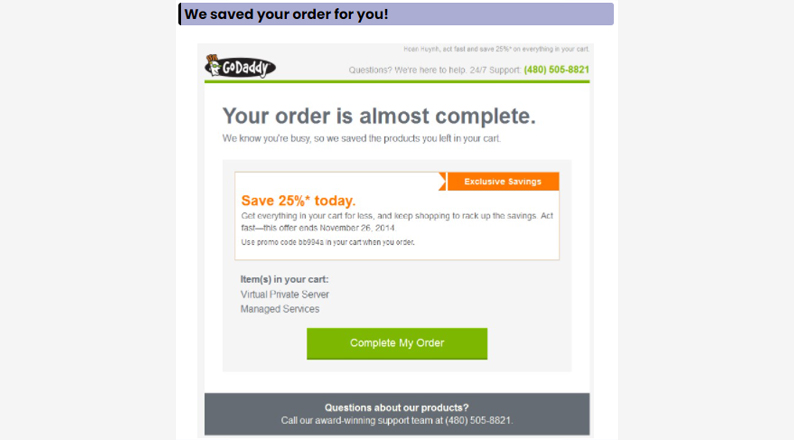 If you want your customers to return, or if you're seeking to build a group of loyal clients who will become your brand ambassadors, consider offering enticing after-sale rewards.
ALSO READ: A complete guide to BOPIS (buy online pick up in-store)
Use membership programs
Use your transaction emails to pursue global goals by, for instance, enrolling your customers into membership programs, movements, or missions.
According to Simon Sinek's TED talk, customers don't buy products because of how a brand solves a problem, but because of why they solve it.
Therefore, you should convince your customers of your mission in an honest and believable way,
This approach helps create a great following of people seeking to support a common cause or purpose in society. It is a way of making your customers feel that their purchase is going towards supporting something important or useful.
Indiegogo, an American crowdfunding website for innovative ideas, uses the followership tactic to send effective order confirmation emails, reminding customers that they are making a difference by funding projects that would not have received financial support elsewhere.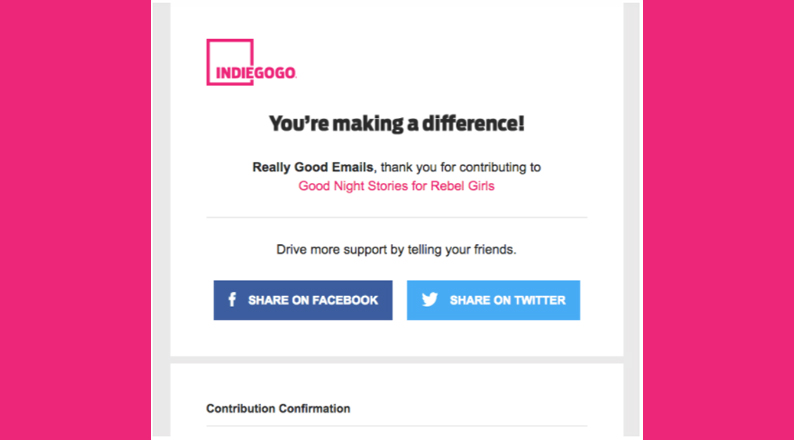 To avoid overwhelming your customers with many CTAs and promotional materials, pack your order confirmation emails with a 'Thank You' note for contributing to or being a part of the movement to help the needy or sick people in society.
You can also invite your customers to be a part of club membership in exchange for discounts.
This tactic is highly beneficial and effective because people want to be a part of exclusive groups, and your eCommerce store will also gain from increased revenues.
To the following tips in mind as you add a membership program in your eCommerce order confirmation emails:
Long-term benefits should supersede instant gratification – Focus on gaining more followers and brand ambassadors over high cost savings. The more loyal customers you have, the more your revenues will grow in the long-term.
Keep the club members loyal to your brand by sticking to their interests.
Provide personalized recommendations or services to maintain the VIP feel.
The subject line should reflect the main contents of the order confirmation email, while the membership deal should come at the bottom.
Leverage user-generated content (UGC)
Digital marketers have been riding on user-generated content (UGC) to promote their products and brands in authentic and believable ways.
The concept refers to content created voluntarily by customers who use your products, and which is shared across the company's social media pages and website.
UGC creators get more exposure or even rewards, while brands benefit from free marketing and awareness.
The more customers learn how others are using and benefiting from a product or service, the more they will flock to your eCommerce store to buy the item.
UGC is believable because customers tend to trust user reviews more than brand adverts because the former are based on user experience.
But how should you use UGC to send effective order confirmation emails?
Start by encouraging your customers to share the feedback on social media by attaching a CTA button to the confirmation emails.
Request them to use a given hashtag when sharing the content, and to include your product images.
You can also get approval from your customers to use their testimonials or reviews to promote your products on the order confirmation emails.
Cinetech, a company that specializes in manufacturing professional cameras, encourages its customers to share their new home cinema setup on their Instagram pages.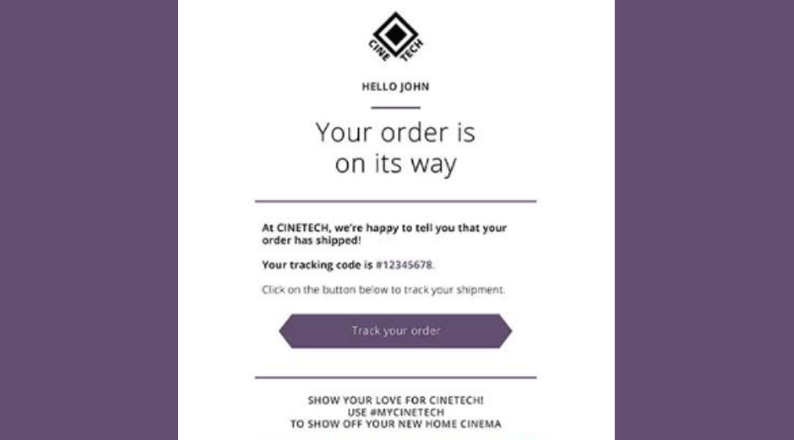 Asking customers to show their love for your brand is a great social media strategy that can help generate brand awareness and social proof.
It is a tactic eCommerce businesses use to alleviate fears or reservations people might have towards your brand.
ALSO READ: Top 8 Social Media Strategies That Every E-commerce Store Needs To Implement
Offer free shipping
The order confirmation email offers a great opportunity to encourage customers to buy more by enticing them with freebies.
You can offer free shipping for orders within or above a given monetary value or to customers who share their reviews or testimonials on social media or participate in your loyalty programs.
Customers who purchase additional items or upgrades can also qualify for free shipping.
Gilt a luxury designer brand takes this tactic a notch higher by offering a time-bound free shipping offer, creating a sense of urgency.
To qualify, customers are required to shop additional items within an hour of receiving the order confirmation email; hence, all extra items bought within the next 60 minutes are shipped at no cost.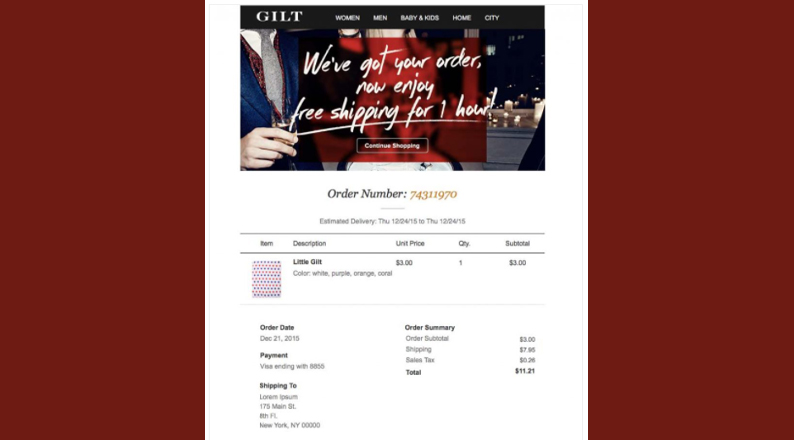 If you are using the free shipping tactic in your eCommerce order confirmation emails, ensure to make the process easy and convenient to customers by, for instance, displaying images of a few recommended products at the bottom of the email.
You can also offer discounts for the additional items, making the deal irresistible while increasing your sales revenue.
Promote a cross-platform experience
Digital marketing strategies have evolved, requiring eCommerce owners to increase their visibility across multiple customer touchpoints. This approach is now being adopted by almost every online store, generating competitive advantages.
Don't let your order confirmation emails go to waste by using the platform to encourage your customers to use your Android and iOS apps.
The goal should be to enable customers to easily access your eCommerce store for a smooth and convenient shopping experience.
Apps also come with additional features like push notifications, geotracking capabilities, higher page loading speeds than websites, advanced user design and usability, and other smartphone-based features.
Grove Collaborative, a company that sells eco-friendly home essentials, features links to the eCommerce store's apps on play store and app store, while at the same time, encouraging customers to gift their friends with environmentally sustainable products in exchange for cash-backs.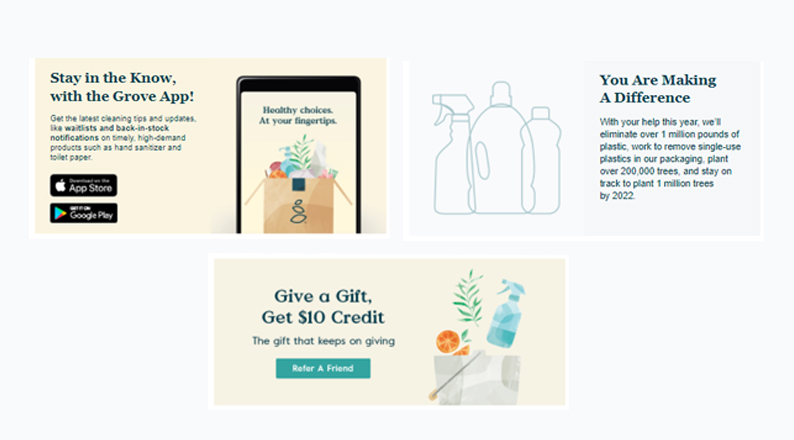 Remember to always display and promote the extra promotional elements like your eCommerce mobile apps below the section with the order details.
You should also avoid overcrowding your order confirmation emails by displaying only a few select promotional materials.
ALSO READ: Impact of e-Commerce On Society: Advantages and Disadvantages
Order confirmation email templates
Now that you understand what content to include in your order confirmation emails, let's look at tools that you can use to create effective confirmation emails.
For a start, there are plenty of online sites where you can find email templates for this purpose.
For instance, the HubSpot Email Marketing tool is a free product that you can use to create visually appealing and user-friendly order confirmation emails.
The platform comes with pre-made templates and customizable spaces for text, images, designs. There is also an option to create the order confirmation emails from scratch.
Other order confirmation templates can be found on tools like Stripo and Squarespace.
X-Cart, an eCommerce website builder, also has plenty of email tool add-ons that you can use to create and send effective order confirmation emails. 
Conclusion
Order confirmation emails are sent once a customer completes a purchase or after placing an order.
They are meant to inform the customer of the order details and delivery status.
Online marketers use emails to promote their products and increase sales, but this practice is carried out differently by different eCommerce stores.
The most common ways to send effective eCommerce order confirmation emails entails the use of attractive, interactive designs, providing the three w's, cross-selling and upselling, promoting your reward programs, and encouraging customers to join membership programs.
You can also take advantage of user-generated content (UGC), offer free shipping, and promote a cross-platform experience.
These elements should come below the main contents of the order confirmation email to avoid distracting and overwhelming your customers.
Acowebs are developers of WooCommerce plugins that will help you personalize your stores. It supports the additional option with feature-rich add-ons which is WooCommerce Product Addons, that are lightweight and fast. Update your store with these add-ons and enjoy a hassle-free experience.