eCommerce retailers are constantly searching for and using relevant keywords on their websites and other platforms to boost their Search Engine Optimization (SEO) and increase traffic. However, the process of selecting focus keywords requires both search intent and relevance.
Hiring an external party to perform the keyword research for you can be both expensive and counter-productive because you are not sure what you will get. Many contractors will provide you with a list of irrelevant keywords with high search volume but low difficulty scores.
Consequently, you will end up paying money for a bad keyword profile that will possibly cost you traffic and sales.
To escape from this trap, ensure to invest your effort in building a high-quality keyword profile, in-house. You do not have to be a high-skilled professional to do so, as there are readily-available, easy-to-use tools that you can employ to create an actionable keyword profile at a reasonable budget.
But how do you go about it?
In this guide, you will learn what keyword research is, it's importance, and exactly how to perform eCommerce keyword research for your business.
Why keyword research?
Keyword research enables you to optimize your product pages and website for algorithms by search engines. This technique will improve your site rankings on Google's first page and increase your traffic flow by the thousands.
eCommerce stores are always looking for more traffic for conversion, and the right keywords located precisely on your landing pages and product pages will enable you to attract more customers, leading to more sales.
Search engines display results from multiple pages at a time, but your site will only display on the first page if it has relevant keywords matching user searches. Not only is it important for your site to appear on the first page, but it is also crucial to rank in the top positions.
From the figures in the graph below, the first search result on Google receives about 33% of the organic traffic, while the second listing receives about 18%. The traffic drops from there downwards because the top 10 listings share about 90% of the traffic in the first page.
Once you start using the right keywords, your site's ranking on search engines will improve and so will your traffic and sales. To leverage the power of SEO in eCommerce, you need to understand how to perform keyword research.
What is keyword research?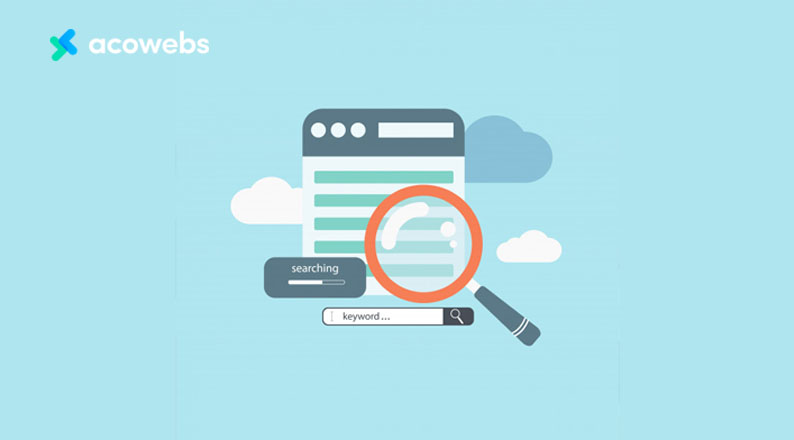 A keyword is a phrase or word that search engines use to find content, products, and services online. Keywords function as a web page's meta data to enable users find results that match their search queries with websites.
Before people get to your site, they first search for terms like "winter clothing" or "men's shoes" on Google and other search engines, after which they get a list of closely-matching results with relevant websites related to the words used during the search (keywords).
Keywords come in different categories, but the most common way of differentiating them is by their length. Short-tail keywords are two-words long or less, while those with three to five words are known as long-tail keywords (key phrases).
Examples of short-tail keywords are:
Winter clothing
Dresses
Wedding gowns
eCommerce
Examples of long-tail keywords are:
Long-tail keywords are easier to rank than their short-tail counterparts, making the former the preferred option for your eCommerce site.
Long-tail keywords are more specific, enabling search engine tools to easily match users' search words and phrases to your content. In contrast, short-tail keywords will make it hard to rank because a term like "hair extensions" will display countless matches, while "20-inch brown hair extensions" will narrow down the results considerably.
Keywords are also categorized according to search intent. Search intent can be informational, navigational, or transactional/commercial.
Informational intent keywords are used to target searchers who are looking for information, and a blog post that answers user queries is a good tool for reaching such visitors.
On the other hand, navigational intent keywords are used to guide people to get somewhere online, such as user guides or research tools. In contrast, transactional intent keywords are applicable when search engine users are looking for items to buy, such as "school uniform designs".
Search volume is also a key element of keyword research as it shows the average monthly searches for the search phrase you have. You should use keywords with high monthly search volume, as you stand to gain from higher traffic and conversions for your eCommerce store.
You should also consider the SEO difficulty (competition) associated with the keyword. Keywords within a 30% difficulty are desirable as you will have a better chance of competing favorably. Still, keywords within 30-70% SEO difficulty (SD) are reasonable because they also have decent search volumes.
Therefore, you should balance between the search volume and competition for your eCommerce keyword research, to assure you of better search engine rankings.
Now that you understand what a keyword is, it's time to do your keyword research.
Let's get right to it!
ALSO READ: WooCommerce SEO: The Ultimate Guide to Follow in 2020
A Guide to eCommerce Keyword Research
1. Brainstorm your keywords
As a start, you need to gather a list of search terms with high monthly search volume and low competition. The keywords should align with what your customers are likely to use when searching for the items you sell.
You can run a contextual inquiry, a technique which entails observing and interviewing how potential customers interact with your products. You can create contextually-relevant questions and submit them to test participants through user sessions.
Some of the questions to ask are:
Why did you select this option or click on this button?
What product improvement suggestions do you have in mind?
What did you like or dislike about this product?
The goal is to use the research method to examine how users perform certain tasks online, and the time it takes to complete and exit the user sessions. You should capture the users' emotions and habits, and analyze the results to determine what terms your customers are likely to use to search for your products on search engines.
You can also ask family or friends to search for your products on search engines, and monitor what they search for and the buttons or links they click. This tactic is effective in informing you what an average person is likely to search for.
One of the best tools to help you with brainstorming search terms for your keyword research is Ubersuggest. The tool searches on Google for best ranking keywords from A to Z, and populates search phrases according to monthly search volume and SD. 
For instance, if you are searching for software, you can use a term like "project management software" and Ubersuggest will list for you the most common keywords, their volume, and SD.
You should balance between search volume and competition; the higher the keyword's SEO difficulty, the harder it will be for it to rank on the first page of Google due to high competition from other websites ranking for the same keyword.
2. Use Google keyword planner to research keywords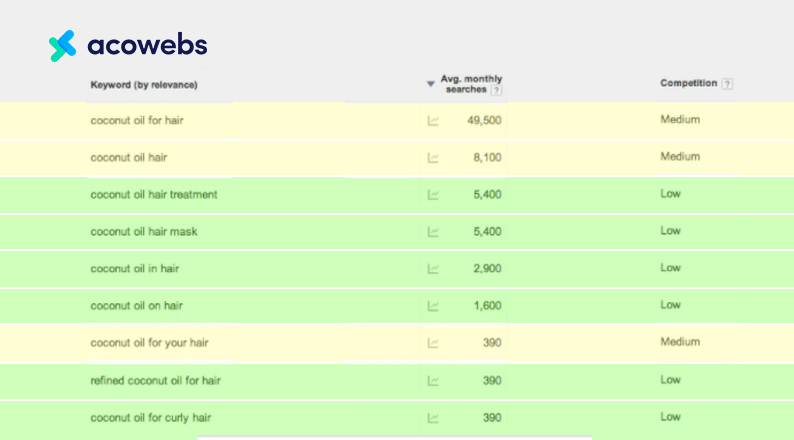 Use the Google Keyword Planner tool to search for more keywords. The tool will tell you how many monthly searches are being made for the search term(s) you are using, the competition there is for the keyword, and any related search phrases.
You can use the tool to get other keywords, which are almost similar to your list, but with higher search volume and less competition.
Get the Google Keyword Planner by first registering for a Google AdWords account – the account is free. Once registered, select Tools from the menu then click on Keyword Planner. From here, you can enter your keywords one at a time, or you can search a few by separating them with a comma.
Depending on the location of your target customers, change the location settings under the Targeting menu (such as USA or Europe) to ensure you are getting relevant search results.
Under the Keyword Ideas tab, you will see a list of the keywords results plus other related search terms. You will also see the search volume per month within the selected geographic region, for each of the keywords. The third column displays the level of competition for the keywords.
The Keyword Filter will enable you to rank your keyword list as per your preference. For instance, you can display only keywords with low and medium competition and block out those with high SD.
The output will enable you to see the best keywords that describe your eCommerce website, products, and product pages. You can save the generated list in excel for reference.
ALSO READ: How to Use YouTube to Grow Your Ecommerce Sales
3. Refine your keyword collection
With a list of keywords, it's time to evaluate them to determine if they really relate to what your eCommerce store is offering.
You should check to see that your keywords are relevant. If an internet user were searching for items online matching your offering, the keyword should be able to link them to your eCommerce site with ease.
Remember the search terms you have represent paid search traffic; they do not necessarily apply to organic search. For your site to rank better against competition from eCommerce sites using paid traffic, consider testing 5-7 select keywords on Google or Bing.
This tactic will give you an idea of exactly what people are looking for on search engines.
For instance, if you search for "coconut oil hair treatment" on Google, the autocomplete feature displays results showing you specifically what people want to buy or know about in relation to the keyword. Google will show you that many customers are searching for coconut oil hair treatment for dry scalp, for curly hair, the before-and-after results, and general benefits.
Therefore, instead of competing with large eCommerce sites for general keywords, you can use more specific search terms in your product pages and blog posts, giving you an edge over the competition.
Additionally, Google will show you the frequently asked questions around the search phrase you are using. For instance, many people are currently searching for information on how to use coconut oil, damages from using the product, and its efficacy.
These are concerns you should address in your product pages, by for instance, providing information or guidance on how to use coconut oil hair treatment, what users should do to avoid causing damage to their hair, and the results they should expect to see after using the product (you can display before- and after- images).
4. Match the user intent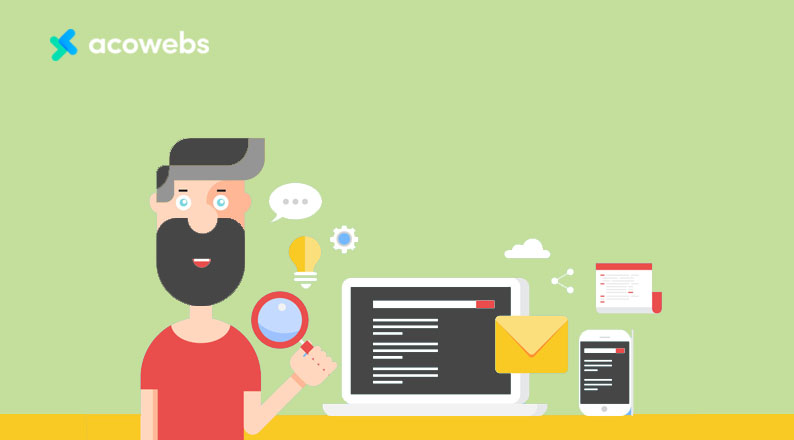 Ensure that your keywords match the searcher intent by avoiding search phrases with unlimited applications.
Keywords with informational intent will link up your eCommerce site with searchers looking for answers to questions. Google's Search Quality Rater Guidelines categorize such keywords under the "I want to know" searches.
If your website provides tips and answers to user questions, such as user how, how to, where to, or what to, you can use informational intent keywords.
While optimizing for such keywords will not necessarily equate to conversions, you can still engage with your potential clients to educate them on the solutions you are offering and eventually convert them into buyers.
When you optimize for informational intent, your website will rank at the top of search engines, implying that you are an authority in the subject area. It is an effective and indirect tactic of attracting subscribers or buyers of online courses and eBooks.
Investigational intent lies between informational and transactional intent. Users searching for such content are trying to compare product features and prices, or they could be conducting general research.
You can still optimize your website for keywords like compare, for women/men, review, etc to attract customers who, initially may not be ready to buy, but who can convert upon learning about your product's benefits and solutions.
You should leverage investigational keywords to make your content look and feel convincing, assuring potential customers that you are better than the competition.
The most lucrative form of user intent is transactional intent as such searches are done by customers who are ready to buy. Transactional-intent keywords include phrases like sale, buy, price, coupon, discount, free shipping, where to buy, etc.
Customers searching for branded items or specific products like iPhone XS are also a good target for transactional search phrases.
Ensure to optimize your product pages for the three user-intent keywords by inserting intent-related terms in your keyword list. You can use an editorial calendar to strategize on which keywords to use at a given time.
ALSO READ: A Definitive Guide To eCommerce Packaging
5. Insert keywords naturally, according to relevance
By now, you should have 5-7 best keywords that align with what customers are searching online. In the same way a brick-and-mortar store displays its products in groups and segments, so should the location of your keywords on your website.
Your keywords should guide your customers and search engines in a logical and simple manner, improving shoppers' ability to make a buy decision.
For instance, if you are selling weight loss products, ensure you insert relevant keywords on product pages describing or containing such items. The keywords should fit naturally on your website to avoid misleading customers to the wrong product categories and possibly losing them in the process.
You can use broad keywords at the homepage and more specific ones on more detailed product pages.
This keyword hierarchy webinar will inform you of the basics of natural keyword insertion and segmentation on your website.
Another aspect to consider is how relevant your keywords are with your website or pages. For instance, if you are selling branded shopping bags, using keywords like shopping bags will not gain you adequate traffic as more specific keywords would.
You can still use broad keywords like shopping bags for a broad product category, but when describing the products, ensure to insert more specific keywords.
Conclusion
A keyword is a phrase or word used by search engines to match customers with relevant content, products, and services online. Keyword research is important because it enables eCommerce sites to gain more traffic and sales conversions. With the right set of keywords located strategically across your website, you will attract more customers through organic traffic.
The use of relevant keywords will improve your site's ranking on search engines, giving you more visibility from customers. You should focus on using long-tail keywords as they have less competition, as well as phrases with high monthly search volume and low SEO difficulty (SD).
You should also use research tools like Ubersuggest and Google keyword planner to create a keyword list, which you can refine for relevance and organic traffic. Remember to consider informational, investigational, and transactional user intent in your top 5-7 keywords, and insert them on relevant pages across your website.
Ensuring that the keywords fit naturally on your website is essential in attracting the right traffic and improving conversions.
Acowebs are developers of Woocommerce bulk discounts that will help you add bulk discounts to products on your stores. It also has developed various other plugins like the popular plugin for managing the checkout form fields in WooCommerce, called Woocommerce Checkout Manager, which is highly feature-oriented yet lightweight and fast. There is also a free version of this plugin available in the WordPress directory named WooCommerce Checkout Field Editor.