Businesses adopt multiple tactics to increase their conversion rates and sales, including product promotion, regulating product pricing, and maintaining high-quality products.
However, eCommerce marketing strategies don't always work unless business owners understand the psychology that drives customers to buy.
To be a successful seller, you must consider the basic factors that shape human behavior, including their emotions and impulses, and use them to motivate prospective customers to buy.
Utilizing buyer psychology carries many benefits besides higher sales, such as the ability to provide an exceptional user experience, connect better with buyers, and meet customers' needs.
In this article, we will cover 10 ways to use psychology to shape eCommerce success and successful real-life examples.
Let's go through them.
The Concept of Product Scarcity or Limited Availability
This method of sales psychology is used frequently by businesses because it creates stronger incentives to make buy decisions compared with abundance.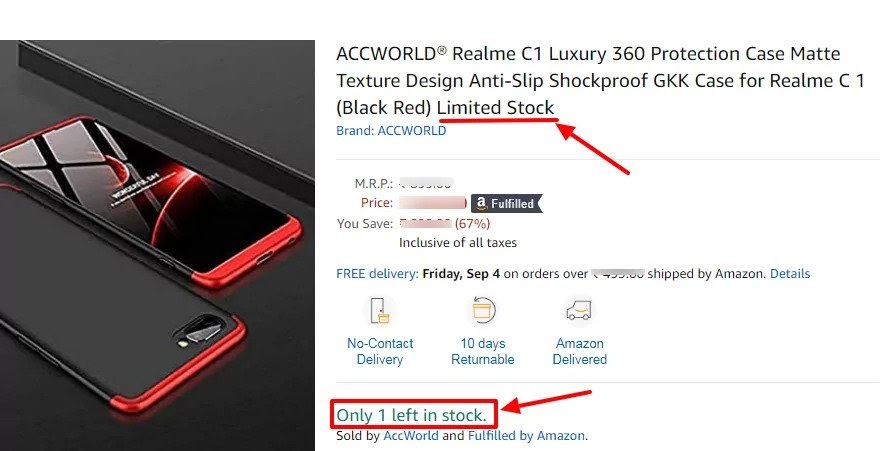 When you work with a few products or limited service delivery, customers feel the pressure to act; they develop the fear of missing out (FOMO).
Some of the most common ways to implement this technique are:
"Only 5 in stock," "Save 5% valid only for today," and "As long as stocks last."
The concept of product scarcity creates an urge to buy quickly, enabling businesses to sell out their stocks while deriving eCommerce success.
Businesses also use the idea of seasonal products and services by, for instance, selling certain items during holidays or providing special offers during summer, fall, autumn, or winter.
This concept can also be implemented through the value attribution sales strategy. Here, businesses display various similar options to customers at differing prices.
For example, software companies promote their products by presenting good, better, and best versions. The most preferred or popular option is usually highlighted.
Many sellers using this tactic want customers to buy a moderately priced item. Indeed, the psychological effect pushes buyers to choose the product with the best value – many go for the moderately priced product because it is neither the cheapest nor the most expensive.
Quality Website Design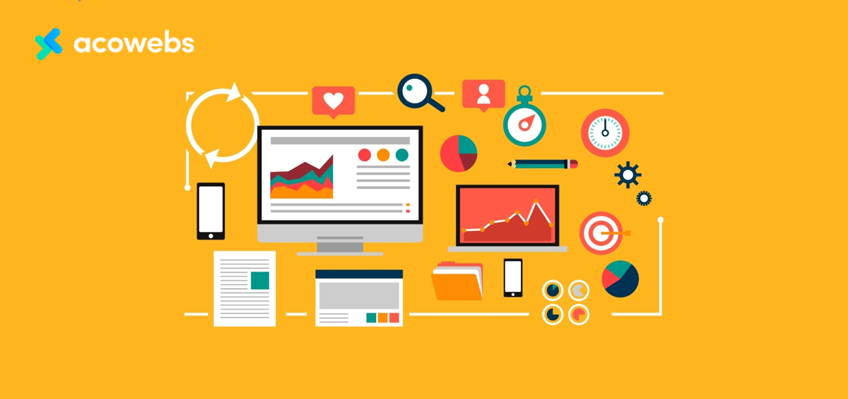 Statistics show that 57% of site visitors will abandon the page if it fails to load within three seconds. Of these, 80% don't return. Additionally, 92.6% of consumers report that imagery and visuals are the leading factors driving purchasing decisions.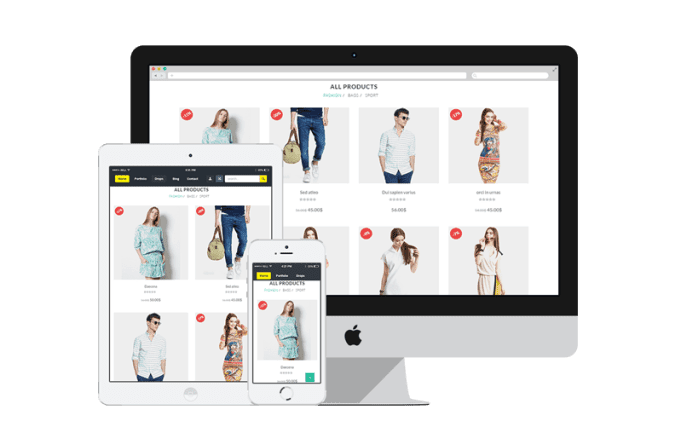 How can you contribute to higher customer engagement and lead conversion through your website?
Invest in a customized website, keeping in mind that the primary design can influence consumer psychology either positively or negatively.
To keep customers visiting your eCommerce store, ensure your website has the following basic elements:
Visuals
Many online shoppers are enticed by high-quality and well-lit images on a website. You should also place the visuals strategically and at varying angles, to make customers feel comfortable buying your products.
Colors
Your brand colors can influence consumer psychology while shaping eCommerce success. The goal is to make your brand have a positive appeal to customers.
Depending on how you implement them, colors like green can communicate calmness while brown can stir warmness, thankfulness, or appetite (like in the case for chocolate commercials).
Other colors like red signify energy, love, and power, while white is for peace, simplicity, and cleanliness.
Research how customers interpret colors but combine with shapes and symbols for better results.
Speed
Ensure your website can load in three seconds or less (highly responsive). You can improve your site's speed by optimizing image files, reducing the number of images per page, and using quality hosting.
Keep in mind the following things when designing a website for your eCommerce business:
Avoid typos and unclear images as customers associate them with a lack of professionalism.
Use easy-to-read fonts.
Avoid overloading your pages with too much text and images. Instead, give priority to important content and calls to action.
Use the same colors, fonts, and design style across your website for consistency.
Social Proof
People tend to follow the crowd (imitate others around them) and will most likely buy a product or service upon referral by family, friends, or other users.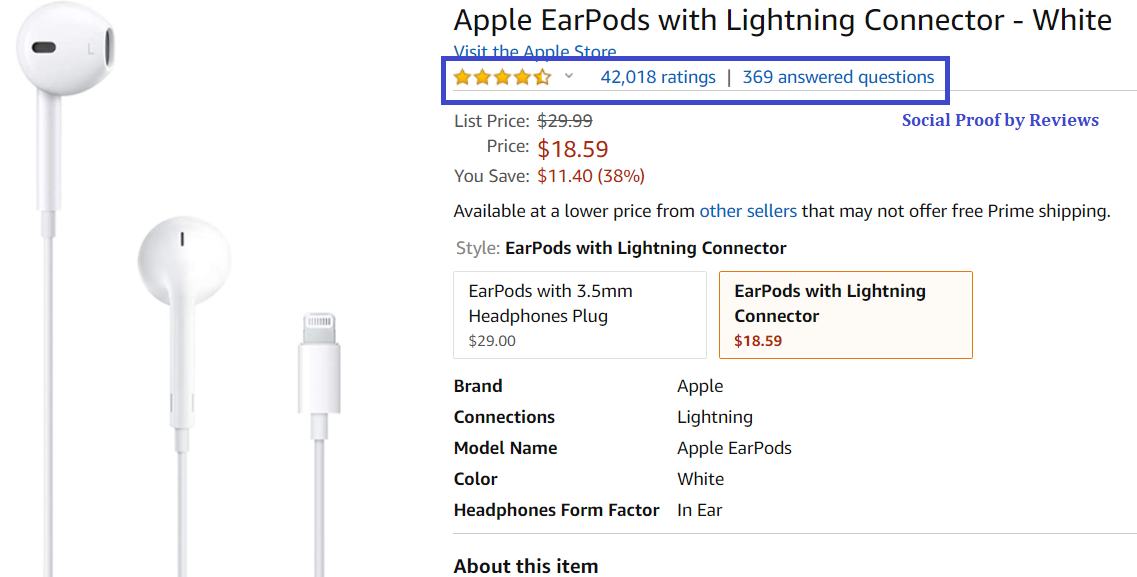 This is the reason your eCommerce store should collect and display reviews, ratings, and testimonials.
Indeed, a report by Powered by Search reveals that 85% of customers read online reviews for local businesses before making a purchase. Of these, 79% trust the reviews in the same way as a personal recommendation.
These figures confirm that you can gain even more success if customers share your products and services with others. Such actions prove to others that your product is good and worth buying.
Securing recommendations or endorsements from recognized and reputable professional bodies is a plus. You can also display awards or validations received in recognition of your brand or products and services offered.
You can place the social proof across your online store, including on the product page, motivating customers to continue sharing.
Discounts and Free Giveaways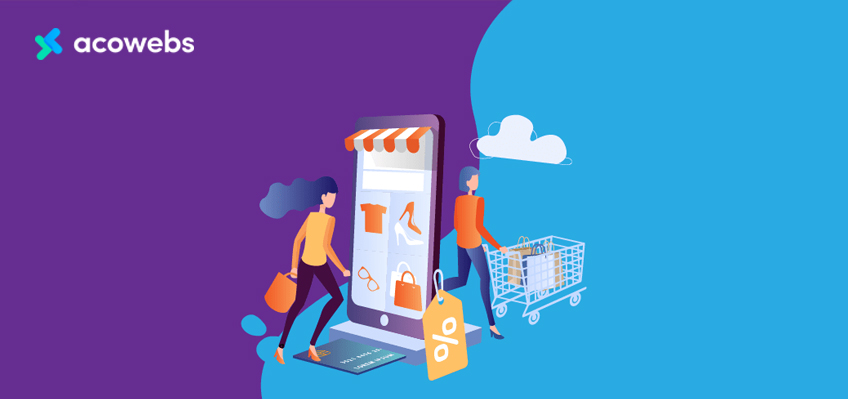 You don't have to run dry when offering discounts. Instead, make it a win-win situation by, for instance, offering only a given level of products at a lower price ("Buy 2, get 1 free").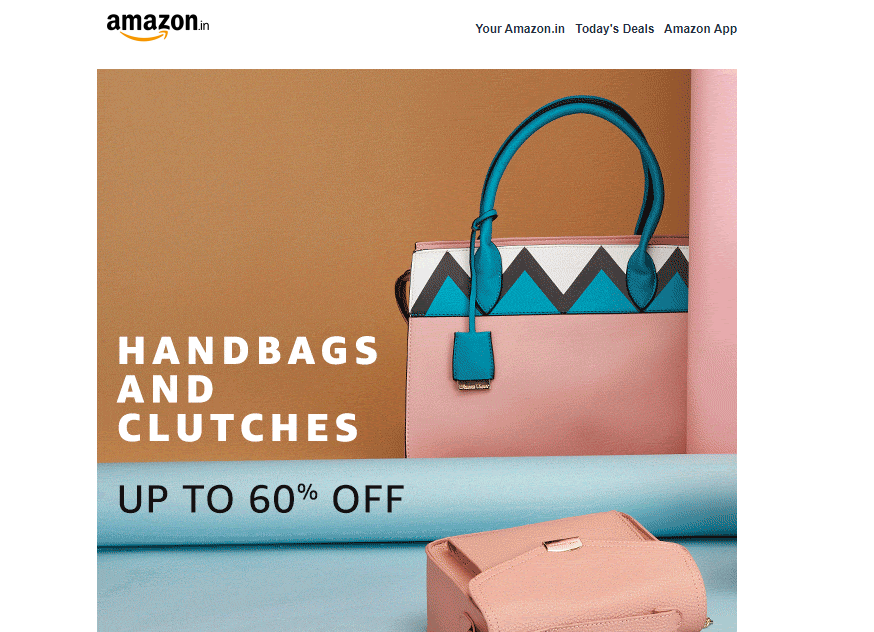 You can also combine a discount with a limited offer while adding a red signal to gain customers' attention.
You can accompany completed purchases with a free giveaway or sample of an existing product, enabling customers to have a feel of a new product. If they like the experience, they will buy the item the next time they visit your online store.
Offering free samples of beauty products is one of the leading factors contributing to purchasing decisions in the fashion and beauty sectors.
This approach enables customers to enjoy discounted products and freebies while increasing your eCommerce sales in the long-term.
Perceived Risk Aversion
Many consumers hesitate to buy something online, especially if they have not purchased from a given outlet before. They wonder if the seller can be trusted to deliver the product and service they claim to provide and if they can be reached for queries or clarification.
You can use risk aversion to shape your eCommerce success rate by offering customers a 100% money-back guarantee, free returns, or warranty.
These tactics promote brand credibility and enhance the site's customer service. They also improve customer satisfaction and sales.
This approach encourages customers to order more because they feel secure, as opposed to buying items without any guarantee that the seller will replace or repair them in the event they are delivered with defaults.
Some retailers like Apple offer an extended warranty period, such as the AppleCare Protection Plan, while Lands' End provides a lifetime guarantee without conditions.
These extreme forms of risk aversion work because they convince customers of the product quality, motivating them to buy more.
Regulate the Abandonment Rate
How can retailers motivate shoppers to complete the purchase and avoid the issue of abandoned shopping carts?
Many shoppers abandon carts if they get distracted by coupon codes during checkout, lengthy check out processes, or the discovery of hidden charges.
As an online retailer, you can use psychology to shape eCommerce success by publishing coupon codes on the product page and creating express checkouts.
The latter approach is the better of the two because shoppers only click one button and are done with shopping. Providing the best checkout UX can help in reducing the cart abandonment rate by much.
Other online retailers send follow up emails, which helps to remind people of abandoned items or push them to make the purchase decision. Indeed, statistics by SalesCycle show that 46.1% of all cart abandonment emails are opened, and 13.3% of these are clicked.
35.3% of the clicks lead to purchases on the seller's site, while every cart abandonment email sent creates more than $5 in revenue.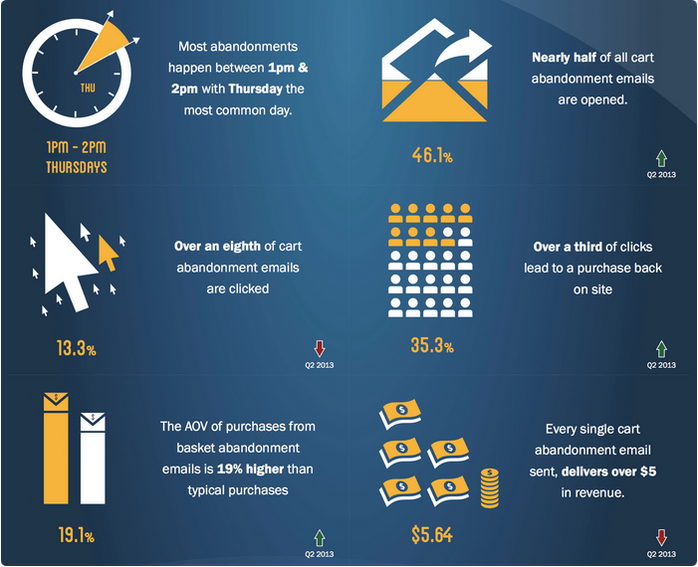 Going by these figures, eCommerce retailers should take measures to control the abandonment rate at the point of checkout to reduce revenue leakage.
Build Trust and Authority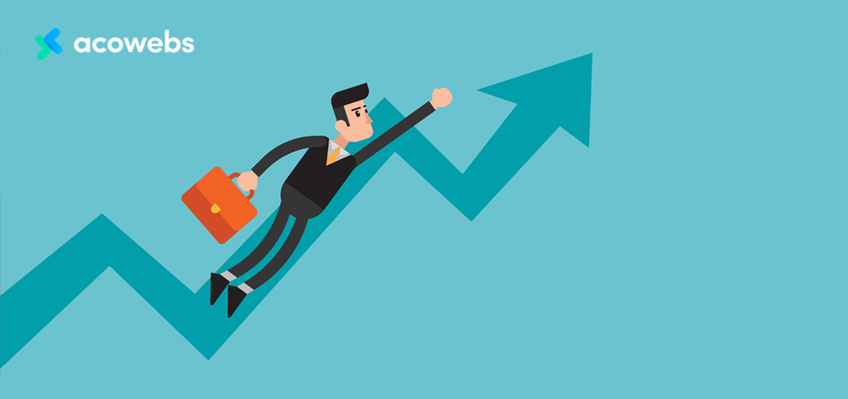 You can gain trust and credibility by consistently delivering quality products and services. You can also build authority across your target audience by winning innovation or industry competitions.
Other brands establish trust by adding stories on their website, enabling them to grab customers' attention and remind them of the product or service offering.
When people hear good stories, they develop empathy and positive feelings or attitudes towards a brand. For instance, you can share customer success stories, develop a story around a brand, or contribute to community projects.
Remember to be authentic as you share your stories and tell your audience why you are passionate about what you do. When customers fall in love with what you are sharing, they will be influenced to buy your products or services.
Start with Small Purchases
When marketing your products and services to first-time users, it is wise to start by requesting customers for small forms of payment.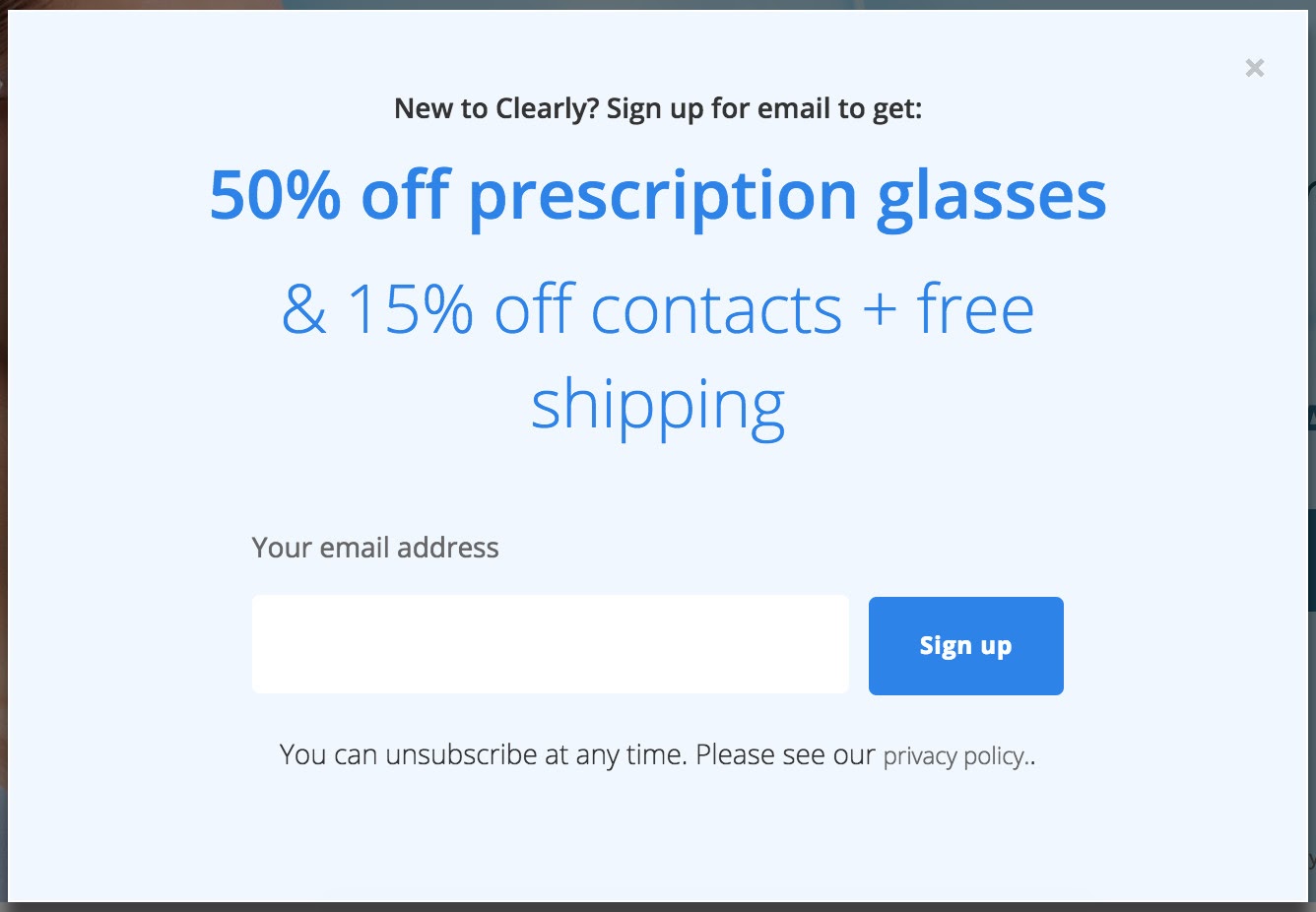 This foot-in-the-door technique indicates that people are more likely to pay for your products or services if you ask for lower-value returns, after which they will be willing to pay more for something larger.
Start by asking customers for their email addresses in return for discounts. This email list can be beneficial in the long-term because you can use it to market other products in the future.
Statistics show that one-third of retail email list subscribers in the US have made a purchase after receiving promotional content from the brand they subscribed to.
You can also boost sales by selling sample-size products, enabling customers to test out your products before making purchase decisions. Other retailers use free trials or allow site visitors and customers to make small donations.
According to Marketing Charts, 6 in 10 free trials result in paid subscriptions, while first-time donors are likely to return to make even higher contributions.
These psychology tricks shape eCommerce success by enabling brands to connect with customers and help them understand their products and services and the benefits or solutions they can derive from them.
Leverage Product knowledge
It is crucial to educate customers on the features and benefits of your new products and services. You should provide clients with all the information they need to understand how the product works and how it applies to their situation.
How can you use this approach to influence customers into making buy decisions?
You can start by offering free tutorials on how to use the product or provide links and manuals in your transactional emails. You can also publish blog posts with use cases or offer an online support channel on your website.
This tactic causes customers to connect with your brand, idea, and products, driving them into repeat clients.
Run a Reward Program
Reward programs come in many forms, but the most common is the virtual coins (loyalty points), which build upon customers' loyalty cards whenever they shop.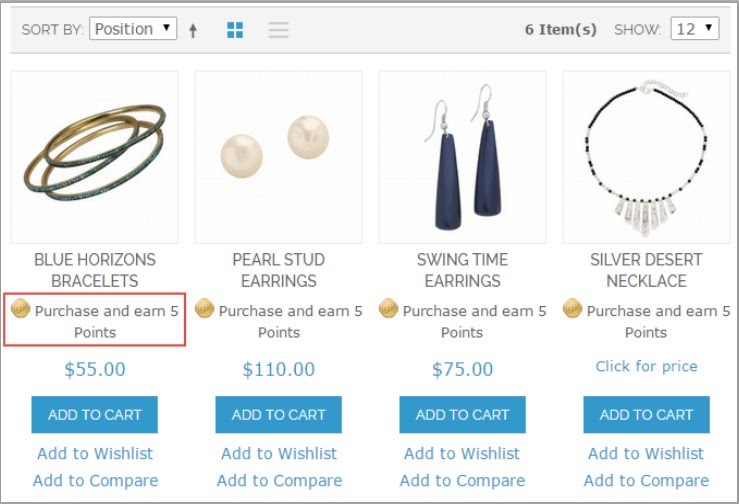 When customers receive these rewards, they get encouraged to shop again and again from the same outlet, forming a strong and long-lasting relationship with the company.
Customers understand that switching to another seller will lead to a loss of points, making it less appealing to shop elsewhere.
Enabling customers to renew these points for discounts is even more motivating and can help your eCommerce business build more sales and success.
ALSO READ: Ways You Can Use Gamification To Boost Ecommerce Sales
Successful Real-life Examples of Psychology Used in eCommerce
Companies like Amazon, Sears, and Walmart have successfully been using the idea of scarce products or limited availability by selling their items seasonally.
IBM, Mercedes, Kodak, and McDonald's have high-quality website designs.
Brands like Amazon and Samsung have been using social proof to shape eCommerce success.
Some of the best examples of businesses using discounts and free giveaways to shape eCommerce success are Douglas and 7-Eleven.
Zappos and Apple are among the leading retailers using perceived risk aversion to drive eCommerce sales.
Amazon has successfully been using the 1-Click ordering tactic to reduce cart abandonment rates while Google and Virgin Atlantic have been deploying abandonment emails.
Companies like Airstream and Bloomscape have found success by influencing consumer behavior using good stories on their websites.
GiftBasketsOverseas.com uses coupons to reward customers who reward their friends while Buffer collects emails through a free version of its products. These are examples of "starting with small purchases" to incentivize customers.
Jetpack has successfully used its support section to provide product knowledge, influencing consumer behavior.
Some of the leading eCommerce businesses using reward programs with success include Sephora, Starbucks, and Amazon.
Conclusion
To derive success, business owners must understand the scope of eCommerce as well as the factors driving consumer behavior. You need to learn how to rightfully influence customers' emotions and impulses to your advantage.
Some of the proposed ways to use psychology to shape eCommerce success rates include investing in quality website design, using social proof, the concept of product scarcity, and providing discounts and reward programs.
You should also develop trust and provide the necessary product knowledge while making follow-ups for abandoned shopping carts.
Email marketing is one of the best digital marketing concepts, which you can build by asking customers for their email address in exchange for discounts.
These tactics are proven and tested; companies like Amazon, Samsung, Mercedes, Sephora, and Apple have used some of them successfully.
They will also work for your eCommerce business if you understand your customers' needs and use the approach that best influences their buying decisions.
Acowebs are developers of Woocommerce bulk discounts that will help you add bulk discounts to products on your stores. It also developed the plugin for adding various extra product fields which is called Woocommerce custom fields, that are lightweight and fast. You can easily update your store with these add-ons and enjoy a hassle-free experience, check out the best options for additional Woocommerce custom product addons.