Form Settings
Find form settings at: Products–> Custom Product Addons–>Add New Product Form/Edit(for existing forms).
The form settings tab is laying under the form edit screen. Every setting you are making here will affect only for the current form you are editing. Because this is local to every form.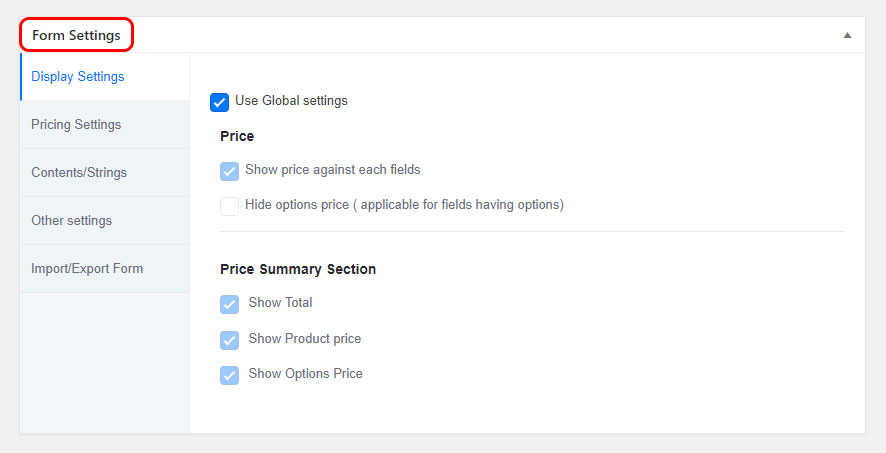 It provides five settings tabs namely,
Display Settings
Pricing Settings
Contents/Strings
Other Settings
Import/Export Forms
1.Display Settings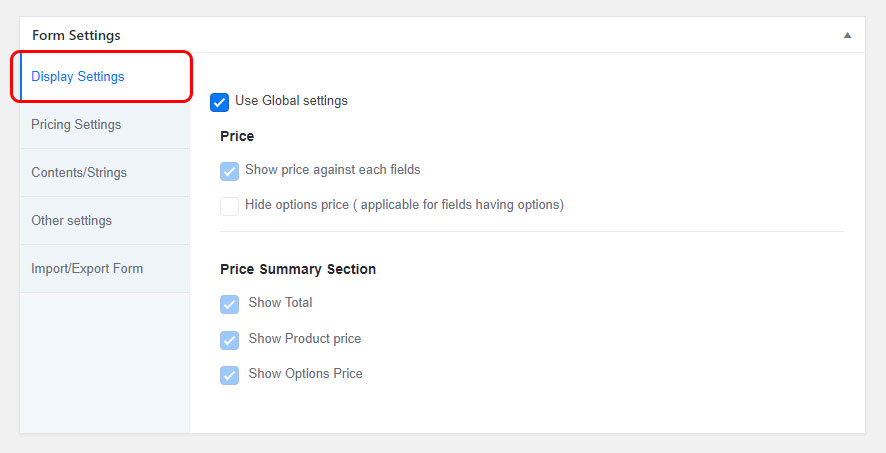 Use Global settings: Un-tick to use local settings(settings you making in this section will be considered as local. It will be applicable for this form only). If this is ticked the settings will be applied from the global settings of WCPA Plugin.
Show price against each fields: It shows price against the fields in which of them enabled pricing.
Hide options price: It hides the options price. It is applicable only to fields having options price
Price Summary Section: It shows/hides the Total, Product price and Options price by ticking or un-ticking the respective checkboxes.
2.Pricing Settings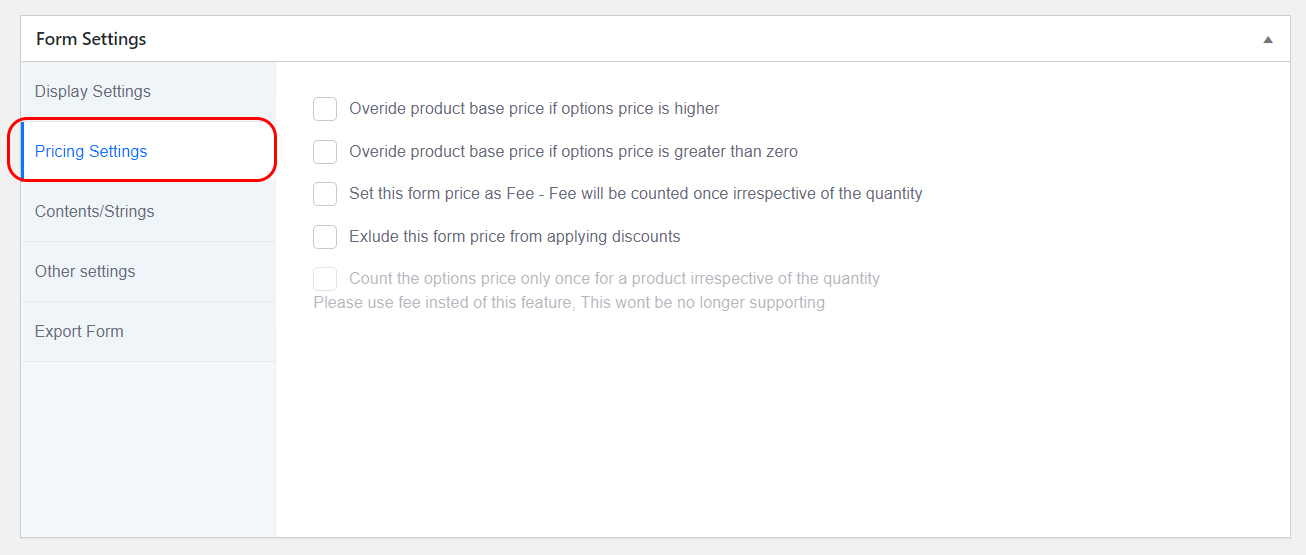 Override product base price if options price is higher– will only select one price either Option price or Base price which is higher.
Override product base price if options price is greater than zero– will only select the options price if there exist options price.
Set this form price as Fee– will set all the field price as fee and fee will be counted once irrespective of the quantity.
Exclude this form price from applying discounts- Discounts won't affect the form prices once you enable this setting.
3.Contents/Strings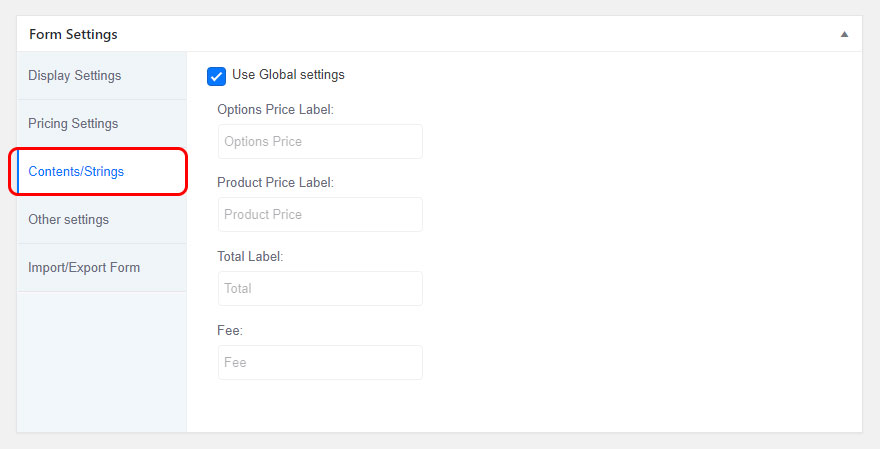 You can change the label names for Options Price, Product price, Total and Fee, but is applicable only for the respective form only(local scope).
4.Other Settings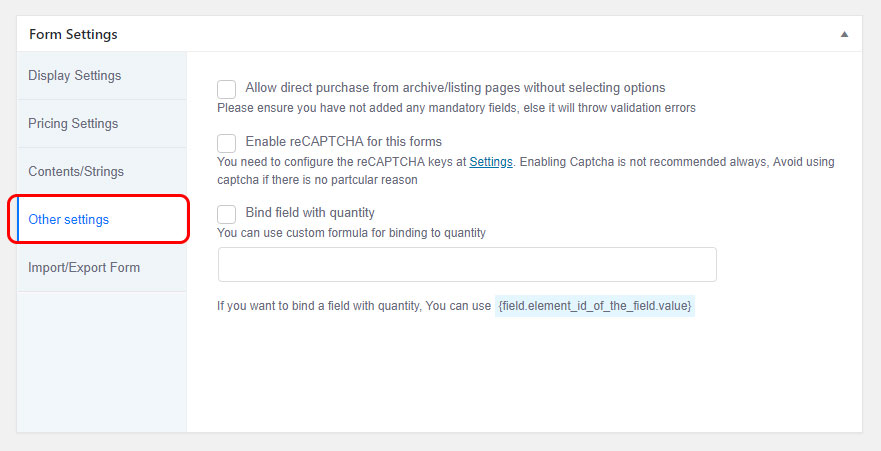 Allow direct purchase from archive/listing pages without selecting options: You can purchase products directly from archive page or listing pages by ticking it. But please ensure you have not added any mandatory fields, else it will throw validation errors.
Enable reCAPTCHA for this forms: If you have already configured reCAPTCHA you can use it in the form by ticking it. What is reCAPTCHA?
5.Import/Export Forms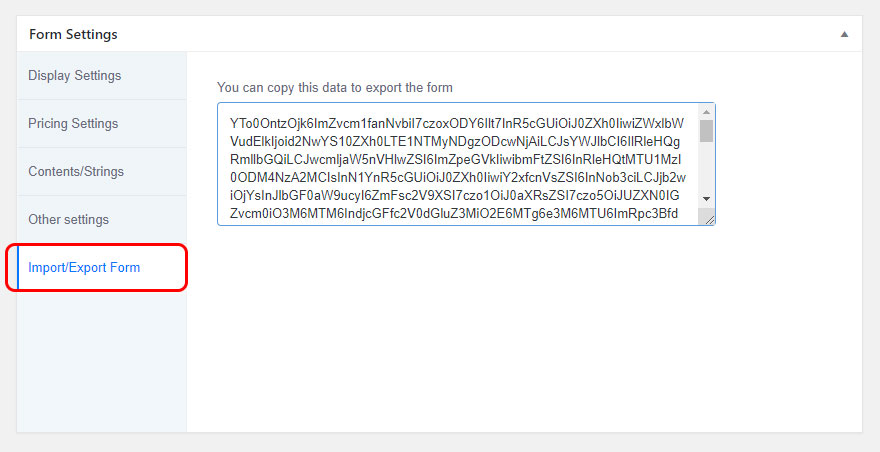 You can Export the current form copying the string displayed in the text area. Importing of an exported form is described in the General Settings section.