The key to e-commerce sales in today's competitive landscape is overcoming objections. You must answer your potential buyer's questions and doubts and prove the value of the product or service you offer.
One way to do this is through strategic copywriting that outlines all the most important selling points.
Yet even with the most thorough personal research and well-planned copy, you can't answer every question for every use case. Even a knowledge base that answers in-depth questions requires the user to investigate for themselves — clicking away from your product pages.
To keep your users one click away from adding an item to their cart and ensure you can answer all their questions, WordPress live chat is indispensable.
A real-time communication channel like live chat on WordPress can provide excellent convenience and speed to your customers and leave them with a positive impression of your brand.
A live customer support chat is also far more convenient for existing customers than calling in to wait on hold or refreshing their inbox for an email reply.
Here we'll break down everything you need to know to successfully implement this feature to your WordPress website.
What Is Live Chat?
You may have come across several chat boxes that pop up on a webpage and encourage you to chat with a representative if you have any questions.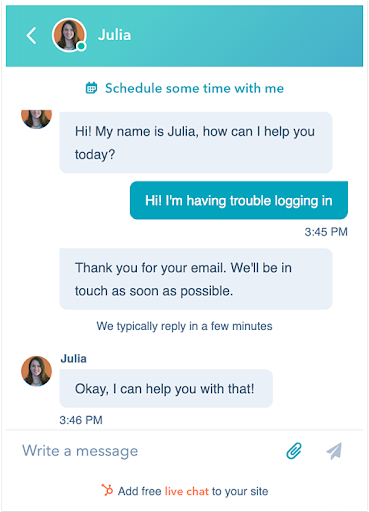 WordPress's live chat solution puts customers in contact with chat agents or a chatbot.
This convenient communication tool is a part of a network of multichannel support on your website that includes:
Phone and Video Calls
Compared to WordPress live chat, phone calls are the traditional live customer support method. One of the main downsides to phone calls is the associated wait times.
Formilla tried customer service calls of 50 leading e-commerce brands and found that 28% of businesses had an average wait time of over three minutes. When your customer is facing a dire technical error or working around a stressful schedule, this time is an eternity.
Technology around customer service phone calls has improved with call logging that facilitates offering a personalized experience. Still, live chat provides a more convenient service.
Email
Customer support emails fit into the communication ecosystem as a time-delayed way to reach your team. They let your customers contact the team if they lack time to sit on the phone.
Sending email follow ups on initial chat or phone communications is an excellent way to ensure customer satisfaction after encountering issues.
Chatbots
Not every small business has the resources to staff their live chat 24/7.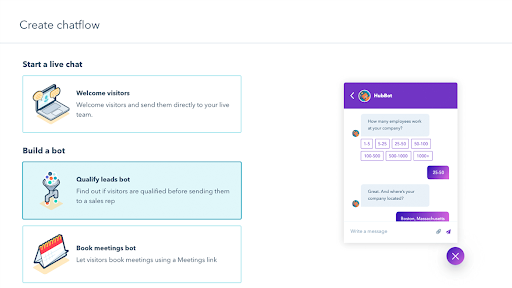 Chatbots bridge that gap by automation. A well-planned chatbot can book meetings, welcome visitors, and direct them to useful pages within your company's knowledge base.
CRM All-in-One Tools
Each of these communications tools helps you manage your relationship with your customers. But between chats, emails, helpdesks, it can be hard to organize and respond to each contact.
A customer relationship management (CRM) software resolves that issue by bringing all these communication tools under one platform.
Why Use WordPress Live Chat for E-Commerce Websites?
With other communication resources available to your customers, what are the advantages of adding live chat to your e-commerce website? There are many:
Talk Instantly With Customers
Chat puts you directly in contact with your customers — exactly when they need you. And with multiple agents and chatbots, you can help multiple customers across your website, mobile app, and social media simultaneously.
With pre-chat surveys, you can gather necessary information about your customers and route their chats to those who can immediately help them.
At the end of each chat, you can collect feedback through surveys that can help your agents adjust their strategy and solve customer pain points in real-time.
One of the largest customer service complaints is the wait time, which you can eliminate with live chat.
Increase Website Traffic Interactions
Visitors to a new website may only spend a few seconds on a page before deciding to click away.
Pop-up live chats are a great way to immediately encourage users to interact with a website and keep them engaged. Pop-up chats are intuitive and easy to use on desktop and mobile devices, making them a great all-around interactive tool.
Whether your visitors are on an Android, iOS, or Windows computer, they can chat.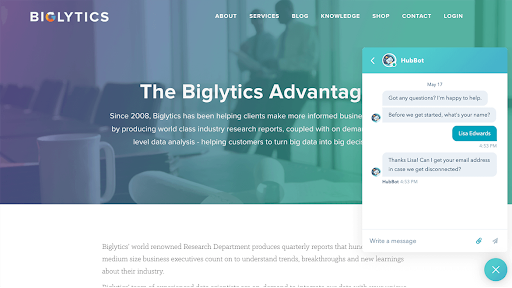 ALSO READ: Ways You Can Use Gamification To Boost Ecommerce Sales
Leverage Your Knowledge Base
Reap the benefit of your efforts in knowledge base by connecting it to your chatbot and enabling 24/7 service.
In this way, you can help your website traffic worldwide. You can even translate your WordPress live chat to other languages, so your business is set up for truly global conversations.
With an extensive library of information on your products, your chat can provide additional resources through guides and pull relevant answers from FAQ pages.
Increase Website Conversion Rate
Live chat for WordPress delivers answers to your customers. When they have all the information they need to make a purchase decision, they're more likely to convert as a customer.
This real-time support fills any knowledge gaps and reduces conversion time.
Besides that, a positive customer service experience creates brand loyalty that drives repeat customers.
Collect Data
Your users' questions and their frequency provide valuable insight into your e-commerce WordPress website. This can guide content planning for your knowledge base and set the framework for your web copy.
Besides that, information on when your customers enter your chat system can give insight into the buyer's journey stage your users encounter questions.
You can also comb through chat conversations to help better segment your audience. From there, you can craft more effective messaging for each persona.
You can also track your team's performance using chat data. See how long it takes to resolve support tickets and which support tickets are the most time-consuming to resolve.
This can help you find where you should create additional resources and training to improve your support team's efficiency.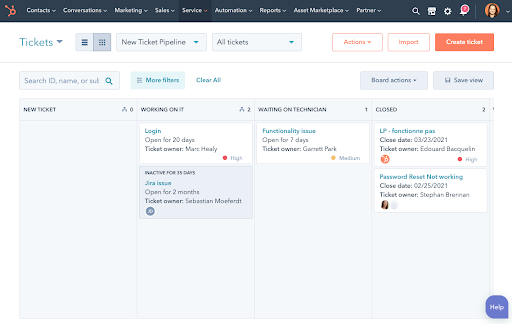 Synchronize the Customer Journey
The average customer engages with your brand across several communication channels in their journey to purchase.
WordPress Live chat can help them with customizable chat prompts to decrease friction at every stage of their journey. Each time they engage with chat to ask questions, get clarification, or seek support, you can record their interaction.
Using this comprehensive chat history, your brand can customize your communications to each customer based on where they are in their journey.
Easy To Install
With many free and straightforward WP live chat widgets out there, you don't lose much by adding a chat widget to your website. And you don't need coding experience or a robust IT troubleshooting team to make sure it works.
In some cases, you can have a WordPress live chatbot up and running with just a few clicks for free.
You can find many WordPress chat plugins with free plans like HubSpot Live Chat, WooCommerce, Zendesk Chat, Mailchimp, Olark, and more. You can always try more than one to decide the best WordPress chat plugin for you.
These plugins have multiple useful features, come with premium plan pricing options, and integrate seamlessly with top websites, so you can have your website's live chat feature up and running in no time.
How To Use Live Chat With Your WordPress E-Commerce Stores
There are several ways to set up your WordPress live chat features. Here are a few ideas to get the most out of your chat:
Engage New Visitors and Direct Traffic
As your visitors land on your e-commerce store, an interactive chat window can capture their interest and provide excellent customer service.
If they have a specific need, your chat can send them in the right direction. Chats can also promote sales, popular products, and free offers.
Answer Common Questions
As users browse your e-commerce store, they will inevitably encounter questions that they can't find answers to.
A chatbot pulling answers from FAQ pages can help address users' pain points. This means they don't have to google for an answer or leave the website altogether. Instead, they stay on course to make their purchase, increasing your website's conversions.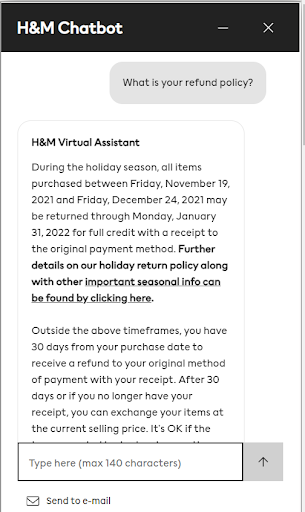 Combat Cart Abandonment
Preventing cart abandonment is a major concern for any e-commerce WordPress business.
As the shopping cart is the final stage before purchase, proactive chat efforts to recapture interest can have a high return on investment. You can use your chat to send notifications to re-engage users that have a full shopping cart but have become inactive.
Troubleshooting and Customer Service
WordPress live chat support plays an important role in securing loyalty and repeat business from existing users.
Offer live chat services to help solve specific issues and use a pre-chat survey to direct them to the right agent.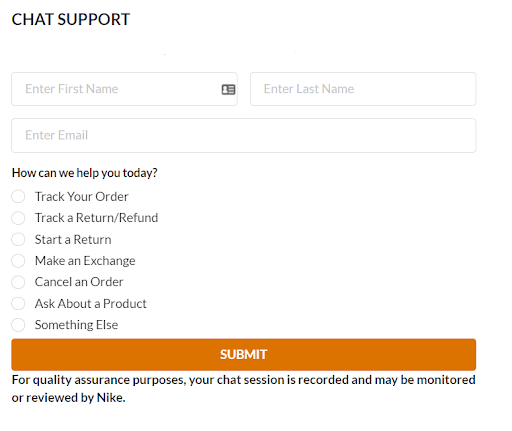 How To Add Live Chat on WordPress
Setting up live chat takes just a few simple steps. Here's how to install the live chat in your WordPress:
1. Log Into Your WordPress Account and Select Plugins on the Left Sidebar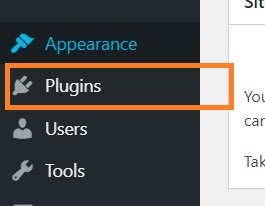 Doing this will take you to the page that lists plugins you have added to your WordPress website.
2. Click "Add New" and Search for Live Chat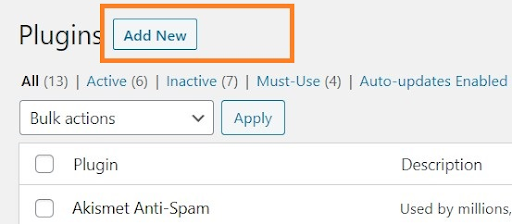 Once in the plugin marketplace, search for HubSpot – CRM, Email Marketing, Live Chat, Forms & Analytics.

3. Install and Activate the Plugin
Select Install Now to add it to your WordPress website.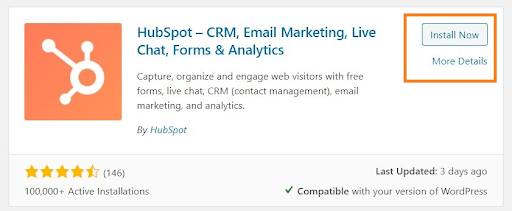 HubSpot will appear in your left sidebar menu. To finish setup, sign in to your HubSpot account to access the Live Chat software features.

4. Create Your Chatflow
Follow the steps below to create your chatflow:
Select HubSpot > Live Chat in the left sidebar menu.
Click the Create chatflow button in the top right corner
Choose Website (as opposed to the Facebook Messenger chat).
Choose one of the following options:
a. Live chat
b. Knowledge base search and live chat
c. Chatbot
Turn on the switch in the upper right corner beside the preview button to push your chat live.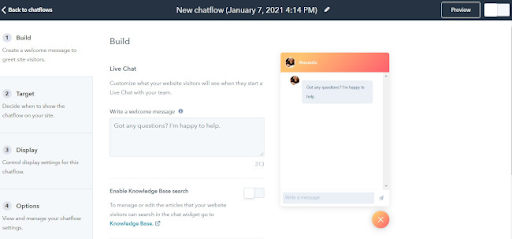 5. Verify That Your Chat Is Live
Check your WordPress site in a new browser tab. If you find the chat tab, move on to the next step.
6. Test Your Chat Functionality
Open the chat dialogue and make sure everything looks and works as intended. Enter a few responses and verify that your team receives the inputs.
How To Use HubSpot's Chatbot Builder
If you want to set up an automated chatbot that works even when you're offline, follow the steps below;
1. Create a New Chatflow
In your HubSpot account, select Conversations > Chatflows.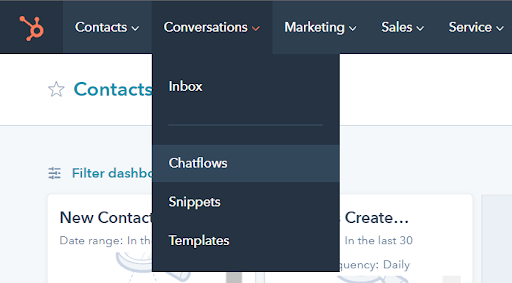 Select Create Chatflow in the upper right corner. Then choose Website.
2. Choose Your Bot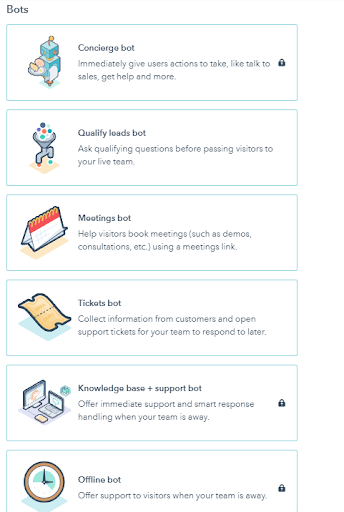 Choose the appropriate bot depending on what you want your bot to do.
3. Write a Welcome Message and Add Actions
Click on the Build tab to add a custom message. Under your welcome message, click on the plus symbol to add additional actions.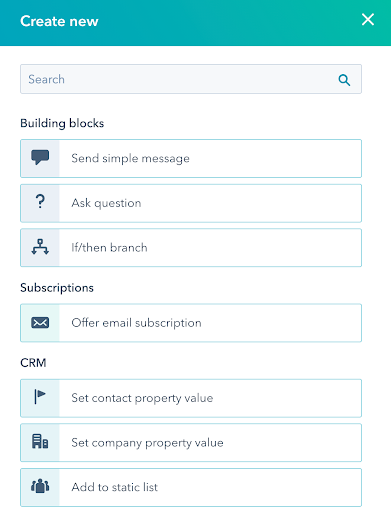 4. Select Webpages to Target
Go to the Target tab to decide when you want this chatbot to appear. Select the dropdown menu based on whether you want to target a specific URL, particular user queries, or predefined website visitor information.

5. Customize Your Chatbot
There is a range of additional settings you can tweak.
You can change the display settings, chat behavior, error message, and chat language until you're satisfied with how it looks and acts.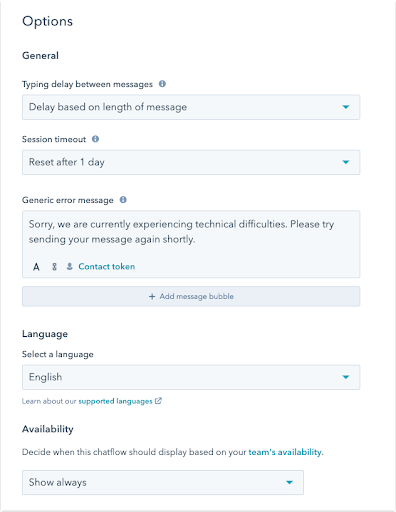 Add Live Chat to Your WordPress Website Today
With all the benefits a WordPress live chat plugin can offer your e-commerce business, there's no reason not to incorporate live chat into your website today.
HubSpot's free WordPress chat plugin for WordPress means that getting started and setting up your unlimited chat is only a few clicks away.
For other upgrades to your e-commerce business, check out feature-rich WooCommerce plugins.
Acowebs are developers of Woocommerce dynamic pricing that will help you add bulk discounts to products on your stores. It also has developed various other plugins like the popular plugin for managing the checkout form fields in WooCommerce, called Woocommerce checkout field editor and manager, which is highly feature-oriented yet lightweight and fast. There is also a free version of this plugin available in the WordPress directory named WooCommerce Checkout Field Editor.