The eCommerce industry continues to experience tremendous success, with global eCommerce sales expected to reach about $4.2 trillion in 2021.
Further, surveys by Adobe indicate that 9% of U.S. consumers, 15% of UK consumers, and 8% of Japanese consumers have never bought products online before.
These figures indicate just how much opportunity there is for eCommerce businesses.
But how best should you take advantage of the existing and new eCommerce audience?
The key lies behind how you market your products, and online businesses have mastered the art of promoting products via email while maintaining a unique value proposition and engagement.
In this article, we will take you through email engagement, its importance, and 10 foolproof ways to improve eCommerce email engagement.
Why is eCommerce email marketing important?
There are a number of reasons why engaging customers via email is a leading best practice by digital marketers today. These include:
Consumers prefer emails for communication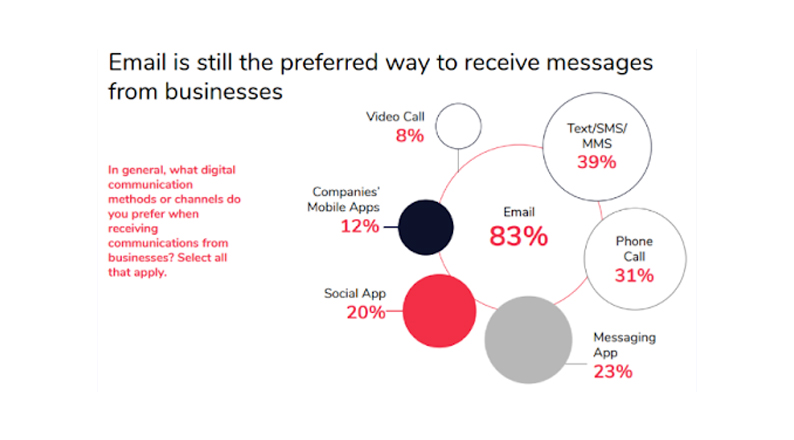 According to research by MarTech, 83% of consumers prefer to receive communication from businesses through emails.
Your customers will appreciate it if you sent delivery or arrival notifications or appointment reminders through emails.
When you communicate with customers through the right channel, they tend to reward you; about 34% of consumers will make a purchase from a brand that interacts with them on their preferred channel.
Another 71% will penalize you for delivering on the wrong channel.
For traffic reasons
Email campaigns are a great way to promote your new products and discounts. You only have to create a captivating campaign and add a link to your product page.
You can personalize your confirmation emails as desired or engage with customers through email surveys. Either way, you stand to attract heavy traffic when customers click on the links on your email.
Enticing customers with discounts or freebies can also go a long way in improving your eCommerce email engagement.
To move customers down the sales funnel
There are many ways in which to use email marketing can help you move customers from one stage of the sales funnel to another.
For instance, you can use promo emails to build initial awareness around new products, or you can create desires by sharing testimonials. You can encourage customers to buy by offering exclusive discounts or cash-backs.
For a high ROI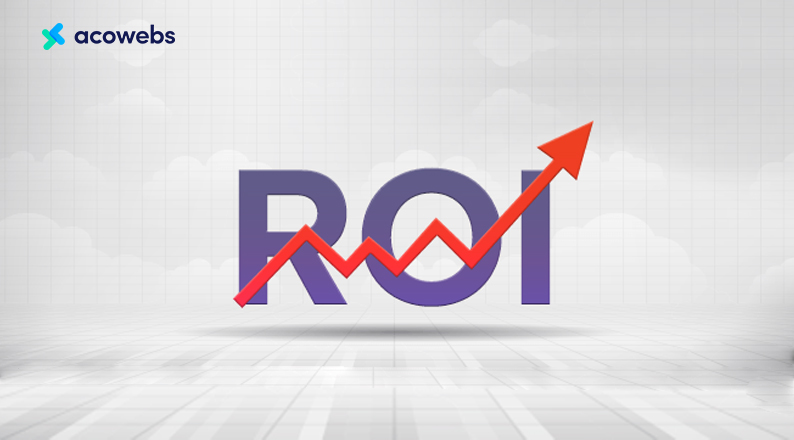 73% of marketers have reported that email marketing is their go-to channel for return on investment (ROI).
While many marketers still prefer communicating with customers through other channels like social media, email marketing tops the list.
Remember email marketing is quite cheaper than paid ads and other platforms since most email service providers offer plans for businesses sending emails to a small list of subscribers.
For instance, SendPulse allows you to send up to 15,000 free emails to 500 subscribers per month.
The low initial costs of email marketing make the channel highly lucrative.
ALSO READ: Top 8 Social Media Strategies That Every E-commerce Store Needs To Implement
Causes of poor email engagement
Despite the success associated with email marketing, there are a few reasons why recipients may choose to ignore your emails, such as:
The recipient does not recognize the email sender.
The message is irrelevant to the recipient.
The recipient is overwhelmed with many emails or is too busy.
The recipient rarely checks emails.
That said, we have compiled 10 ways that you can use to boost your email open rate and engagement.
10 Foolproof Ways to Improve ECommerce Email Engagement
Empower users to set their preferences
Improve your eCommerce email engagement by enabling your subscribers to set up preferences, such as choosing the kind of topics they would be interested in. 
You should also provide an "Unsubscribe" button to ensure customers can opt-out of your service at will.
For instance, if you are an eCommerce retailer selling clothes or shoes, you can let customers decide if they want to receive information about kids', women's, or men's attire.
This practice ensures that your customers receive only relevant emails, minimizing churn and improving eCommerce email engagement.
An email preference center is a good place to start, as it allows your customers to decide how often they want to receive your emails. In return, your subscribers will be more satisfied with the quality of your services.
Spotify's notification settings are set up with more detailed information to enable subscribers to understand exactly what they will be subscribing to.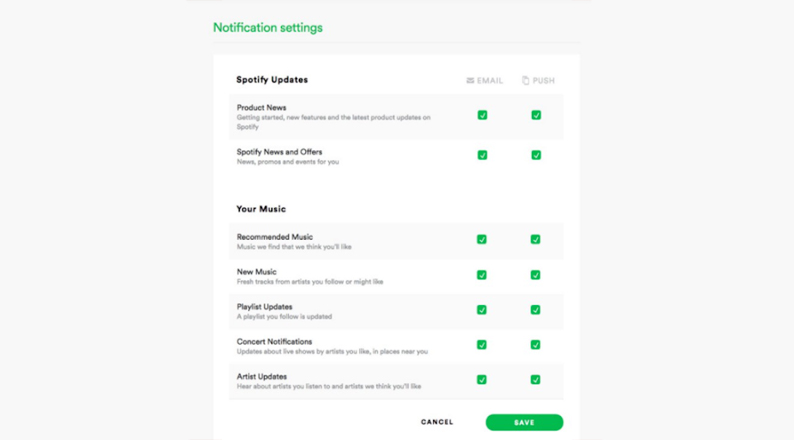 The better the subscription preferences, the more engaged and loyal your customers will be.
Segment your audience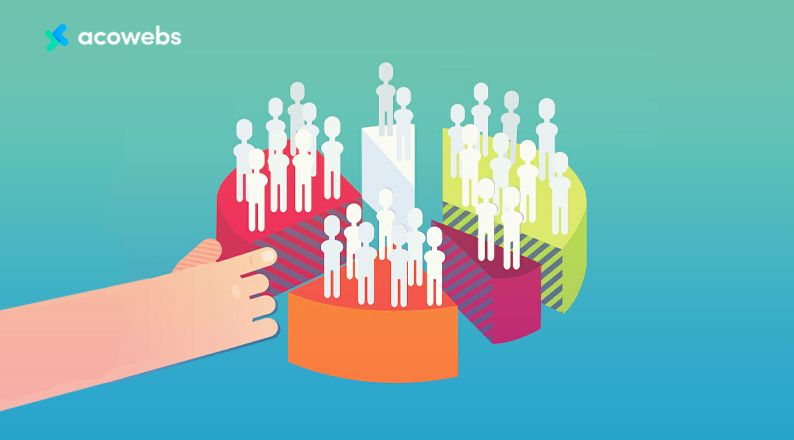 According to a study by HubSpot, segmenting your marketing emails can raise your eCommerce revenues by as high as 760%.
The better you know your customers, the more effective your product or service offering will be and the faster your results.
But how do you segment your audience yet consumers' tastes and preferences differ so much?
You can start by segmenting your email subscribers and grouping customers according to attributes like geographic location, age, gender, profession, marital status, and interests.
SendPulse email subscription forms offer multiple options depending on your preferences, such as a drop-down list for a geo-dependent business.
Segmenting your audience according to their behavior is also a highly effective way to improve eCommerce email engagement.
For instance, you can segment customers according to:
Benefits sought,
Usage rate,
Occasion,
Brand loyalty status, or
Buyer readiness stage.
Whether you are targeting a small or wide group of customers, ensure to clean and sort your email list and send campaigns that are most relevant to the interests of each group.
The idea is to keep your campaign relevant, leading to improved customer satisfaction.
As you segment your mailing list, avoid asking too many personal questions as doing so could frighten off new customers.
ALSO READ: A complete guide to BOPIS (buy online pick up in-store)
Use a responsive design
Create great designs for high conversions using the following tips:
Use the KISS principle
The Keep It Simple, Stupid (KISS) approach requires that you don't add too much stuff or content that would overwhelm your email subscribers.
Apply the KISS principle by using a few columns in your marketing emails (maximum three), minimal content, and moderate newsletter designs.
While you want your content to appear attractive, don't use too many images and designs because they may only be visible to mobile users.
You should also space your content appropriately to ensure the sections are clearly defined.
Display high-quality images
Make sure your brand logo is high-quality and preferably use a transparent background, which does not collide with the colors in the email background.
If you are listing multiple products or services, maintain the same size and style of images; don't have some too dark or too blurred than others.
Highlight your call-to-action
Your CTA button colors should contrast the background colors in your emails to make them highly visible and engaging.
The CTA buttons should also not be too many as to compete and confuse your email recipients.
Here are some tips to keep your CTAs appealing and action-oriented:
Keep them active, short, and clear – phrases like 'Buy now', 'Visit our store', etc have the right tone.
Use high-contrasting buttons or links – make your CTAs clear and hard to miss by placing them strategically at the top or bottom of the email or both. Leave some empty space around the CTA buttons to make them stand out.
Avoid image CTAs – many email recipients tend to block images; hence, CTAs that appear as images will not be visible to such customers.
Display CTAs sparingly – don't overcrowd your email campaigns with too many CTA buttons otherwise your readers will get lost or confused, affecting your eCommerce email engagement.
Hotels.com sends highly engaging promotional emails to their customers, whose CTAs are blue-colored to contrast against the red-colored email background.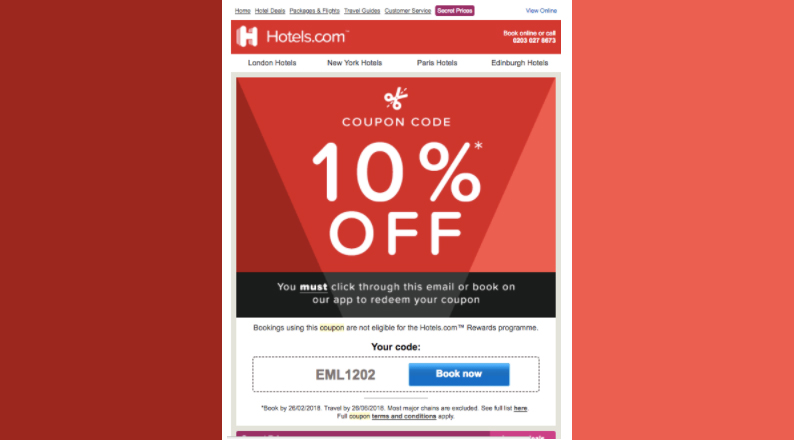 A responsive design should be optimized and tested to ensure every aspect of the email suits the needs of mobile and desktop users. Ensure the copy is brief and relevant, resize the images, and test the CTA button placement.
The more responsive your marketing emails, the higher the click to open rate (CTO) and the better the conversions and revenues.
ALSO READ: How eCommerce businesses can turn organic traffic into valuable leads
Leverage social proof
Social proof tells shoppers whether they should trust a brand or not. The lower the rating, the less credible customers perceive your products.
Research by TrustPulse shows that 91% of millennials tend to trust reviews and recommendations from family and friends, while 83% approve of reviews more than advertising.
Additionally, more than half of online consumers will not buy from a business with a less than 4-star rating.
These statistics show you just how much reviews can fuel customer interaction and conversions.
To improve eCommerce email engagement, consider adding reviews or even testimonials in your marketing emails.
Ritual, a brand that sells vitamins and supplements understands the importance of gaining customer trust, especially when selling health-related products.
That's why the company incorporates customer reviews and testimonials in its eCommerce emails.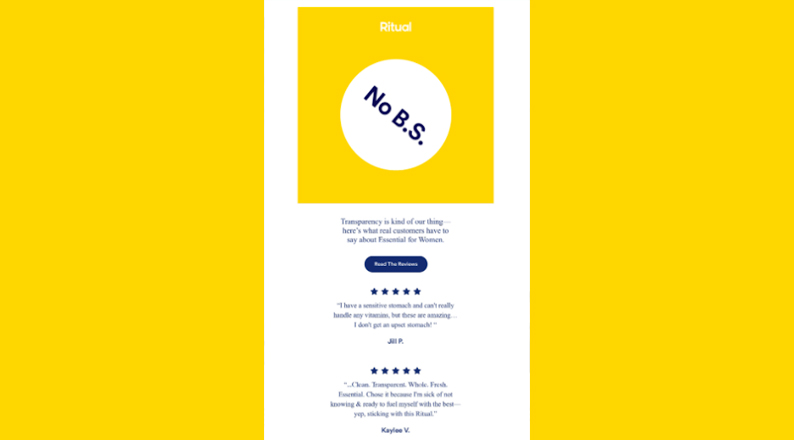 Social proof in email marketing helps improve eCommerce email engagement because reviews cause customers to have a sense of belonging.
The decisions made by shoppers are highly influenced by the choices, opinions, and actions of friends and family.
Use incentives
Another effective way of enhancing interaction with your emails is by offering incentives.
People engage with brands either for rewards like discounts, exclusive information, or to be updated on new products or services.
Enticing newcomers with incentives is a common practice because doing so helps break any hesitation or uncertainty regarding your brand.
Attaching trust signals or peer reviews in the welcome email, along with the incentives can help boost customer trust, leading to improved eCommerce email engagement.
You can also target existing but inactive subscribers by offering them incentives as a re-engagement strategy.
Lyft offers its customers discounts upon achieving a certain number of rides: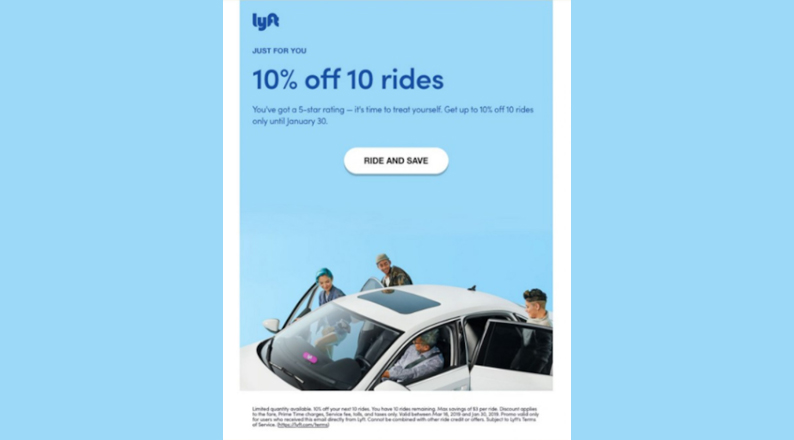 Don't be limited to discounts only – free shipping, coupons, freebies, 'buy one, get one', limited one-time offers, etc. also count as incentives.
Optimize your marketing strategy
There are many ways to optimize your eCommerce emails and one of those is automation.
Automated emails will earn you higher open rates, conversions, and revenues because you will be sending the right emails to the right audience, at the right time.
Some of the areas to automate include:
Welcome email – sent when a customer signs up for your list. Use the opportunity to engage with an already-interested audience.
Customer appreciation (thank you email) – engage with new customers to build loyalty and to differentiate your brand experience from the competition.
User's online behavior – send automated follow-up emails to customers who visit your page, click on your links, or make product search queries but don't make a purchase. You can entice such customers with promotions.
Individual milestones – sent to celebrate a certain achievement, such as customers' birthdays or completion of a given level in a training course.
Abandoned cart emails – sending abandoned cart emails within an hour can earn you a conversion rate as high as 6.33%. Automate this process to reduce the delay and engage with customers when the interest is still fresh.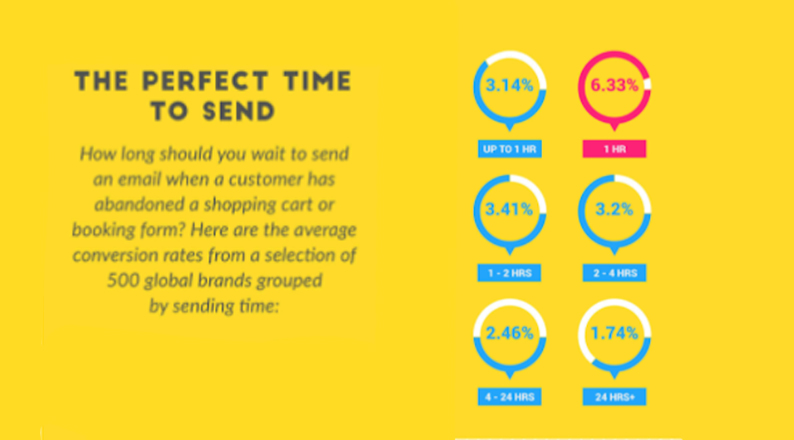 Post-purchase emails/surveys – target return customers by sending automated emails that remind them about your brand, such as post-purchase surveys or asking for feedback. You can also attract customers through your loyalty program or by cross-selling and upselling.
ALSO READ: Using Personalization On Your Online Store To Enhance Customer Experience
Win over inactive subscribers
Research by PriceIntel shows that unlike customer acquisition which increases the conversion rate by 1%, retention (reducing your churn by 1%) can improve your revenues by 7%.
First identify your inactive users – you can do so by looking at breaks or pauses between purchases (for repeat clients) and failed/discontinued payments (for subscribers).
Re-engage these customers by sending them emails with offers or ask them for feedback, or motivate them with new changes or developments on your website.
Below is an example of an effective re-engagement email. Urban outfitters have combined elements of humor and emotional appeal to create a highly converting marketing email.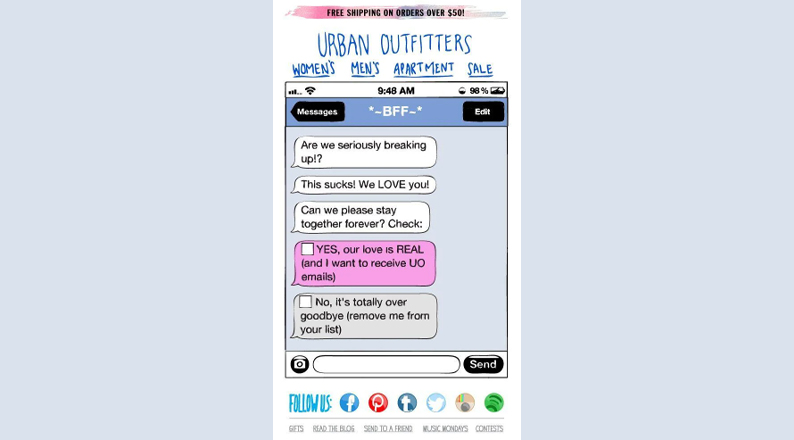 Be creative with your eCommerce emails, and you will see considerable improvements in engagement activity from your dormant account holders.
Personalize your emails
For newcomers, personalize the welcome emails in a way that helps the customers familiarize with your products, services, and brand.
Here are some ideas to get you started:
Thank new subscribers and offer them a welcome pack or gift;
Greet them by their name;
Introduce the benefits of being a member;
Share useful information relating to your company's business activities, story, or values;
Provide your webpage's virtual tour.
Food52's personalized welcome email stands out because it compels customers to engage with the brand further.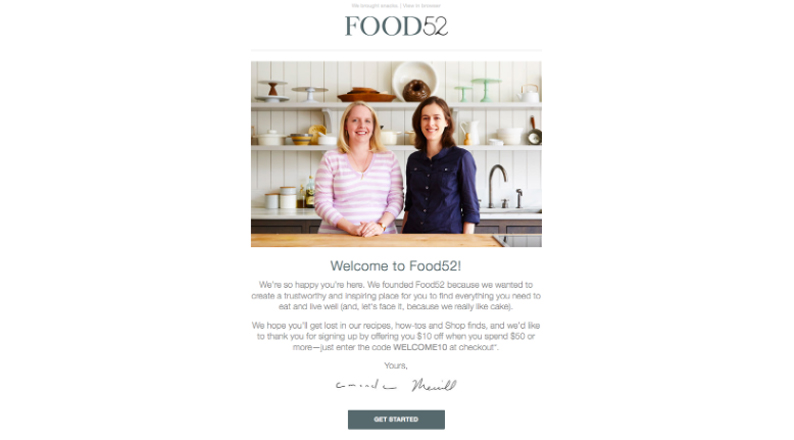 Another way of personalizing your eCommerce emails is segmenting your target audience as discussed earlier, according to gender, location, or other attributes.
For instance, if a customer opens an email from a given geographical location, you can send future emails with offers personalized to the user's location.
You can also send personalized email campaigns and offers to customers who buy items above their average purchase history.
Research by Experian shows that 50% of businesses trust personalized emails because they believe that they can help drive interaction.
Other studies show that 94% of marketing professionals and customer insights across multiple industries trust email personalization as a way of achieving email marketing objectives.
Sending irrelevant emails will not only frustrate your customers but will also cause the majority of them to fail to engage with your brand as intended.
Review your performance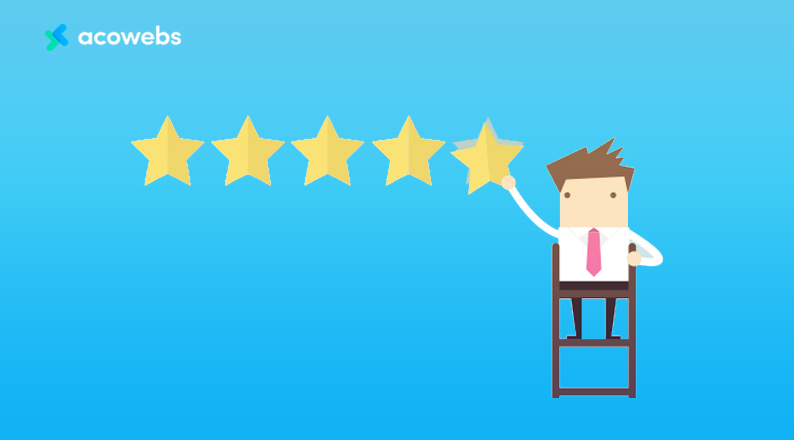 You must evaluate your email marketing strategy for improvements. Keep track of the appropriate metrics to ensure your eCommerce email engagement tactics are within the standard.
Email service providers like SendPulse share the following statistics for your review:
Delivery rate – helps assess the reputation of the sender and quality of the mailing list.
Delivery errors – to troubleshoot and address issues causing email list errors.
Open rate (Emails opened / Emails delivered * 100) – helps you evaluate the quality of your preheader, subject line, and sending time.
Click-through rate (CTR) (Emails clicked / Emails delivered * 100) – to evaluate your subscribers' engagement and clarity and relevance of the offer, and enhance it where necessary.
Compliant rate – to assess the number of unsubscribes and content relevance.
ALSO READ: Ways to reduce your eCommerce operating costs
Timing is of essence
By now you have an idea of all the aspects you must consider when creating an eCommerce email.
However, the time to send the marketing email is particularly important from the perspective of the recipient and their country of origin or time zone.
Customers in the US will likely check their emails in the morning (between 10 a.m. and 11 a.m.), with most opens occurring on mobile phones.
Tuesdays and Fridays tend to have the highest number of open rates and click rates, while Wednesdays have high open rates but lower click rates.
Still, it is not advisable to generalize the timing or limit yourself to certain time zones, especially if you are serving a global audience.
Feel free to test your eCommerce email engagement with a sample of users from different time zones to get a good idea of the best timing for sending your business emails.
Conclusion
ECommerce businesses are increasingly embracing email marketing as this channel is a high preference among many customers. The practice is also good for high traffic and ROI, and the movement of customers down the sales funnel.
In this article, we have discussed 10 foolproof ways to improve eCommerce email engagement, including enabling customers to set their preferences, segmenting your audience, using a responsive design, leveraging social proof, using incentives, optimizing your marketing strategy, winning over inactive subscribers, and personalizing your emails.
Remember to also review your performance consistently to address causes of low engagement. Lastly, consider the timing of your marketing emails to ensure you send them when there are high chances of being opened and clicked.
Acowebs are developers of Woocommerce bulk discounts that will help you add bulk discounts to products on your stores. It also has developed various other plugins like the popular plugin for managing the checkout form fields in WooCommerce, called Woocommerce Checkout Manager, which is highly feature-oriented yet lightweight and fast. There is also a free version of this plugin available in the WordPress directory named WooCommerce Checkout Field Editor.