As we head on towards 2021, businesses now know exactly the importance of a good web design and theme in the era of digital transformations and more online presence.
It increases the use of visual components and graphics that has led to some crucial shifts in the online presence of a business. It can significantly make or break your business.
Earlier, businesses focused much on texts or contents on their website, and the use of basic HTML. However, with the rapid increase in digitalization, companies are getting much more concerned about their websites.
Why not? As it's quite appealing to observe the latest innovative graphics and visualizations. It directly impacts the viewer's mind. It assists to give your users direction and let them look at what you want.
Therefore, we can say that the web themes are the most important part as it influences how the public recognizes your brand.
The impact you make on them with the website design, themes, the contents, everything can retain them to learn more about your company or can promptly leave your site and shift to a competitor's one. Consequently, a good web theme assists you to retain your leads.
WordPress has evolved immensely with the era of Digital Transformation
As we already know now the importance of online presence in today's market. You automatically look up to someone who can develop your website design and theme as per the needs of today's business market. There comes a demand for WordPress Themes.
WordPress theme is one of the most popular tools for building an online presence and letting your website stand out of the box in the most guaranteed manner.
Moreover, it assists you even if you have not done coding in your entire life, and also, you aren't a design specialist. It enables users to promptly develop a website and the options to customize it, in the way they want.
One of the best qualities of WordPress is that it is comfortable to use, adaptable, and versatile to develop varied types of websites and webpages. Because of such robust qualities it offers, it is increasingly gaining popularity.
Even many top brands are making use of WordPress to boost their websites. It includes Facebook, Sony, Time Magazine, The New York Times, and many more.
WordPress came into existence in 2003. Two years after that came themes: downloadable records, that we can transfer to any WordPress web page to change the visual plan of the site promptly.
These days there are, in a real sense, a vast number of these themes accessible. Yet, at whatever point somebody downloads the most recent adaptation of WordPress, there's a topic that accompanies it: the default WordPress theme!
Commonly the default WordPress themes change with a new delivery timetable of roughly once every year.
The intention was to exhibit both the best WordPress coding principles and the best of precisely what the most current variant of WordPress can do straight out of the crate, for example, without the utilization of outsider plugins!
ALSO READ: 12 Common WordPress Errors and How to Fix Them
All the various emerging default themes from WordPress
There are 13 default WordPress themes as of 2021. Default themes have a high level of device compatibility, which makes them helpful in troubleshooting common issues.
Each one includes essential features to WordPress users at the time of release, demonstrating how the platform adapts to evolving user needs and website use patterns.
Let's take a ride down memory lane with all the themes from WordPress.
Classic – The First Theme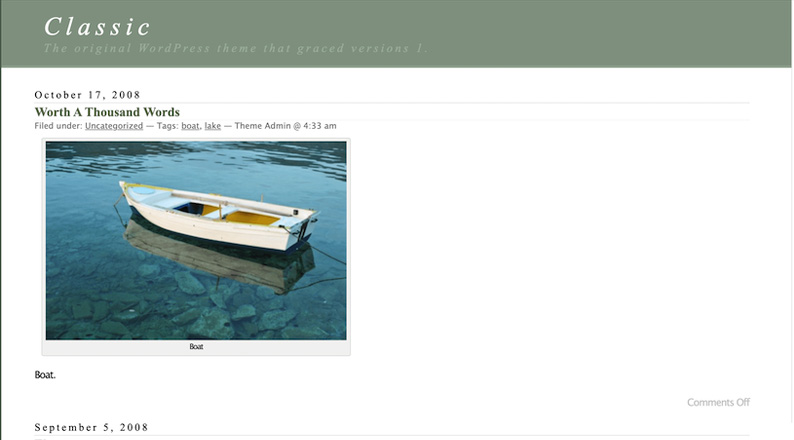 Unlike the widespread belief that the first theme from WordPress was the Kubric theme, WordPress Classic, or simply Classic, is the first default theme ever released.
For WordPress 1.2 version and other versions, the default theme was Classic. We know, browsing on mobile phones wasn't as standard early on, so Classic didn't have a responsive interface, but it did the job with an efficient and simple layout.
Classic was considered as the leader of easy use and simplicity. This theme would look great on any blog, regardless of who the audience in target was or what your niche subject was!
Classic was ready for translation and supported all kinds of languages.
However, even Automattic, the WordPress creators, have forgotten about the style, as the developers did not update Classic since 2010. The roots of WordPress as a blogging site are visible on this theme.
The sidebar contains navigation for extensive post archives, and the remainder of the page is mainly for presenting long-form material. There isn't any sophisticated header styling to be found right now. However, it's worthwhile to look back to see how the site got its start and how far it has come.
ALSO READ: Top WordPress plugins
Default – The Original Theme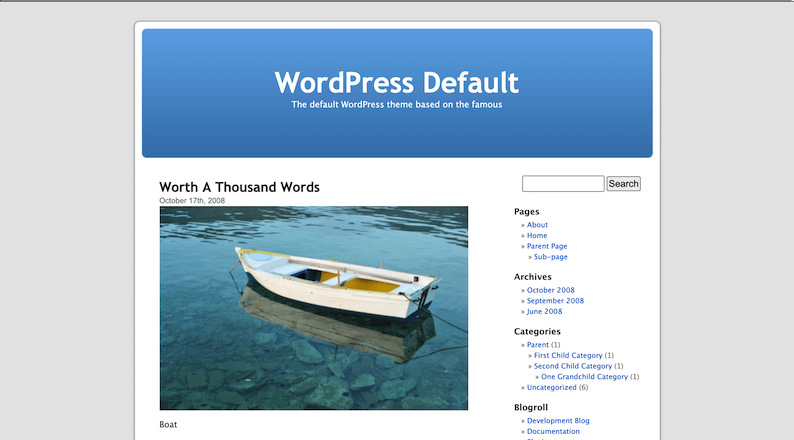 The Default WP theme, also known as "Kubric." It comes after the theme, which first appeared with WordPress version 1.5. It reigned supreme till the release of WordPress version 2.9.
Once more, the WordPress Default theme prioritized simplicity. It was when WordPress launched a slew of new customization options.
The theme made good use of them, including a big header, of the font type sans serif, and a well-organized sidebar, among other things.
This theme was also ready for translation, though it was not receptive since smartphones were still not present at that time.
Even though the developers have not revised the WordPress Kubrick or Default theme since 2010, more than 20,000 registered sites are still using it.
Default, however, received a lot more attention than its predecessor. That is the predominant default WordPress theme, according to the majority of customers.
This theme was designed specifically for running a blog, as shown by its nature. The published content material is front and center, with navigation relegated to the sidebar.
Nonetheless, it gave publishers in a wide range of niches a lot of versatility. This theme became so popular that it was the default WordPress template for five years, from 2005 to 2010.
Kubrick hasn't been updated in a long time and isn't mobile-friendly. As a result, you're unlikely to see it on any high-end website.
Twenty Ten – First Upgraded Theme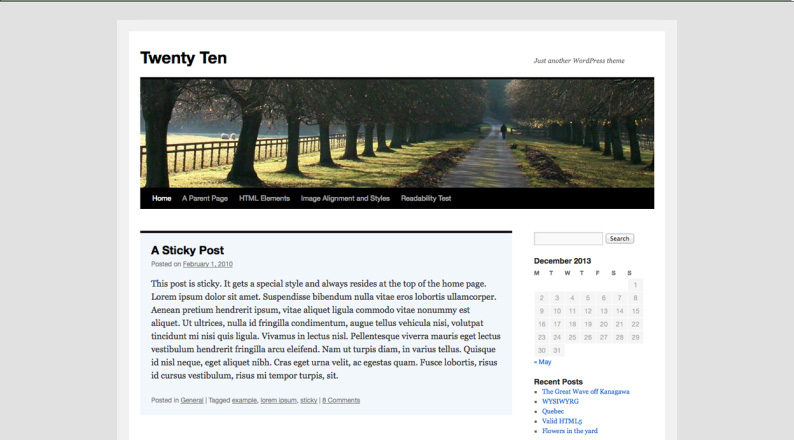 Beginning in 2010, WordPress began introducing a new default theme for each major version. As a result, WordPress was able to keep up with more quickly evolving design trends.
With the new WordPress 3.0, a new WordPress default theme, namely Twenty Ten, came into existence. This theme later became a base for WordPress themes and almost every kind of blog design.
Twenty Ten had a large header picture, a clean and minimalist design, and a strong emphasis on content.
When developers introduced many latest features to the heart of WordPress, such as header photos, widgets for dragging and dropping, changing colors of the background, and much more, the theme of Twenty Ten was a huge hit.
It was ready for translation but not receptive. It is now actively in development, with the developers still updating it. Twenty-ten introduces several changes, including a header image and prime bar navigation.
This theme came with WordPress 3.0, which introduced the concept of widgets, which gave customers greater control over the design of their websites without needing coding knowledge.
People will actively continue to use this theme in the future. However, as you would expect from a released theme when smartphone use was still shallow, it is not reactive.
ALSO READ: WordPress And Security – Is WordPress Good Enough For eCommerce Websites?
Twenty Eleven – The Twenty Ten Upgrade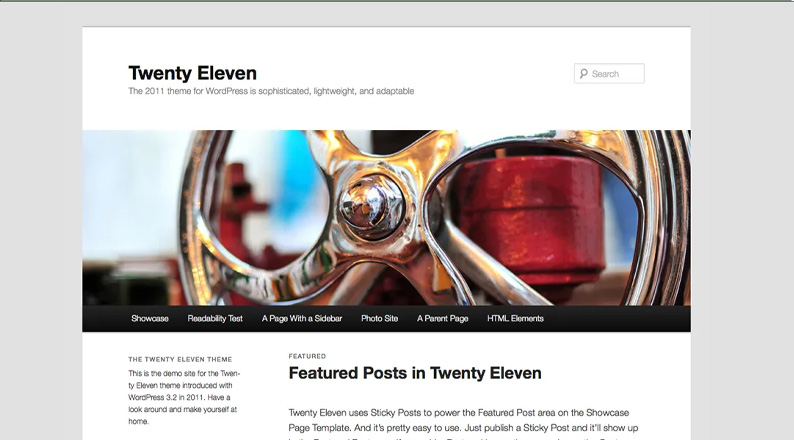 Twenty Eleven, following in the footsteps of Twenty Ten, focused on a prominent header picture style and a clear design with content being the focal point.
It did, however, provide several performance enhancements along with stylish features. Twenty Eleven was compatible with HTML5 from the start, the color scheme was darker than the default, had its own widget, and managed custom page templates even better.
Twenty Eleven is also receptive, in addition to being translation-ready. It is still in active development, and it now can support formats of every post.
Twenty Eleven doesn't seem to be all that different from Twenty Ten at first glance. It has a similar header image, navigation menu, sidebar, and plenty of room to feature blog posts.
Nonetheless, it brought a slew of new features to the platform, including:
Compatibility with HTML 5
It improved customized web page templates
Improvements in performance
A new widget
It is also the first theme to use a mobile responsive interface, proving a significant change in the coming years.
Twenty Twelve – The First Mobile Supported Theme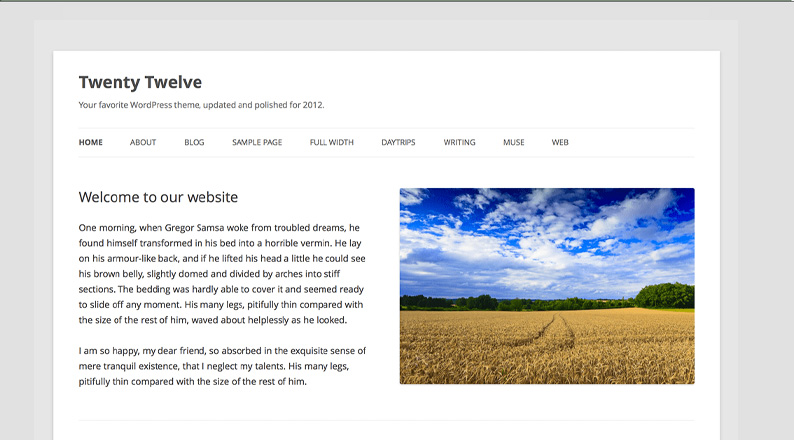 Twenty Twelve, out of all the themes of WordPress, was significantly the most innovative. Although this theme didn't add something new in the development and didn't provide anything in customization, it was still worth mentioning.
However, it was while WordPress was trying to establish its supremacy as more than just a tool for blogging, and the Twenty Twelve theme was instrumental in making that happen.
The theme ditched the default style of blogs in favor of a corporate template with a unique homepage.
It also included an utterly responsive interface to accommodate the rise in the numbers of smartphone users. The theme is also under regular development and is translation-ready.
The theme's first emphasis was responsiveness, which was also the first focus of the Twenty Twelve theme. It was critical in helping WordPress keep up with the growth of mobile web use.
Nonetheless, that isn't the only way Twenty Twelve defied expectations in terms of WordPress theme design. It also marked WordPress's departure from its previous identity as a blogging network and its emergence as a complete CMS capable of supporting all types of websites.
Twenty Twelve featured a customizable home page that allowed users to create a website that wasn't a traditional blog. The theme is still available for download from the theme repository.
ALSO READ: 12 Common WordPress Errors and How to Fix Them
Twenty Thirteen – The Stylish Theme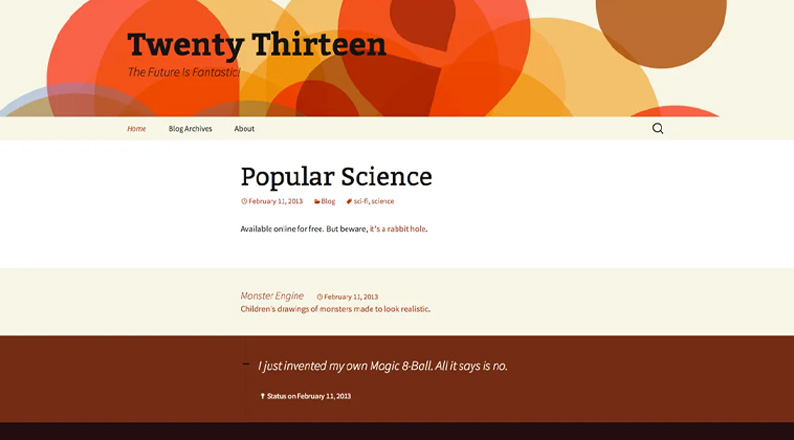 Twenty Thirteen is the only WordPress theme to receive a polarised response from the people using it. Bright colors, a widget footer, and an emphasis at blogging were all features of the theme.
It is a versatile theme that people can customize to suit any kind of blog. The theme essentially redesigned blogger theme designs.
Twenty Thirteen theme is translation-ready, mobile-friendly, and it is also updating constantly. It is still very prominent, but not as much as Twenty Twelve because of it being one mainstream theme for blogging that does not cater to every available website.
The theme is, without a doubt, one of the most exclusive default WordPress themes. Customers had mixed reactions to its flashy header and bold typography.
Though pivoting back to WordPress's foundation as a blogging site, this theme remained receptive. It wasn't as popular as Twenty Twelve, possibly because the format isn't as flexible.
It did, however, add widgets to the footer area. If you're unsure about using this theme on your website, rest assured that it's well-maintained and suitable for a wide variety of niches.
Twenty Fourteen – Introduction to Multi-Authors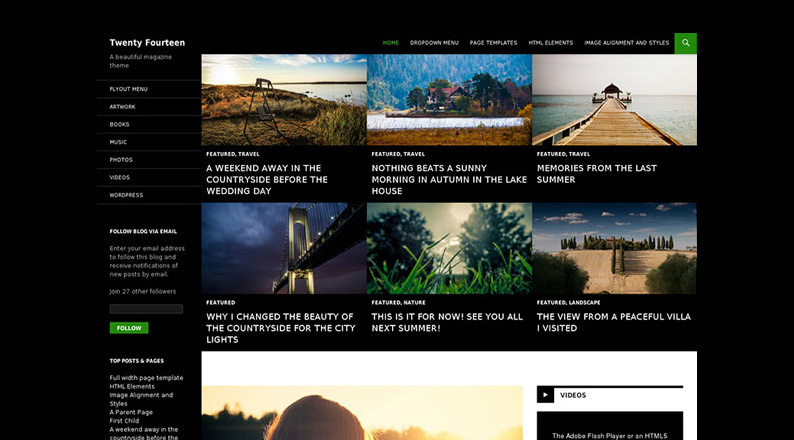 The first theme showing a magazine type of design following Twenty Thirteen was Twenty Fourteen, a blogging theme. Developers brought various considerations related to the design and numerous inventions to the forefront in Twenty Fourteen.
First, it improved the functions in relation to the content grids that are fixed. It also introduced a little darker design of the default with various sliders. On the other hand, Twenty Fourteen is likely the foremost WP theme to heavily rely on broad featuring images for the presentation of content.
The theme also had plenty of space for widgets and was well-suited to blogs with multiple authors. This theme was also sensitive, translation-compatible, and actively being developed.
Over 200,000 different websites also use it. Twenty Fourteen made a splash with its logo as the primary magazine-style default theme.
The sidebar – which moved to the left-hand side of the display screen – and the header also featured extensive navigation options. This theme's featured images have also been a standout feature.
For multi-author websites, the year 2014 was ideal. Its focus on posts adhered to some of the previous trends of content-heavy websites, but it also noted the various changes the blogging industry experienced between 2003 and 2014. This template is still a viable option for online publications.
ALSO READ: Top Reasons Why WordPress Will Never Die
Twenty Fifteen – The Minimalist Theme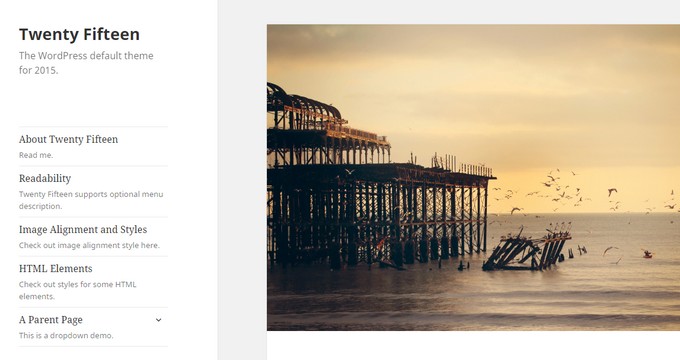 Twenty Fifteen went back to the basics following two very "loud" themes, relying solely on minimal design. It is the style for you if you want a lot of whitespaces and easily readable typography.
It is straightforward, with a simplistic interface tailored to bloggers. It only has one primary sidebar and a single navigation menu.
The theme design also emphasizes the content, making it ideal for creating personal and minimalist blogs. It is sensitive, supports formats for posts that are compatible with translation, and the team of developers is still working on its updates.
Twenty Fifteen returned to the minimalistic vibe excellent in Twenty Twelve, Kubrick, and other earlier default themes after just a few more extreme theme designs.
Its design was flexible and fit well with the Customizer, allowing customers to adjust the color scheme and various pieces easily. Over 200,000 different websites also use this theme.
Twenty Fifteen also took into account the ever-increasing importance of social media. It includes new social icons and is also well-suited to short-form blog posts.
Guests can scroll through your content material without being distracted, thanks to the abundance of white space. This theme is still receiving regular updates and is well worth considering if you want a free theme with a clean design.
Twenty Sixteen – The Versatile Theme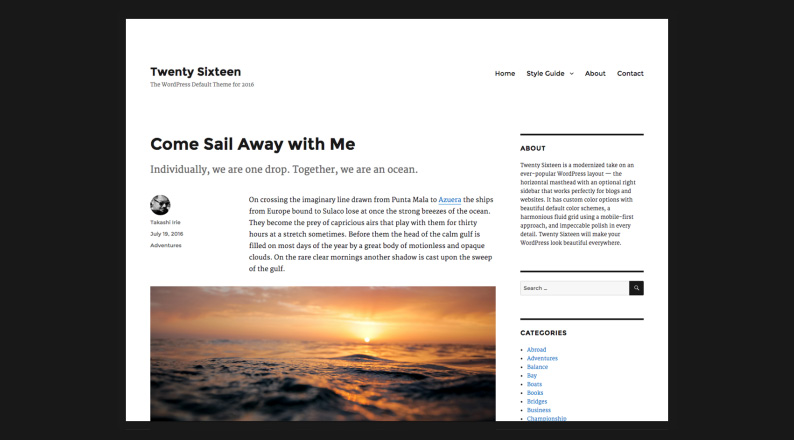 Twenty-sixteen had a minimalist style template that was identical to the previous year's. WordPress also included a design focused on content with this theme.
The theme follows a conventional style once more, with the contents being the focal point. However, only when you delve further and begin to use the theme will you know how much the default themes of WordPress have progressed.
The design isn't particularly appealing, but it is completely adaptable with all sorts of features. Over half a million websites now use Twenty Sixteen, and developers constantly update the theme.
We added another content-focused default WordPress theme with Twenty Sixteen. It did, however, return a variety of widget areas, allowing customers to highlight related posts at the end of their blogs easily.
Apart from that, Twenty Sixteen isn't particularly noteworthy. It's perfect for mobile-first blogging and is still in use on over 300,000 websites. So obviously, a large number of consumers believe it is acceptable to publish their content online.
ALSO READ: How to set up your local environment for WordPress development
Twenty Seventeen – Introduction to Featured Videos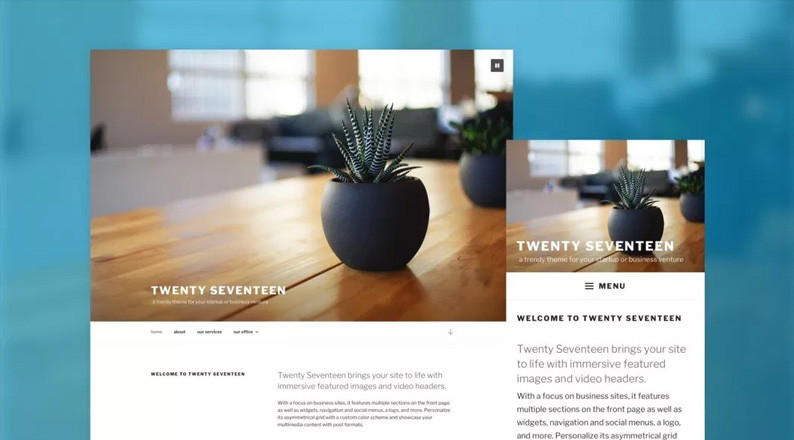 Twenty Seventeen is currently the most preferable WordPress default theme, with over 1 million websites using it. The header design was the factor that contributed to the theme's popularity.
The default WordPress theme Twenty Seventeen was also the foremost to have a video header already in-built. Also, by using this free theme, users were able to create unique websites.
Furthermore, Twenty Seventeen has a sleek full-screen interface that makes it a better choice for organizations and specialist websites.
Twenty Seventeen is another well-known default theme thanks to its large header. The design came with business websites in mind, and it has the media capabilities to capture and hold customers' attention.
Adding to the more traditional images, the header context will display video to make a strong statement right away.
This theme also features a full-width layout that encourages visitors to scroll. It's well-suited to professional portfolios and other websites that need to communicate a straightforward and direct message, apart from business websites.
This theme is used by over 1 million people on their WordPress installations, demonstrating its popularity.
Twenty Seventeen continues to be updated regularly and acts as an allure on mobile devices. It is, without a doubt, one of the most common themes for the websites of businesses.
Twenty Nineteen – Editing by the Block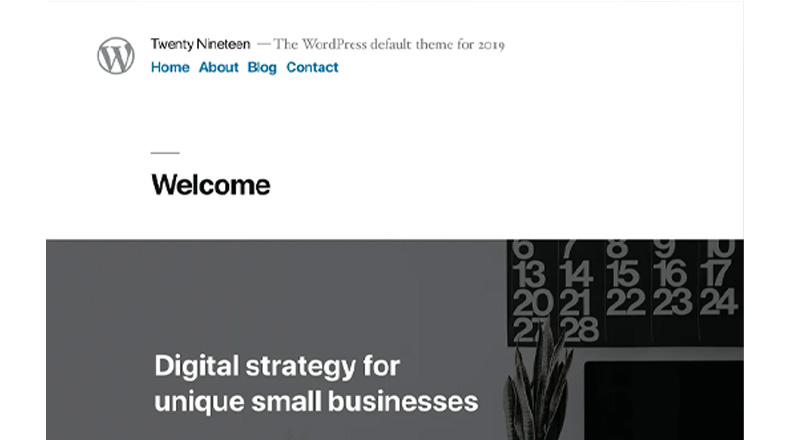 Automattic had a very busy 2018, as they worked on an essential WordPress launch to date, WordPress version 5.0.
As a result, the developers were unable to release a new default theme for 2018. Instead, they wanted to wait until the release of WP 5.0 before releasing another theme.
WordPress 5.0 came out in December of 2018, and it included an entirely new editor for the blocks called Gutenberg. The Gutenberg editor came for the first time in Twenty Nineteen.
It is by far the most versatile WordPress theme, with content blocks that help people in creating unique layouts for their pages and also create new designs.
One can use this theme to create anything from portfolios to personal blogs, and much more. Unsurprisingly, Twenty Nineteen took a rather minimalistic approach to highlight the Block Editor's capabilities.
Of the many default themes available, it offers the most versatility. This theme did not achieve the same love and popularity as its previous theme.
However, if a person is looking for a template that you can customize, is block-compatible, and can be used on almost any website, this is one to consider.
ALSO READ: Why WordPress is the best platform to build your business or startup website
Twenty-Twenty – Refined Block Editor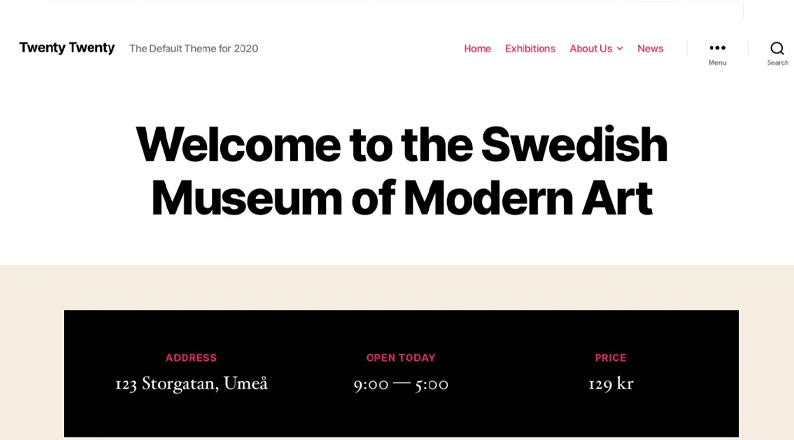 With WordPress 5.3, they launched the new theme Twenty Twenty in November of 2019. The block editor in the new WordPress was refined and extended, and developers created Twenty Twenty to demonstrate the editor's versatility.
For a compact layout that fits well with conventional blogs, the theme uses community, column, and media blocks.
It is unique in that it uses the background colors you select to set the text color for optimum readability and contrast automatically. The theme is entirely responsive. It looks great on any computer.
Although it is a simple and minimalist theme, the block editor's versatility allows us to tailor it to almost every type of website. Its simplicity makes it an excellent foundation to create child themes.
For improved format design, this theme also introduced group and column blocks. Furthermore, it supports editor styles, which can assist you in getting a better idea of how the content would look on the front end when you create it.
Twenty Twenty-One – The Best Portfolio Theme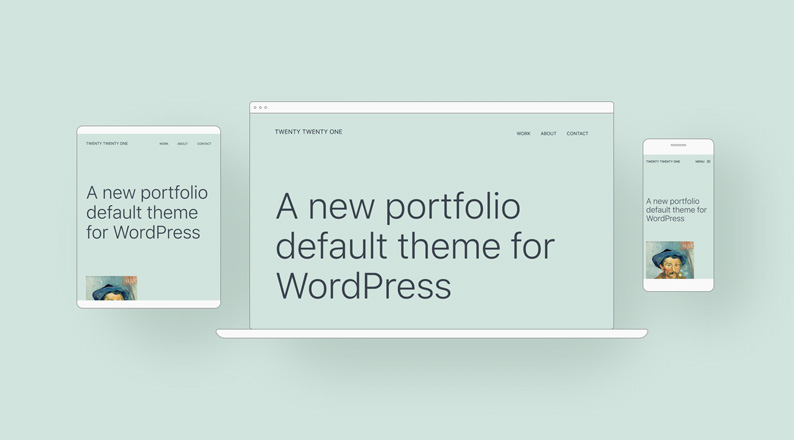 That takes us to the twenty-first century and the Twenty-One theme. This flexible theme, which was suitable for portfolios, business web pages, and blogs, includes new block trends and builds on the innovations made by Twenty Nineteen and Twenty-Twenty.
Developers used Automattic's Seedlets to create Twenty Twenty-One. It has a range of color palettes to choose from and nine video codecs, and darkish mode support.
It's also worth noting that a Twenty Twenty-One (TT1) Blocks theme is available. This experimental block-based default theme is compatible with Full Site Modification (FSE), the following prominent feature on the horizon for a potential WordPress launch.
ALSO READ: WordPress 5.7 Release; New And Updated Features And Specifications
Final Thoughts
Themes are an essential aspect of the WordPress website. Knowing and understanding the default themes which were available over time will help you better understand where the platform has come from and where it is likely to go in the future.
From Traditional to Twenty Twenty-One, there have been several WordPress themes over the years. Most are still regularly updated, and several could serve as a solid foundation for your next (or first) website.
It is visible how the design of the themes and the ways of presenting a content have developed and continue to develop through these designs by looking at the default WordPress themes that came out over the years.
Acowebs are developers of Woocommerce dynamic pricing that will help you add bulk discounts to products on your stores. It also developed the plugin for adding various extra product fields which is called Woocommerce custom fields, that are lightweight and fast. You can easily update your store with these add-ons and enjoy a hassle-free experience, check out the best options for additional Woocommerce product options. The latest plugin from Acowebs, WooCommerce PDF invoices, comes with top-notch UX and are used by customers across the globe.