Ads are made to compel buyers to have another glance at the products and services you're offering. While the effort usually pays off, you always run the risk that those viewing the ads may not be into a specific product you're selling.
With Facebook's carousel ads, you can solve this age-old issue by playing the numbers game and advertising multiple products at a go. The added options will give your customers the feeling that your brand has plenty to offer.
In this way, you're likely going to see a surge in the click-through rate as they roll over the next couple of options you've shared.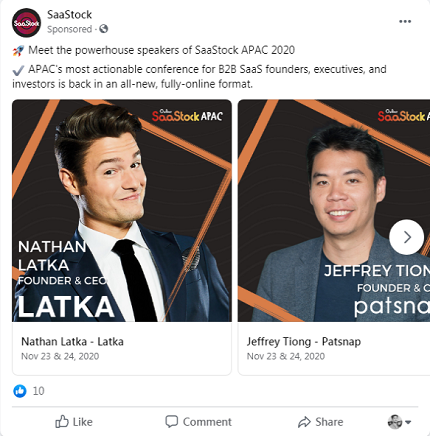 This carousel ads approach works a great deal in your favor in that you not only give customers the freedom of choice, but you also don't have to fork out extra money to pay for individual ads on products.
Importantly, it gives your brand some gloss because there's little chance of frustrating prospective clients by overwhelming them with separate ads.
As strong proponents of Facebook's carousel ads, we believe it's what you need to focus on to market your online store.
Provided you have quality content to match, you can expand your reach by telling a story, highlighting specific product features and benefits, and showcasing step-by-step overviews.
When done right, this approach can help you do more than just boost your conversion numbers. It's also likely that your engagement numbers will also soar -an important metric that tends to build trust and familiarity.
The odds are that in the long run, all this will translate into repeat purchases.
To achieve all this, you need to know how to hit the ground running. As your go-to information repository, we're ready to provide you with a quick run on how you can successfully implement Facebook's carousel ads in your online store.
5 Ways to Use Carousel Ads
Showcase a Single Product
While carousel ads typically feature multiple images, this is not to mean that you can't have a single item on display in all the slides.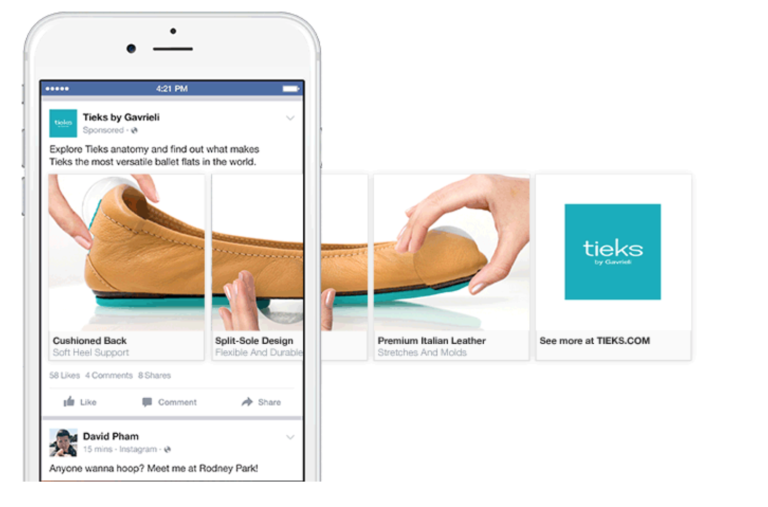 If you're not stocking several items, or if you simply want customers to engage with a particular item in your online store, you can creatively split a single image into different parts and roll it all out as a carousel campaign.
Tieks made great use of this approach when showcasing their main product of women's flats. By splitting the product into three separate images, they were able to list out the different features on each level of the design.
This kind of presentation allowed customers to learn more about the product including the handmade leather design plus the cushioned back section of the flat.
In your online store, you can break down a single product and showcase as many features as you want.
Effectively, you will be adding more dynamism to your product and appealing more to the needs of your clientele. Since there's something for everybody, your customers have the incentive to click and convert.
By building brand awareness in this fashion, you can get to engage with customers and gain their trust faster. It also works great if you want to promote a fresh item in the market that you're looking to have arrived at the scene with a bang.
ALSO READ: 12 Tips For eCommerce Product Photography

Feature Different Products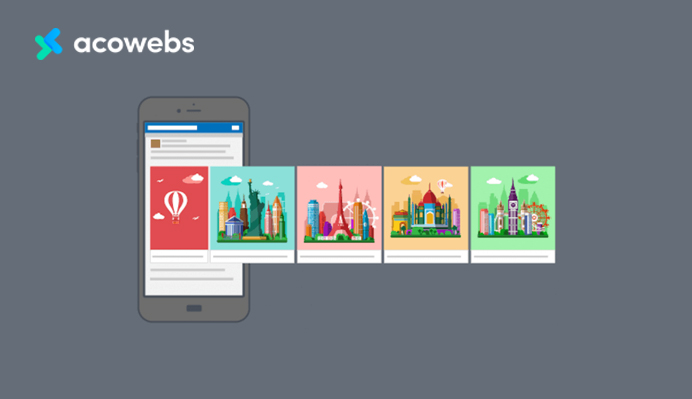 While having a single item featured in your carousel ads has its allure, you can add more buzz by featuring a couple of your items. Ideally, you want the items highlighted to be complementary products that bolster your brand image.
By doing so, you'll realize that you're more efficient at retargeting audiences by showing complementary products based on customer past purchases.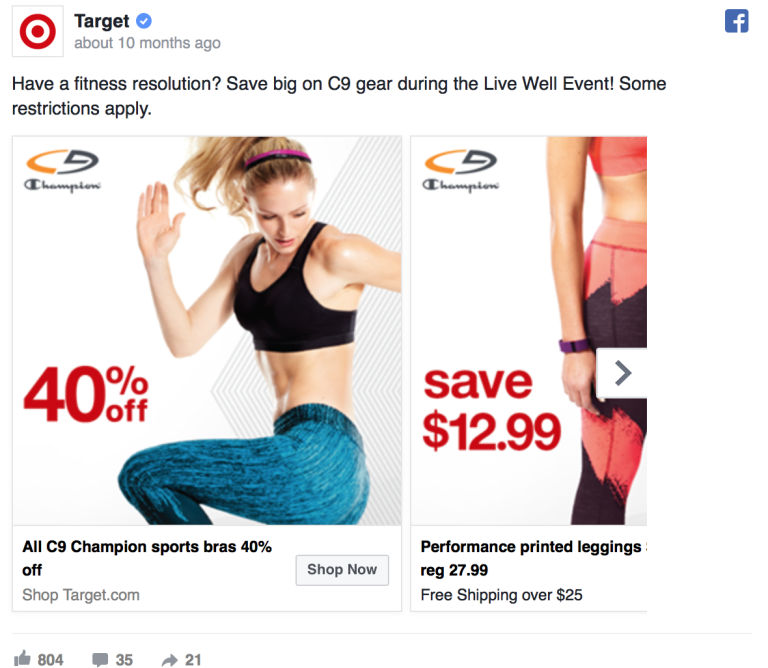 Grouping like-minded items is also a sure-fire way to increase the number of items added to the cart in your online store. Since you're looking to make major money moves, this strategy will surely augur well when it comes to calculating revenue and ROI.
Featuring several items at one is also brilliant because it enhances your brand profile and serves as a great way to target cold traffic.
With a larger section of your audience introduced to your products and services, they will gain a great appreciation of your wares and think of creative ways to engage with them.
To ensure that your customers can follow through and buy the items at your online store, you must share a correct link to each product in the carousel ads section.
Rather than send them to a general landing page, why not put in the extra effort and refer them to the exact product they clicked on?
Not only will these increase conversions, but it's also likely to leave them impressed and willing to recommend your services to friends and family.
Tell a Narrative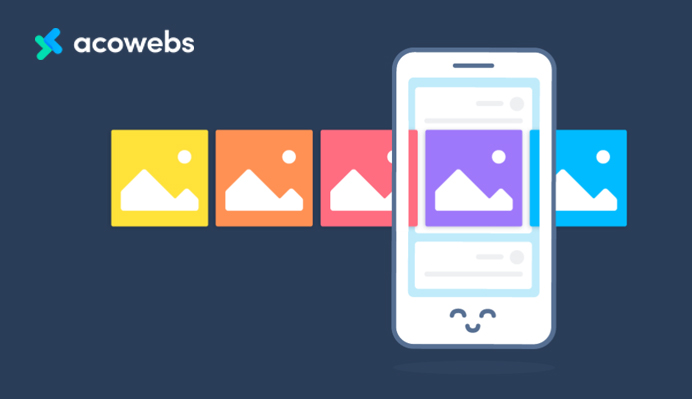 The ability to spin a yarn tends to impact marketing campaigns. This is because it appeals to your customers' emotions and will create a lasting impression of your brand.
While a case can be argued that words alone can best sell the feeling, adding the carousel effect to your ad campaign will help create a frame of reference and get the audience going "huh".
To tell a story, don't just haphazardly wing it. Instead, give it a proper structure with a beginning, middle, and end.
With carousel ads, this becomes easy to achieve and your stories will also benefit provided you introduce compelling characters to your ads.
Importantly, your story does not have to be complex. You simply have to find an angle of approach and run with it.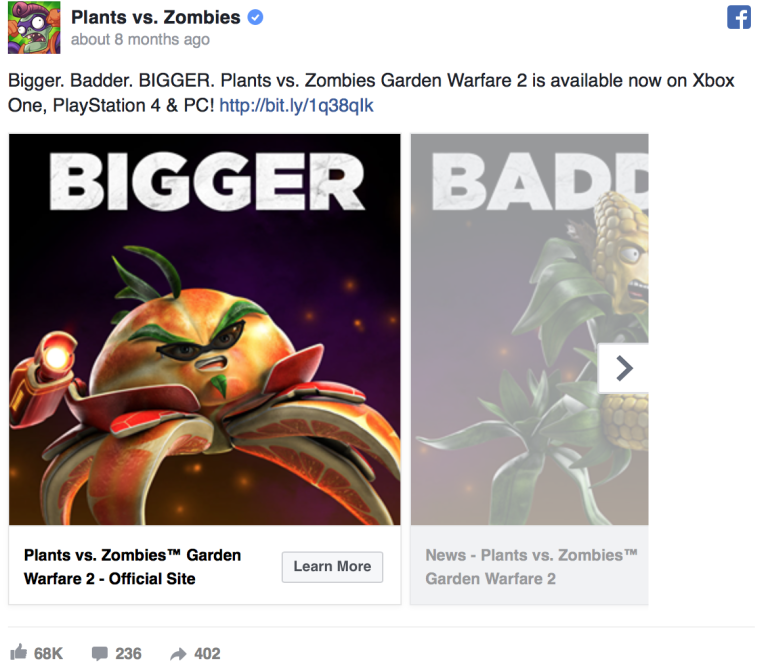 The popular game Plants vs. Zombies was able to tell a simple compelling narrative by having the words, "bigger, badder, BIGGER" as the catchphrase. With each scroll, the anticipation levels among customers grew.
You can also do the same for your online store by adding characters that can emotionally appeal to your audience.
Share Tutorials
To resonate with customers you want to showcase that using your products is as simple as ABC. Doing this goes a long way to show your product's value and is a great way to leave a lasting impression on customers.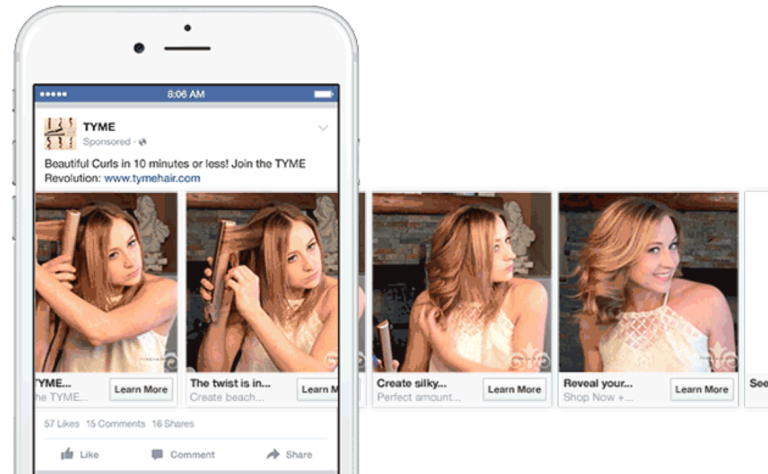 TYME was able to embrace this tutorial approach in their Facebook carousel ads and have tongues wagging in the comments section.
Since hair styling is not an easy peasy process, they were able to break down the key steps users need to take to become good at it.
With their caption being, "How to create beautiful curls in '10 minutes or less'", they appealed to different demographics and were able to boost the number of audience members willing to buy their products.
Your online store can also benefit from this by simplifying things that would otherwise be arduous.
With your services more accessible and clients armed with a roadmap on how your product can transform their lives, they'll happily follow through and buy.
Best Practices When Creating Facebook Carousel Ads
Choose a Scroll-stopping Creative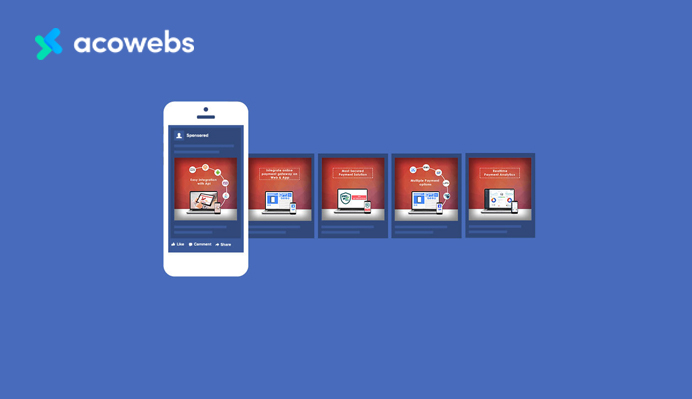 You want the first image of your online store's products and/or services to be nothing short of picturesque.
The intention here is to capture the customer's attention using an image with a fantastic focal point and depth of view. If it's a video, you want the composition, lighting, and direction to be correct.
Optimize the Order of Your Cards
You can have a Facebook test and order the images you use on your cards to evaluate which are the best-performing ones. This way, you get to enhance your campaign by using images that resonate best with your audience and get them thinking about your brand.
Link Every Card to a Post-click Product Page
As alluded earlier, you should stay away from sharing generic landing pages. You want every click made on your page to be a hit that compels buyers to close the sale. For this, you'll need to tailor the link to every card to match products in your online store.
Tell a Story
Just because you have the power to showcase multiple items at once shouldn't be grounds for you to get complacent.
Instead, you need to find a creative way to tell a story with each sequential image and reveal tidbits that inspire users to keep scrolling and unravel the mystery.
Alternatively, you can choose to stitch up all the images together into a panorama-style format so that the story becomes bigger.
Make Use of Available Ad Components
While images and videos are the best mediums to capture a user's attention, this is not to mean that you should completely ignore other ad elements like headlines, descriptions, and CTAs.
The infusion of these critical elements will not only give your narrative a better reception, but it will also inspire people to click through.
As you work on establishing your online store's brand, we recommend sticking to a single brand tone and A/B testing each element to review what works out best for your ad campaign.
Conclusion
Facebook's Carousel Ads can make your online store become a reputable brand name. These kinds of ads tend to have an edge over traditional ads because they're more dynamic which works well in grabbing users' attention.
Having highlighted a couple of ways you can use Facebook's Carousel Ads to give your online store some shine, we're hopeful you'll implement a couple of the listed strategies and boost your social following, expand your reach, and boost conversions.
For maximum efficiency, it's best to narrow down to one approach per campaign.
What strategy are you ready to start with? Let us know in the comments below!
Acowebs are developers of WooCommerce plugins that will help you personalize your stores. It supports the additional option with feature-rich add-ons which is Woocommerce custom fields, that are lightweight and fast. Update your store with these add-ons and enjoy a hassle-free experience.